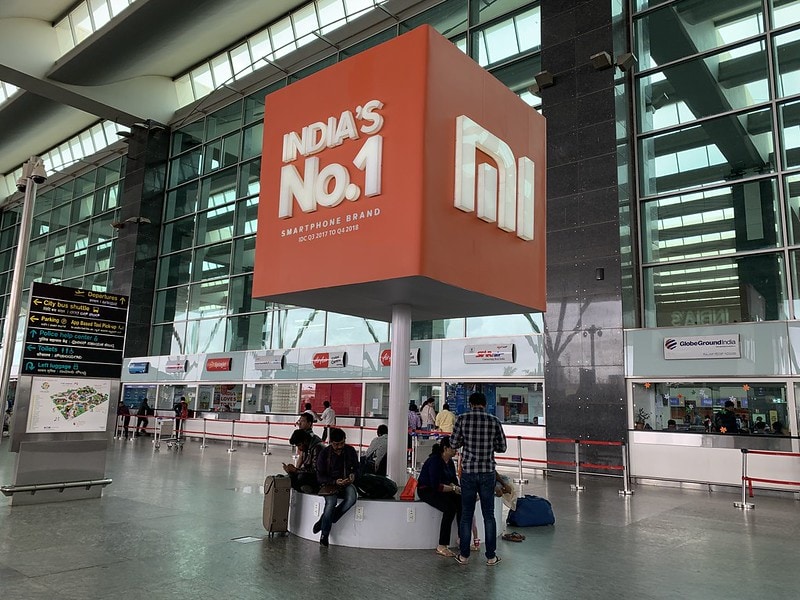 Xiaomi shares slid 3.7% today in Hong Kong to HK$26.15, despite the phone maker's positive financial and operating performance during the third quarter of the year.
The Chinese manufacturer saw its revenue grow by 34% during the three-month period ended on 30 September as a result of a surge in smartphone shipments, with sales landing at RMB 72.16 billion (£8.2 billion), up from the RMB 53.66 billion (£6.1 billion) it sold during the same period a year ago.
Xiaomi became the third-largest smartphone producer in the world by shipment volume during this quarter, shipping a total of 46.6 million units during the three-month period, which represents a 45.3% year-on-year growth. The firm's market share by shipment volume just surpassed Apple (AAPL) by 2%.
Strong growth outside of China has supported a portion of this incredible growth, with shipments to European markets growing by 90.7% compared to a year ago, while the company said it achieved an 18.7% market share in the region.
Overseas markets as a whole accounted for 55% of Xiaomi's revenues during the third quarter, while, given that the firm has only achieved a 13.5% global market share, Xiang Wang – the firm's president – said he believes that the "room for growth is huge".
Operating profits for the quarter landed at RMB 10.16 billion (£1.16 billion), up 115% compared to a year ago, while net adjusted profits ended the three-month period at RMB 4.13 billion (£470 million) – almost 800 million yuan higher than analysts' forecasts.
How have Xiaomi shares performed this year?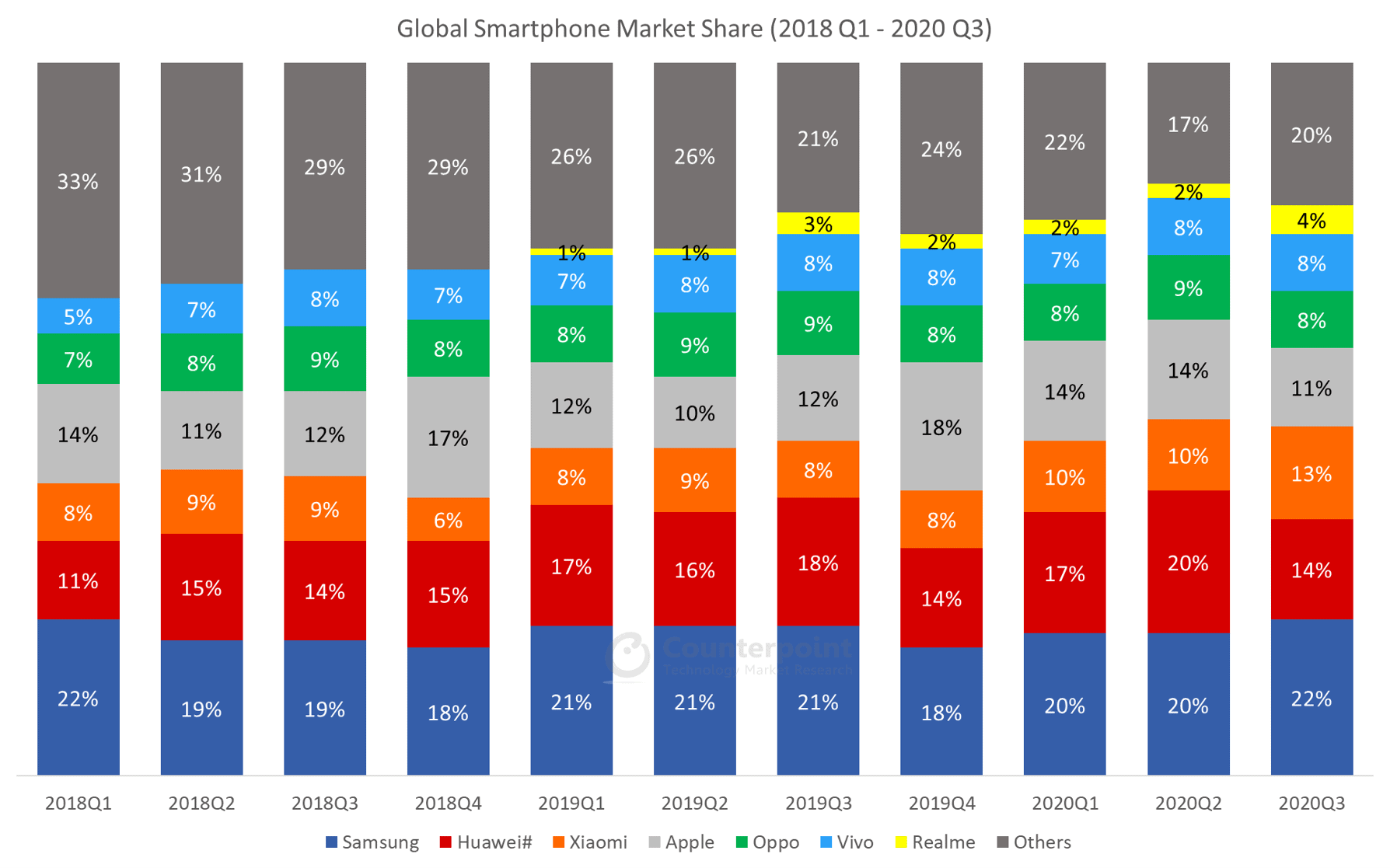 Xiaomi shares have surged 142% since the year started, as the company has capitalized on the woes seen by its rival Huawei as a result of US sanctions.
The Chinese phone maker's market share – measured by shipment volumes – has been growing steadily since the first quarter of 2018, with the company's global participation moving from 8% to 13% until this last quarter according to data from Asian research firm Counterpoint.
The firm highlighted the importance of keeping its supply chain stocked up during the fourth quarter of the year, emphasizing the need for "more precise production" to avoid shortages in key components.
Meanwhile, Xiaomi has reportedly approached multiple Huawei-exclusive vendors to persuade them to shift their allegiances in an effort to steal more market share from its rival in Southeast Asia and Europe.
What's next for Xiaomi shares?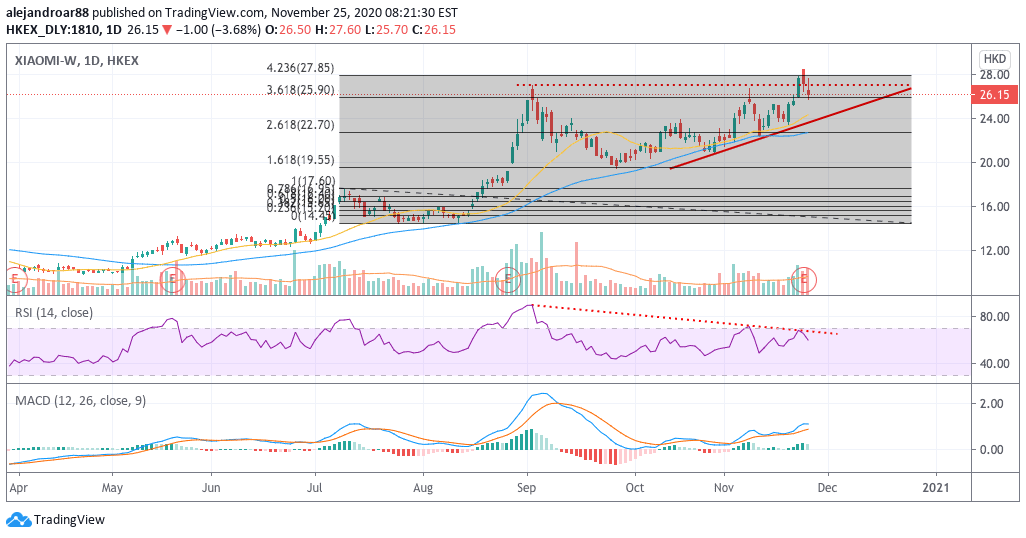 The daily Xiaomi chart shows how the stock has been on an uptrend since May, as the firm progressively reported better-than-expected financial results despite pandemic headwinds.
However, the stock paused its rally at HK$25.70, when tech stocks melted down worldwide, and has struggled to move past that level in the last two sessions.
Today's downtick seems to contradict the positive sentiment that should have come along with this positive earnings report and it could be the result of some short-selling as there's a huge bearish divergence in the RSI. This technical flaw points to a decreased momentum in the price action that could ultimately lead to a reversal.
That said, the ascending triangle shown in the chart above shows that sellers have consistently failed to move the stock to a lower low since late September, which indicates that buyers are showing up every time the price goes down.
Given Xiaomi's strong competitive strength and continuous positive financial performance, it would be plausible to see the stock finally breaking past that HK$27 resistance over the next few weeks.
At this point, it would be interesting to see if the stock continues to move lower, as a lower entry price could give traders further upside when – and if – that breakout is to occur.
Key supports to watch at this point would be the HK$25 and HK$22 levels. Any strong bounce off those levels, in my view, should provide confirmation of a solid upcoming bull run.