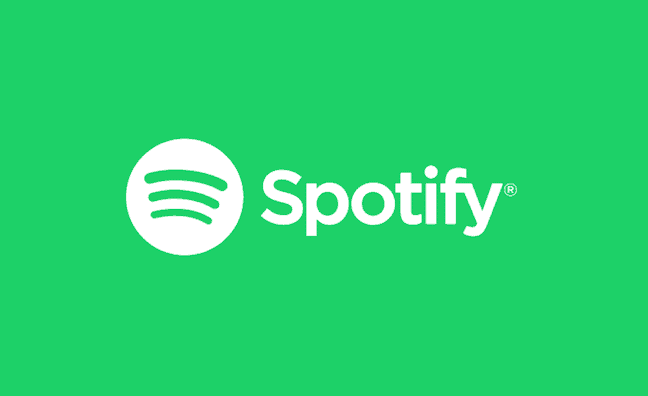 Spotify Technology (SPOT) shares are lower but still trading near their all-time high today, as news broke of a fresh multi-year licensing deal with Universal Music Group (UMG).
Since coming to the public market on 6 April 2018, when the shares opened at $165, before falling 10% for an inauspicious Nasdaq debut, sentiment has improved considerably. The shares closed on 22 July at $289.
However, Spotify has not disclosed how much this latest licensing deal is costing it and that probably explains why the shares were off more than 3% in early trading on Wall Street, currently priced at $279.
The market is still struggling to ascertain where exactly fair value is for Spotify.
Although the world's leading music-streaming company is still to turn a profit, it is estimated to command 36% of music streaming market share, with 286 monthly active users of whom 130 million are paying premium subscribers.
Spotify was helped in hitting the 130 million mark with the boost in the first quarter from the onset of the Covid pandemic.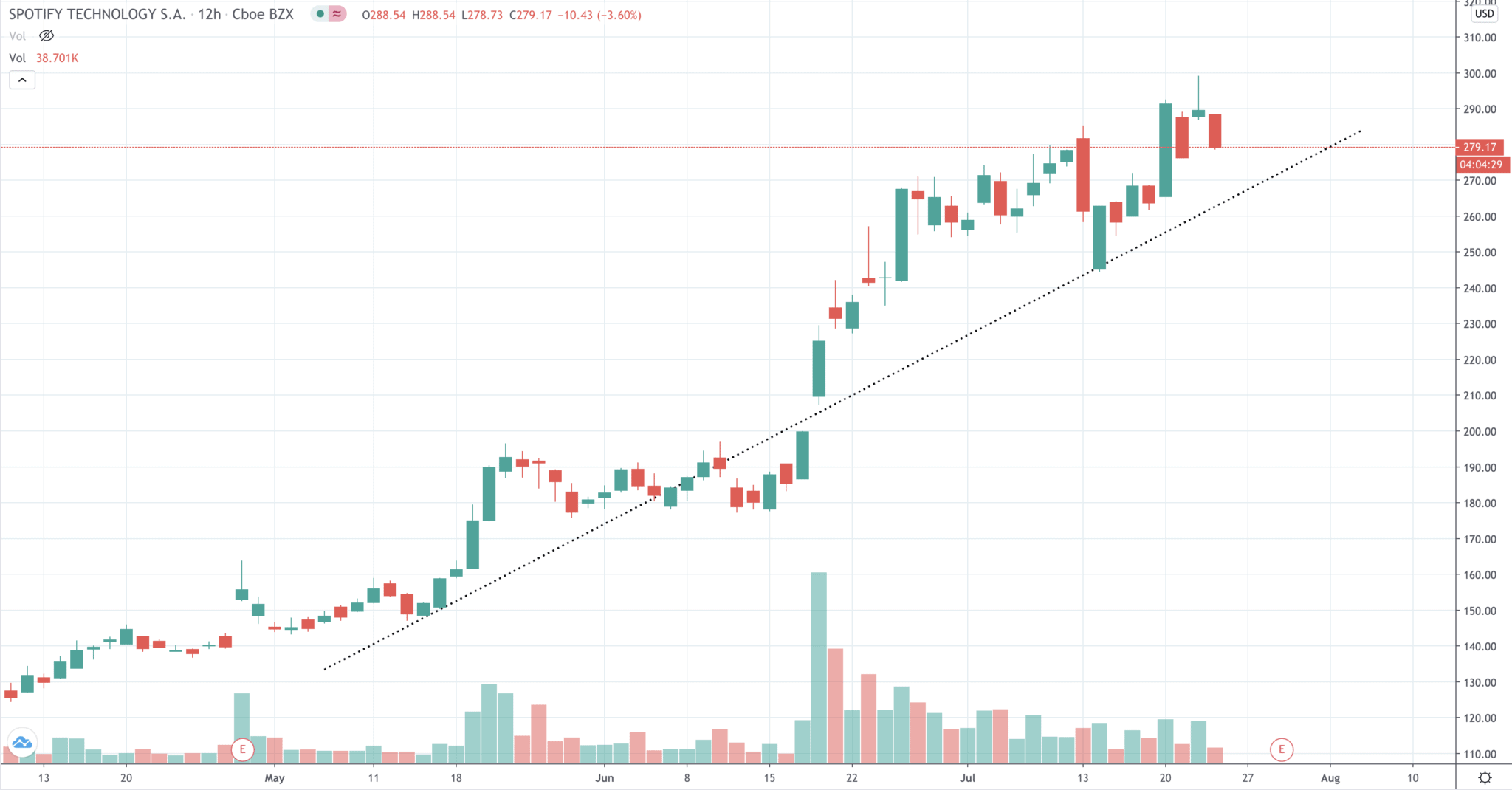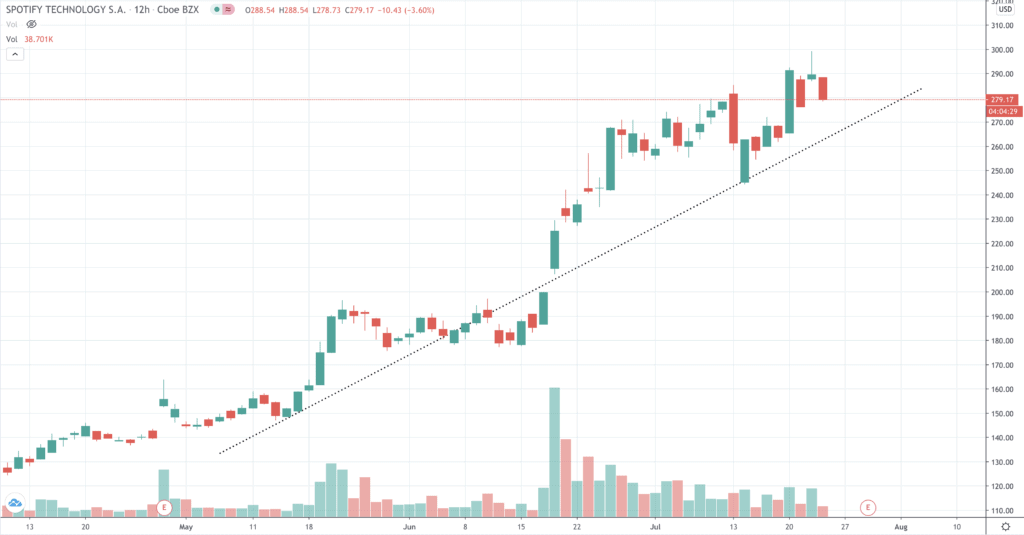 Earning listener respect, if not the artists
Spotify has been successful in making its service stickier than most as it continues to innovate. Its playlists, for instance, account for a third of the listening time of its users, which is equal to the proportion of listening time spent on user-generated playlists.
With an average of 25 hours listening time per month for users, the company has become an essential platform for artists to maintain a presence on, despite well-publicised worries about the level of remuneration artists can expect from the platform.
A study by UK-based PRS for Music, which collects revenue on behalf of rights owners, found that to earn £1 required 357 streams. To earn the equivalent of an hour's UK minimum wage would require 3,114 streams. And bear in mind that hose figures make the unlikely assumption that the artist owns all the rights to their music.
Ed Sheeran is the most popular artist on Spotify with nearly 63 million followers at the last count, although Drake has the most monthly streams.
As far as the competition goes, Apple admittedly has more financial fire-power than Spotify, but it has not been able to close the gap on the Swedish streaming pioneer.
Beating off the Apple threat
Indeed, data from Statista shows the gap between the two leaders in music-streaming widening, with Apple Music garnering 60 million subscribers, although that number includes those on the generous three-month trial. Apple Music has a 19% market share, followed by Amazon Music on 15%, Tencent Music on 11% and YouTube Music at 6% ('others' brings up the rear on 14%), according to Counterpoint Research.
Spotify is also eating Pandora's lunch in the US where it has just overtaken it on listener metrics.
That's probably as a result of its integration with smart speakers and the home run it has had with podcasts – a format pioneered by Apple but being leveraged more effectively by Spotfiy.
In something of a coup for the streaming giant, The Michelle Obama Podcast begins on 29 July in a tie-up with the Obama's Higher Ground production company.
Spotify has also acquired exclusive rights to one of the world's most popular podcasts, The Joe Rogan Show, which is in actual fact now a video podcast.
Another advantage Spotify has over the competition may be in demographics, where in the US market it has a stronger grip on the under 30s (39%) than any other music streaming service, although Pandora isn't too far behind (36%), according to a survey of 3,000 US consumers for Goodwater Capital.
Spotify has an innovative edge
The market will probably be happy with the deal overall despite today's jitters, because it cements what is an innovative partnership with UMG as they seek out new ways to help artists connect with their audiences and listeners to discover new music.
Tools for users introduced recently include tipping, which makes it frictionless to give to causes or artists.
Group Sessions is another seemingly popular tool for premium users who want to listen to music together.
On the artist-facing side its been busy too. Last year it added a video-looping feature to its Canvas "conceptualising" tool that allows artists to add a visual element to the listening experience.
In a statement accompanying the announcement of the licensing agreement – the previous deal having thought to have expired in 2017 – chairman and chief executive Daniel Ek, said: "From their early experimentation with [paid-for marketing programme] Marquee, to testing new experiences like Canvas, Universal Music Group has been an important partner in helping to shape the development of our marketing tools."
The company is not resting on its laurels, announcing in mid-July its entry into 13 new European markets, including Russia, Ukraine, Croatia and Slovenia.
Spotify still a buy?
Founded in 2006, the company is currently valued at around $50 billion and those who bought when it came out of the gates in April 2018 will be happy today.
Should you buy this share? It depends on the conversion rate from the ad-supported free service to the paid-for offering. That being so, Spotify is proving adept at finding ways to funnel its users in that direction.
Add to that the gap it is opening up with nearest competitor Apple, and the share price may continue to prove to be music to the ears of investors.