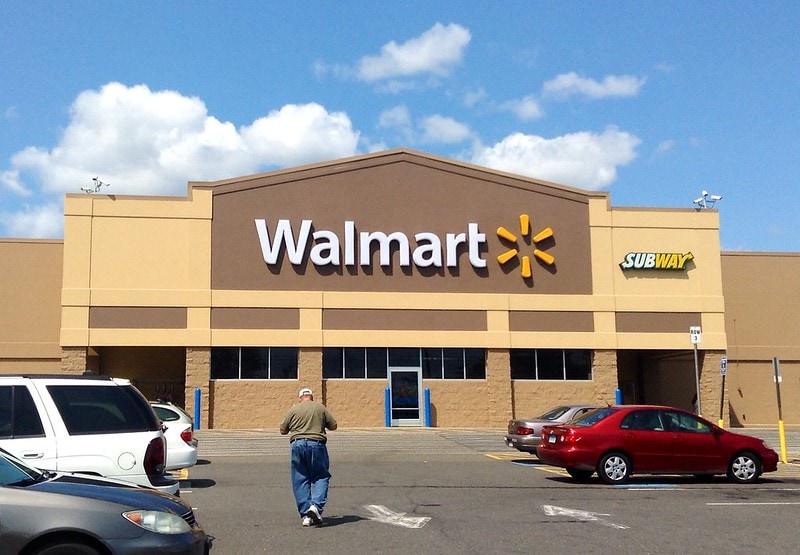 Walmart shares are trading lower this morning despite the company's positive quarterly results, with both technical and fundamental issues possibly weighing on today's performance.
Walmart (WMT) – a blue chip stock – managed to beat earnings estimates by 28%, posting $1.56 in adjusted earnings for the quarter vs. $1.22 per share analysts were expecting. This quarterly rise in earnings represented a 23% jump compared to the $1.27 per share the company reported a year ago.
Walmart's revenues were up 5.6% compared to the same quarter a year before, landing at $137.7 billion, which was 2% more than Wall Street's consensus for the company.
Most of these surprising results can be attributed to stronger-than-expected US sales and profit margins, especially coming from Walmart's e-commerce unit, which registered a 97% jump in sales in the North American country.
That said, some of this positive improvement in the US market was offset by lower international sales, which dropped 6.8% compared to a year ago due to a weaker dollar.
Moreover, the big-box retailer saw an improvement in its business-wide gross margins, which moved 63 basis points up to end the quarter at 24.9%, although operating expenses also ticked higher by 0.42%, representing a total of 21.2% by the end of the three-month period due to increased expenses associated to COVID-19 safety measures and extra bonuses for workers.
What's driving down Walmart shares today?
Various elements are playing a role in today's negative performance of Walmart shares, which are currently losing 1.34% trading at $133.7 per share after posting a 6% jump in pre-market stock trading activity.
First of all, from a technical standpoint, Walmart's price action in the past couple of days resulted in a price gap at the $133 level, which market makers may want to fill before allowing the stock to go higher, as this would provide a more solid floor for further upward movements.
Meanwhile, investors appear to be weighing the impact that a cut in government stimulus in the form of lower unemployment benefits and other reductions in relief measures could have on the firm's top-line, as Walmart emphasized that its results were positively influenced by these fiscal measures.
"Q2 sales started strong, both in-store and online, particularly in general merchandise, helped by government stimulus spending. Grocery sales had another strong quarter. As stimulus funds tapered off, sales started to normalize, but July comps still grew more than four percent", the company said.
What could be expected from Walmart shares in the next few days?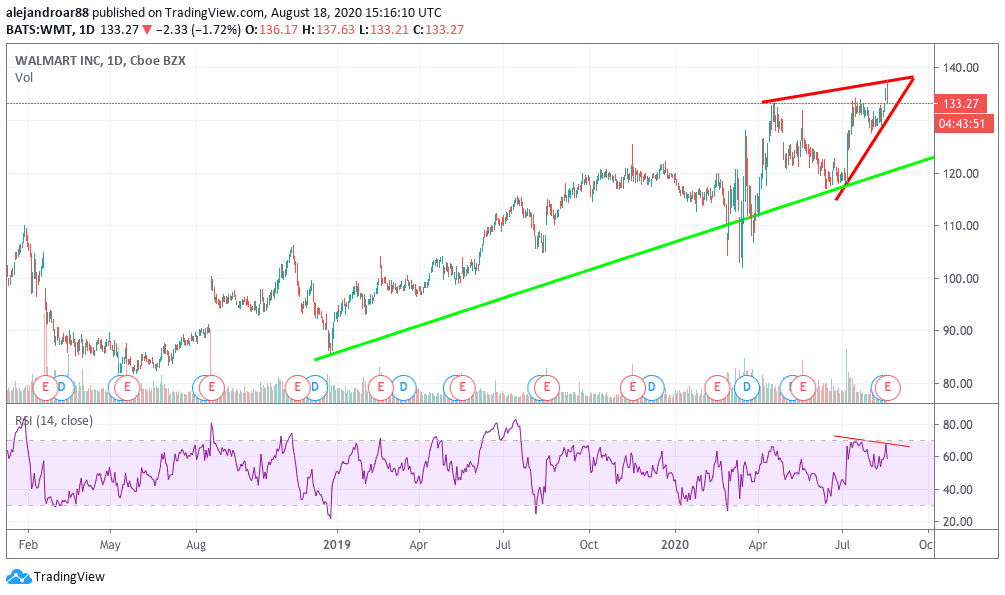 Walmart shares continue to be riding an uptrend that dates back to the late 2019s on the back of improving relationships and an upcoming trade deal between the US and China.
Additionally, the company has been seeing consistent revenue and profitability growth in the past year, which has also fueled the interest for its shares, although at the moment this juggernaut seems a bit pricy and overextended, with the stock currently trading 13% higher than its 200-day moving average.
In the short-run, it is possible that the positive sentiment resulting from this quarterly earnings report could push the stock higher once that price gap is filled.
At this point, that seems to be the scenario with the highest likelihood, although the symmetrical triangle that is currently forming as a result of the latest price action can result in a break in any direction.
Some key levels to watch would include the $133 price gap, as a rebound should be expected once that gap is filled. In contrast, a move below that mark could trigger a deeper correction.
Meanwhile, any break above that symmetrical triangle could be the start of another big push for Walmart in the days to come, with the RSI expected to post a higher-high to that end, contrasting to the lower-high it recorded during the recent push towards the $135 level.