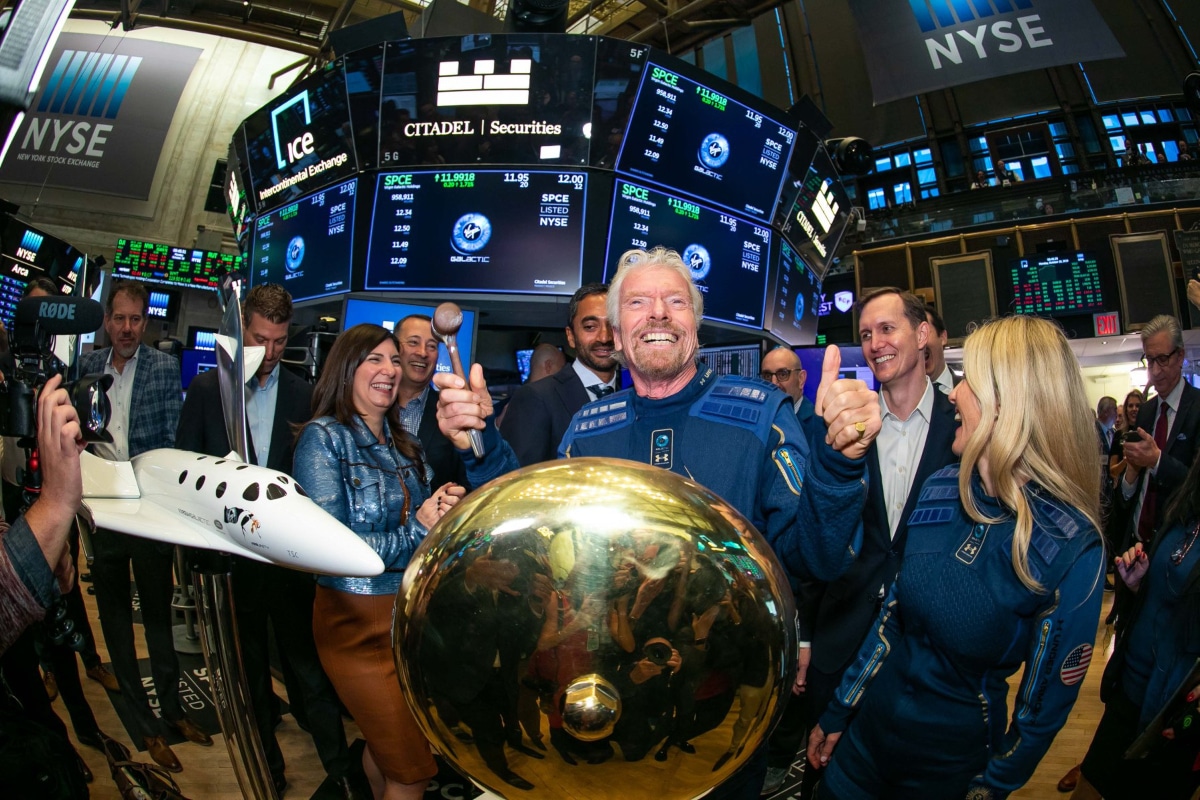 Virgin Galactic (SPCE) shares were trading higher in US premarket price action today. The company released its second-quarter earnings yesterday after the close of markets and also announced the reopening of ticket sales at $450,000 per seat.
Virgin Galactic posted its first revenues in the quarter and the space travel company booked revenues of $571,000 in the quarter from scientific research experiments onboard its test flight. The company posted an EBITDA loss of $56 million in the quarter which was similar to what it did in the previous quarter.
Virgin Galactic test flight
Virgin Galactic completed its successful test flight this year which made Sir Richard Branson the first billionaire to reach space ahead of Jeff Bezos and Elon Musk. SPCE stock went on to hit a record high of $62.80 but soon plummeted. The stock now trades at roughly half of its 52-week highs.
Virgin Galactic announced a $500 million share sale after the successful test flight which dampened sentiments. Notably, since the company is burning a lot of cash it has to get a cash injection to sustain the cash burn. SPCE had gone public in 2019 after it merged with a Chamath Palihapitiya SPAC. It was the first company to merge with a Palihapitiya SPAC. Since then, he has taken Opendoor, Clover Health, and SoFi also public through a reverse merger with his other SPACs.
SPCE earnings
"In the second quarter, we made meaningful progress towards commencing commercial service in 2022. We successfully completed two spaceflights from New Mexico — the latest carrying a full crew of mission specialists in the cabin and garnering an extraordinary global media and consumer response. In addition, we received FAA approval to expand our existing launch license, marking the first time the FAA has licensed a Spaceline to fly customers to space," said Virgin Galactic CEO Michael Colglazier.
Ticket sales resume
Virgin Galactic has resumed ticket sales beginning at $450,000 which is higher by $200,000 over the previous pricing. The company has received 600 bookings so far and are expected to rise further as ticket sales reopen. The company has kept a three-tier pricing mechanism. The first tier is for the single-seat while the other one is a multi-seat package with friends and family. The company also gives an option to buy the entire cabin
"We have a purposeful range of product offerings in order to satisfy the different ways people will want to share this experience of private astronaut flights," said Colglazier during the earnings release.
Virgin Galactic sees a massive TAM
Virgin Galactic predicts the TAM (total addressable market) for space travel at $900 billion and plans to target the premium segment which it sees at $300 billion. It could be a big market for the company and the shares can rise sharply in the long term if the company can capture even small size of the market.
Virgin Galactic share price forecast
According to the forecast estimates compiled by CNN Business, Virgin Galactic has a median price target of $41, which is a premium of over 30% over current prices. Its highest price target of $51 is a premium of almost 62% over current prices, while its lowest price target of $20 is a 36.5% discount to the current share price.
Of the 11 analysts covering the shares, four have rated the shares as a buy or some equivalent while six analysts have a hold rating. One analyst has a sell rating on the shares.
Cowen is bullish on SPCE shares
Wall Street analysts have a very divided opinion over SPCE shares. Cowen assigned a street high target price of $51 to the shares before Branson's flight. "We are more positive about the prospects of a successful commercial spaceflight program in 2022. Visibility, marketing programs, and ticket sales should support valuation," Cowen analyst Oliver Chen." He listed, "Potential delays with the remaining test flights, technical issues that may potentially emerge from test flights, SPCE's inability to achieve profitability, any safety-related problems or technical mishaps, and higher competition," as the key risks for the company.
Space travel
However, as the shares surged amid Branson's test flight, Bank of America downgraded it by two notches to underperform saying that the positive news is baked in. The call played out well and Virgin Galactic shares have since slumped.
That said, it looks amid the best ways to play the space travel industry even as many are critical of the industry. The visuals of billionaires flying to space at a time when a large part of the world is still grappling with job losses and the COVID-19 pandemic did not go well with many people. Bezos, who recently quit as Amazon's CEO got a lot of hate online as he flew to space. However, the long term outlook for the space travel industry looks positive.
Virgin Galactic shares were trading 3.5% higher in US premarket trading today.