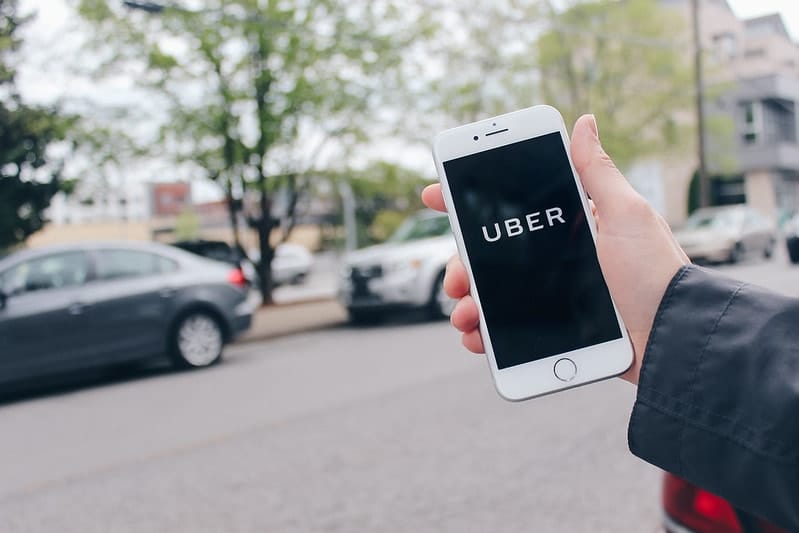 Uber shares saw one of the strongest upticks since their public listing after California voters said "Yes" to Proposition 22, an initiative that permits gig-economy companies to keep workers as independent contractors in the state.
The resolution was passed with the support of 58% of the Californians who voted on Tuesday and it is a great victory not just for Uber but also for its rivals, such as Lyft and DoorDash, as their business model will remain intact now that this legal hurdle is cleared.
Uber shares closed yesterday's stock trading session at $40.99 per share, posting a 14.6% single-day gain, and they are currently trading at the highest levels seen since the pandemic hit.
The rejection of Proposition 22 would have had a dramatic financial impact on Uber's operations in California, as the company would have been forced to hire its drivers in the state as employees – which would meanspaying the full range of benefits that the state mandates.
That said, Uber (UBER) had already warned that they were preparing to shut down their operations in California if the resolution was rejected as their business model would not be feasible in such an environment.
Meanwhile, Proposition 22 marks another important milestone for the so-called "future of work", a trend that supports the independence of workers from traditional employment practices – which include working within a certain schedule and earning a fixed salary – although it also deprives them of the benefits that come with it, such as health insurance and a pension plan.
How have Uber shares performed so far this year?
Prior to yesterday's uptick, Uber shares had delivered a 20% return so far this year as the company's delivery service came to the rescue to offset the temporary downturn seen at the firm's ride-hailing unit amid the pandemic.
This performance lagged the Nasdaq 100 during the same period – as the tech-heavy index advanced 9% more than Uber shares. However, including yesterday's jump, Uber shares are now outpacing the broad-market index by 3% and more gains could come in the following weeks as late buyers jump in.
What's next for Uber (UBER)?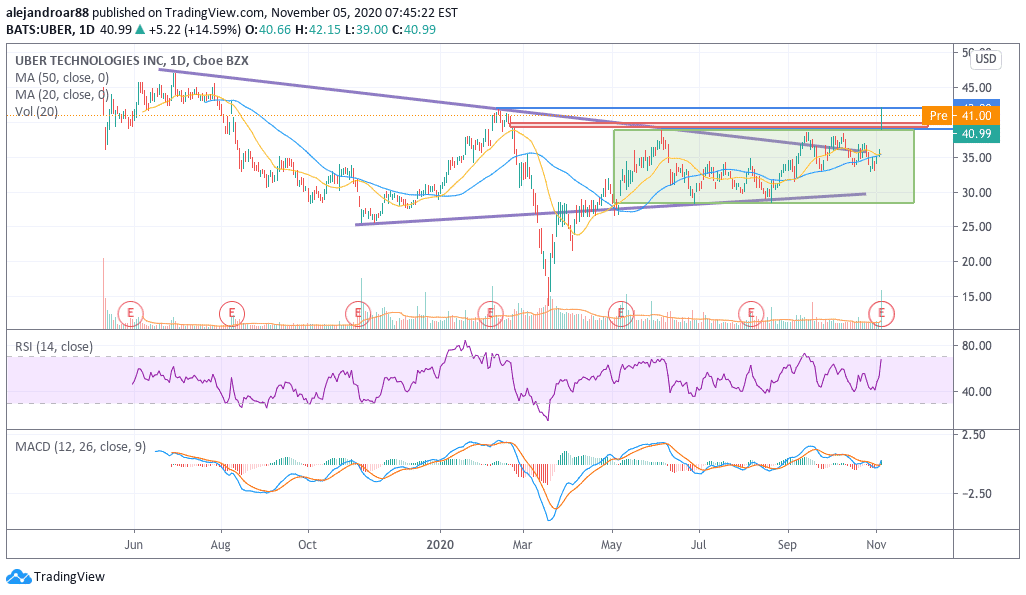 Yesterday's uptick is accomplishing multiple things for Uber shares. First, the price action has successfully filled a bearish gap left behind during the February-March sell-off, which served as resistance multiple times in the past.
Meanwhile, the price also jumped above a sideways consolidation pattern that saw the stock fluctuate within $28 and $39 during the last 6 months at least, which means that a new uptrend could emerge as a result of today's move.
Furthermore, yesterday's jump has left behind a huge bullish gap that could serve as support from now on – especially as the company's delivery business is likely to keep seeing positive momentum amid a prolonged virus situation in the United States and Europe.
In the following sessions, the price could advance slowly towards Wall Street's $42.6 12-month consensus price target – which would result in a 3.9% upside for investors. That said, this positive development from California could result in several price target hikes in the near future.
The floor at this point for the stock would be the $39.5 intraday low seen yesterday – which ended up filling the February gap, while the next stop for Uber shares, if they were to move higher, could be the $45 and $47.5 post-IPO highs.