How to Buy Morrisons Shares Online in the UK
Fact Checked
Everything you read on our site is provided by expert writers who have many years of experience in the financial markets and have written for other top financial publications. Every piece of information here is fact-checked.
Disclosure
Please note that we are not authorised to provide any investment advice. The information on this page should be construed for information purposes only. We may earn commissions from the products mentioned on this site.
Morrisons is the fourth-largest grocery store chain in the UK with more than 500 stores spread across the country. This grocery provider currently controls around 10% of the grocery market, and its poised to take an even greater share as shoppers transition to buying groceries online.
Investors have long been fans of Morrisons shares thanks to the company's attractive dividend and long-term growth. With shares down several percent from recent highs, could right now be the best time to buy Morrisons shares?
In this guide, we'll cover everything you need to know about how to buy Morrisons shares online and highlight top UK brokers you can use. We'll also explain why Morrisons shares could be considered a bargain in the current market.
Step 1: Find a UK Broker That Offers Morrisons Shares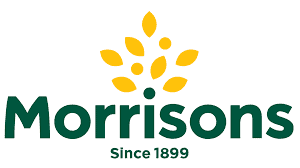 Morrisons shares trade on the London Stock Exchange and the company is part of the FTSE 100 index. So, most UK stock brokers offer trading on Morrisons shares.
That doesn't mean you want to pick just any broker, though. Your broker determines not only what shares you can buy, but also how much stock trading will cost you. In addition, some brokers offer comprehensive trading platforms and investment apps, while others only offer a limited web interface to help you buy shares.
Need help choosing the right broker for you? Let's take a look at two of our top recommended online brokers in the UK for buying Morrisons shares:
1. eToro – Buy Morrisons Shares with Zero Commission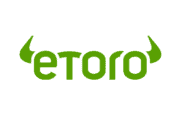 eToro is one of the best brokers for buying Morrisons or any other UK shares. This broker enables you to buy shares as well as trade stock CFDs (contracts for difference), so you get to decide whether you want to hold shares for the long term or apply leverage to short-term trades. eToro has a selection of more than 800 shares and 450 ETFs from around the world, which means you can buy many of the best shares on the market.
We particularly like eToro because trading with this brokerage is 100% commission-free. The only fee you pay when trading is the spread, which is generally below the industry average for share trading and amounts to just a fraction of a percent. eToro does charge some account fees, including withdrawal fees, but most of these charges can be avoided.
eToro also offers a top-tier trading platform. You can join the broker's social trading network to gauge sentiment around Morrisons or other shares. Or you activate the copy trading feature to put a portion of your portfolio on autopilot. eToro also has advanced built-in charts with dozens of studies for investors who want to dive into technical research.
Pros:
100% commission-free share trading
Buy shares or stock CFDs
Trading on 800+ global shares
Social trading network
Supports copy trading
Advanced technical charts
Cons:
67% of retail investor accounts lose money when trading CFDs with this provider.
2. Fineco Bank – Low-Cost Broker with Thousands of Shares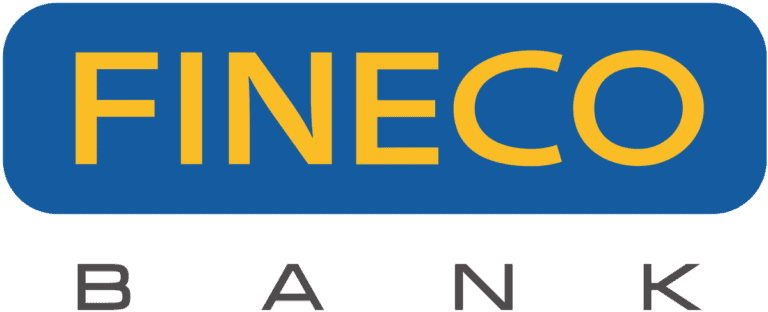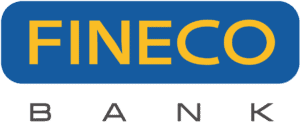 Fineco Bank isn't a familiar name to most UK investors, but this brokerage is extremely well-established in mainland Europe. The bank offers share trading in fully 26 markets, giving traders access to thousands of shares and stock CFDs. Notably, Fineco Bank also offers access to mutual funds, which aren't available through many online brokers in the UK.
This brokerage isn't commission-free like eToro, but its pricing model is still pretty attractive. Fineco Bank charges £2.95 per trade no matter how much you invest, and there's no spread on share trades to worry about. You'll also be charged a 0.25% annual account fee, but there are no other deposit, withdrawal, or inactivity fees.
What really stands out about Fineco Bank is its trading tools. With this broker, you get access to the powerful PowerDesk trading platform along with the Fineco Bank trading app. PowerDesk is particularly suitable for advanced traders since it offers custom technical indicators, a rearrangeable workspace, and highly detailed price charts.
Pros:
Thousands of shares and CFDs
Low fixed commission on trades
Offers trading on mutual funds
PowerDesk trading platform
Versatile mobile trading app
Cons:
0.25% annual account fee
No social trading network
There is no guarantee you will make money with this provider.
Step 2: Research Morrisons Shares
There's a good chance you've shopped at Morrisons before given this company's presence throughout the UK. But before you invest in stocks of Morrisons, or other supermarket shares like Tesco shares, it's important to look closely at where this grocery chain has been and where it is going. To help you research Morrisons shares, we'll examine everything you need to know about this company's history and its outlook for the future.
Morrisons Share Price History
William Morrison Supermarkets PLC, better known simply as Morrisons, was founded in 1899 by William Morrison. The company began as a single dairy stall at a market in Bradford, England, but it grew until eventually opening a supermarket in 1961.
The company was largely confined to the north of the country until 2004, when Morrisons acquired rival grocery chain Safeway. The acquisition, the largest grocery takeover in the UK at the time, added more than 470 grocery stores to the Morrisons brand. Importantly, many of the new stores were in southern England and gave Morrisons a nationwide presence.
Morrisons has been trading publicly on the London Stock Exchange since 1967. The share price increased steadily for several decades before stagnating in the early 2000s. After Morrisons was able to integrate its acquired Safeway stores, the Morrisons share price hit new highs in the late 2000s. Shares peaked at 320p in 2007, but spent most of the mid-2010s bouncing around a 220p price level.
The Morrisons share price has been volatile in response to the coronavirus pandemic, hitting a low of 164p before bouncing back to 200p within a few days. The shares are currently trading at around 183p, roughly the level they have held for most of the last year.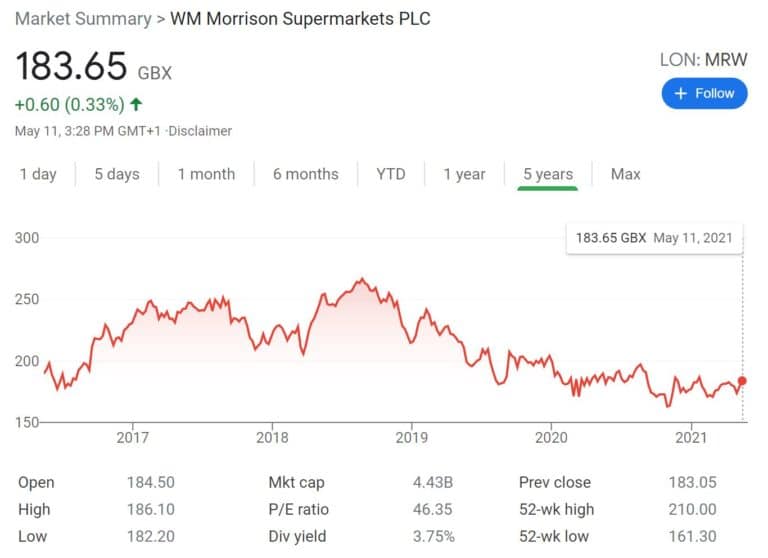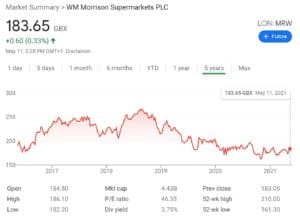 Morrisons Shares Dividend Information
Morrisons has been loved by investors for many years as a reliable dividend stock. The company pays out a quarterly dividend with a yield of 3.5% per year. Notably, Morrisons has not experienced any disruption to its dividend as a result of the coronavirus outbreak. The company has seen increased revenue, so its dividend should remain intact going forward.
Should I Buy Morrisons Shares?
Morrisons supermarket shares are still down from the 2007 peak, but they appear to be gaining momentum as a result of the coronavirus pandemic. So, are these shares a good buy right now?
Many analysts are bullish about Morrisons' prospects. Let's take a closer look at some of the key reasons why.
Vertical Integration
Morrisons is relatively unique among UK grocers. Instead of getting all of its wares from third-party suppliers and selling them in its stores, Morrisons grows much of the produce that's shelved in its supermarkets. In fact, the company has 16 massive farms spread throughout the UK that supply nearly all of its domestic fruits and vegetables.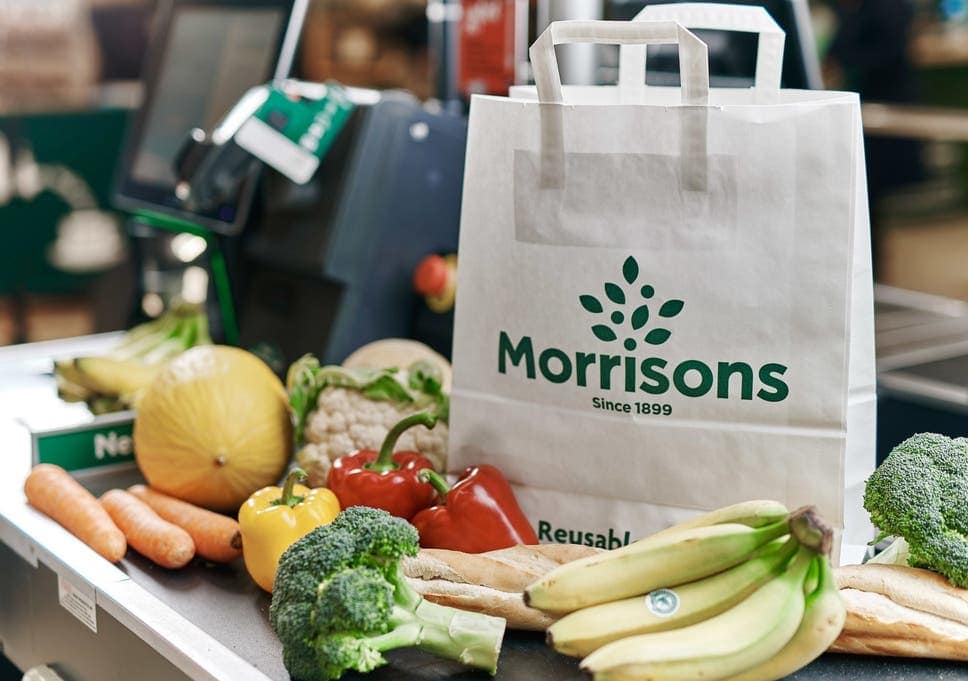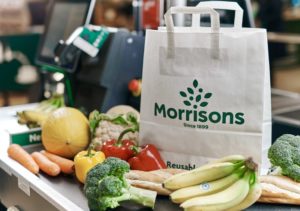 That kind of vertical integration gives Morrisons a competitive edge. The company is somewhat insulated from the supply chain issues that have plagued the UK as a result of both the coronavirus pandemic and Brexit. Morrisons was able to quickly pivot at the start of the pandemic to meet increased demand from shoppers – the very fact that Morrisons' shelves were full of fruits and veggies likely helped the chain capture more shoppers during the lockdown period.
Going forward, expect to see Morrisons double down on its vertical integration. Increased leverage over its supply chain isn't only good for logistics, but also for pricing. Since Morrisons controls its own costs, this chain will be better poised to compete with discount supermarkets like Aldi.
Amazon Partnership
One of the most exciting things about Morrisons going forward is that the company has developed a strong partnership with Amazon. Amazon has increasingly pushed into the UK grocery market, and there's now widespread speculation among analysts and investors that the US-based behemoth could make a big move into UK groceries – either by opening its own Amazon Go stores or acquiring a smaller UK grocery chain.
Morrisons works with Amazon by supplying its existing grocery stores with fruits and vegetables. In addition, around 40 Morrisons stores currently serve Amazon Prime customers by fulfilling online grocery orders through Amazon. If Amazon does expand its footprint, it is likely that Morrisons will actually benefit as a food supplier even if it loses some market share as a food retailer. The two companies have grown closer rather than more hostile even as Amazon readies for a major expansion in the UK grocery market.
Strong Online Presence
In addition to partnering with Amazon, Morrisons has also positioned itself to handle the transition from traditional grocery sales to online grocery sales. The company has partnered with Ocado, which itself has moved towards automated warehouses and online order fulfillment for groceries. More important, Morrisons has the cash on hand necessary to keep investing. The transition to online grocery service is expected to be expensive, but Morrisons should be able to adapt without too much financial trouble.
Step 3: Open an Account and Deposit Funds
In order to buy Morrisons shares, you'll need to open and fund a new brokerage account. We'll walk you through the process of buying shares at eToro, which is one of the best share dealing accounts and offers commission-free trading on more than 800 global companies.
To open a new eToro account, simply navigate to the broker's website and click the 'Join Now' button. You'll be asked to create a new username and password as well as enter contact details like your name, email, and address.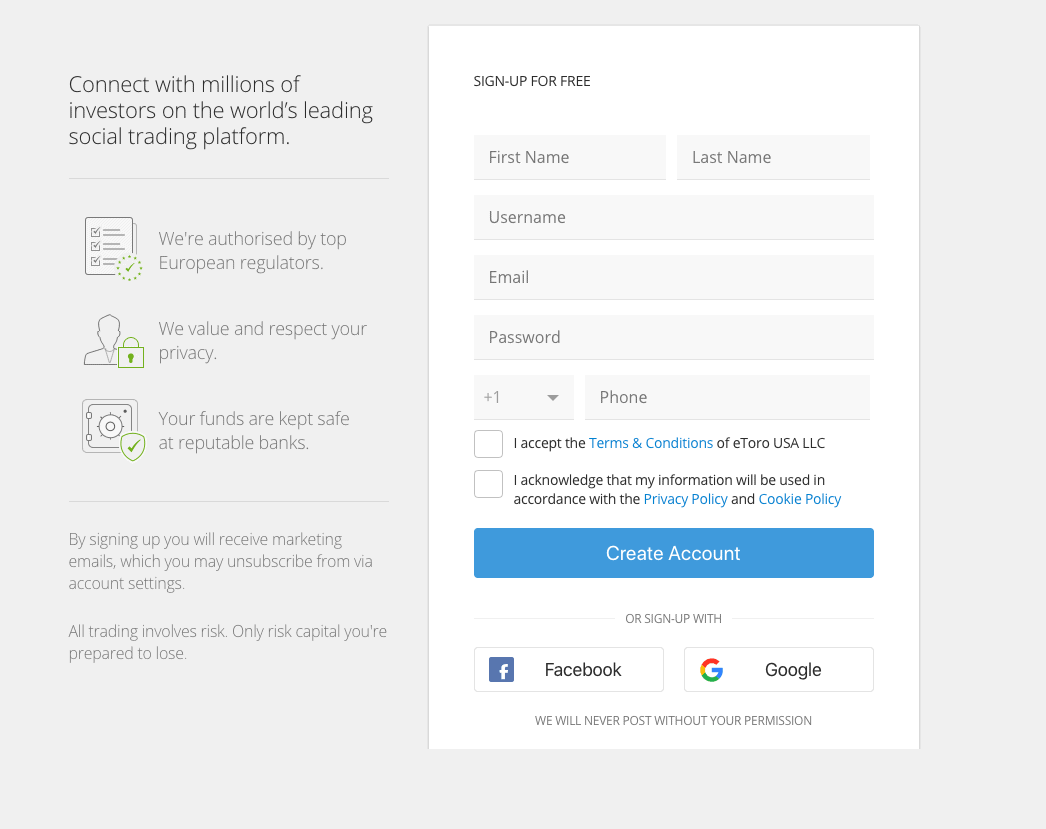 eToro requires that you verify your identity in order to comply with government regulations and prevent fraud. You can complete the verification step by uploading a copy of your driver's license or passport along with a copy of a recent financial statement or utility bill.
Once you've created your new account, it's time to fund it. eToro supports a wide range of payment methods for making a deposit:
Debit card
Credit card
UK bank transfer
Wire transfer (extra fees apply)
PayPal
Neteller
Skrill
You will need to deposit at least £140 after opening your account. Deposits made debit card, credit card, or e-wallet are available for trading immediately.
Step 4: Buy Morrisons Shares
With your new trading account funded, you're ready to buy Morrisons shares. In eToro, navigate to the dashboard and then enter 'Morrisons' in the search box at the top of the page. Click on the company when it appears in the drop-down menu to be taken to the stock page.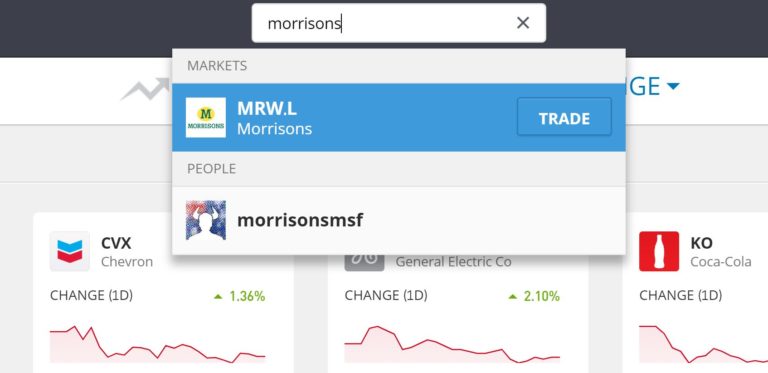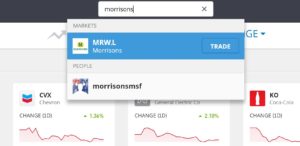 From there, click on the Trade button to open an order form. Enter how much money you want to invest in Morrisons shares (or choose to enter a number of shares to buy).
If you would like to set a stop loss or take profit price, you can enter that in the order form as well. If you are trading Morrisons share CFDs, you can apply leverage to your trade of up to 5:1. Beginners should be cautious about trading with leverage since it carries greater risk as well as additional trading fees.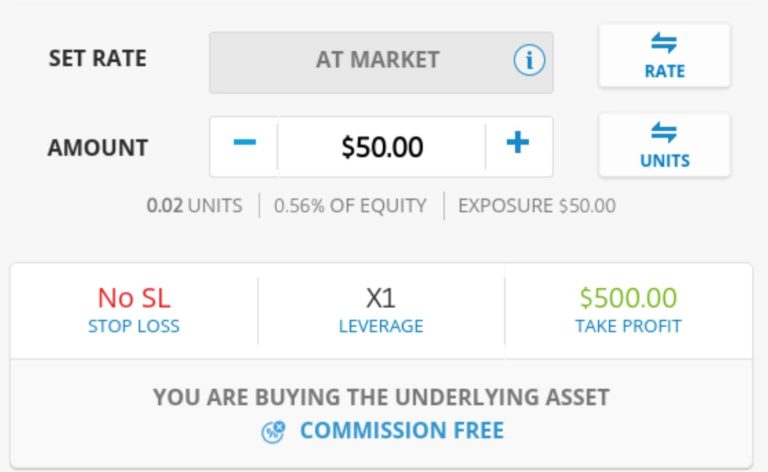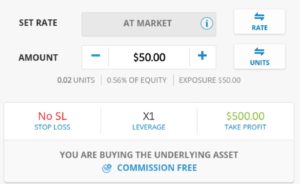 Once you're ready, click 'Trade' to buy Morrisons shares.
Morrisons Shares Buy or Sell?
While we don't have a crystal ball, we think now could be a good time to buy shares in Morrisons. The company has fared relatively well during the coronavirus pandemic thanks to its vertical supply chain and increased consumer demand for groceries.
Going forward, Morrisons is likely to be buoyed by its partnership with Amazon and its own investment in online grocery sales. Even if Amazon makes a major play in the UK grocery industry that hurts Morrisons' market share, Morrisons has effectively hedged its bets by serving as a supplier for Amazon's stores.
Right now, Morrisons' share price has held steady at around 180p – the same level it has been at for most of the pandemic. Importantly, the share price is still well below the highs it set over the past decade. In the eyes of many analysts, the company is trading at a bargain. Add in the 3.5% annual dividend yield, and Morrisons shares look very attractive for long-term investors.
Given that, we think Morrisons shares are a buy. However, investors may want to take a wait-and-see approach to this stock. If it begins to move upward, particularly above the 200p level, then that could be the beginning of a long term breakout.
The Verdict
Morrisons supermarket shares are trading at a bargain and many analysts believe the company is poised for long-term growth as the traditional grocery industry is shaken up. The company has a strong balance sheet, a considerable dividend yield, and a vertically integrated supply chain that gives it something of a moat. With all these factors in mind, long-term investors may want to take this opportunity to snatch up Morrisons shares.
Ready to buy Morrisons shares? You can invest today by signing up for a trading account with eToro. Just click the link below to get started!
eToro – Buy Morrisons Shares with Zero Commission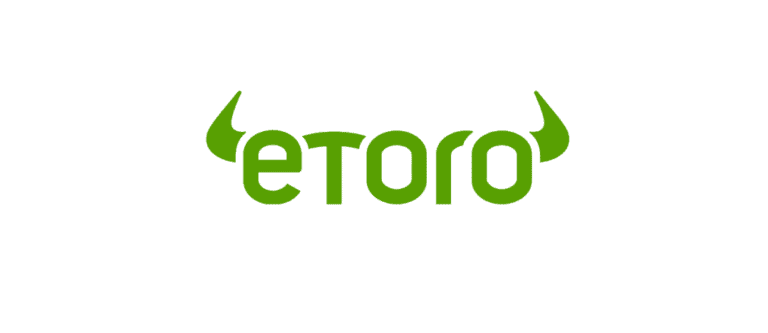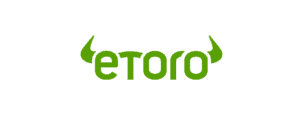 67% of retail investor accounts lose money when trading CFDs with this provider.
FAQs
What is ticker symbol for Morrisons shares?
Morrisons shares trade on the London Stock Exchange under the ticker symbol 'MRW.'
Who are Morrisons' main competitors in the UK?
Morrisons is the fourth-largest grocery chain in the UK, behind Tesco, Sainsbury's, and Asda. Expect Morrisons to face increasing competition from discount grocers like Aldi as well as from Amazon, although Morrisons can benefit by supplying fruits and vegetables to the latter.
Where is Morrisons headquartered?
Morrisons is headquartered in Bradford, a suburb of Leeds in northern England.
Does Morrisons operate in Scotland?
Yes, Morrisons operates around two dozen supermarkets across Scotland.
Is Morrisons pivoting to online grocery sales?
Morrisons has invested heavily in online grocery sales. The company has built out its own online platform, partnered with Ocado for its automated warehouse capabilities, and catered to Amazon Prime customers. Expect to see Morrisons spend significantly more money on the online grocery market going forward.