Square shares are dropping today in pre-market stock trading action following the release of the company's earnings report covering the second quarter of 2021 along with the announcement that the payments solutions provider will be acquiring the Australian fintech AfterPay.
According to the press release, the company headed by Jack Dorsey has agreed to buy AfterBay for $29 billion in an all-stock deal that will result in shareholders of the fintech company holding 18.5% of Square (SQ) once the transaction is settled.
Shareholders of AfterPay will receive 0.375 shares of Square per every share they hold which results in a 30.6% premium compared to the company's Friday closing price of $71.16 per share.
The move seeks to bolster Square's consumer lending offering by entering the promising "buy now, pay later" market through the acquisition of a well-established provider.
"Square and Afterpay have a shared purpose. We built our business to make the financial system more fair, accessible, and inclusive, and Afterpay has built a trusted brand aligned with those principles", said the Chief Executive of Square, Jack Dorsey.
AfterPay currently serves 16 million consumers worldwide and it is used by over 100,000 merchants to provide financing to their customers. The company's services will be integrated by Square's sellers and offered to consumers who are registered with the company's Cash App.
Market participants seem to be reacting negatively to the deal as a result of the dilution that comes with the issuance of the shares needed to finance it. As a result, shares of the payments solutions company are dropping 4% in pre-market action today at $237.25.
A summary of Square's Q2 2021 results
Square reported gross payment volumes (GPVs) of $42.8 billion during the second quarter of this year resulting in an 88% jump compared to the same period a year ago and a 29% advance compared to the previous quarter.
Transaction-based revenues for Square nearly doubled compared to a year ago as they landed at $1.23 billion, with 91% coming from the Seller ecosystem. Meanwhile, subscription and services-based revenues experienced a 98% jump compared to 2020 landing at $685.18 million while hardware revenues more than doubled as they ended the period at $43.72 million compared to $19.32 million the firm reported in Q2 2020.
Bitcoin revenues experienced a significant acceleration as well as they tripled compared to the second quarter of 2020 yet they retreated 22.5% compared to the previous quarter as a result of a drop in the price of Bitcoin (BTC) in the past few months. Notably, the company reported a $45.3 million Bitcoin impairment loss as a result of this decline.
By the end of these three months, Square managed to produce $55 million in gross profits from its Bitcoin dealings – still a negligible contribution to the firm's $1.14 billion total gross profits.
Total revenues for the payments platform landed at $4.68 billion or $1.96 billion excluding Bitcoin dealings, resulting in an 88% jump compared to the previous year (ex. Bitcoin) and a 143.8% advance overall.
Square's revenues missed analysts' forecasts by roughly $370 million. However, it is important to note that these forecasts include the Bitcoin segment, which is a fairly volatile and difficult to predict revenue stream.
Meanwhile, Square's gross profits nearly doubled during the period, moving from $596.76 million last year to $1.14 billion by the end of this second quarter, with gross margins advancing to 58.2% (ex. Bitcoin) up from a previous 57.4% reading.
Moreover, Square swung to profits during these three months, reporting $125 million in positive operating results against a $23 million loss it reported a year ago while net income landed at $204 million compared to an $11.5 million net loss it saw during the same period a year ago.
As a result, diluted GAAP earnings per share ended at $0.4 per share, resulting in a significant improvement compared to the minus $0.03 figure reported last year while it beat analysts' estimates for the quarter by 29%. As per its non-GAAP readings, the company reported non-GAAP EPS of $0.66 on a fully-diluted basis compared to $0.18 it reported a year ago.
What's next for Square shares?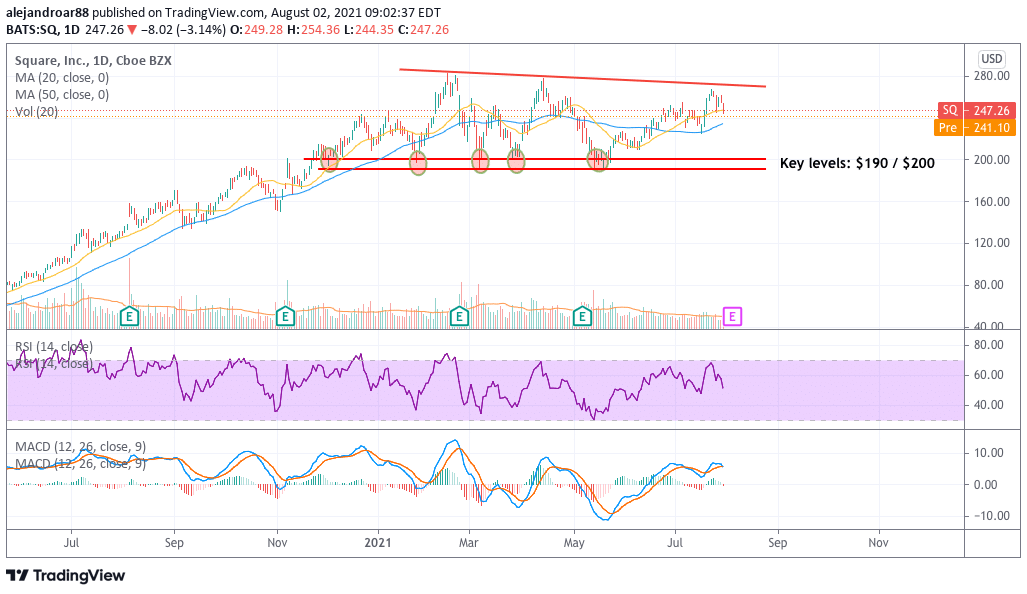 Square shares have been advancing progressively since they bounced off their $190 support after the strong decline seen back in April while they have failed to climb above those levels during this latest uptrend.
Despite failing to beat revenue estimates for the quarter, Square continues to grow at an accelerated pace and the fact that it has started to report organic bottom-line profitability may be positive in the long run as the business is showing signs of entering a more mature stage even though that doesn't mean its growth will stall.
Moreover, the acquisition of AfterPay should help the firm in bolstering its value proposition for both consumers and sellers as it will be entering a market valued at $10 trillion as per its own estimates. According to numbers provided by AfterPay, gross merchant volumes have doubled every year for the company since 2019, moving from $3.7 billion back in 2019 to $15.8 billion by the end of the firm's 2021 fiscal year.
The combination of robust quarterly results and the positive integration of this new revenue stream reinforce a bullish outlook for the stock and investors may decide to take advantage of this pre-market downtick to buy shares at a lower price if they share this viewpoint.