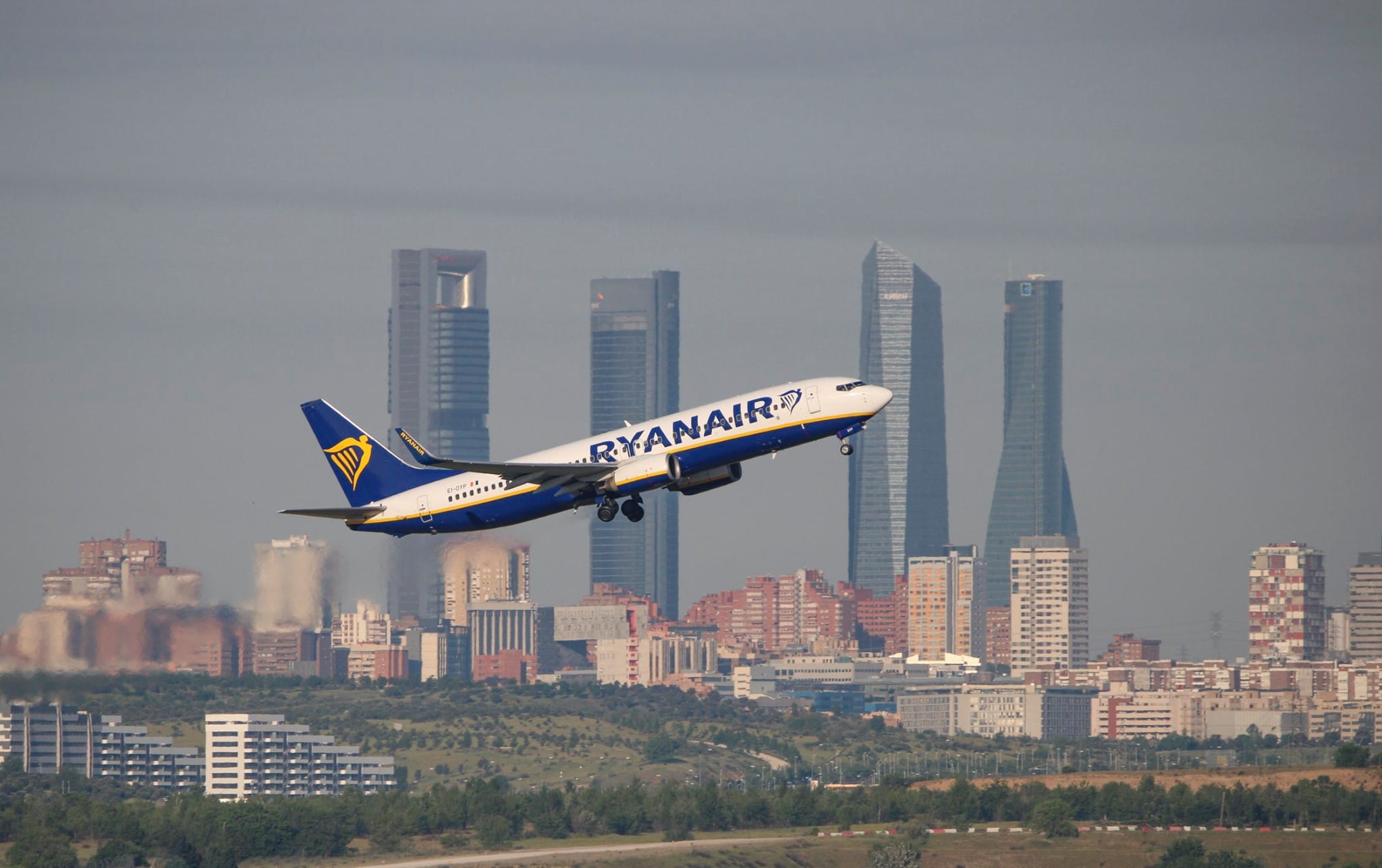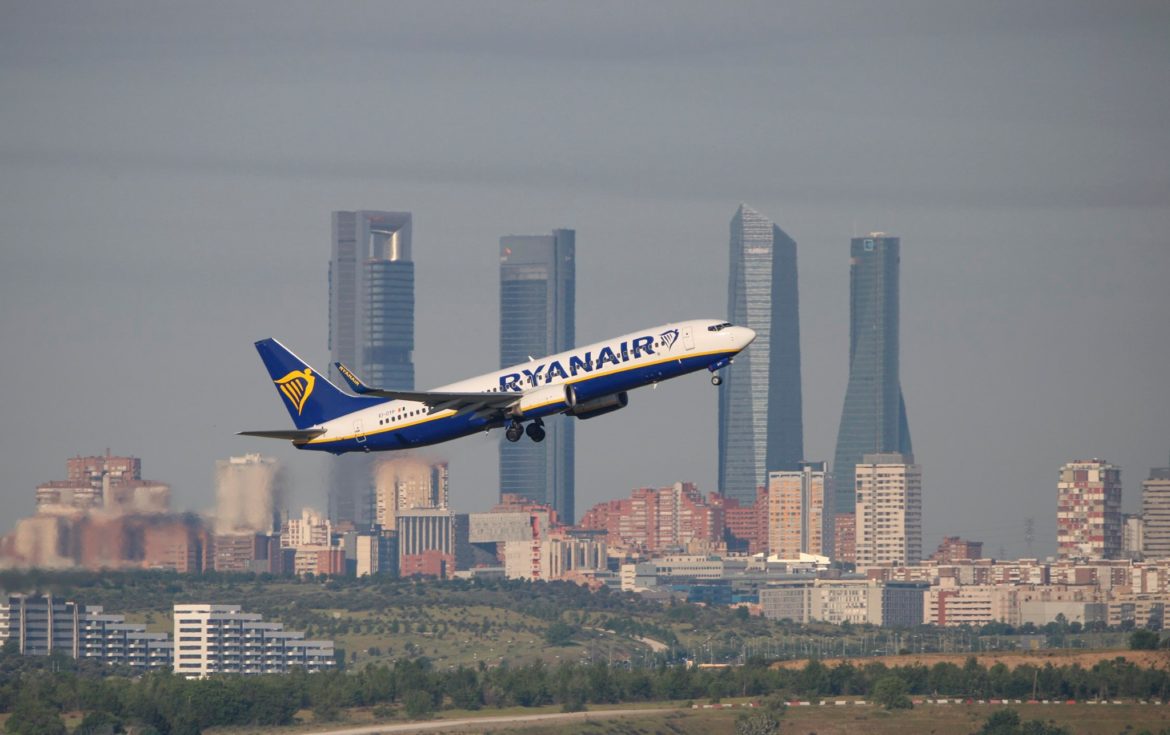 Ryanair shares were up over 1% in early London price action today after the company released its fiscal year 2021 earnings. While the company posted the biggest annual loss in its 35-year history, investors' attention shifted to the outlook for the second half of the year as the economy reopens.
In the fiscal year 2021 that ended 31 March 2021, Ryanair reported revenues of €1.64 billion. The revenue decline is not hard to comprehend given the steep fall in passengers due to COVID-19-related restrictions.
Ryanair terms 2021 as the "most challenging"
Describing the fiscal year 2021 as the "most challenging in Ryanair's 35-year history, the company said that "Covid-19 saw traffic collapse, almost overnight, from 149m to just 27.5m." It also took a swipe at governments in Europe which have been grappling to strike a balance between controlling the spread of coronavirus and not crippling economic activity much.
Lambasting the response from governments, Ryanair said that "many European Govts. (with little notice or co-ordination) imposed flight bans, travel restrictions and national lockdown." Referring to the three waves of COVID-19 in Europe, Ryanair added "This created enormous disruptions and uncertainty for both our customers and our people, as they suffered constantly changing Govt. guidelines, travel bans and restriction."
Ryanair posts massive loss
Ryanair posted a massive loss of €815 million in the fiscal year 2021 as compared to a net profit of €1.02 billion in the fiscal year 2020. The airline industry works on a higher operating and financial leverage which means that their profits fall sharply during the downturns. Conversely, when the economic tide turns for the good, airline companies see a spike in profits.
Looking at Ryanair's fiscal year 2021 performance, while its revenues fell 81% year-over-year its operating costs fell only 66% during the period. There are a lot of fixed costs for airline companies which led to the anomaly. This mismatch between revenues and costs drove the steep losses at Ryanair in the fiscal year 2021.
Balance sheet
Like almost all other airline companies including those based in the US, Ryanair took a series of steps to increase its liquidity to bridge the cash burn. The company had €3.15 billion cash and cash equivalents at the end of March which looks quite healthy and would help it bridge the cash burn before conditions normalise for the aviation industry.
Ryanair raised €400 million through a share sale, €850 million in Eurobonds, and £600 million in CCFF (Covid Corporate Financing Facility) of the Bank of England. Meanwhile, while Ryanair received support from governments it also criticized the support for some of the other airline companies.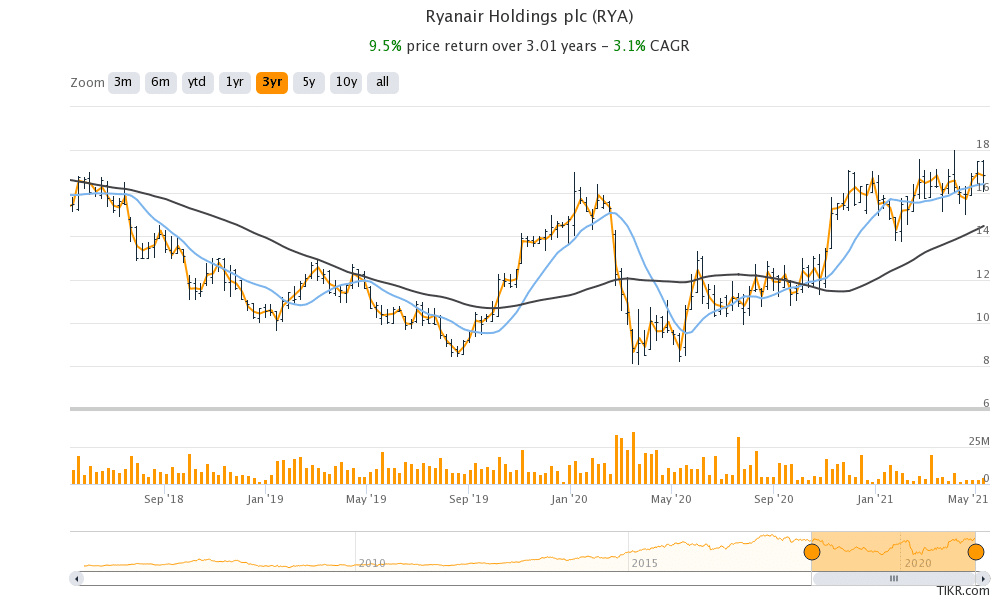 Ryanair took support from the government
According to Ryanair, the COVID-19 pandemic "sparked a tsunami of State Aid from EU Govts. to their insolvent flag carriers including Alitalia, AirFrance/KLM, LOT, Lufthansa, SAS, TAP and others, which will distort EU competition and prop up high cost, inefficient, flag carriers for many years."
Meanwhile, Ryanair is forecasting that the intra-European Union flying capacity would be "materially lower" in the near foreseeable future as many airlines have shut down due to the pandemic. The company sees significant growth opportunities for itself especially as it plans to take deliveries of 210 new Boeing 737s. However, it expressed disappointment over the delay in deliveries of the aircraft from Boeing.
The company also sounded upbeat on the outlook and said "as is presently predicted, most European populations are vaccinated by Sept., then we believe that we can look forward to a strong recovery in air travel, jobs and tourism in H2 of the current fiscal year (FY22)." It added, "The recent strong increases in weekly bookings since early April suggests that this recovery has already begun."
Impact of Brexit
Beginning this year, Ryanair has restricted voting rights for non-EU shareholders including those based in the UK. This will help the company protect its airline licence in the EU after Brexit.
Meanwhile, Ryanair expects traffic in the fiscal year 2022 to be on the lower end of its previous guidance of 80-120 million. However, it expects to be nearly breakeven in the year assuming successful rollout of COVID-19 vaccines and lifting of travel restrictions before the peak season beginning July.
Analysts on Ryanair
Jack Winchester, an analyst at Third Bridge sounds optimistic about Ryanair. He said Ryanair, "like its ultra-low-cost peer Wizz Air, weathered the crisis far better than its legacy counterparts. It also stands ready to hoover up the pent-up demand for foreign holidays we're about to see as rules on international travel finally ease."
He added, "While Lufthansa, IAG and Air France KLM all struggled under the weight of huge hub-and-spoke airline operations, Ryanair's point-to-point model meant it was able to adapt faster and more fully to a historic year of low demand."
Of the 24 analysts covering the ADR of Ryanair, 16 have a buy rating while seven rates it as a hold. Only one analyst has a sell rating on the shares according to the estimates compiled by CNN Business.
Ryanair shares were up 0.70% at 16.97p at 11 AM London time today. The shares have a 52-week trading range of 8.44p-18.0p and trade at an NTM (next-12 months) enterprise value-to-revenue multiple of 5.2x.