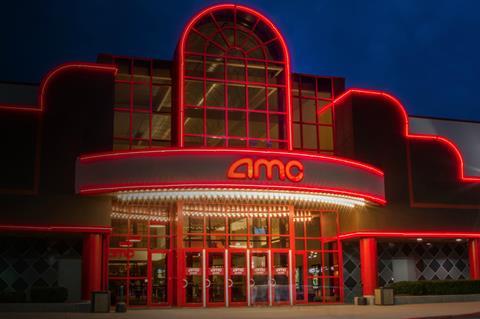 The so-called Reddit stocks are experiencing sharp downticks during today's early stock trading action, with shares of movie theater chain AMC Entertainment leading the scoreboard as it is retreating 27% at $45.95 per share.
The popular 'meme stocks' had seen some elevated trading volumes lately as traders who follow and share their thoughts in the popular Reddit message board Wall Street Bets (WSB) started to support another short-squeezing frenzy similar to the one seen in February this year.
Since 24 May – the day in which volumes started to tick higher for most of these securities – AMC Entertainment (AMC) shares had advanced a mind-blowing 418% while gains have now been slashed to 283% as a result of this morning's meltdown.
Other issues also tracked and promoted by WSB traders include GameStop (GME), Bed Bad and Beyond (BBBY), and Blackberry (BB). All of these stocks have experienced mid to high double-digit gains as a result of a short squeeze – a strategy that aims to prompt short-sellers to close their positions in a rush to limit their losses when a stock they have borrowed experiences a sharp uptick.
However, today's session has not been a kind one for these meme stocks as some of them are experiencing sharp sell-offs. So far, AMC and BBBY shares are the most affected by the downtick while others like Sundial Growers (SNDL) and Blackberry (BB) are seeing gains of 17% and 15% respectively.
A call to approach these stocks with caution
Notably, AMC's management filed to sell as much as 11.5 million shares today to take advantage of the latest rally while the company issue an odd caution to market participants about investing in the stock at current levels.
"We believe that the recent volatility and our current market prices reflect market and trading dynamics unrelated to our underlying business, or macro or industry fundamentals, and we do not know how long these dynamics will last", the company stated in the SEC filing that disclosed the upcoming share offering.
The company added: "Under the circumstances, we caution you against investing in our Class A common stock, unless you are prepared to incur the risk of losing all or a substantial portion of your investment".
The company cited the latest atypical activity, including an increase in retail investors' interest toward the stock, as the primary cause for the rally.
What's next for Reddit stocks?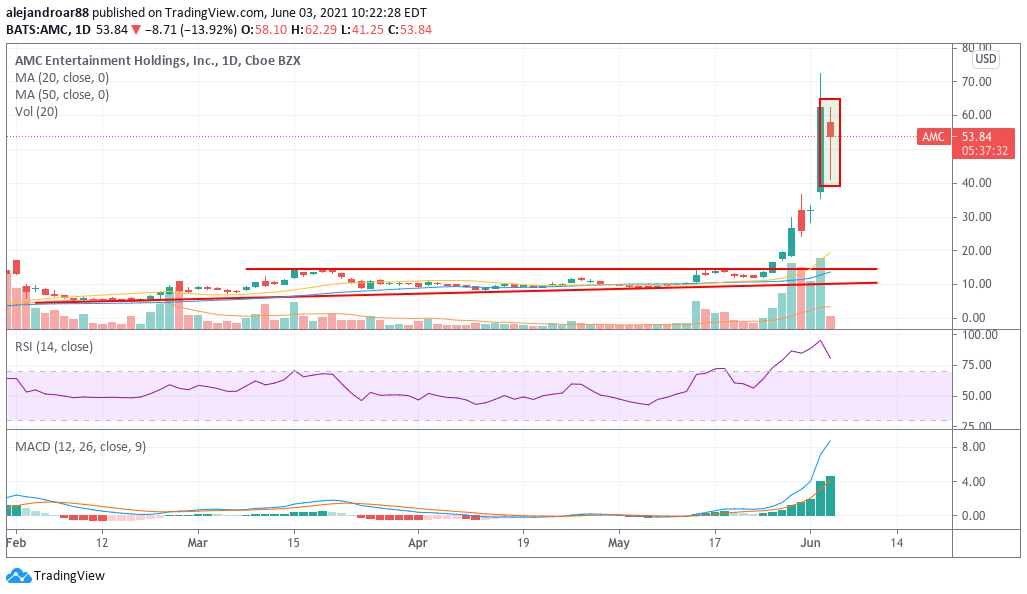 Interestingly, AMC shares have trimmed a big portion of this morning's downtick an hour after the American market opened. At this point, the price action has slashed the losses by more than half while leaving behind a hammer candle pattern – also known as the hanging man candle.
What this pattern suggests is that even though bulls have managed to recoup most of the lost territory, the stock has seen some significant selling activity and that could be a signal of an upcoming trend reversal.
Although it is still way too early to tell how the session will end, traders should keep an eye on today's candle for possible signs of a hanging man showing up.
A rally of this nature cannot go on forever since, at some point, there will be more sellers than buyers and that will prompt a swift correction in the price. That doesn't necessarily mean that the stock won't move higher from here, at least temporarily, but, as days go by, the risk of a sharp reversal increases.
Meanwhile, if AMC's management decides to keep flushing the market with new equity sales, the resulting dilution will ultimately depress the share price. In this context, entering a long position on the stock offers a low reward-to-risk ratio.