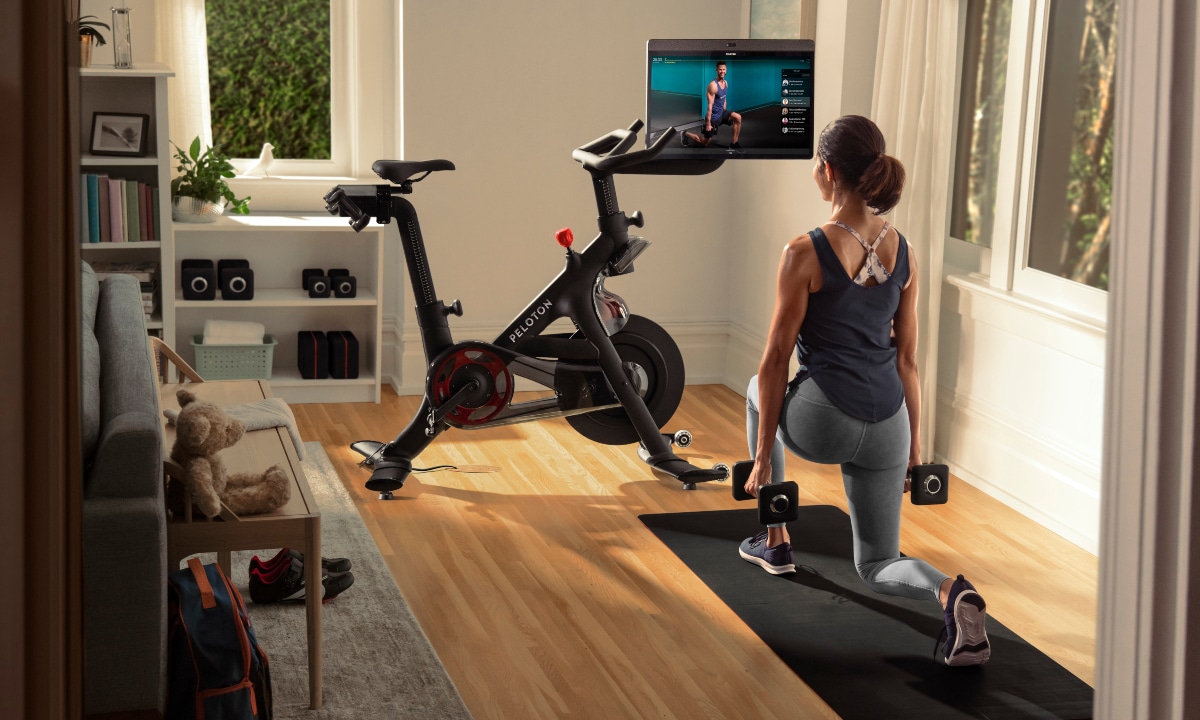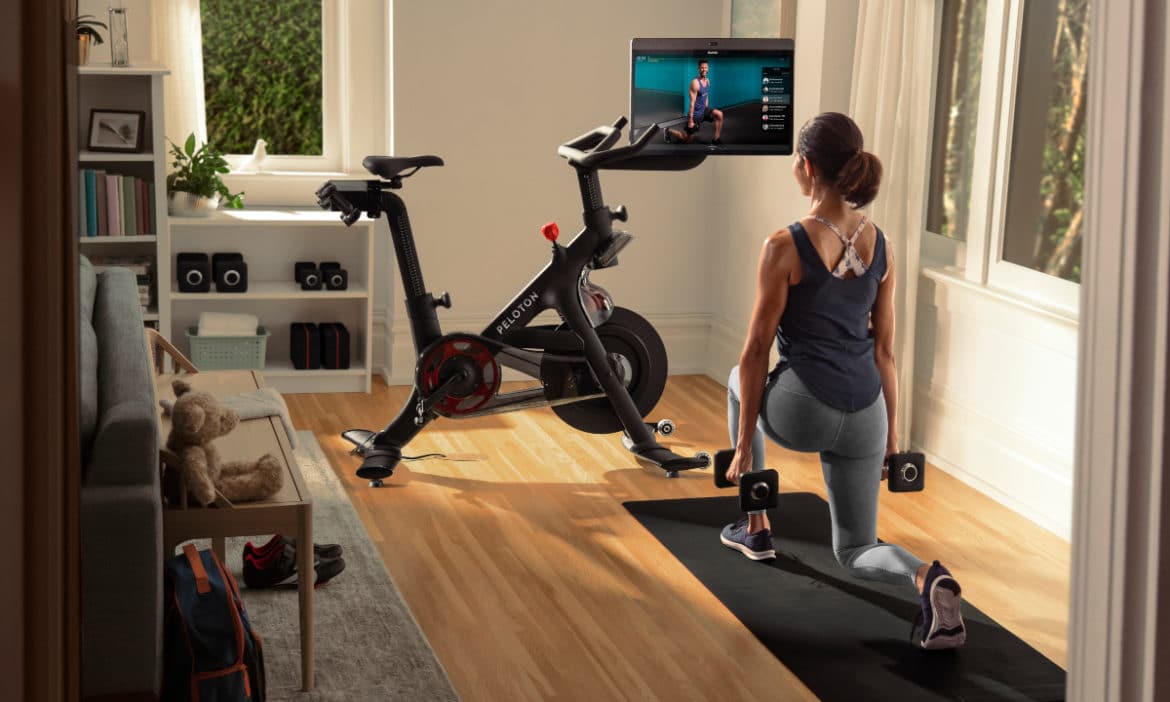 Peloton share fell almost 5% yesterday. The company's health equipment was involved in an accident that caused the death of a child. The shares have lost almost a third of their market capitalisation in 2021. However, things could get better for the company going forward.
Let's first begin by looking at why Peloton shares have been weak in 2021. The company has cited supply chain issues hitting the share, and to make things worse there has been a sell-off in growth shares amid rising US bond yields. The yields on US government treasury bonds are at their highest level since January 2020.
Growth shares are falling amid strengthening bond yields
Even though the US Federal Reserve tried to reassure the markets by hinting that there won't be a rate hike until 2024, investors don't seem to buy that thesis, as is visible in strengthening bond yields.
Markets expect interest rates to rise in the future, which is negative for growth companies like Peloton whose cash flows are skewed towards the future. Also, markets are now becoming apprehensive about the valuations of some of the growth shares. In 2020, growth shares traded at exorbitant valuation, with investors willing to pay almost any premium for them.
Peloton shares in a free fall
Talking of Peloton, it is among the "stay at home shares" that benefited from the lockdowns last year. As more people stayed at home, it led to a higher demand for Peloton equipment. Now the stay-at-home trade seems to be unwinding as investors are pivoting their portfolios towards cyclical and reopening shares expecting a resumption of normal economic activity.
While there are some of the macro headwinds, some of the company-specific factors are now also weighing on Peloton's share. The news that the company's CEO John Paul Foley sold 100,00 shares in the company at an average price of $110.67 is not helping the share either.
Peloton's CEO is selling shares
He had sold 100,000 shares in February also at an average price of $148.51. On any other day, the news of the CEO selling shares might not have attracted much attention, it is in the limelight amid the plunge in Peloton shares which are now down almost 40% from their 52-week high of $171.09.
Peloton equipment was involved in a fatal accident
Then there is the unfortunate news that one child died in an accident that involved Peloton equipment. Foley issued a public letter about the accident. "I'm reaching out to you today because I recently learned about a tragic accident involving a child and the Tread+, resulting in, unthinkably, a death," said Foley. He added, "While we are aware of only a small handful of incidents involving the Tread+ where children have been hurt, each one is devastating to all of us at Peloton, and our hearts go out to the families involved."
He listed precautions while using the company's exercise equipment. He advised keeping pets and children away from the equipment at all times and ensuring that the space near the equipment is clear before the workout. He also advised removing the safety key after using Tread+ and storing it away from the reach of children.
Peloton share forecast
Wall Street looks quite bullish on Peloton shares despite the crash. Its median price target of $178.50 is a 74% premium over current prices. The stock's lowest price target of $45 represents a 56% downside over the next 12 months while its highest price target of $200 is a premium of 95% over current prices.
Of the 27 analysts polled by CNN Business, an overwhelming majority of 24 analysts rate it as a buy or equivalent while one rates it as a hold. The remaining two analysts rate the share as a sell.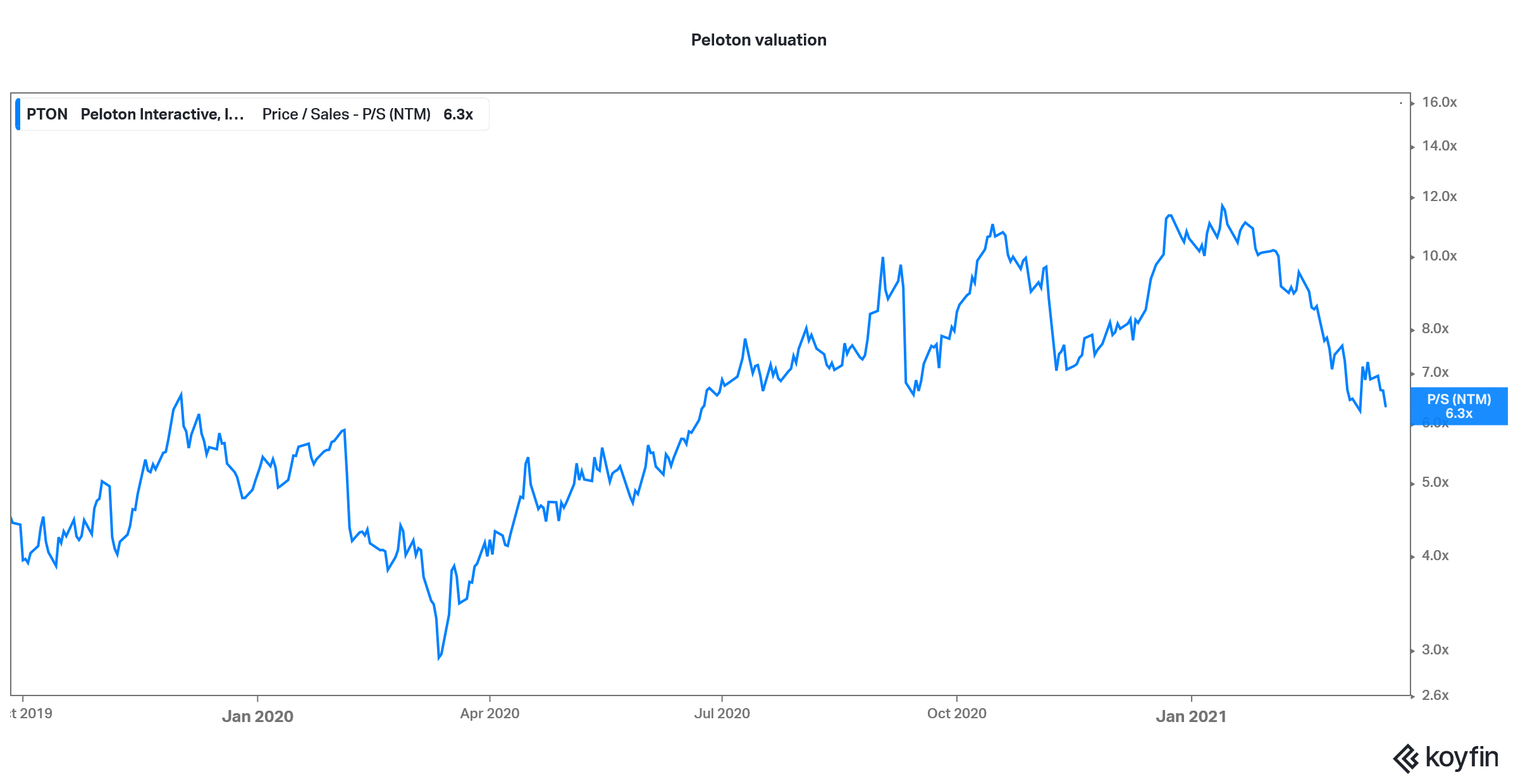 What's the outlook for Peloton share?
While there has been a sell-off and a visible shift from stay-at-home shares, Peloton could see its sales continue to grow on a high trajectory for the near foreseeable future. The demand for home-fitness equipment is only expected to rise as more people work out at home even after the pandemic.
From a valuation perspective, Peloton share trades at an NTM (next-12 months) price to sales multiple of 6.3x. The multiple peaked near 12x in January and has since almost halved. The share's NTM price to sales multiple bottomed near 3x in the March 2020 share markets sell-off.
The bullish argument for Peloton
Overall, looking at the positive fundamentals and the reasonable valuations, Peloton looks like a good share to have in the portfolio. Earlier this month, Rohit Kulkarni of MKM Partners raised the share to a buy from neutral after the sell-off.
"We believe the combined value of Peloton's investments in instructors, music/media, and social features is greater than just looking at the member churn rate or workouts per member," said Kulkarni. He added, "We believe the value of the network is greater than the sum of the individual parts, and it continues to grow at a greater clip than the growth in the size of the network."
Gene Munster on Peloton
Meanwhile, Gene Munster of Loup Ventures is not too bullish on Peloton. Munster correctly predicted Apple's market capitalisation reaching $2 trillion and now expects it to hit $3 trillion – he expects Apple Fitness+ to give Peloton a tough fight.
Meanwhile, Peloton shares are looking to shed the pessimism today and are up 1.3% in US premarket trading. The tech-heavy Nasdaq Index is also looking at reversing some of yesterday's losses and is up 0.70%.