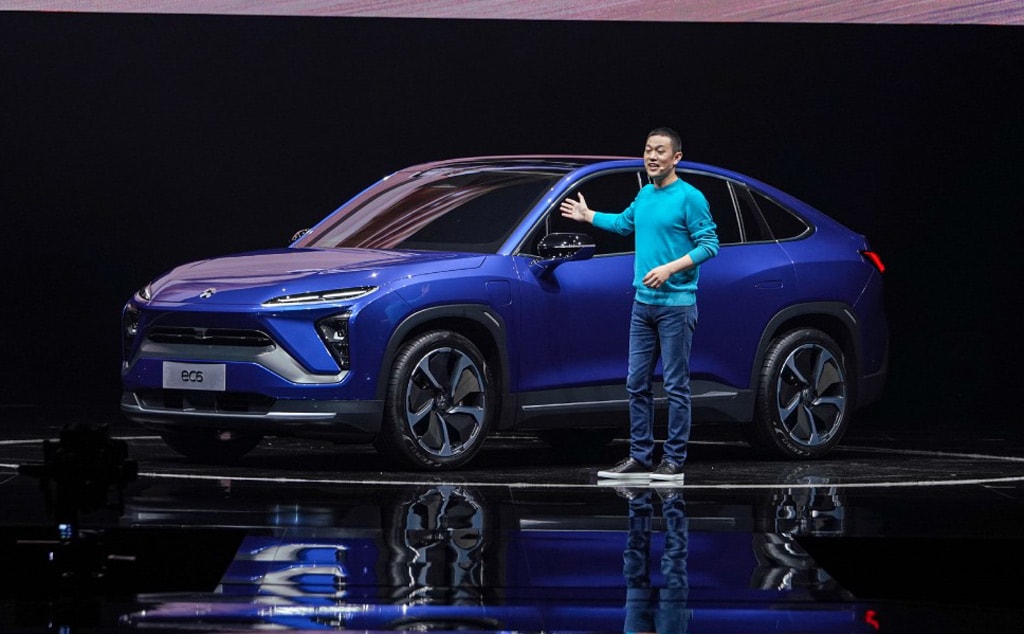 NIO shares have been zooming higher this week, up 11% on Monday, falling back on Tuesday, but higher again yesterday and at the time of writing are trading at $13.83 (-0.57%) on Wall Street.
It's as if the parabolic run-up in the value of the electric vehicle (EV) manufacturer this year is not enough for some investors.
Keeping the excitement going this week was the publication of the July delivery numbers.
Sales registered a four-fold increase on July 2019. Total volumes were 3,533, which includes its ES6 SUV (2,610) and ES8 (923) models.
Those figures come on the back of what was already a stellar June 2020 performance.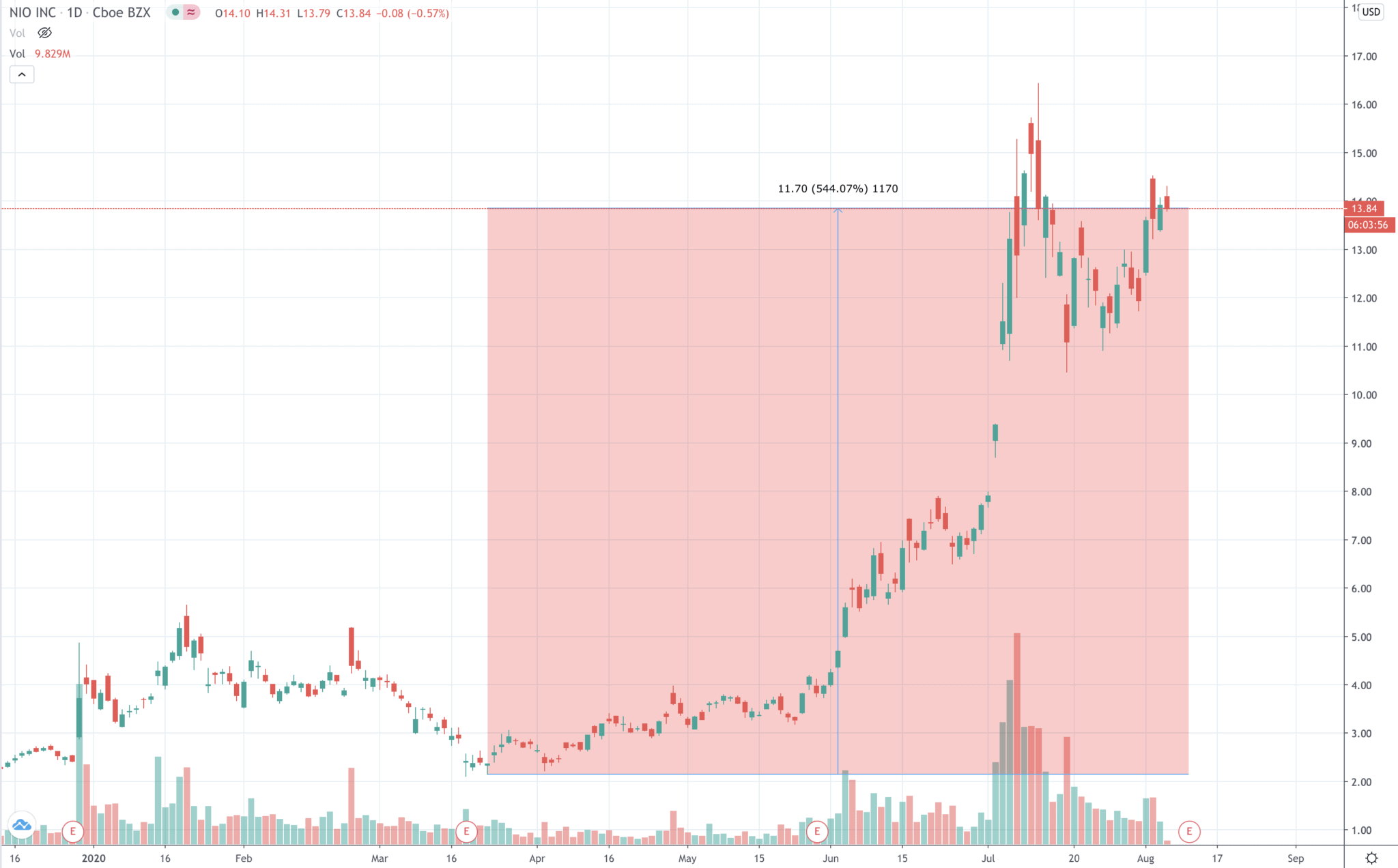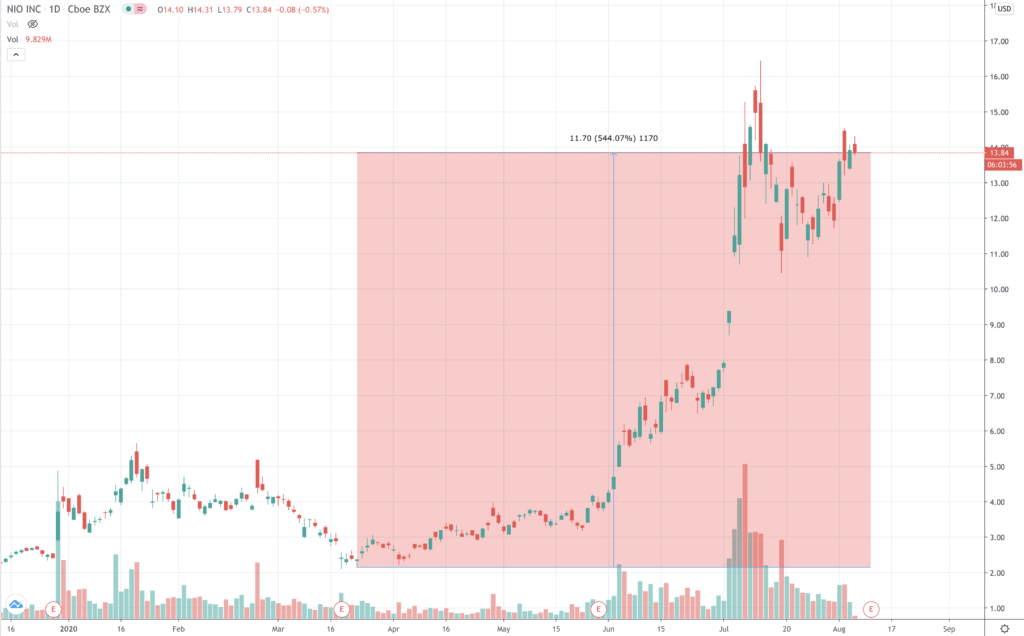 NIO sales back to normal… and some
The sales growth confirms predictions made by founder and chief executive William Li in May, when he said both supply chain and sales were "back to normal in April".
In an interview with financial news and data provider Bloomberg, Li reiterated optimistic guidance that is now being borne out by actual sales.
"Our supply chain has been restored since late March… and is mostly back to normal in April. In term so demand, most offline businesses were closed in China in February and March but they were open from April, so our pre-Covid sales are back to normal."
But were there any residual worries on Covid? "The virus impact has been largely eliminated, but for the long run the virus impact on the overall auto industry is quite big," he noted.
"We will not adjust sales guidance as we've seen continuous growth since April. Second quarter  sales should be 9,500 – 10,000, which would be a record. That growth is sustainable because we will be delivering a new car, the EC6."
NIO believes the EC6 (pictured above) will appeal to a younger demographic than has until now had either the money or the inclination to be attracted to its EVs. The lower pricer point of the EC6 should help it realise that ambition.
Competitive pricing aims to attack Telsa
The Chinese carmaker said on 23 July that its EC6 would be priced at 368,000 yuan, making it substantially cheaper than, for example, Telsa's Model Y, which would be one of its direct competitor.
Other Chinese brands are taking a similarly aggressive pricing approach to combat Telsa on their home turf – but may also grab market share from NIO.
Xpeng Motors' P7, for instance, is keenly priced up against Tesla's Model 3 and will have a longer driving range, according to pre-publicity before the September shipping to showrooms.
NIO's EC6 five-seater is also scheduled to appear in the market from September.
Other foreign car companies, aside from Telsa, are also in the market or have plans to enter, such as Germany's BMW.
Telsa's Model Y is priced in the US market at $49,000, with the Chinese website of the US company listing a sticker price of 488,000 yuan.
NIO share price takes off after securing new funding
NIO's share price has been on a roll this year. That may be partly because of investors betting on the electric vehicle future as a whole, with the Telsa share price boom, in particular, lifting all boats.
However, it has also been helped by being able to secure financing from six banks in China and help from local government in the country, which should put to rest worries about a looming cash crunch.
But the volatility of the share price, and perhaps the precarious footing of its current valuation, was on display when on 17 July Goldman Sachs downgraded  NIO from neutral to a sell. The share price skidded lower 14%.
Positive gross margin realisation would be super bullish
Up until now NIO has had negative gross margins, which effectively means it loses money on each vehicle is sells. However, in guidance earlier this year NIO said it expected margins to turn positive in the first half of 2020.
The recent months' sales figures would indicate that the company is on target to reach that important milestone.
If NIO is able to turn cash positive it would be a huge turnaround for the company and a strong kicker for more momentum gathering behind the stock price.
Although opening lower today, there's likely plenty more room in the tank for NIO shareholders.
Before we sign off though, don't forget about keeping an eye on President Trump's Twitter feed – the possibility of a move against Chinese companies listed on US stock exchanges would be a negative development.
That being so, it would not have much of an impact on the growth opportunity story that the gigantic Chinese home market entails for electric vehicles, and the fact that Chinese state's commitment to the company, shown through the bank loans and local government assistance mentioned earlier, will likely be long term.