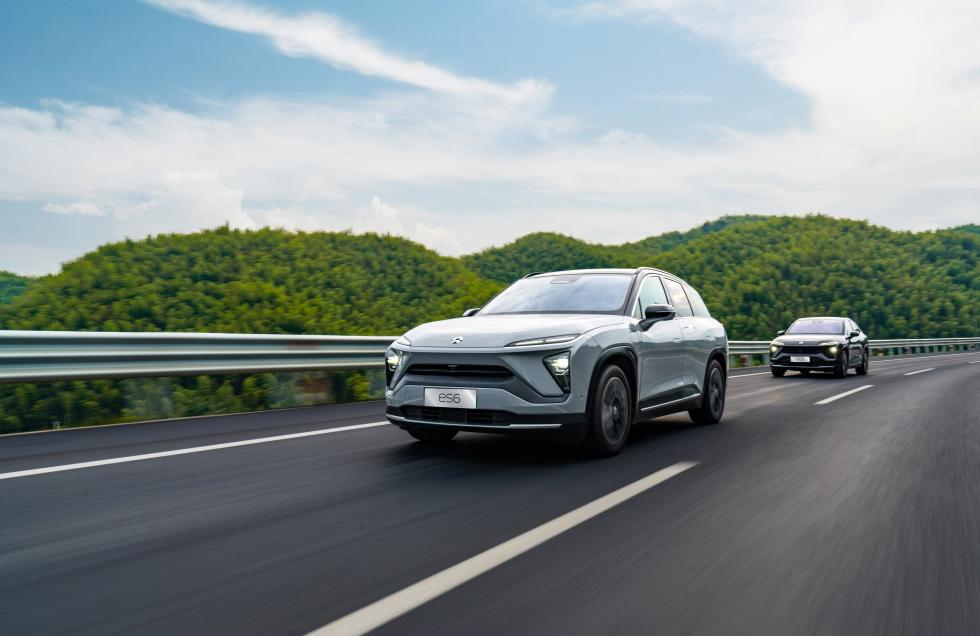 NIO shares were trading flat in US premarket price action today. The company released better than expected second-quarter earnings and also provided healthy delivery guidance.
NIO released its second-quarter earnings yesterday after the close of US markets. It reported revenues of $1.30 billion in the quarter which were 127% higher than what it had reported in the corresponding quarter in 2020 and were also ahead of what analysts were expecting.
NIO beats second-quarter earnings estimates
NIO reported gross profits of $243.8 million in the quarter. While the gross profits rose five-fold from the corresponding quarter in 2020, they were only marginally higher than the previous quarter. Notably, the Chinese electric vehicle maker posted gross profits for the first time in the second quarter of 2020 and has since reported a gradual increase in margins.
However, in the second quarter, its gross profit margin fell to 18.6% from 19.5% in the first quarter. The company's net loss widened to $90.9 million in the quarter which was 30.2% higher than what it had posted in the first quarter. The company posted an adjusted loss per share of $0.03. In the previous quarter, it had almost turned positive on the adjusted net profit level.
Meanwhile, despite the sequential fall in profitability metrics, NIO's second-quarter earnings were better than what analysts were expecting. The company ended the quarter with strong liquidity of $7.5 billion. NIO, along with fellow Chinese electric vehicle makers Xpeng and Li Auto have raised capital in multiple tranches over the last year. Xpeng also went for a dual listing in Hong Kong. The dual listing would help the company hedge itself from the US-China tensions as many US lawmakers have been raising their voices to delist Chinese companies.
NIO guidance
NIO had delivered 21,896 vehicles in the second quarter which was almost 112% higher than the corresponding period in 2020. That said, while traditionally NIO's deliveries have been higher than that of Li Auto and Xpeng Motors, in July it fell behind both these companies. Tesla's deliveries also plummeted in July in China.
NIO has also been grappling with the global chip shortage situation. "While the global supply chain still faces uncertainties, we have been working closely with our partners to improve the overall supply chain production capacity," said William Bin Li, NIO's CEO and founder.
NIO said that it expects to deliver between 23,000 to 25,000 vehicles in the third quarter which would mean a yearly rise of between 88.4-104.8%. The company traditionally provides conservative guidance and ends up posting better than expected deliveries. It released its delivery report on a monthly basis, unlike Tesla that releases its deliveries quarterly.
NIO expects to post revenues between $1,380.4-$1,491.7 million in the third quarter. At the lower end of the guidance, the revenues would be only marginally higher than the first quarter.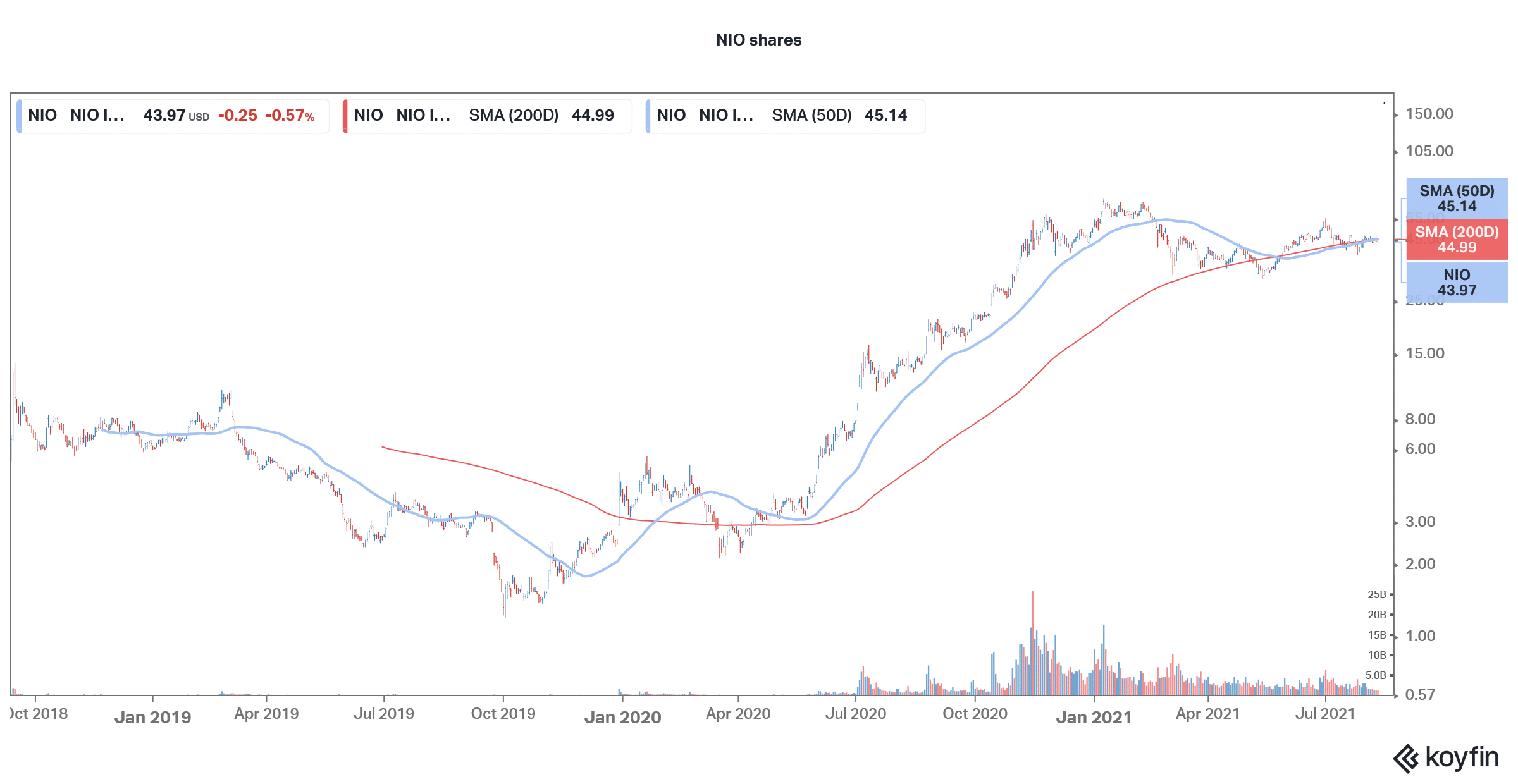 New models
NIO plans to deliver three new car models in 2022. It currently has only three SUVs, the ES8, ES6, EC6 as part of the portfolio. Earlier this year, it revealed the details of its first sedan the ET7 which would have a higher range. The company is also working on mass-market electric vehicles and earlier this year it expanded its partnership with JAC Motors under which JAC will increase the annual capacity to 240,000 cars. Unlike Tesla which has its own plants, NIO has partnered with state-owned automaker JAC Motors to produce its cars.
NIO stock forecast
Wall Street analysts are bullish on the shares. According to the forecast estimates compiled by CNN Business, NIO has a median price target of $62.66, which is a premium of over 42.4% over current prices. Its highest price target of $91.91 is a premium of over 101% over current prices, while its lowest price target of $18.99 is a 56.8% discount to the current share price.
Of the 14 analysts covering the shares, 13 have rated the shares as a buy or some equivalent while one has a sell rating.
Analyst action
In July, HSBC had upgraded NIO to a buy and raised its target price to $69. "We see Nio's strong brand traction, solid product offering and solid reputation among existing car owners to likely drive its continuing volume growth," said analysts led by Yuqian Ding. They added, "With existing SUV models and the to-be-introduced sedan series and its in-house autonomous driving software, we see Nio likely establishing itself in the premium EV segment."
In June, Citi had also upgraded the shares to a buy as analyst Jeff Chung saw the crash as a buying opportunity. NIO shares have looked weak in 2021. Despite having risen sharply from their 2021 lows they are still down 17.8% in the year. Xpeng Motors and Li Auto are also down in 2021 but the losses are much lower than that of NIO. Even Tesla is down 3% for the year. However, legacy automakers like Ford and General Motors are outperforming this year.
Electric vehicles
The pivot towards electric vehicles is among the biggest transition that we're witnessing. The debate now is not about whether electric cars can replace gasoline cars but on when would we have the automotive market go fully electric. Legacy automakers have also committed themselves to a zero-emission future and General Motors would not sell ICE (internal combustion engine cars) beyond 2035.
Coming back to NIO, it has the backing of the Chinese government which sees electric vehicles as a strategic industry. While the country cracked down on several tech companies, it spared electric vehicle companies.
NIO shares were trading almost flat in US premarket price action today. The shares have a 52-week trading range of $12.54-$66.99.