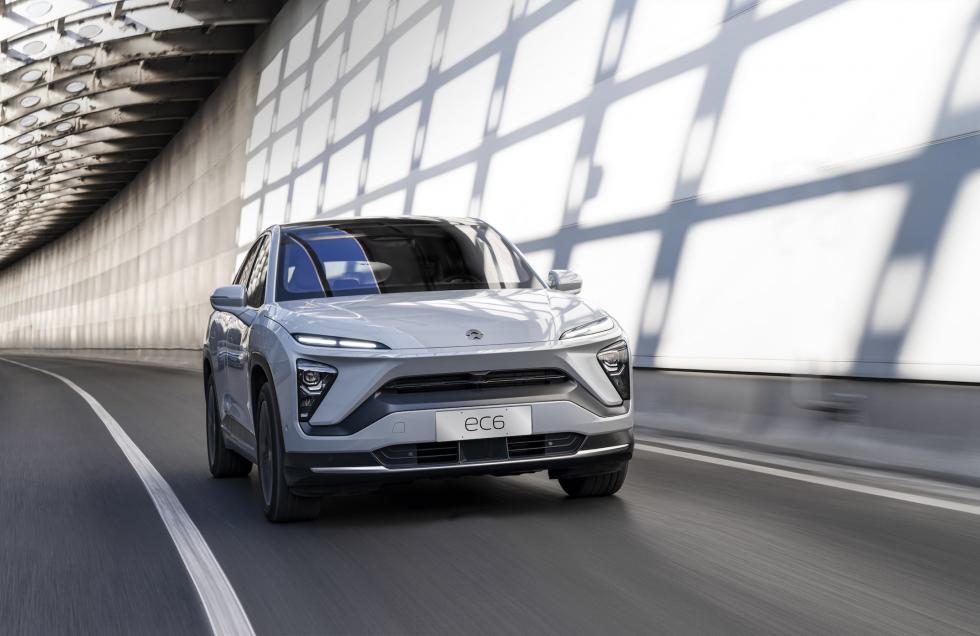 NIO shares were trading sharply lower in US premarket trading today after reporting mixed earnings. While its revenues were slightly ahead of estimates its losses were wider than the market was expecting. Here's an update on the recent developments in the electric vehicle industry.
NIO, also known as the "Tesla of China" reported revenues of $1.018 billion in the fourth quarter of 2020. The company's revenues increased 133% year over year and 46.7% from the third quarter of 2020 led by soaring deliveries.
NIO's fourth quarter earnings
NIO's vehicle sales rose 111% year over year to 17,353 in the fourth quarter of 2020. The company's deliveries looked strong in January, with 7,225 electric cars rolling out of its plant in January, a year over year rise of 352%. However, it delivered 5,578 vehicles in February. While the deliveries rose an impressive 689% year over year they fell on a monthly basis.
Meanwhile, we should not make too much of the sharp year over year increase in NIO's February deliveries as they are coming from a lower base. In February 2020, the COVID-19 pandemic was at its peak in China and that took a toll on NIO's production as well as deliveries.
Li Auto also fell after the earnings
Also, the monthly decline in NIO's February deliveries could be due to the Lunar New Year Holidays. Nonetheless, with its shares priced for perfection, there is little scope to err, especially on growth. Notably, Li Auto shares also tumbled last month after it gave a weak forecast for first-quarter deliveries. The company's surprise profit in the fourth quarter was more than offset by a tepid growth outlook.
NIO's gross margins expand further
NIO's gross profit margins expanded to 17.2% in the fourth quarter of 2020. The company was posting negative gross margins until 2019 and started posting positive gross margins only in 2020. Facing a survival battle, NIO took a series of steps including layoffs to improve its finances. The company's gross margins expanded to double digits in the third quarter of 2020 and improved further in the fourth quarter. In the full year 2020, the company reported gross margins of 11.5% as compared to -15.3% in 2019.
NIO reported wider than expected loss
Meanwhile, while NIO's gross margins expanded further in the fourth quarter and looked impressive, it missed the earnings estimates. The company posted a per-share loss of $0.14 which was twice the $0.07 that analysts were forecasting. Chinese electric vehicle companies could face pricing pressure over the next couple of years as companies roll out new models to capture market share.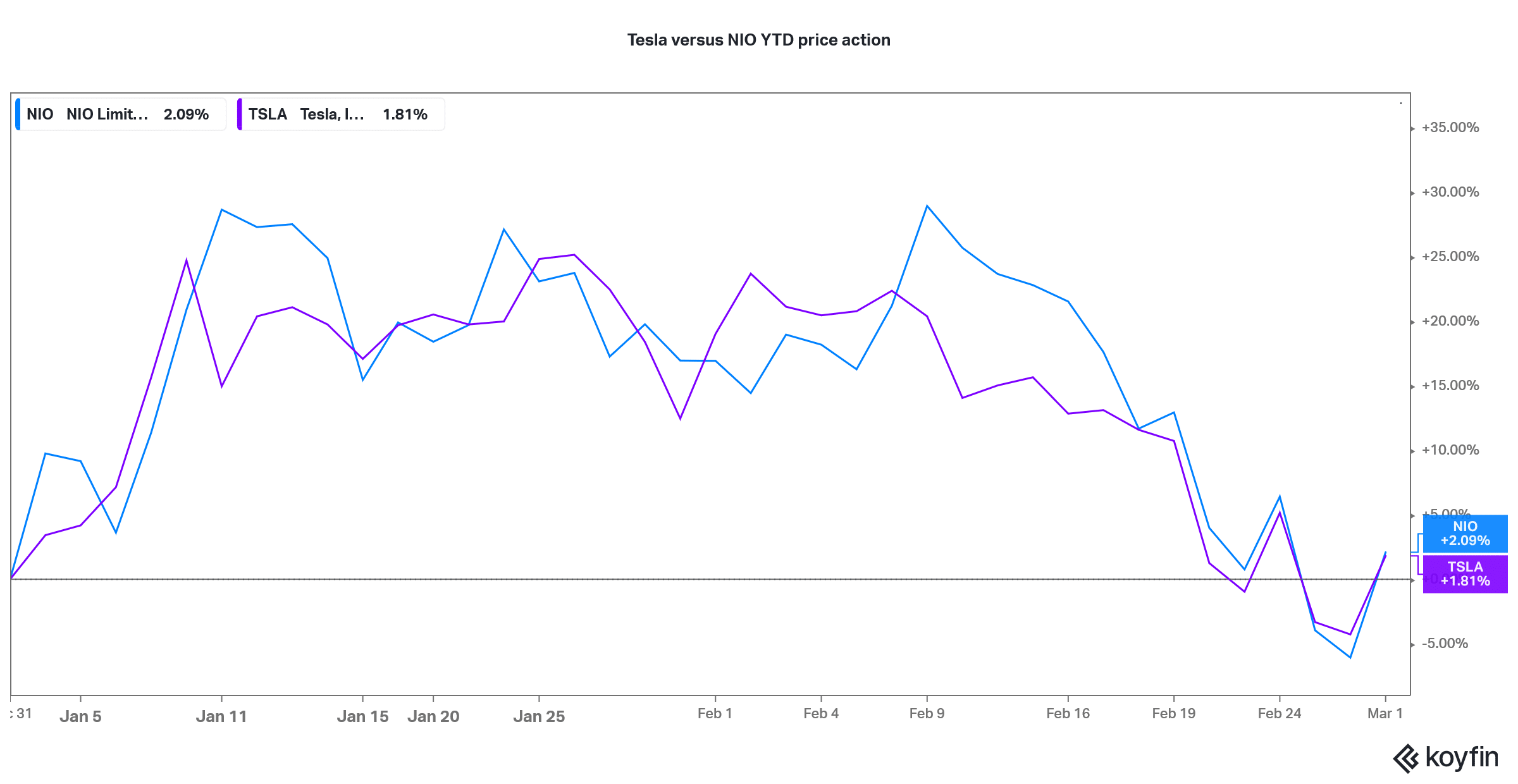 Tesla
Tesla has also lowered Model Y prices in China. The model would compete with NIO's EC6. Chinese electric vehicle companies have built a large cash pile after capital raises in 2020. NIO was holding $6.5 billion in cash and cash equivalents at the end of 2020.
Tesla also raised almost $13 billion in 2020 and has now turned negative on the net debt as the cash on its balance sheet exceeds its debt. The company invested $1.5 billion in bitcoin in February in a sign that it does not have enough organic growth opportunities to deploy its massive cash pile.
NIO has also been improving its cash flows and generated positive operating cash flows in the fourth quarter of 2020 as well as the full year 2020. Tesla also generated positive free cash flows in 2020.
NIO provided guidance
NIO expects to deliver between 20,000-25,000 cars in the first quarter of 2021. This would mean a year over year increase of a healthy 421-434%. However, the growth would be only 15-18% on a quarterly basis.
"Looking ahead, underpinned by our continuous technology innovation, strengthening financial performance and unswerving determination of achieving the best user experience, we are confident about the company's long-term competitiveness and will continue to make decisive and efficient investments in products, core technologies and user service," said William Bin Li, founder, chairman, and CEO of NIO.
NIO shares fell after the earnings
NIO shares were trading over 4% lower in US premarket today. The stock is down over 25% from its 52-week highs and is up only about 2% for the year. Tesla share has also looked weak and is up about 2% in 2021. In 2020, NIO had soared over 1,100% while Tesla share rose 740%.
However, markets now seem to be getting apprehensive over the soaring valuations of electric vehicle shares. We've seen a pivot towards legacy automakers like Ford and General Motors, both of which have outperformed the markets by a wide margin in 2021.
Electric vehicles
Legacy automakers have also committed themselves to a zero-emission future and General Motors expects to stop selling internal combustion engine cars by 2035. Pure-play electric vehicle makers have also planned a flurry of new models for the next two years which would add to the competition.
Ford also doubled its investment in electric vehicles as its plays catch up with pure-play electric vehicle makers. The company would launch the all-electric version of its best-selling F-150 in 2021. Ford sold 780,000 of the pickups in 2020 and it has been America's best-selling pickup model for many decades. The model would compete with Tesla's Cybertruck which the company unveiled in 2019.
Time to sell NIO and other electric vehicle shares?
Even after the recent fall, NIO share's valuations look high for comfort. It trades at an NTM (next-12 months) enterprise value to revenue multiple of almost 22x. While there is little denying that NIO would continue to grow its sales in the near foreseeable future, it is nonetheless not possible to justify the current valuation which is higher than General Motors.
The competition is only bound to increase in the electric vehicle industry. Pure play electric vehicle companies including Lucid Motors are coming up with new models. Legacy automakers have also planned a flurry of new models over the next two years. Also, automakers are collaborating among themselves for electric vehicles and autonomous driving. Volvo has deepened its partnership with China's Geely Auto for electric vehicles.
Apple is getting into electric vehicles
Then there are reports of Apple getting into electric vehicles soon. Apple's entry into electric vehicles would be a big challenge for incumbent players especially Tesla, NIO, and Lucid Motors. Gene Munster, who is otherwise bullish on Tesla and expects its market capitalisation rising to $2 trillion by 2023, also sees Apple's entry into electric vehicles as the biggest risk for the Elon Musk run company. That said, Apple is having a hard time finding partners for its electric car project.
While EV shares like Tesla and NIO bounced back from their lows last week, the rebound could fade quickly. After NIO's earnings miss and tepid guidance, other electric vehicle stocks like Tesla, XPeng Motors, and Li Auto were also trading lower in US premarket trading today.