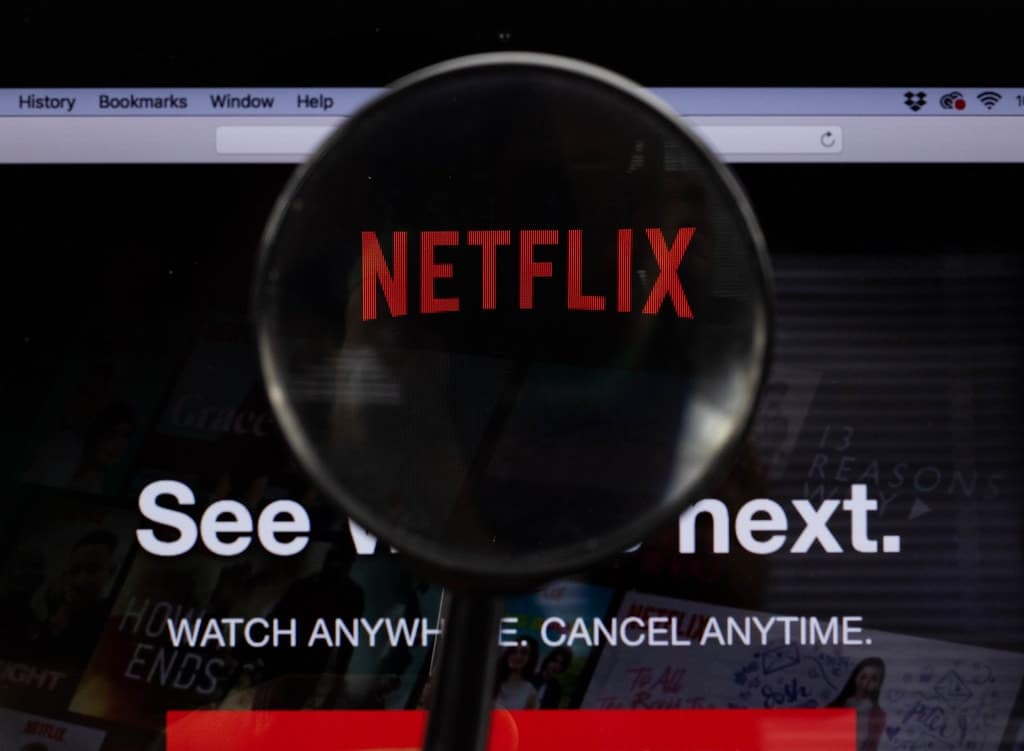 Netflix (NFLX) beat consensus analyst estimates on all-important subscriber numbers, but that wasn't enough to stop the shares plummeting.
Second quarter subscriber numbers saw the company put on 10.1 million globally as the streaming video platform benefited from the lockdown. That follows a subscriber gain of 16 million in the first quarter.
However, guidance that the rate of growth will slow markedly in the second half, expected to drop to 2.5 million in the third quarter, hurt sentiment.
Also earnings per share of $1.63 missed analyst forecasts.
Investor reaction has been brutal.
The shares are down 7% in response to the news at $486. The stock hit an all-time high on 10 July, printing a price of $548.
Since the beginning of the year Netflix shareholders have seen the value of their holding appreciate by 58% as one of the key recipients of investor cash chasing the work-from-home theme.
Netflix De-FAANGed?
But even before the pandemic came along, Netflix was a leader of the leaders, so to speak. Technology has been in the vanguard of the 11 year bull market and as one of the so-called FAANG stocks has been in the leadership role of the tech sector also.
As the earning season rolls on, investors will be keenly watching the number from Facebook, Apple, Amazon and Google (owned by Alphabet).
Any weakness among the FAANGs would call into question how much higher the stock market can go in the US, given persistent doubts about the extent to which it may have decoupled from economic fundamentals, as Mohammed El Arian, chief economist at Allianz, warned just  this week.
Netflix has a total of 192.95 million subscribers around the world, plus 66 million in its US home market.
Shareholders selling today are likely of a mind that we are nearing the end of the years of stellar growth for Netflix, especially in its main markets in the US and Europe. The unofficial magic number watched by analysts for peak-Netflix in terms of subscriptions is 300 million.
Netflix is also contending with an increasing number of deep-pocked competitors. Disney+ has been well-received by consumers, for example, and it has a library of films that could make it difficult for the likes of Netflix and Amazon Prime to compete with it. HBO Max is another potentially strong competitor.
Then there's Apple TV, which has got off to a relatively sluggish, start but it is a market that the company will persist with, and that can only stymie further growth prospects for Netflix. Also, US TV network NBC has just launched its own streaming offering, Peacock.
Nonetheless, for now, Netflix is still No1 in the streaming game and those looking to buy shares may be enticed by this pullback. Plus the lack of sports programming at the moment helps the platform.
Content is king
Another worry for investors is the price being paid for the growth.
In order to stay competitive Netflix has shifted in a big way towards making its own content, because it recognises that it won't be able to rely on Friends and other such staples forever, as original content makers look to monetise their product on their own account in the online era.
Netflix has been borrowing massively to fund its content expansion.
The company reported success with some recent content releases, notably action film Extraction. It pulled in 99 million household viewers.
Earlier this month Netflix renewed popular series The Crown for its sixth season and its Black programming in the US makes it arguably the envy of competitors with its unrivalled 'Black Lives Matter' collection that featured 56 films, documentaries and shows.
Other new shows coming for the third quarter include season 2 of Enola Holmes and The Umbrella Academy.
Netflix is promoting the release  Charlize Theron film The Old Guard with a 83-year subscription competition this weekend.
Sarandos becomes co-CEO
The importance of the quality and breadth of its output was underlined by the announcement that accompanied the downbeat second-half guidance, that Ted Sarandos, previously chief content officer, was being promoted to co-chief executive alongside Reed Hastings.
Netflix's signal to the market that succession planning is well in hand is a plus. But also the direction the planning is taking shows that the company knows that its future lies is with cutting deals with the Hollywood studios, hiring the best talent and funding the best shows.
Having two CEOs is a bit of an organisational mess – nevertheless it helps investors to see what's coming down the line. There's no sign that Hastings is going anywhere imminently either, but it's nice to know for sure who the next CEO will be.
Sarandos came to Netflix in 2000 and was previous at a video rental company in the Los Angeles area, so he could be said to be more of an LA/Hollywood man than a Silicon Valley techie, and that's another important positive straw in the wind.
Netflix also announced that Greg Peters is the new chief operating officer. He was formerly head of product.
Free cash flow eases debt-pile worries
Digging deeper into the Netflix numbers, June net additional subscriber was actually down in June. Second quarter revenue was a blistering 25% up on the same period last year, with the streamer amassing $6.1 billion, in line with consensus forecasts.
Free cash flow was in the black for the second quarter in a row at $900 million, which will ease worries about its burdensome debt.
Netflix's balance sheet got some unexpected love from the shutdown in production, which meant is stopped burning through cash. Production is ramping up again in Europe while the pandemic situation in California means a full re-opening there is still a little way off.
Disclaimer
All trading carries risk. Views expressed are those of the writers only. Past performance is no guarantee of future results. The opinions expressed in this Site do not constitute investment advice and independent financial advice should be sought where appropriate. This website is free for you to use but we may receive commission from the companies we feature on this site.