Shares of Swiss multinational food and drink giant Nestlé were trading flat in early trading today after it released lower sales for the first nine months of the year. While its sales fell over the period they were slightly better than expected.
Nestlé reports sales for the first nine months of the year
Nestlé reported sales of 61.91 Swiss francs ($68.24 billion) in the first nine months of the year. Measures in Swiss francs, Nestlé's sales fell 9.4% year over year. However, adverse foreign currency movement accented for a 7.4% decline in Nestle's sales over the period. The Swiss franc appreciated against most currencies over the period that negatively impacted Nestle's sales.
Net merger and acquisition activity also dented Nestle's sales by 5.5% in the first nine months of 2020. The company is undertaking a portfolio review and divesting stakes in some of the slow-growing non-core businesses. The divestment of US ice cream business and Nestle Skin Health were the key drivers of lower revenues on account of merger and acquisition activity.
Real internal growth was 3.3% in the third quarter
Nestlé reported a real internal growth (RIG) of 3.3% in the first nine months of 2020. Its average pricing went up by 0.2% over the period while organic sales increased 3.5%. According to Nestlé, "Growth was based on sustained momentum in the Americas and continued robust sales development in EMENA (Europe, Middle East and North Africa."
The Nestlé statement added: "By product category, the largest contributor to growth was Purina PetCare and its science-based and premium brands Purina Pro Plan, Purina ONE and Felix. Dairy grew at a high single-digit rate, based on increased demand for fortified milks and home-baking products."
Nestlé's chief executive on the sales data
Commenting on the sales data, Nestlé's chief executive Mark Schneider said that "Nestlé has remained resilient in a difficult and volatile environment. Our people have acted in a responsible and prompt manner to mitigate the impact of the global pandemic and have adapted quickly to evolving consumer needs." He added: "Strong organic growth was broad based and supported by sustained momentum in the Americas, Purina PetCare and Nestlé Health Science, as well as the acceleration of our coffee business in the third quarter."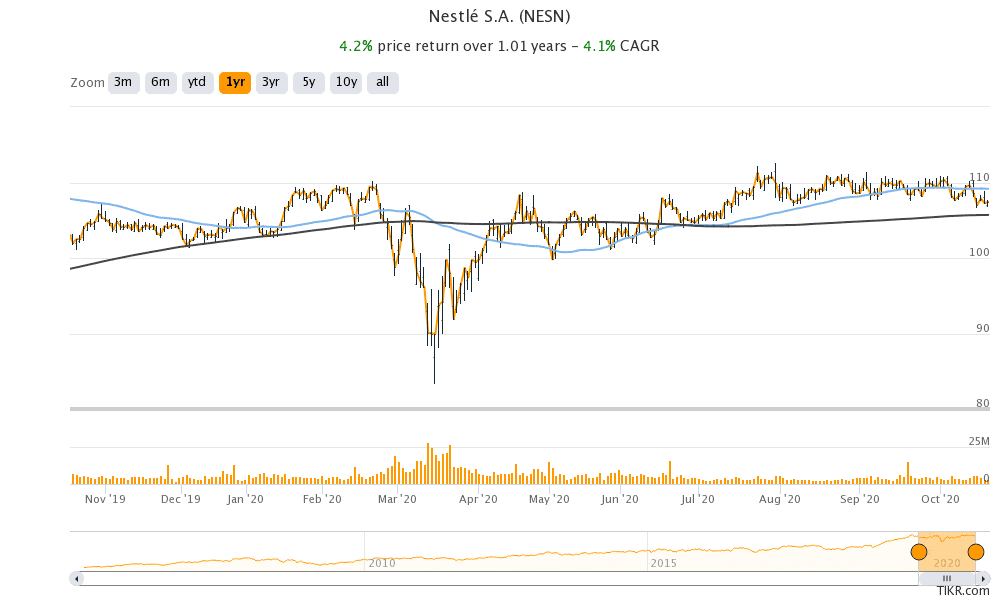 How has COVID-19 pandemic impacted Nestlé's sales?
For Nestlé, the impact of COVID-19 pandemic varies by different products. While sales of products that are used at home increased, sales of products like water and confectionary, that are "on-the-go consumption" products decreased.
In terms of sales channels, its retail sales increased reflecting "continued elevated demand for at-home consumption." Sales in out-of-home channels fell considerably over the period. However, the sales decline in the channel moderated in the third quarter as some sense of normalcy returned.
Online sales soar
Nestlé's ecommerce sales soared 47.6% in the first nine months of 2020 and accounted for 12.3% of its total group sales. An increasing number of consumers have shopped online this year due to the pandemic. This has benefited eCommerce companies like Amazon whose shares have soared to record highs this year.
Bricks and Mortar retailers have also seen higher online sales this year. Earlier this month, Tesco also reported strong online sales. Tesco has more than doubled its online delivery capacity to 1.5 million slots a week.
Nestlé revises guidance
Nestlé also updated its 2020 guidance. It now expects organic sales to increase 3% this year which is at the higher end of its previous guidance of 2-3% growth. It also said that underlying earnings per share in constant currency terms are expected to increase year over year in 2020.
Portfolio review
In its release, Nestle said that "the strategic reviews for parts of the Waters business in North America and the Yinlu peanut milk and canned rice porridge businesses in China are fully on track. Both reviews are expected to be completed in early 2021."
Nestlé shares in 2020
Nestlé stock has gained 2.5% so far in 2020. Shares were trading down 0.43% at Swiss franc 106.96 at 11:30 am London time today. It has a 52-week trading range of Swiss franc 83.37 to Swiss franc 112.62.