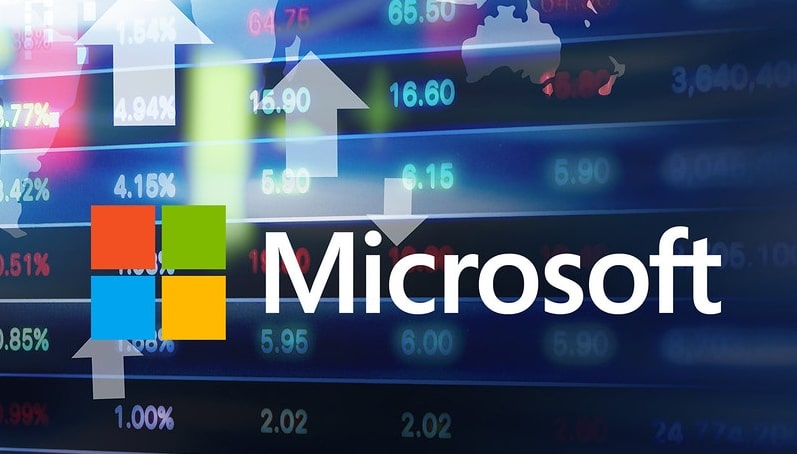 Microsoft  (MSFT) last week reported a beat on earnings for the quarter to 30 June. Net income came in at $11.2 billion ($1.46 a share) even as it absorbed a charge from the permanent shuttering of its retail stores.
But the reaction to the 47% growth in cloud revenue was disappointing to say the least, with the shares falling back after a wafer-thin miss against analyst consensus expectations of a 49% gain for the cloud division.
The shares are down again today (0.6%) at $202.6.
The results in the hot cloud sector were impressive nonetheless, even if smaller than the 59% gain of the previous quarter.
Company watchers noted the slowdown in the Azure business, against a backdrop of a continuing tailwind from the pandemic-inspired shift in work patterns and enterprise operations.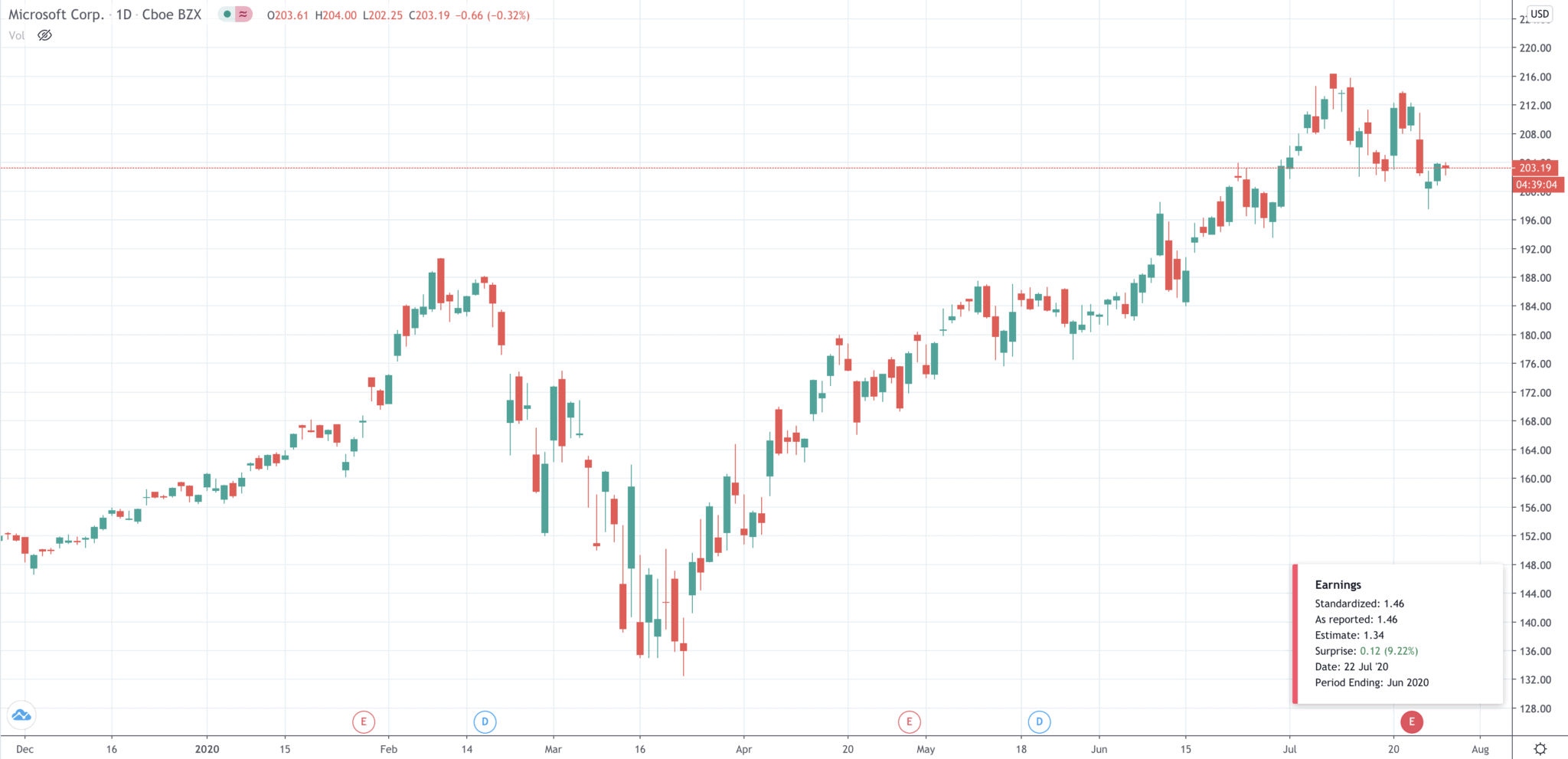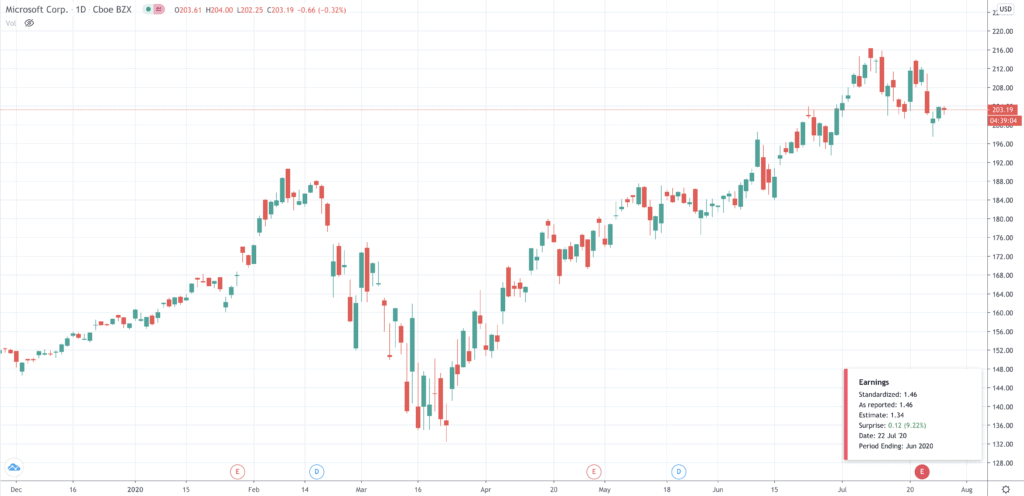 Looking past the negative noise
However, savvy investors should look past the negative noises last week and focus on the success the firm has shown in its build-out of cloud services as it seeks to catch up with Amazon Web Services, still the market leader by some stretch.
The general health of the business was reflected in sales overall of $38 billion for a 13% increase on the previous quarter, but it got no credit for beating analyst estimates on that score.
Margins for the cloud business improved a little too, to 66%.
Not surprisingly then, Microsoft is not slacking on investment in its data centres. In the quarter under consideration it poured $5.8 billion into cloud-related expenditures.
LinkedIn stumbles as hirings dry up
It wasn't all roses though.
The negative economic impact of the pandemic was seen most clearly at its professional social network LinkedIn bought four years ago.
Microsoft says it is letting 960 employees go there, which amounts to 6% of the headcount.
Weakness at LinkedIn was said to be the result of a hiring freeze by many companies, although the network still managed to grow revenue 10% in June alone, a sign things may be picking up on the recruitment side.
With its roots in the software vending business, it would be remiss not to mention sales of the flagship Office and 365 products.
Revenue was a slight miss at $11.8 billion on estimates that pencilled $11.9 billion.
Microsoft's pivot to selling subscriptions for its Office software (part of the productivity division), especially the cloud version (Office 365) is paying off, although those figures are reported over the lifetime of a subscription as opposed to being accounted for all at once. The Surface tablet also continues to be a success against the odds.
Teams is competitive
Also in the productivity division is its Teams video conferencing software built into Office.
Working-from-home demand has enabled Teams to extend its reach, with adoption helped by being bundled into the Office suite of products.
In a back-handed compliment to the execution of the Team integration with Office 365, enterprise productivity newcomer Slack has filed a complaint against Microsoft with the European Commission.
Slack is accusing the Redmond-based company of using the same allegedly anti-competitive practices deployed in the so-called browser wars at the beginning of the internet era, when its bundling of the Internet Explorer browser with its Windows PC operating system was said to have contributed to the death of pioneering web browser Netscape.
Chief executive Satya Nadella said last week that the firm would not be easing up on investment. "The world will come out of this, and we will come out stronger if we invest during this phase."
Strength where Big Tech rivals are weaker
He could be right. Although cloud computing is a key driver of future growth, Microsoft has a strong position in other growth areas where its Big Tech competitors are relatively weaker.
So while Amazon commands 47% of the market share in public cloud infrastructure, with Microsoft in second place on 15.5% according to Gartner, and bringing up the rear Alibaba (7.7%), Google (4%) and IBM (1.8%), it is a very different story in gaming.
Here, consoles are still the key, and Sony's Playstation and Microsoft's Xbox are really the only players in town, dividing the spoils 65%/35%, respectively.
Certainly e-sports is a fast-growing segment that will become increasingly important, but Microsoft is innovating here too, in a left-field sort of way.
It's new Together mode in Teams has just won itself an important shop window through a tie-up with the National Basketball Association that allows spectators to be virtually present court-side at NBA games, using clever AI segmentation technology (much more than mere virtual backgrounds).
Zoom should be worried too
And while we are on Teams, it can't be stressed enough that Zoom should be nervous.
Microsoft is doubling down on its strengths in security and indirectly highlighting Zoom's own difficulties in that area. It is also integrating its own and third-party apps more deeply into Teams as it becomes a full-blown platform.
Call and talk experience is being constantly improved, with a new Walkie-Talkie feature in beta just the latest such improvement. There are also new feature-rich back-end admin and management features.
The enhancement, as it describes it, of its Power Platform feature set enables the building and deployment of bots and apps all from inside Teams. Zoom may have some catching up to do.
The appetite for innovation doesn't stop there. The company is currently testing the use of hydrogen fuel cells to provide power back-up for its data centres.
Standing out from the Big Tech crowd – shares a buy with $260 target?
With uncertainty beginning to creep in around the sky-high valuations in Big Tech, Microsoft may be the one that stands out from the crowd in terms of the diversity of its revenue streams.
However, bear in mind, on a price/earnings ratio of 35.18, Microsoft is even more richly valued than Apple on 29.95 (trailing twelve month).
Dan Ives of Wedbush Securities said: "Any knee-jerk reaction negative will be short-lived. Strong guidance and cloud story is just resonating massively in Redmond. $260 price target; $300 bull case, he told Bloomberg last week.