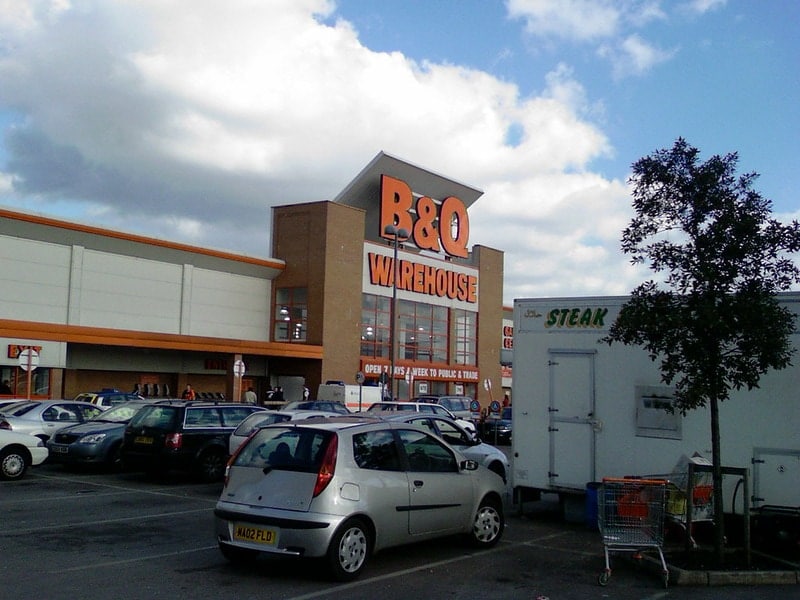 Kingfisher shares are slightly down in late stock trading in London at 295p per share after the company announced the sale of its Castorama operation in Russia to home improvement retailer Maxidom.
Maxidom has agreed to pay £73 million to Kingfisher (KGF) for its entire operation in the country, which includes 19 hypermarkets along with its e-commerce website. 80% of the transaction will be paid in cash at the closing date and the remaining 20% paid in equal installments over the next two years.
According to Kingfisher's press release the deal has already received regulatory approval and was successfully completed on 30 September.
"I am pleased to announce the completion of the sale of Castorama Russia to Maxidom. I would like to thank our Castorama Russia colleagues for their contribution to Kingfisher and wish them well for the future", said Thierry Garnier, Chief Executive of Kingfisher.
Castorama stores in Russia currently serve 3 million buyers each month according to the company's website, offering over 30,000 products and employing 3,000 people for its operation.
Maxidom, on the other hand, is a 23-year old DIY home improvement store chain with 15 establishments in Russia, spread across seven different regions including Moscow, Ekaterinburg, and Kazan.
What does this mean for Kingfisher?
Kingfisher had already revealed its plans to downsize its exposure to certain European markets in 2018 – including Russia, Portugal, and Spain – as part of an effort to focus on its UK, France, and Poland operations.
The company had struggled to find buyers for these subsidiaries in the past but appears to have found one in Maxidom at a time when home improvement sales are booming as people confined within their homes due to lockdowns have engaged in remodeling to entertain themselves.
Kingfisher reported an 86% jump in earnings during the first half of 2020 as a result of this home improvement frenzy, although sales slipped nearly 1.3% during the first six months of the year.
The firm has also been hoarding cash lately to protect itself in this uncertain environment and Castorama's sale should add up to the cash pile – which ended the first half of 2020 at roughly £1 billion.
How are Kingfisher shares reacting to the news?
As I stated in a previous article on Kingfisher, the British home improvement retailer stands to gain from a potential second wave of lockdowns in the UK as the company has successfully deployed its Click & Collect (C&) initiative – which allows consumers to pick up their online orders or receive them via home delivery.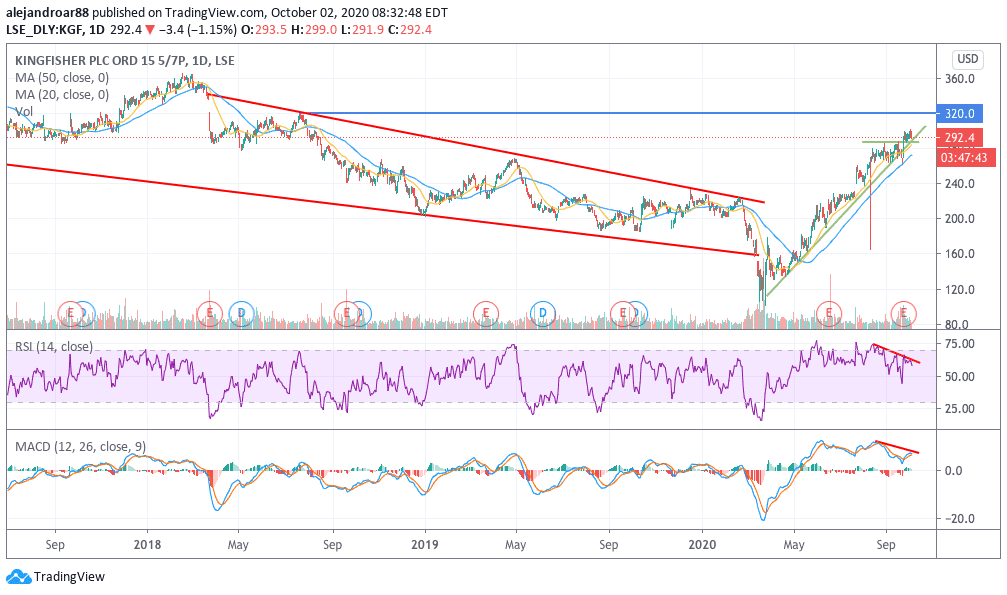 Kingfisher shares have successfully jumped above the 290p level, although at a slower pace, with market participants possibly aiming to retest the 320p resistance from August 2018.
However, it is important to note that the price action continues to post lower highs in both the RSI and the MACD, which points to a weaker momentum despite the recent jumps.
This situation is creating a bearish divergence that could lead to a slip below the lower trend line shown in the chart – a situation that could endanger Kingfisher's path towards that 320p mark.
If such a slip were to occur, temporary support could be found at 270p, the stock's 50-day moving average. On the other hand, a move below that level could point to a much deeper sell-off ahead for the firm's shares.