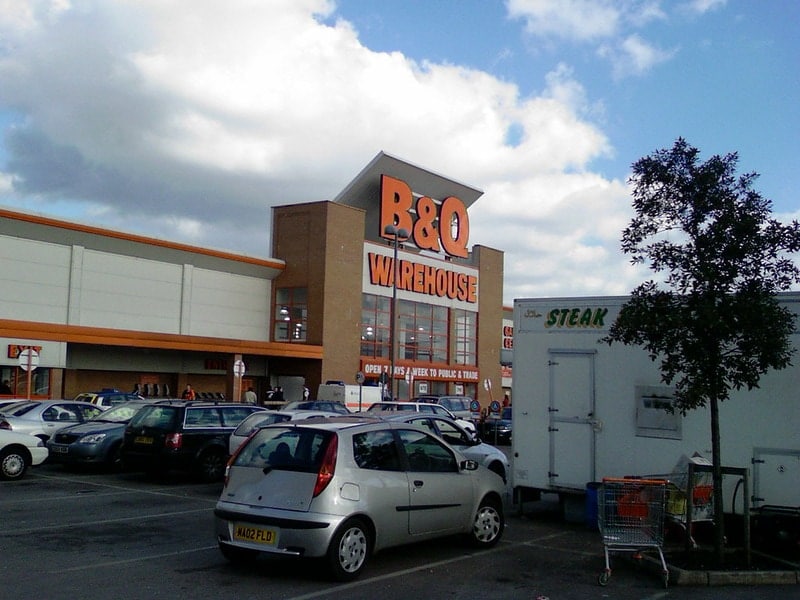 Kingfisher (KGF) shares are surging nearly 9% at 287p per share in today's stock trading activity, after the company reported an 86% jump in its earnings during the first half of 2020 boosted by a home-improvement frenzy in the UK while people remained at home.
Kingfisher's sales remain steady in the six months ended on 31 July, declining by just 1.3% to land at £5.9 billion, which is only £76 million less than what the company sold during the same period last year.
The home-improvement retailer's gross profit margin stood firm at 36.9%, down only 10 basis point compared to a year before, while the company's retail profit margin – a measure of operating performance – ended at 9%, up 140 basis points from the 7.6% the company reported one year ago.
The most surprising element of Kingfisher's report was its earnings per share, which landed at 15.1p per share, an 86% improvement in profitability compared to the 8.1p per share statutory profit the retailer reported the year before.
The company also managed to reduce its net debt by 42% as a result of higher cash reserves, which jumped from £132 million to as much as £1 billion by the end of these six months.
Kingfisher's stronger cash reserves follow measures that aim to cut costs in different areas of the organisation, including lower capital expenditures, employee furloughing, lower inventory purchases, and a reduction in discretionary expenses.
In this regard, this net debt figure doesn't necessarily reflect an improvement in the firm's indebtedness as these cash reserves will be probably be redeployed once the virus situation is contained.
Kingfisher stands to gain if another lockdown is imposed in Europe
Kingfisher has relied on its online platform to drive sales higher during the pandemic, offering individuals an option known as Click & Collect (C&C) which allows them to buy items online while picking them up at a nearby store or, in some cases, to receive them via home delivery.
Its B&Q subsidiary is now offering delivery services in most of the countries it has a presence in, which has allowed the firm to grow its sales by 28% in the UK and Ireland – its biggest geographical segment – during the second quarter of 2020.
B&Q delivery services currently cover 98% of the UK population and the company is committed to achieving a standard of delivering its C&C orders in one hour or less.
In this regard, the resurgence of the virus in key markets including the UK and France could fuel the continuation of this trend in a way that benefits the firm.
What's next for Kingfisher shares?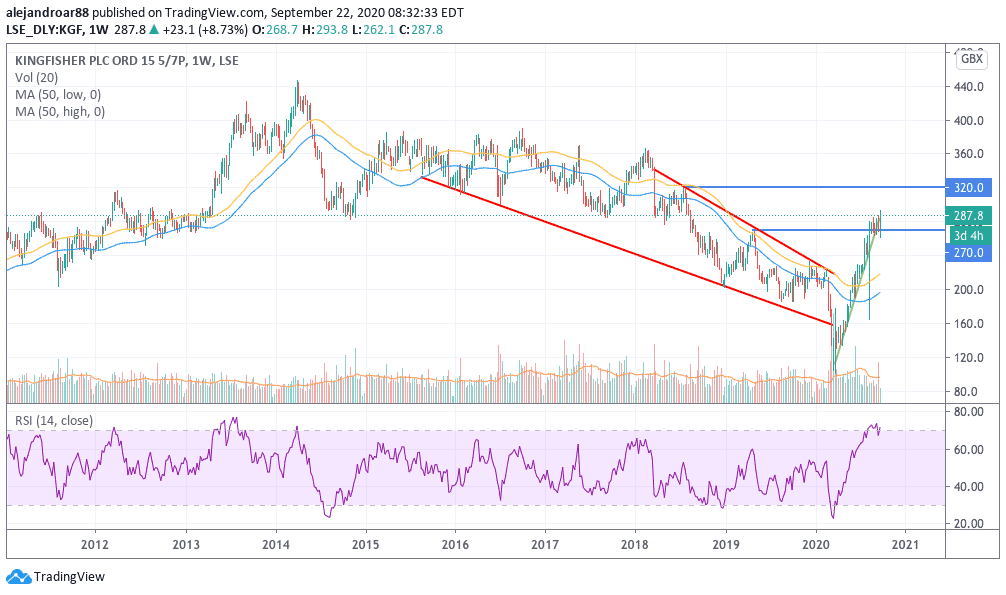 The weekly chart above shows that Kingfisher shares were already on a sharp downtrend before the pandemic struck; and the situation appears to have had a beneficial impact on the company, as shares have reversed this trend and have continued to surge since they touch bottom on March at 100p per share.
The stock recently crossed a 2019 resistance of 270p and is progressively moving towards the 320p level as the company continues to gain strength from its online offering and pandemic-driven demand.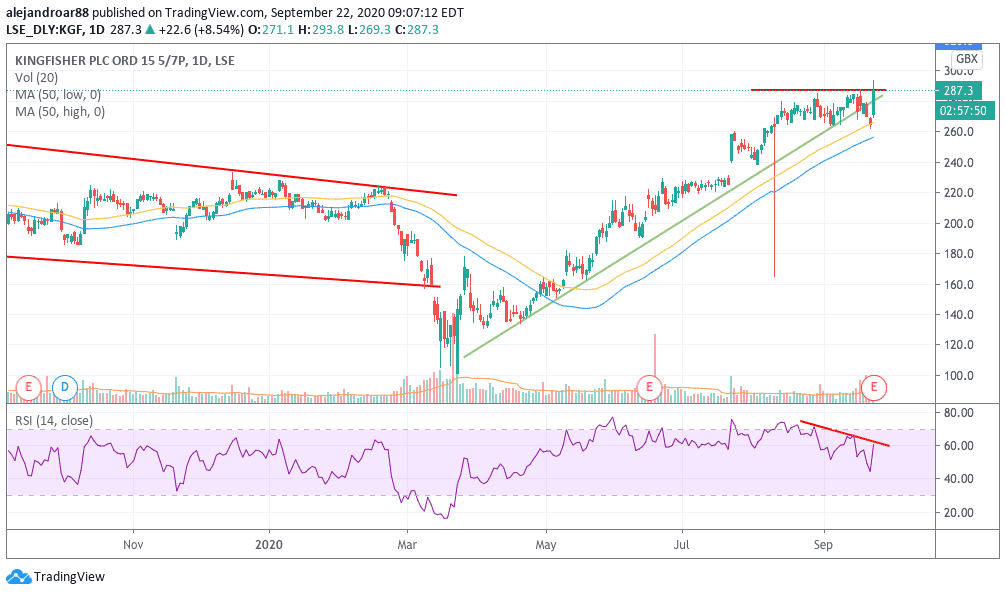 However, a few elements are weighing on the short-term outlook for Kingfisher shares. First, the price action seems to be resisting to move above the 290p level in the past few sessions including todays.
Moreover, both the RSI and the MACD oscillators are showing a bearish divergence, which means that these indicators are trending down although the stock is trading higher.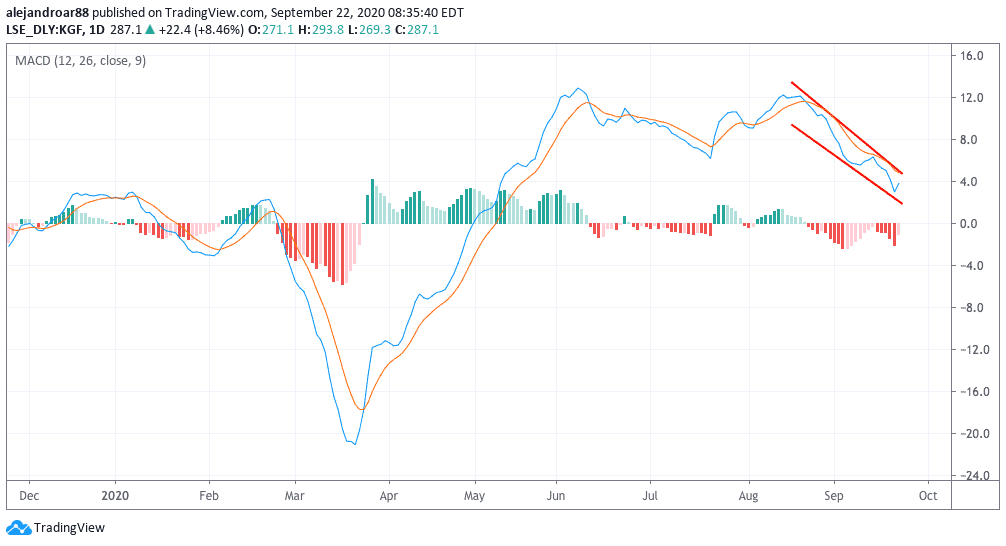 This could indicate that a short-term reversal could be coming for Kingfisher shares – a confirmation of this could come if the stock moves below its lower trend line again, similar to how it behaved yesterday during the broad-market pullback.
In this regard, today's move could be short-lived. Therefore, investors could wait until the situation unravels before taking a position or they could also open a short position in the stock if they think this reversal is imminent.