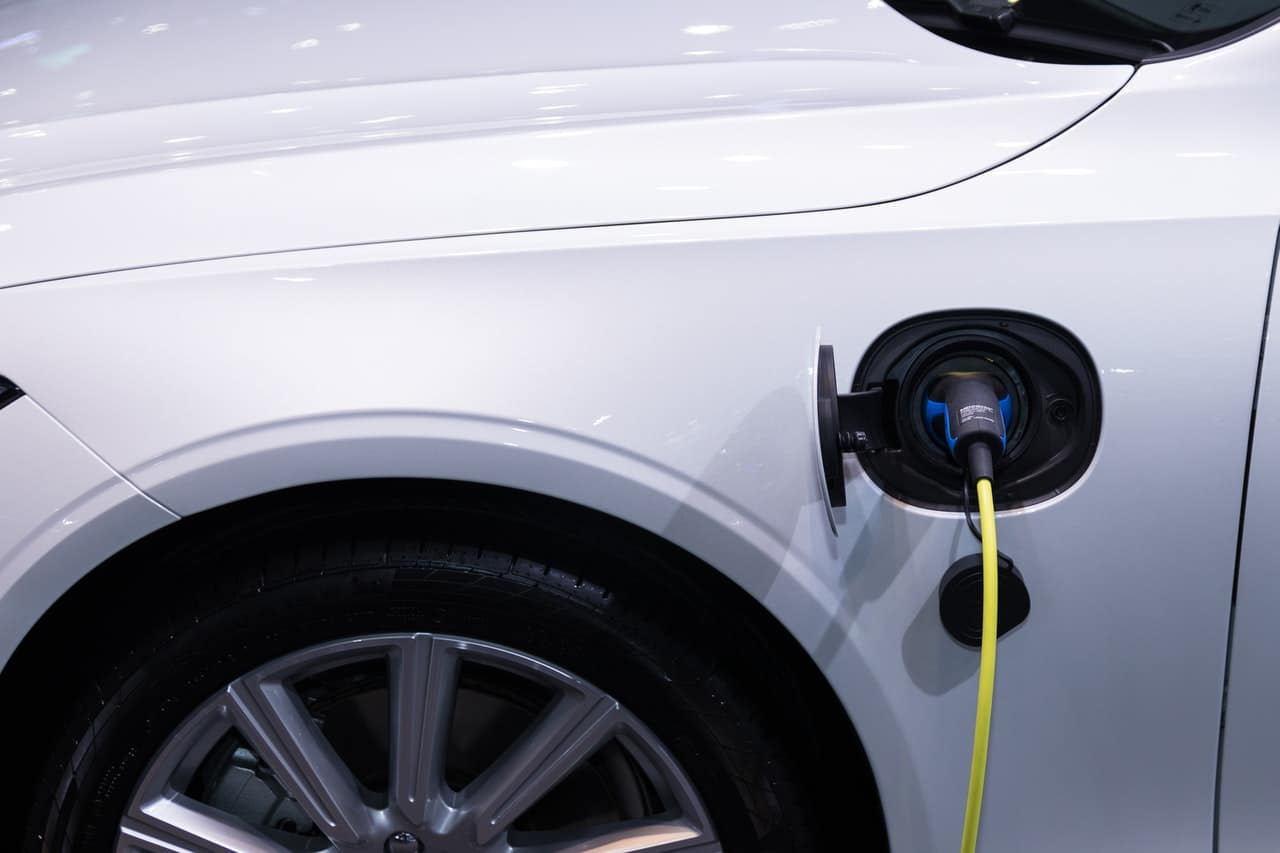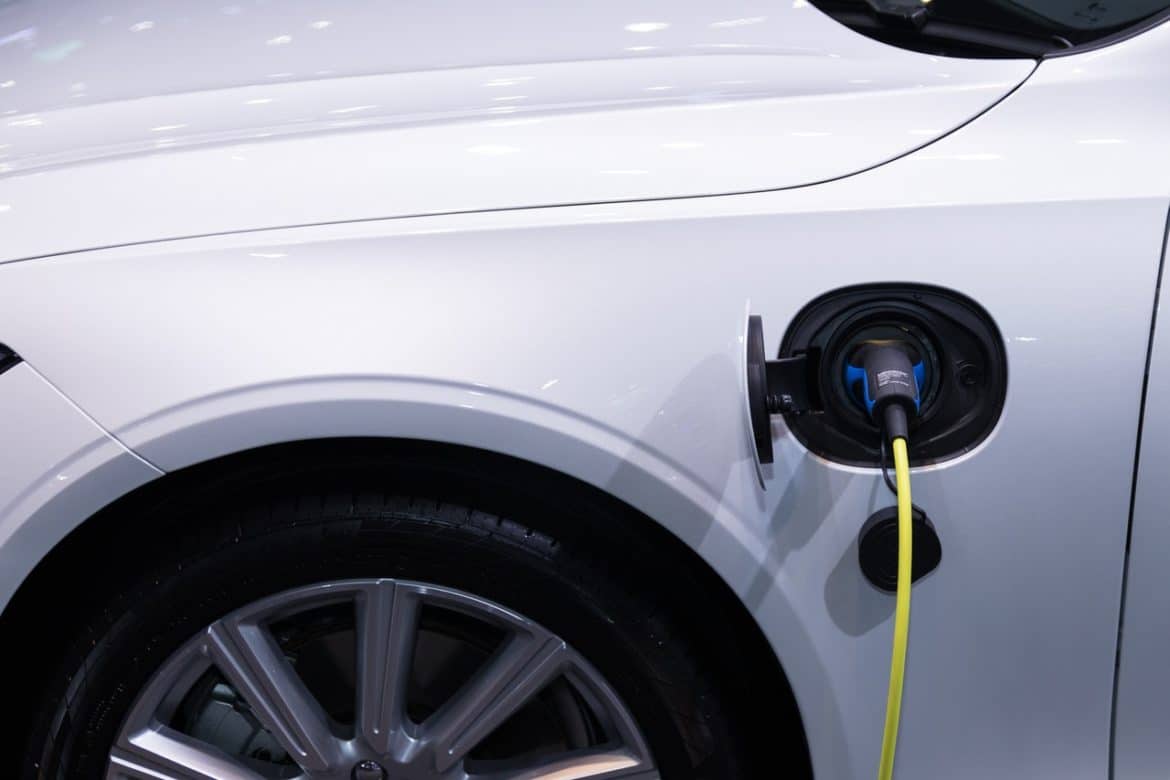 2020 was a pivotal year for pure-play electric car companies like Tesla and NIO and their share prices skyrocketed. However, legacy automakers like Ford, General Motors, and Volkswagen have stepped up their game in the electric vehicle industry.
There is little denying that legacy automakers were slow to spot the shift from ICE (internal combustion engine) cars towards zero-emission cars. While most legacy automakers had all-electric and hybrid cars as part of their product portfolios, these were at best a passing remark.
Legacy automakers versus pure-play electric car companies
Most of the sales and profits for legacy automakers came from selling ICE cars. Electric cars were seen as a niche segment and automakers ridiculed Tesla for exclusively targeting the electric vehicle industry. In 2014, Fiat Chrysler's then CEO late Sergio Marchionne had famously said about the electric 500e car, "I hope you don't buy it because every time I sell one it costs me $14,000" He added, "I'm honest enough to tell you that."
Fiat Chrysler
While Marchionne was honest enough to admit his views on electric cars, other executives in the automotive industry also held similar views even if they did not publicly admit those. Meanwhile, given the global impetus towards climate change, there is a supply-side as well as demand-side push for electric cars.
Globally governments are giving incentives to electric car producers. On the demand side also, many buyers are now preferring electric cars over ICE cars. Despite scaling up its production capacity, Tesla remains a supply-constrained company and can sell only as many cars as it can sell.
Tesla and NIO's market capitalisation had soared
A few months back it looked that companies like Tesla and NIO would have a cakewalk in the electric car industry. Or at least that's what these companies soaring market capitalisation was telling us. Tesla's market cap reached almost $900 billion while NIO was near $100 billion at the peak.
However, over the last couple of months, legacy automakers have announced aggressive plans for electric vehicles. Earlier this year, General Motors became the first Detroit automaker to commit to a fully zero-emission future and said that it would sell only zero-emission cars by 2035.
General Motors and Ford focusing on electric cars
"General Motors is joining governments and companies around the globe working to establish a safer, greener and better world," said General Motors CEO Mary Barra said in a statement. She added, "We encourage others to follow suit and make a significant impact on our industry and on the economy as a whole."
Ford plans to sell only zero-emission cars in Europe by the end of this decade and has doubled its investment towards electric cars and autonomous driving. The company started delivering Mustang Mach-E to US customers in the fourth quarter of 2020 which is believed to be snatching market share from Tesla.
Ford is launching many electric models
In 2021, Ford plans to start delivering its all-electric F-150 pickup truck. The model has been America's best-selling pickup truck for decades and Ford is making a big move by launching its all-electric model which will compete with Tesla's upcoming Cybertruck.
Volkswagen has also been ramping up its electric car plans. It started delivering its ID.3 electric cars in 2020 and is already the market leader in Europe. The company has now started delivering ID.4 in the US. It expects its electric car deliveries to more than double to 450,000 in 2021. UBS expects that both Tesla and Volkswagen would sell 1.2 million electric vehicles by 2022. Meanwhile, Volkswagen has laid out a roadmap and said that it plans to become the market leader in the electric vehicle industry by 2025.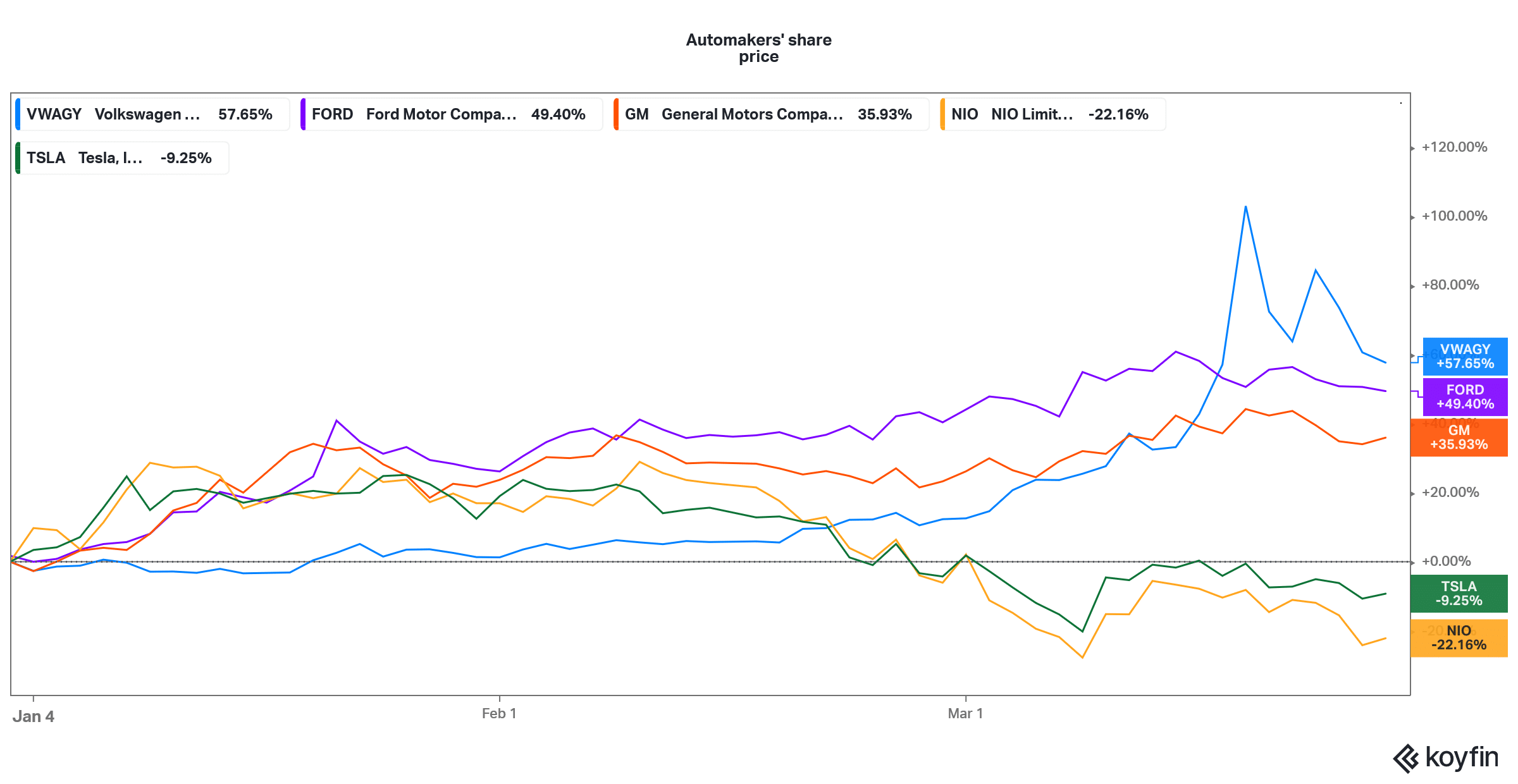 Volkswagen wants to be the leader in the electric car industry
Meanwhile, Volkswagen went a step further and held a "Power Day" earlier this month on the lines of Tesla's battery day. It talked about lowering its battery cost below $100 per kilowatt-hour. It is also planning to build more factories to build factories.
Volkswagen has partnered with battery startup QuantumScape that is working on solid-state batteries. These batteries have lower charging time, are safer, and are energy-dense that can help increase the vehicle's range.
The battery is the key component of an electric car
Batteries can be the key differentiator between electric cars. Also, the battery is the biggest cost element in an electric car. NIO has come up with battery swapping technology under which car buyers can buy an NIO car without the battery and later rent it. This helps lower the initial buying price for NIO cars.
Tesla has a lead in battery technology and many of the peers admit to Tesla's lead in battery and software capabilities. Now, Mercedes is planning to come up with a car that would have a higher range than Tesla.
Mercedes is set to debut EQS all-electric model next month. The model would have a range of 700 kilometre or 435 miles which is higher than 412 miles for the Long Range version of the Tesla Model S.
Range anxiety
A higher range helps in lowering range anxiety that prohibits many people from opting for an electric car. Meanwhile, Mercedes is optimistic about its electric cars. "The pace of the industry's transformation is keeping us busy of course, but what's really key for us now is that we deliver the physical proof points of our strategy in our factories and with our products," said the company's COO Markus Schaefer.
Mercedes is also betting on electric cars
While he admitted that the company was slow to spot the shift to electric cars, he added, "We boosted flexibility of all factories worldwide so that we can produce hybrids, fully electric cars and combustion vehicles everywhere, depending on customer demand and individual market developments."
Markets have also given a thumbs up to legacy automakers' vehicle electrification plans and they are outperforming pure-play electric vehicle shares in 2021. Ford, General Motors, and Volkswagen have respectively gained 49%, 36% and 57% in 2021 while Tesla and NIO are down 9% and 22% respectively.