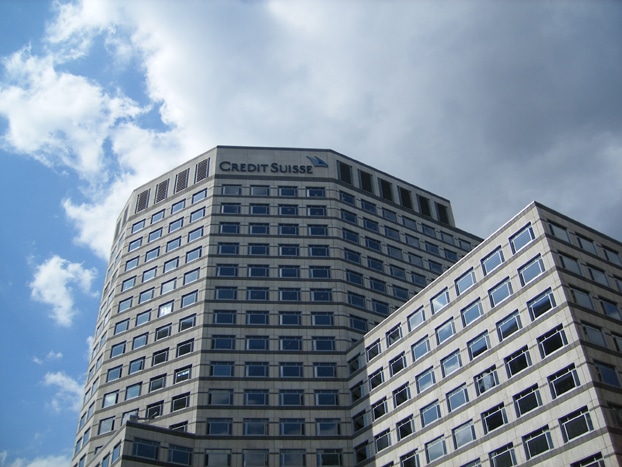 Switzerland's second-largest bank Credit Suisse is revealing this morning that it took a $4.7 billion hit (CHF 4.4 billion) as a result of its exposure to the fallout of US-based hedge fund Archegos Capital, in what has been the latest in a series of issues for the Zürich-based financial institution.
According to a trading update published this morning, the Swiss bank expects that this multi-billion financial injury will lead to a quarterly pre-tax loss of CHF 900 million ($962 million) for the bank as it was forced to unwind millions of shares held on behalf of the hedge fund as a result of the execution of a margin call.
Meanwhile, the bank provided an update about the Board of Directors' upcoming proposals to the Annual General Meeting of Shareholders, which is scheduled to take place on 30 April this year.
Among other measures, the bank's Board announced that, in light of the Archegos event, it will be withdrawing its short-term and long-term variable compensation proposals for the executive team, while slashing the bank's annual dividend to CHF 0.10 ($0.11) per share, down almost 64% compared to last year's CHF 0.2776 ($0.30) dividend.
Credit Suisse also announced that it will temporarily suspend its share buyback programme while stating that the bank will not resume such activities until it hits its target capital ratios and dividend.
Moreover, the Board announced the departure of two top executives who were directly responsible for overseeing the bank's exposure to Archegos gambles, including Lara Warner, who served as Chief Risk and Compliance Officer, and Brian Chin, former head of Credit Suisse's Investment Bank.
Mrs. Warner's departure will be effective immediately while Mr. Chin will be leaving at the end of this month.
This would be the latest information provided by Credit Suisse to investors in regards to the impact that the implosion of Archegos Capital – a hedge fund ran by Asian investor Bill Hwang – had on the Swiss bank.
Meanwhile, an exclusive report from Reuters indicated that the bank had been unloading the remaining of its Archegos-tied holdings yesterday, while other banks including Goldman Sachs and Morgan Stanley seem to have avoided the hit by unwinding their positions before word got out.
Analysts warn about further losses tied to Greensill Capital
The Archegos fiasco adds up to a series of events that have tainted the reputation of Credit Suisse lately, including a scandal related to Greensill Capital, a supply-chain finance firm backed by the Swiss bank that filed for bankruptcy on 25 March.
Losses resulting from its dealings with Greensill Capital could add up to a similar amount of those derived from the Archegos debacle, with analysts estimating a total financial setback of around $7.5 billion for Credit Suisse.
What's next for Credit Suisse?
Credit Suisse (SWX: CSGN) shares are barely moving today, currently retreating 0.1% at CHF 10.155 per share in mid-day stock trading action in Switzerland.
However, the stock has dropped 18.6% since disclosing its Archegos exposure while it is down 10.9% for the year.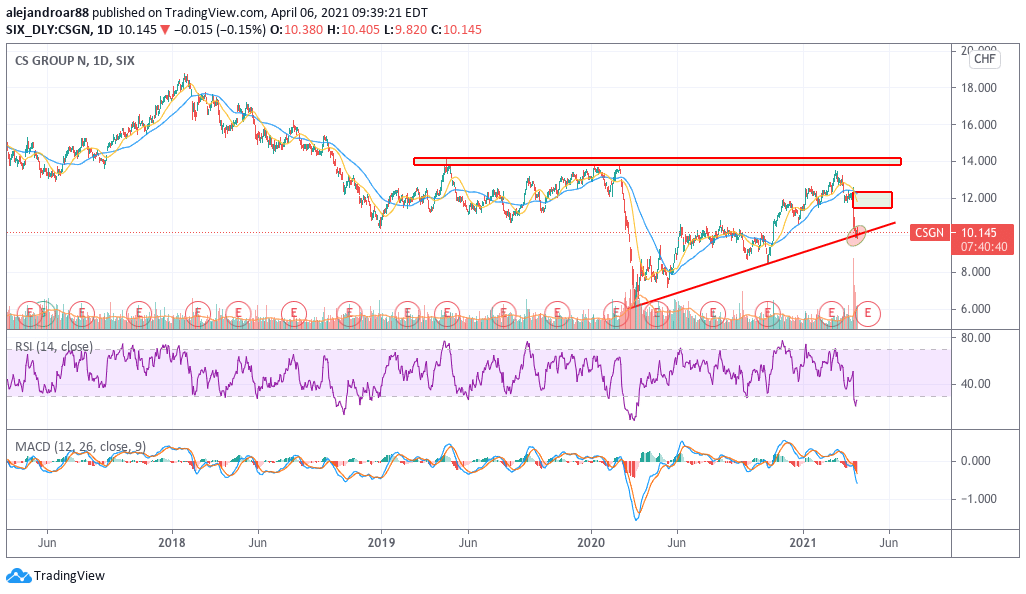 The chart above shows that the price of CSGN has tagged a lower trend line emerging from the stock's March lows with multiple oscillators flashing oversold signals at the moment.
The future of the bank's share price will possibly be determined in the following days depending on whether the price action holds above this support. Meanwhile, a break below this line could lead to a plunge near the CHF 9 level.
According to the bank's latest financial information, tangible book value per share stood at CHF 15.8 by the end of its 2020 fiscal year. Moreover, tangible shareholder equity was CHF 38 billion ($40.6 billion) during the same period, which means that this quarterly loss should not immediately pose a threat to the bank's financial stability.
As for its profitability, this will be the second straight negative quarter for Credit Suisse while the negative result would probably add significant volatility to its 2021 forecasted earnings. It is important to note that the bank already has a record of volatile full-year results including a $2.7 billion loss in 2016 and a $983 million loss in 2017.
Credit Suisse will be reporting its financial results covering the first quarter of its 2021 fiscal year on 22 April.