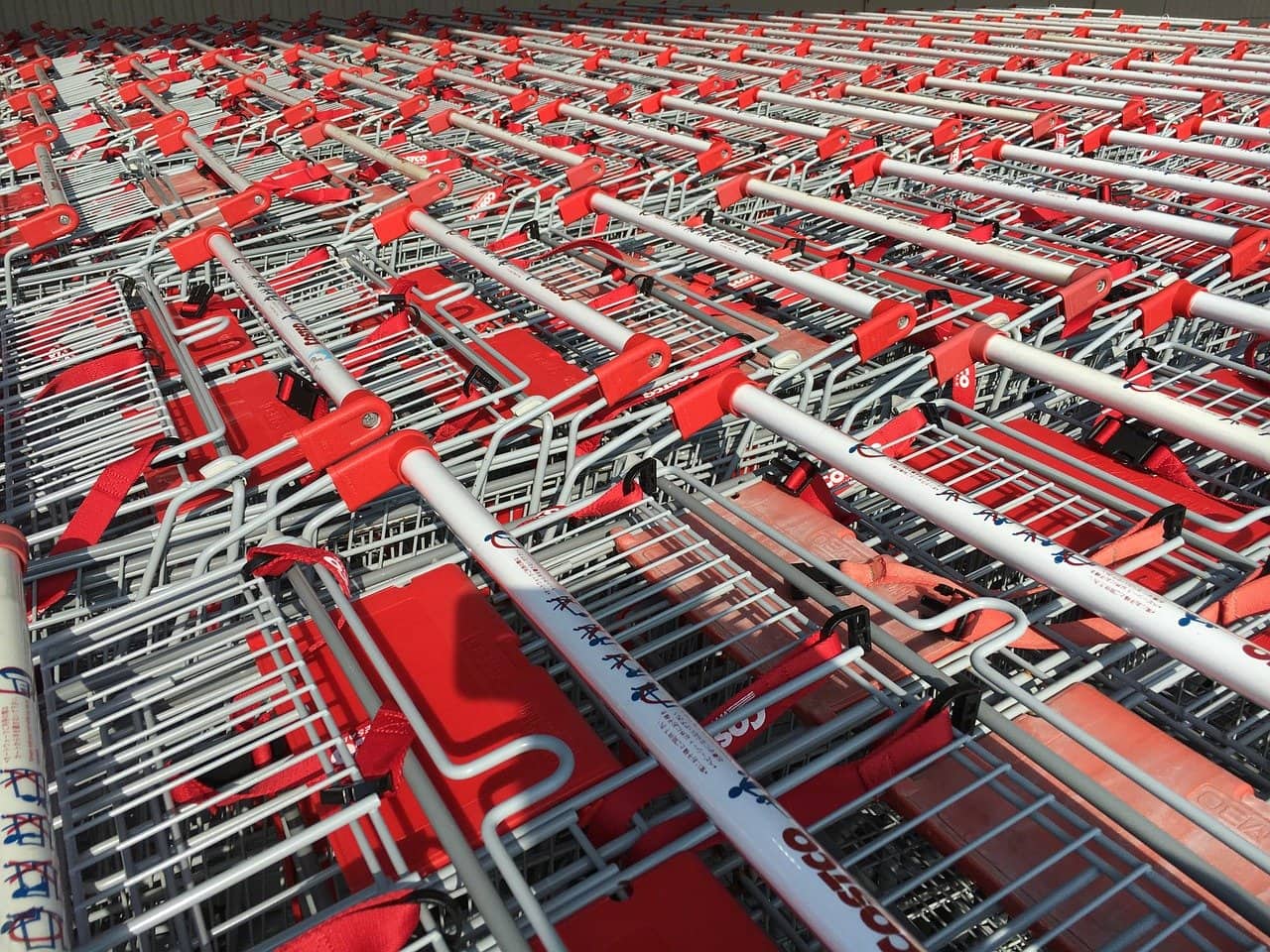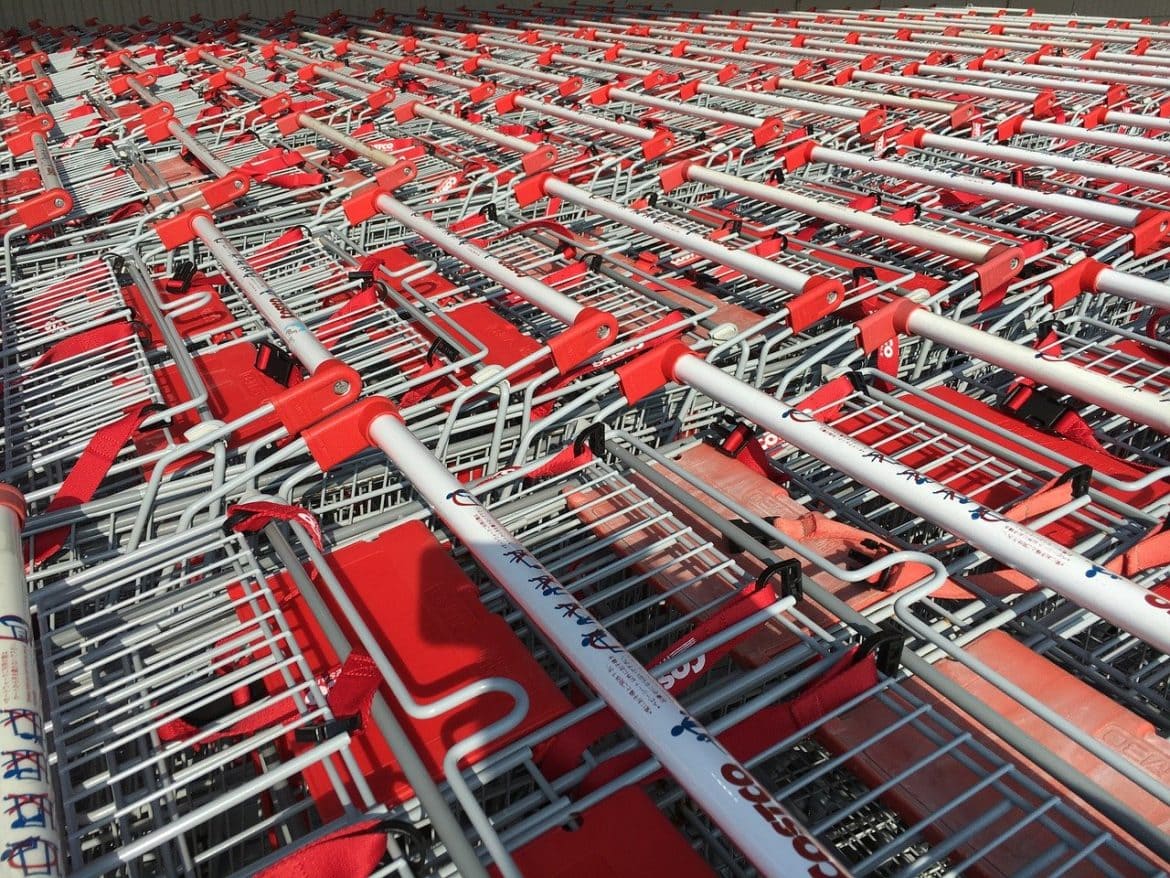 Shares of discount retailer Costco were trading down 2.5% in US pre-markets today at $338.3, despite posting better than expected earnings in the fiscal fourth quarter. Costco shares have now lost 4.5% from their 52-week highs amid the sell-off in broader markets
Costco reported its fiscal fourth-quarter earnings for the three months ended 31 August yesterday. The company generated revenues of $53.38 billion in the quarter versus expectations of $52 billion.
Costco's sales increased by 12.3% in the fiscal fourth quarter and 9.3% in the fiscal year 2020. The fiscal fourth quarter revenues include net sales of $52.2 billion and membership fees of $1.1 billion.
Same store sales increased in double digits
Costco's same store sales increased by 11.4% in the fiscal fourth quarter. That's the highest same store sales growth the company has reported since at least 2000. Adjusted same store growth that accounts for the changes in gasoline prices and foreign exchange movement rose 14.1% in the fiscal fourth quarter and 9.2% in the fiscal year 2020.
Looking at the geographical breakup, Costco reported same store sales growth of 11% in the US and 9.1% in Canada. Its international operations saw a same store sales growth of 16.1% during the quarter.
Costco operates 795 warehouses and 552 of these are the United States and Puerto Rico, and 101 in Canada. The remaining are spread across other international locations.
Costco reported record earnings in fiscal 2020
Costco's net income was also better than expected. It reported adjusted earnings per share of $3.04 while analysts polled by Refinitev were expecting the metric at $2.84. In the fiscal fourth quarter, Costco incurred $281 million or $0.47 per shares as COVID-19 related costs due to "premium wages and sanitation costs."
The company had guided for the cost to be over $100 million but the actual figure was way above the guidance. The company is paying a $2 per hour premium to its employees due to the pandemic. It estimates the higher costs add up $14 million every week. It expects to keep paying higher wages for the time being.
"To date, we are doing that and we've committed to doing that at least through, I believe, the first eight weeks of this fiscal quarter. And again, we'll take that time again," said Richard Galanti, Costco's CFO.
In the fiscal year, Costco reported a net income of $4 billion. This is the first time in the company's history when its annual profits have reached $4 billion
Despite the earnings beat, Costco shares were trading down 2.5% in pre markets today. However, Costco shares are up 17.2% for the year. Walmart and Home Depot have respectively risen 14.4% and 22% in 2020.
Galanti sounded upbeat on the strong earnings. "As people are spending less on travel, air and hotel and dining out, they seem to have redirected at least some of those dollars to categories like lawn and garden, furniture and mattresses, exercise equipment, bicycles, housewares, cookware, domestics, and the like," said Galanti in the earnings call.
The pandemic has led to a divergence in retailers' fortunes
There has been a lot of divergence in retail stocks this year. While companies like Costco and Walmart have surged to record highs, many others are struggling to stay afloat. Many retailers including Stage Stores, J.C. Penney, Neiman Marcus, and Lord & Taylor have filed for bankruptcy this year.
Earlier this month, J.C. Penney reached a rescue deal with Brookfield Property Developers and Simon Property Group which would help it avert liquidation. As part of the deal, the companies would assume $500 million debt and pay $300 million in cash to buy J.C. Penney valuing the company at around $1.75 billion.
eCommerce sales have soared in the pandemic
The pandemic has increased the pace of digitization and more consumers are getting comfortable with online shopping. While the trend has certainly benefited eCommerce giants like Amazon, whose stock is up over 62% for the year, brick and mortar retailers have also seen their online sales soar.
Sports good maker Nike, that reported earnings earlier this week, also reported strong online sales and sees a permanent shift to eCommerce. "We know the digital is a new normal. The consumer today is digitally grounded and simply will not revert back, said Nike's President and CEO John Donahoe during the earnings call.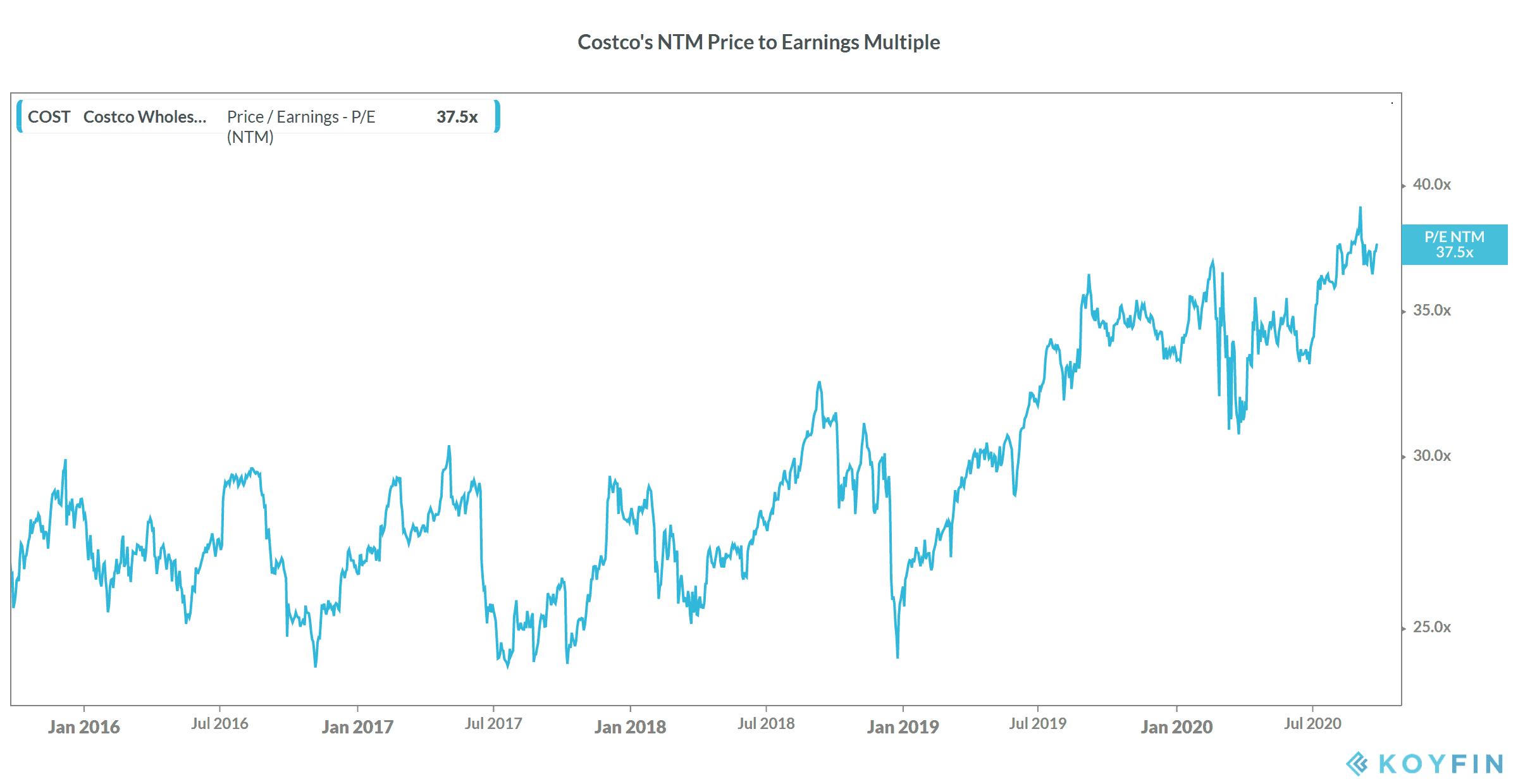 Costco reported strong online sales
Looking at Costco, the company's online sales soared 90.6% in the quarter. On a currency neutral basis, sales increased by 91.3%. According to Costco, "health and beauty aids, food and sundries, appliances, TVs, computers and tablets, housewares and small electrics" have seen strong eCommerce sales.
While online sales currently form a small portion of Costco's total revenues, their share is rising steadily as online sales growth continues to outgrow overall sales growth by a wide margin.
Supply chains are getting back to normalcy
During the earnings call, Costco said that its supply chains are reverting towards normalcy. While it referred to "some production challenges due to certain components downstream in the supply chain in areas like electronics, computer, and certain white goods," It said that "It is getting better and improving each week."
Costco shares trade at an NTM (next 12 month) price to earnings ratio of 37.5x. The valuation multiples are ahead of its historical average.
Of the 29 analysts polled by Yahoo Finance, 7 have a strong buy rating on Costco while 11 have a buy rating. The remaining 11 analysts have a hold rating on the stock. Costco's average price target of $354.37 is a premium of only 2% over current prices.