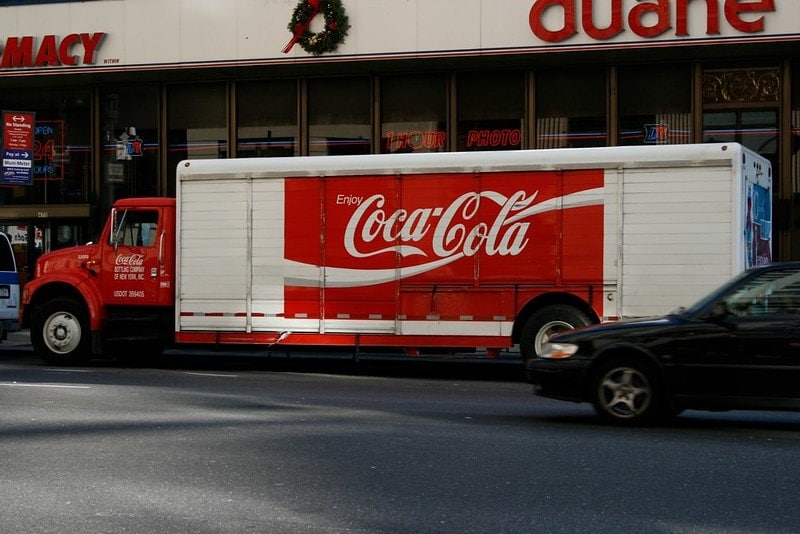 Coca-Cola shares (KO) have failed to recover to their pre-pandemic highs although the market as a whole is stretching towards those levels lately, as the virus situation continues to cast a shadow on the firm's short-term outlook. The shares are currently trading at $48.59 up 0.44% at lunchtime on Wall Street.
Lockdown measures and closed venues including cinemas, theatres, restaurants, and event venues, have hurt Coca-Cola sales in the last few quarters, as coke is considered to be the on-the-go beverage of preference – a strength that loses its relevance with confined to their homes.
However, as the virus situation subsides around the world and the health care community comes closer to a vaccine, investors should take a second look at Coca-Cola shares, as the company could emerge as a post-pandemic winner once consumer habits return nearer to normal.
What's driving down Coca-Cola shares?
Coca-Cola sales during the second quarter of 2020 slumped 28.5% compared to a year ago due to the elements cited above.
Meanwhile, earnings per share went down by nearly a third, ending the three-month period at $0.41 per share compared to $0.61 the American beverage producer earned a year before.
Coca-Cola's long-term debt also jumped by more than $8 billion in the 12-month that preceded this quarterly report, which casts some doubts, given how increased interest expenses could weigh down its financial performance in the years to come.
Moreover, both gross and net profit margins fell a couple of hundred basis points, ending the quarter at 57.9% and 24.9% compared to 60.8% and 26.1% the company reported a year ago, respectively.
Although it is clear that the pandemic has taken a significant toll on Coca-Cola's top and bottom line, it is also important to note that the market may be exaggerating the impact that this temporary slump may have on the long-term performance of a business whose brand is considered one of the most widely recognised in the world.
Coca-Cola shares currently offering a short-term and long-term opportunity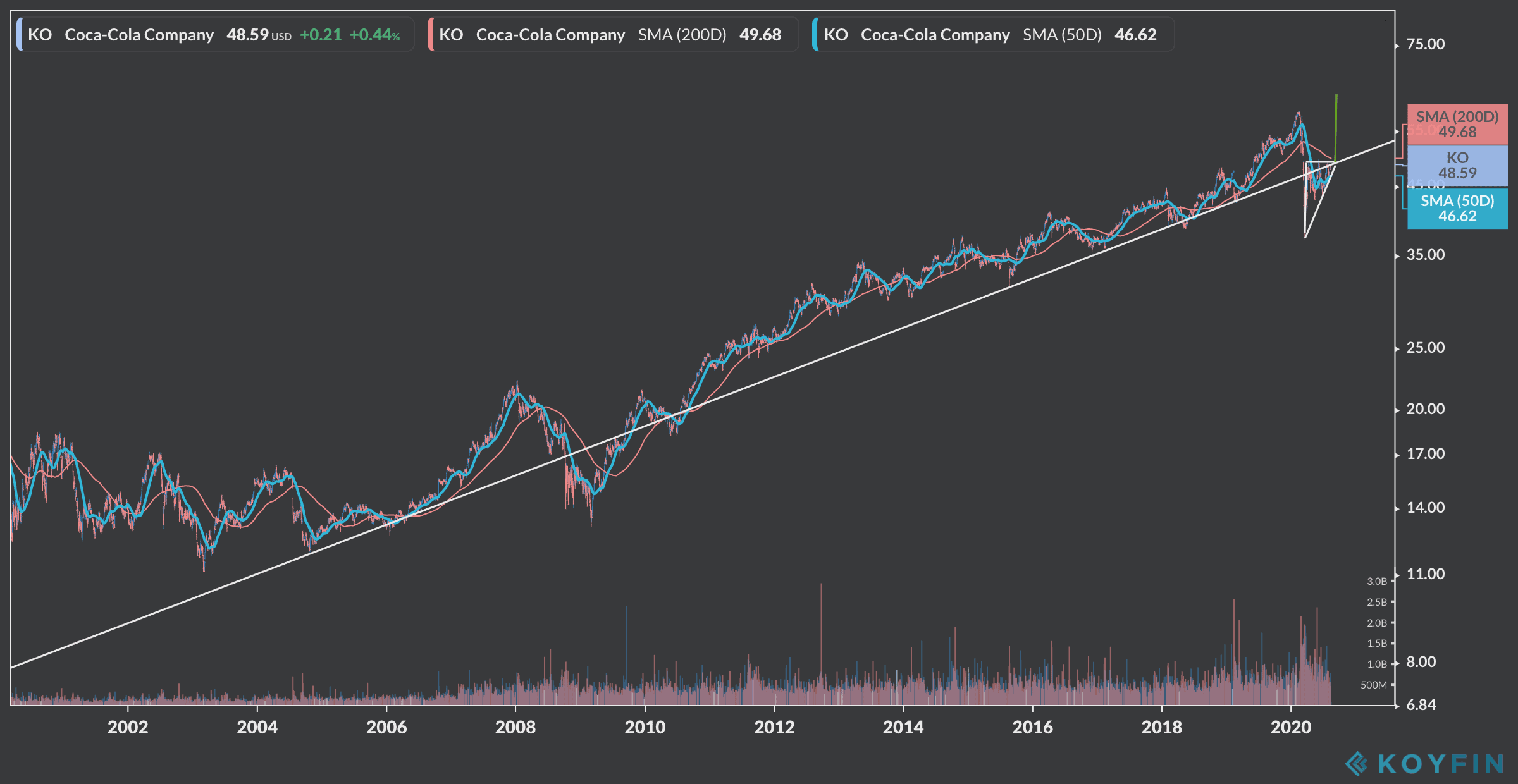 From a technical standpoint, Coca-Cola shares have been on a strong uptrend since 2005, although the stock has seen some slumps along the way – as you would expect for a time horizon of nearly 15 years.
That said, at this point, Coca-Cola – which is considered a blue-chip stock – is trading at a level below that long-dated upward trend line, although the virus situation has significantly improved from what it was two or three months ago.
Coca-Cola has probably lagged in this recovery due to concerns about a second wave of the virus – which could trigger a second wave of lockdowns and shutdowns across the world – along with concerns of a sustained global economic recession of longer duration.
Whether those concerns fully materialise or not, Coca-Cola shares are trading at a level that is historically low for the company and recently the stock approached that lower trend line once again.
If Coca-Cola manages to climb above that support-resistance level and the virus situation around the world continues to subside, we could see a major recovery for the beloved beverage producer in months to come.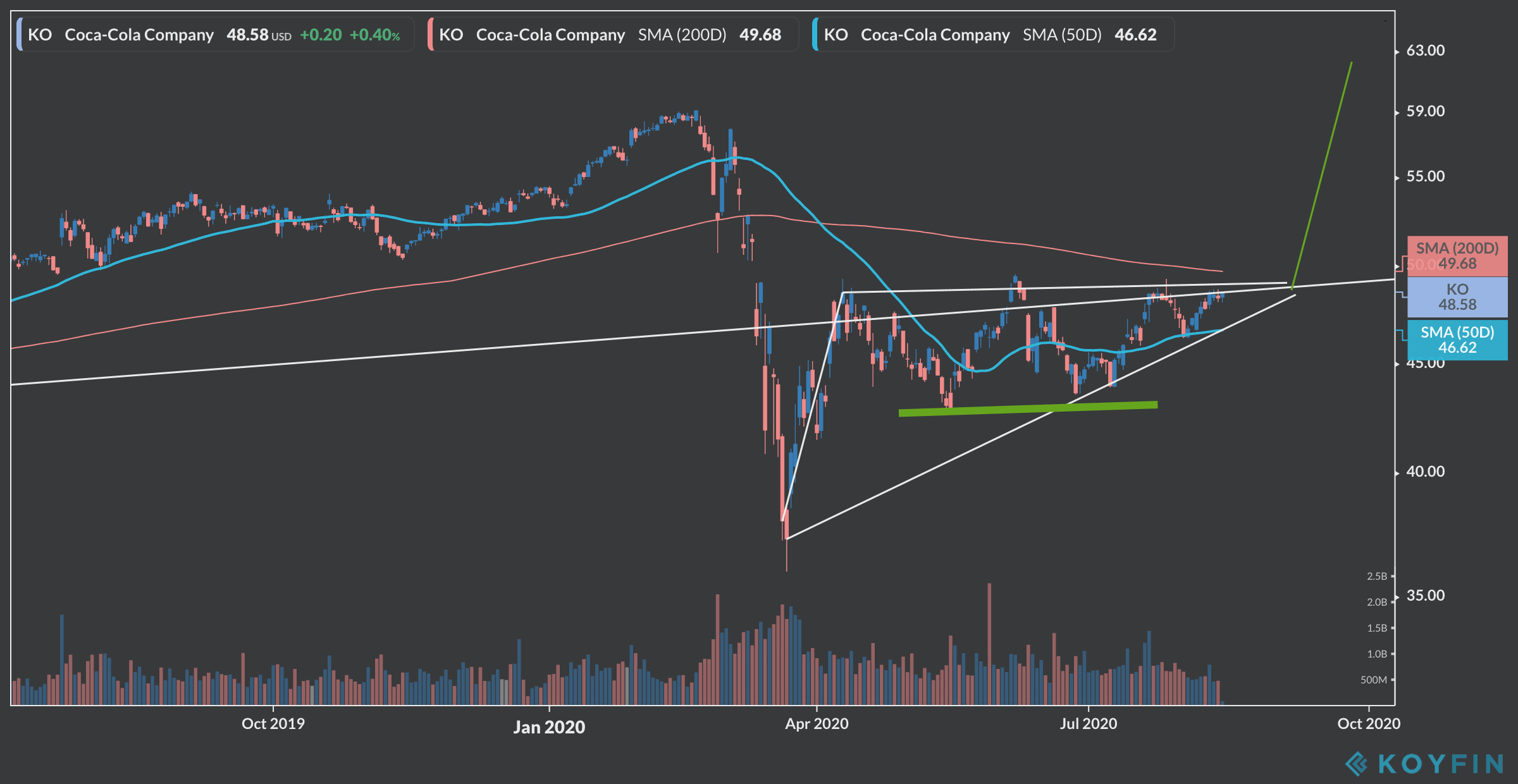 Meanwhile, from a short-term perspective, the 1-day chart shows a few interesting elements that may play out in favour of this thesis.
First, Coca-Cola's price action is forming what is known as an ascending triangle, which is a pattern that could lead to the continuation of the upward movement seen during April.
Furthermore, Coca-Cola shares seem to have hit a double-bottom in mid-May and late-June, which provided support for the recent upward movement the stock saw during July.
Coca-Cola's management is confident that the worst of the pandemic for the firm is behind it, which, if they are right, should mean that the worst for the stock is behind it as well.
If that's the case, a big push in Coca-Cola shares could follow in the next few weeks, as the stock price approaches the tip of that ascending triangle, although of course, the breakout could occur much earlier than that.