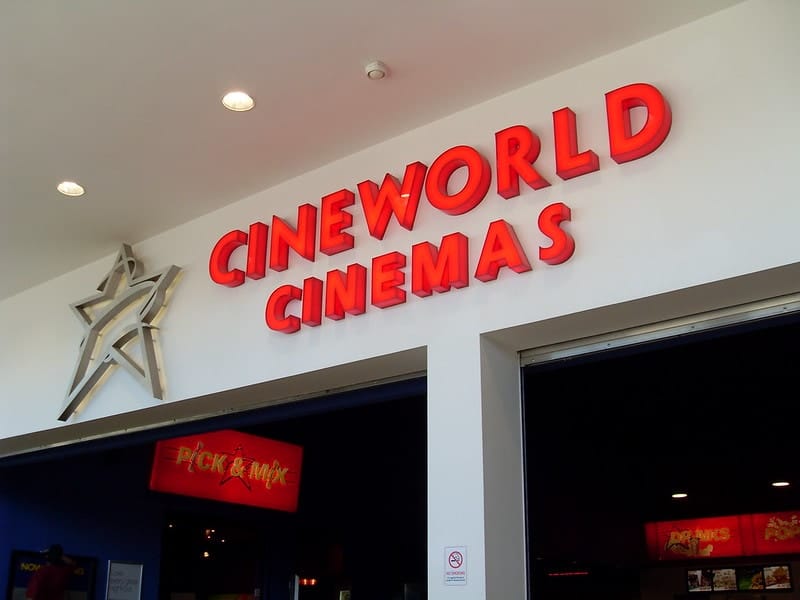 Cineworld shares are seeing a single-day correction today, trading 11.6% lower at 64.5p per share, as Warner Bros announced that it plans to launch all its 2021 films on its HBO Max streaming service on the same day that they are released in movie theaters.
Investors are reacting negatively to the news, as Cineworld will likely see lower revenues from upcoming blockbusters from Warner Studios like Godzilla vs. Kong, The Suicide Squad, and Matrix 4, a situation that weighs on a company that has already been significantly battered by the pandemic.
Warner executives said that although they understand the importance of exclusiveness when launching new content to drive audiences to movie theaters, these venues are likely to open at limited capacity in the following months, which could cap the success of the studio's films.
HBO Max subscribers get one-month exclusive window
The firm plans to follow a "hybrid" model that will give HBO Max subscribers exclusive access to all new releases during a one-month window alongside the movie theater premier.
After that period ends, the film will be taken off the online platform while theaters will continue to display it following the customary distribution window applicable to each title.
"The hybrid model was created as a strategic response to the impact of the ongoing global pandemic, particularly in the U.S.", said Warner Bros in a press release published yesterday.
The firm further stated that this is a one-year plan that aims to provide support to the studio's partners, "while also giving moviegoers who may not have access to theaters or aren't quite ready to go back to the movies the chance to see our amazing 2021 films".
This would be another blow to the movie theater industry, with today's strong downtick possibly being prompted by worries that a similar move might be taken by companies like Disney (DIS), whose Disney+ service can serve as a distribution platform for its new releases as well.
Cineworld executives have not yet commented on Warner's decision. Shares of other movie theater operators like US-based AMC Theaters and rival Cinemark are also down 16% and 22% respectively.
How have Cineworld shares performed so far this year?
Despite the recent upticks seen by Cineworld shares following the release of positive news on the vaccine front, the British movie theater operator stock is still down 70% so far this year, as the pandemic has devastated the entire industry due to health regulations that prevent big gatherings.
Today's downtick follows a big jump that the stock saw yesterday amid the approval of Pfizer's vaccine in the UK, with shares leaping 14.5% to settle slightly above the 70p level – a threshold that has been a major resistance for the stock in the past five months.
These latest news from Warner could be a game-changer for Cineworld's recently-improved outlook, as investors may fear that other studios with an online presence could follow through with this hybrid model, while others could negotiate deals with streaming companies to keep cashing in on their upcoming releases as movie theaters slowly recover their levels of attendance.
What's next for Cineworld shares?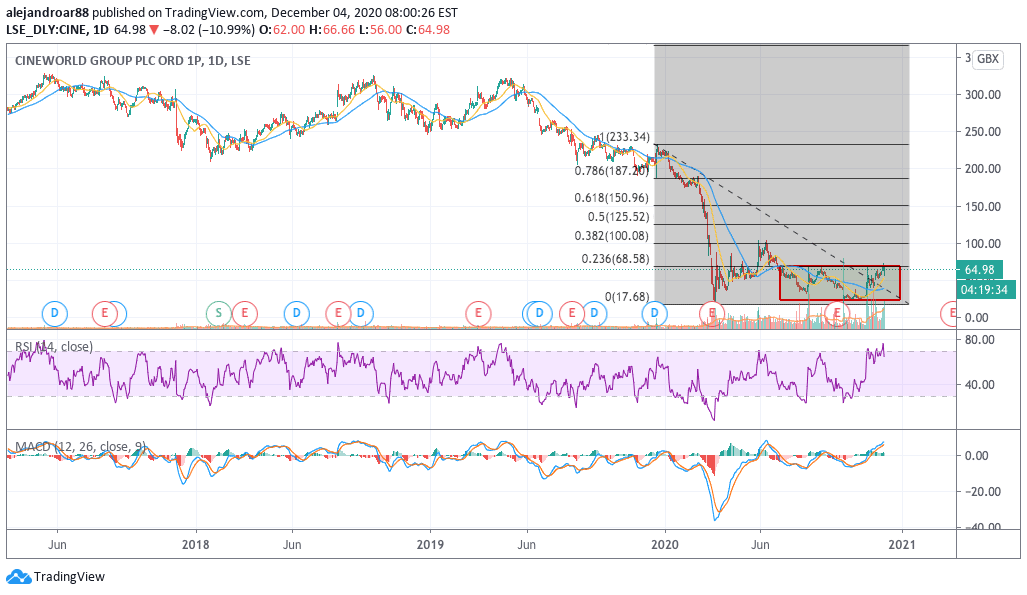 Today's sell-off is accompanied by above-average trading volumes, while it is also occurring at a time when Cineworld shares are posting their highest overbought RSI reading since the pandemic started.
Furthermore, the MACD is also showing signs of overextension, which could exacerbate the impact of this negative catalyst – especially if some other studios step up to implement a similar model.
The next few days could be hard for the share price, since this seemingly overheated rally could take a strong U-turn if market sentiment suddenly moves to the other side of the table.
A key level to watch would be the 22p level, as this price has served as a floor for the stock during October, while a double-bottom back then at that particular price point served as a launching pad for Cineworld shares to move higher in the sessions that followed.