Chinese stocks are tumbling for the second consecutive day as the latest wave of regulatory crackdowns from the Xi Jinping administration has spooked investors for good.
By the end of today's stock trading session, the Hong Kong Hang Seng Index dipped 4.4% at 25,086 resulting in its third consecutive daily drop while it is accumulating a 14% slide since the month started.
Shares of big tech companies including Meituan, Alibaba (BABA), and Tencent Holdings were again among the most battered as they dropped 17.7%, 9%, and 6.4% respectively. Meanwhile, other companies including phone maker Xiaomi and electric vehicle producer BYD saw their fair share of pain as well as they dropped 6% each.
Similarly, China's Shanghai SE Composite Index dropped 2.5% at 3,381, with dozens of shares reporting 10% single-day drops.
What is causing this sell-off in Chinese stocks?
A far-reaching regulatory crackdown aimed toward the tech, education, real estate, and food delivery sectors has been the cause of this latest wave of negative momentum seen by Chinese equities. However, strong restrictions imposed on private tutoring and education businesses in the country were the latest catalyst that has led to the evaporation of billions of dollars in market capitalization for these companies.
Companies in the private tutoring sector have been barred from raising capital through the public markets, turning a profit, or receiving capital inflows from foreign investors. Moreover, they will no longer be able to provide their services as part of school's core curriculum and their online courses will be more strictly regulated moving forward as authorities claim that the cost of tutoring is too elevated and it is discouraging parents from conceiving amid budgetary worries.
In the case of Meituan, one of China's largest delivery companies, regulators are expected to crack down on the firm's labor practices alleging that it has put too much pressure on riders for delivering orders on time while their compensation is often reduced for delivering orders later than the app's overly narrow time windows.
The tech sector has also been sucked into this whirlwind of increased regulatory pressure, with Tencent Holdings being forced to cede its exclusive rights on multiple musical titles as a result of an anti-trust probe.
The decision comes only a few months after the State Administration of Market Regulation (SAMR) said it was looking into the company's acquisition of China Music Corporation back in 2016 since a large percentage of domestic music tracks were effectively owned and controlled by Tencent as a result of the operation.
Moreover, companies like Alibaba and Ant Group have been on regulator's crosshairs for months now after authorities halted the initial public offering of the financial services company back in November last year. The move was followed by the mysterious temporary disappearance of its founder Jack Ma only hours after a meeting with Chinese regulators took place.
Prominent institutional investors are getting rid of Chinese names at a fast pace
Billions of dollars have been flowing out of exchange-traded funds (ETFs) that offer exposure to Chinese equities and investors who had been notably bullish on Asian stocks have already dropped most of their positions including the prominent manager of the ARK funds, Cathie Wood, as she has reportedly cut her fund's exposure to Chinese names like Tencent and KE Holdings in the past few months.
According to a report from Bloomberg, exposure to individual Chinese stocks in her flagship ARK Innovation ETF was trimmed from 8% in February this year to as little as 0.32% lately while the ARK Next Generation ETF has also slashed its exposure to 3.8%, down from a previous 9% seen earlier this year.
What's next for Chinese stocks?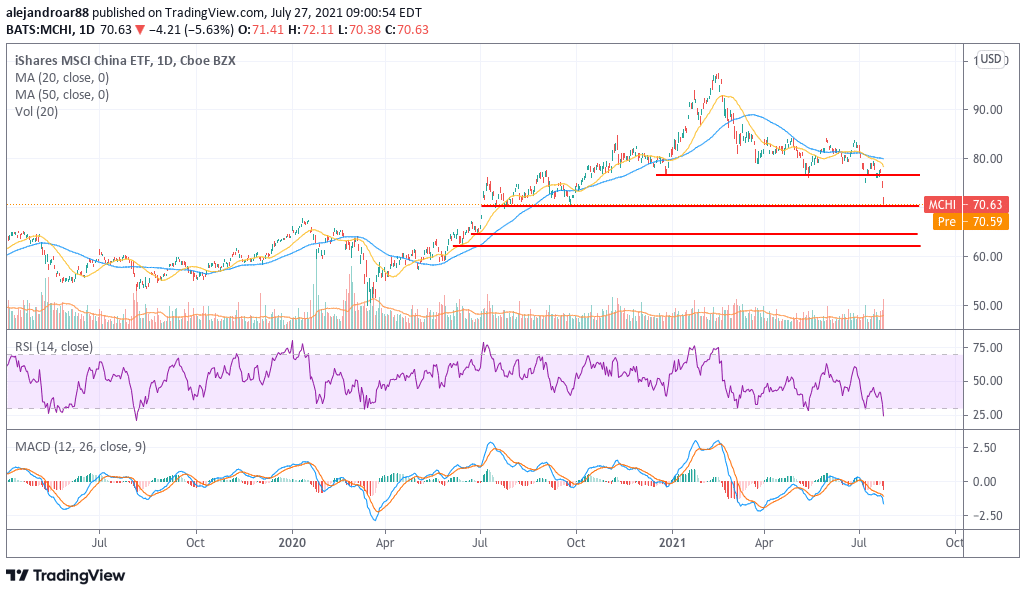 The iShares MSCI China ETF (MSCHI) illustrates the extent of the damage made by regulators to the valuation of Chinese stocks as the fund has dropped almost 13% so far this year while it is down 27.6% from its 52-week high of $97.6 per share.
By the end of yesterday's session, the fund found support at the $70 level but may continue to dive this morning as a result of the prolonged meltdown seen in Asian markets earlier in the day. Its top holdings include Alibaba (13%), Tencent Holdings (13%), and Meituan (4).
The next support for MSCHI might be found at around $62 per share for a 12% downside risk. At this point, investors should be careful not to try catching a falling knife as nobody can really predict the extent of the drop.
That said, this sharp correction in the price of multiple large and valuable Chinese companies could result in opportunities to buy businesses whose fundamentals are strong and that should emerge largely untouched by this latest wave of regulatory and political pressure.