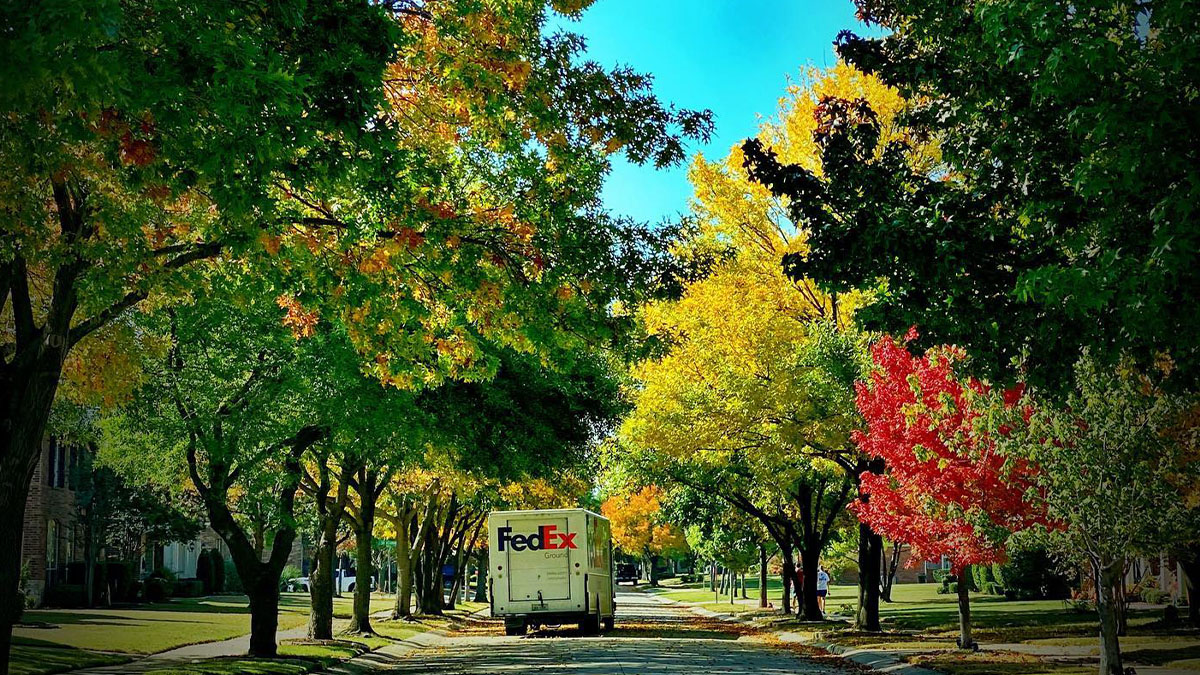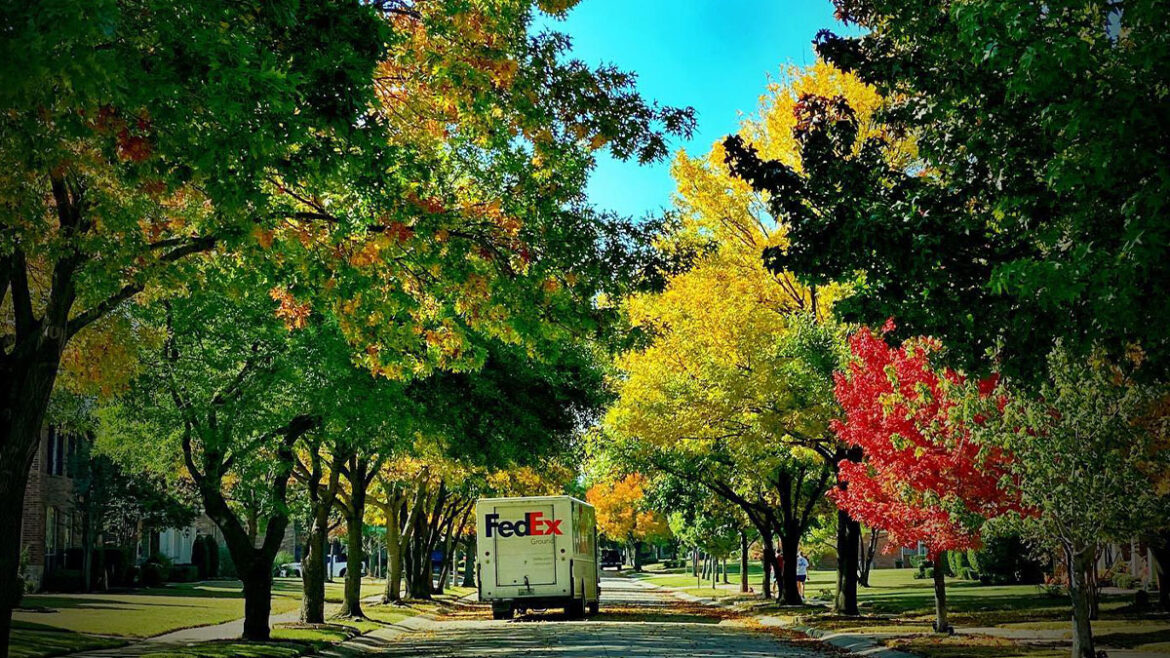 On Thursday, FedEx would release its fiscal second-quarter 2022 earnings. The shares are having a dismal run this year and are down 5.1% even as the S&P 500 hit a new closing high last week.
In October, FedEx shares hit their 52-week lows and while they have since recovered somewhat, they are still down almost 32% from the 52-week highs. The shares are in a bear market territory after having fallen more than 20% from the recent highs. Can the company's fiscal second-quarter earnings this week help lift investors' sentiments and take the shares higher?
FedEx shares have been weak in 2021
While the S&P 500 looks on track for double-digit returns in 2021, which would make it the third consecutive year of double-digit returns, some of the shares have sagged. On one end of the spectrum are stay-at-home names like Zoom Video Communications which are witnessing a severe growth slowdown and markets have repriced them for the lower growth.
The story for labour-intensive companies like FedEx is somewhat different. There is a shortage of labour in the US and companies have had to increase the wages to attract more workers. Also, the supply chain and logistic issues have taken a toll on FedEx's earnings.
FedEx missed estimates in the fiscal first quarter
In its fiscal first quarter, while FedEx reported better than expected revenues, its profits were below estimates. Also, it lowered the profit guidance for the fiscal year 2022. The company expects to post an adjusted EPS between $19.75-$21 in the fiscal year 2022 as compared to the previous guidance of $20.50-$21.50.
The guidance provided by FedEx excluded TNT Express integration costs, mark-to-market on the retirement plan, and other business realignment activities. The company attributed lower guidance to challenging business conditions which it expects to extend longer.
It also added, "These forecasts assume continued growth in U.S. industrial production and global trade, a gradual improvement in labor availability beginning in the second half of fiscal 2022, no additional COVID-19-related business restrictions, and current fuel price expectations."
Energy prices have come down
Meanwhile, in a welcome break for logistics companies like FedEx, crude oil prices have come down. Along with the emergence of the omicron variant, the release of oil from strategic reserves by oil-importing countries has also helped put a lid on oil prices. The OPEC+ is also going ahead with a 400,000 barrel per day production hike from January despite the uncertainty from the omicron variant.
FedEx fiscal second-quarter earnings estimates
Analysts polled by TIKR expect FedEx to report revenues of $22.39 billion in the fiscal second quarter, a year-over-year rise of 8.9%. However, the company's adjusted EPS is expected to fall 11.3% to $4.29 over the period. The divergence between topline and bottomline growth is not hard to comprehend and reflects the cost pressures from higher fuel and labour costs.
Meanwhile, Morgan Stanley believes that even these earnings estimates look on the higher side and expects FedEx to miss consensus earnings estimates in the quarter.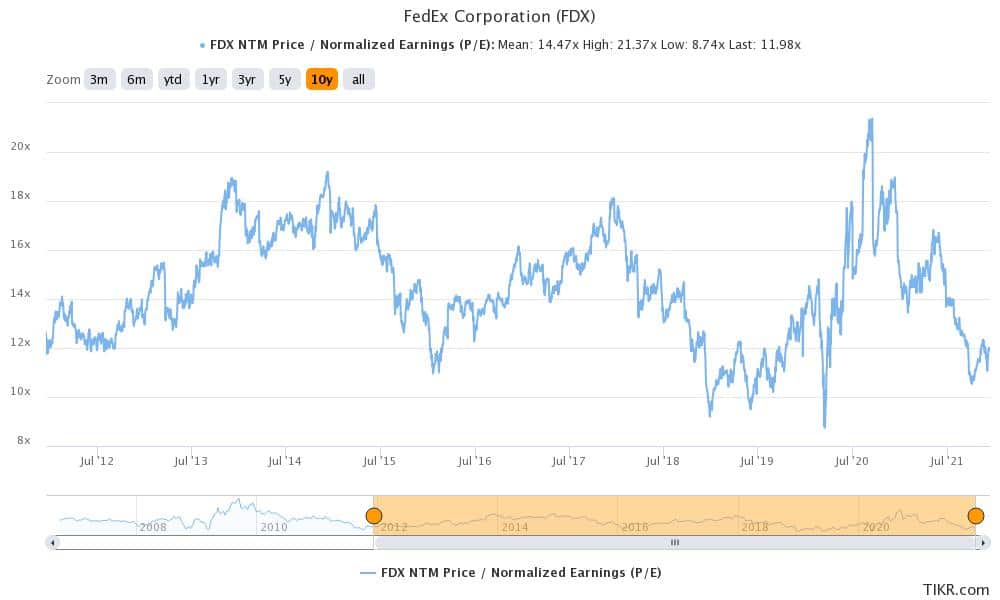 Morgan Stanley finds earnings estimates as high
"After several negative catalysts in the Parcel space, momentum has (modestly) reversed in recent weeks. The question is can FedEx's (FDX) print continue to build momentum or will we return to our prior pattern of disappointing updates? We believe consensus & guidance are still too optimistic," said Morgan Stanley analyst Ravi Shanker.
Shanker believes that FedEx might need to tone down the fiscal year 2022 targets yet again. "We expect F2Q22 to come in below consensus. We are also below cons. for overall EBIT driven by misses in Ground and Express which are only partially offset by a beat in Freight. All in, we continue to believe the FY22 guidance cut from last quarter was not enough and see risk to F2Q and FY22 numbers as pandemic tailwinds die down," he said in his note.
However, Baird Research analyst Garrett Holland believes that the business trend in the quarter was in line with estimates.
FedEx share price forecast
According to the estimate forecasts compiled by CNN Business, FedEx has a median price target of $300, which is a premium of 21.8% over current prices. Its highest price target of $369 is a premium of 49.8% over current prices, while its lowest price target of $235 is a 4.4% discount over the current share price. After the company's fiscal first-quarter earnings miss and guidance cut, several analysts had lowered their target prices.
Overall, Wall Street analysts seem bullish on the shares. Of the 33 analysts covering the shares, 24 have rated it as a buy while nine rate it as a hold or some equivalent. None of the analyst has a sell rating on the shares.
What to watch in earnings?
When FedEx reports its earnings this week, markets would watch out for commentary on the guidance. Notably, the recent fall in fuel prices is a positive for FedEx. However, the supply chain situation might get a bit cloudy if the omicron variant spreads as fast as many observers are expecting.
From a valuation perspective, FedEx shares trade at an NTM (next-12 months) PE multiple of just under 12x which is lower than its historical multiples. The company also pays a dividend and has a dividend yield of 1.22% which is slightly below the S&P 500's dividend yield.
The shares look bearish on the charts though and trade below the 50-day, 100-day, and 200-day SMA (simple moving average). The 100-day SMA has particularly been a strong resistance channel for the shares. That said, if FedEx can impress the markets with its earnings and maintain its guidance for the year, it could positively impact market sentiments.