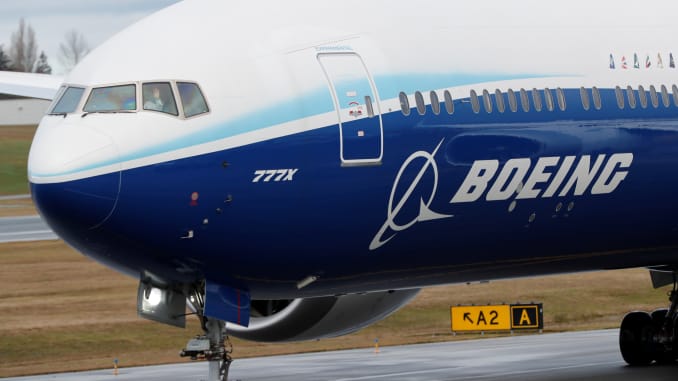 Boeing shares fell sharply during yesterday's stock trading action after the company announced that it plans to halt the production of its 787 model as it identified "additional rework" that needs to be done on undelivered aircraft, specifically mentioning fuselage as the currently affected area.
According to a press release published by Boeing yesterday, the company informed investors that this temporary pause of the production line could last "a few weeks", which will cause a reduction in its 787 output to less than 5 units per month while the company expects to deliver less than half of its current 787 inventory this year.
Moreover, Boeing also informed investors that a major customer partially canceled an order to purchase 737 MAX aircraft. This announcement comes on the same day that flydubai, a UAE-based airline, announced that it had reached an agreement with the airplane maker to cut the number of 737 MAX it will be receiving to 65, down from a previously agreed number of 251 units.
So far in 2021, a total of 156 aircraft have been delivered to customers. This number is almost equal to the total number of units the company managed to deliver last year when it dispatched 157 aircraft yet it is less than half of the 380 units Boeing (BA) delivered in 2019 before the pandemic stroked.
This would be the latest in a long list of issues that Boeing has dealt with since it first presented the 787 Dreamliner model back in 2006. Past issues have included problems with the plane's flight-control software, fasteners, engine, and even an unexpected onboard fire that occurred during a test flight back in 2010.
The company has acknowledged that some of these failings have been the result of outsourcing key design and production work while supplier inspections have not been strict enough to ensure that the quality of the components used in the 787 met the required standards.
How are Boeing shares performing so far this year?
Yesterday's downtick has depressed the gains seen by Boeing stock so far this year, with the year-to-date performance of the stock now sitting at 6.6%, down from a previous 11.3% reading.
Meanwhile, the stock remains 34% below its pre-pandemic levels as Boeing was forced to take a significant amount of debt to withstand the hit it took during the virus crisis.
By the end of the first quarter of this year, Boeing managed to produce revenues of $15.2 billion or 10% less than it brought during the first three months of 2020 – a period that was already affected by the health emergency. Meanwhile, that number was 33.6% less than what the company produced during the same period in 2019.
Moreover, Boeing managed to trim its cash burn to $3.68 billion compared to the $4.7 billion it burned during the first quarter of 2020 while it reported a net loss of $561 million.
By the end of this period, Boeing held $21.9 billion in cash and equivalents, which should suffice to keep the company afloat for at least two years or so if its cash burn remains unchanged.
Meanwhile, consolidated debt stood at $63.6 billion, up from a total of $27.3 billion Boeing had back in the fourth quarter of 2019 – before the pandemic stroked. As a result, interest expenses climbed from $262 million to $679 million during the first three months of 2021, accounting for over 5% of the firm's total revenues.
What's next for Boeing?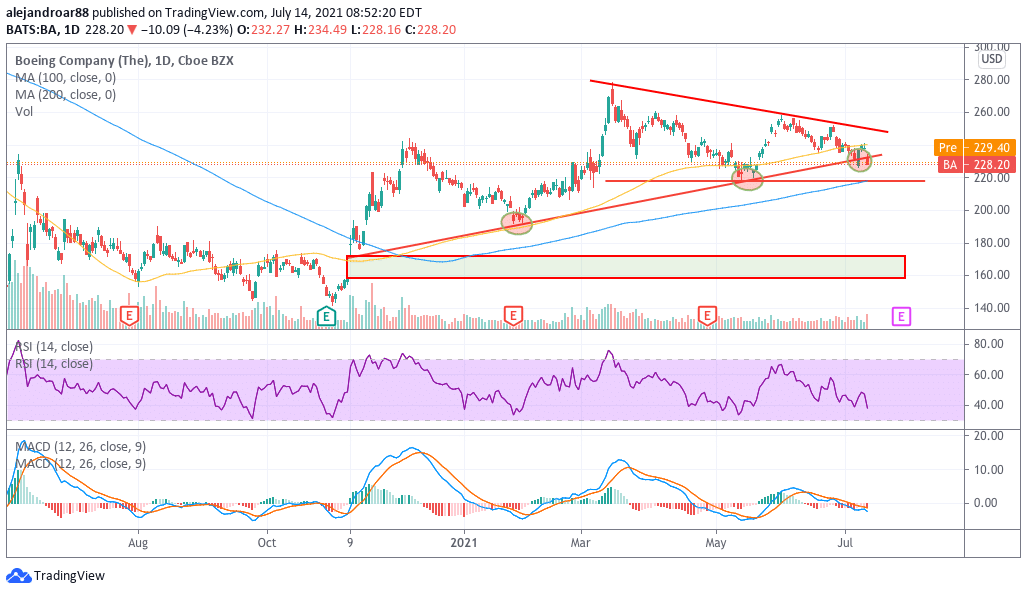 Boeing shares remain on a downtrend until proven otherwise, as the symmetrical triangle shown in the chart has resolved to the downside for a second time amid yesterday's pronounced decline.
Since symmetrical triangles are not directionally biased, traders have to wait until a break of the trend lines occurs to possibly foretell the direction that the price action will take moving forward.
Based on yesterday's break and the downtrend seen in momentum oscillators, everything points to a bearish outlook for Boeing shares.
At the moment, the next area of support to watch for Boeing would be found at $218 for a potential 4.3% downside risk. This area of support coincides with the stock's 200-day moving average and reinforces this bearish outlook due to a potential return-to-mean kind of movement.