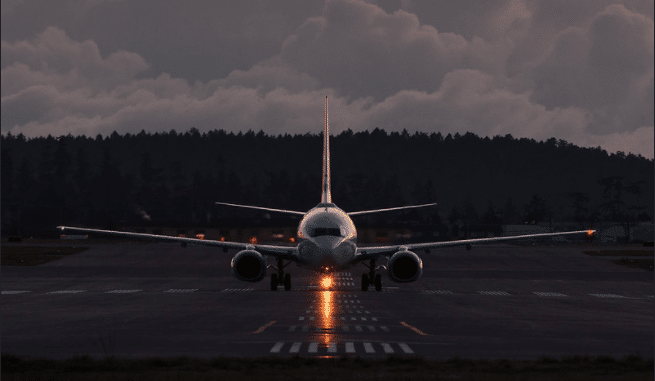 Boeing (BA) shares are poised to continue their post-vaccine rally on news that the US Federal Aviation Administration (FAA) has finally given the green light for the firm's 737 MAX model to resume flying.
Nearly two years have passed since the 737 MAX was first grounded, as two fatal disasters ended up flagging potential design flaws in the aircraft.
Since then, the firm has made significant improvements to the aircraft, including changes made to its navigation software and to the training required to fly the airliner.
The certification approval from the FAA gives Boeing a boost at a moment when it desperately needs a win, as the pandemic crushes demand for new aircraft around the world.
In October, European regulators signed off on the 737 MAX as they were "satisfied with the changes that Boeing has made" to the model, although Chinese regulators – an important geographical revenue stream for Boeing – haven't made any relevant comments as to the stage at which their reviewal is at.
The 737 MAX – one of the company's flagship models – is much more fuel-efficient than other models, which would make the plane a preferred choice among carriers while cost-saving measures remain a top priority.
American Airlines has already announced that it plans to deploy its fleet of 737 MAX aircraft by December, while other airlines are advocating to rename the vessel to rescue its reputation as it re-emerges from its post-crash regulatory halt.
Although this green light for the 737 MAX is great news for Boeing (BA), the company is still facing strong headwinds. The Covid pandemic is keeping demand for commercial aircraft at record lows, while there is still some degree of mistrust among the airlines that could weigh on the plane's recovery.
Industry experts have reacted positively to the latest news, but they have also warned that the current shock in demand is possibly capping future sales for the 737 MAX, as there are currently 387 planes waiting to return to service and another 450 in inventory.
How have Boeing shares performed lately?
Boeing shares have trimmed some of the losses they have seen during the pandemic, although they remain 35% down since the year started.
Positive news on the vaccine front has contributed to lifting the price of Boeing shares lately as investors now expect an uptick in air travel during the first semester of 2021 – although industry associations claim that it will take years to return to pre-pandemic traffic volumes.
Boeing shares closed 3.8% higher yesterday at $210 per share, while they are also surging 6.6% today in pre-market stock trading action on Wall Street as investors respond positively to today's news related to the MAX.
What's next for Boeing shares?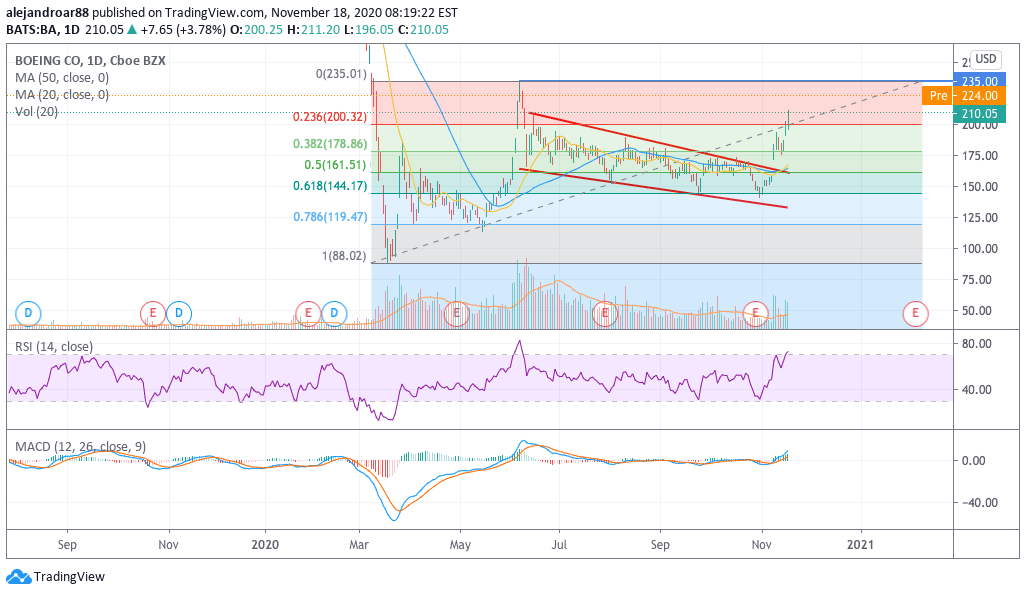 Boeing shares have successfully climbed above a downward price channel that emerged after a failed uptick in June and they have cleared multiple Fibonacci levels in the past few days.
If the stock were to open at the levels seen in pre-market action at the moment it will place itself only 5% away from those June highs, at a valuation of roughly 160 times the firm's next- twelve-months' earnings and 78 times the earnings forecasted for its full-year 2021.
Meanwhile, the daily RSI is showing that the stock has just stepped on overbought territory while the MACD has already sent a buy signal and remains on an uptrend.
This bullish sentiment has been accompanied by higher-than-average trading volumes, which means that buyers are showing up to push the stock higher and this increased interest – given the multiple positive catalysts that are supporting the move – is not likely to fade in the following weeks as investors could now see a much clearer path to recovering.
That said, the threat of a prolonged pandemic around the world – which would result in lower demand for air travel for longer than expected – is still a risk factor to take into account.
In this regard, although vaccine news is definitely a cause for optimism, the global distribution of of the vaccines is still a concern, and any delays on that front could result in a sharp reversal for Boeing shares in short order.