BHP Billiton (BHP) shares were trading sharply higher in US premarket trading today and look set to make a new 52-week high after the company released its fiscal first half 2021 financial performance.
BHP Billiton's fiscal year runs from July to the following June. Today, the mining giant reported its financial performance for the fiscal first half of 2021 and reported the highest fiscal first half profits in seven years.
BHP Billiton earnings
The company reported an underlying profit from continuing operations of $6.04 billion in the fiscal first half, as compared to $5.19 billion in the corresponding period last year. While the earnings were below the $6.33 billion that analysts were expecting, investors cheered the dividend hike and positive outlook provided by BHP Billiton.
BHP Billiton hikes dividend
BHP Billiton increased its interim dividend from $0.65 per share to $1.01 per share. This is a record dividend for the mining giant in this super cycle as strong demand from China is driving metal prices higher, especially iron ore. Competitor Glencore, which released its financial performance today, also reinstated its dividend. It had suspended its dividends last year amid the plunge in commodity prices.
Glencore also restores dividends
Generally, Glencore is more aggressive about dividends as compared to other mining giants. BHP Billiton and Rio Tinto take a more calibrated approach to dividends and don't eliminate them in falling commodity price, preferring instead to lower the payout. Rio Tinto, which is set to release its financial performance tomorrow, might also announce an increase in dividends looking at the current uptrend in commodity prices.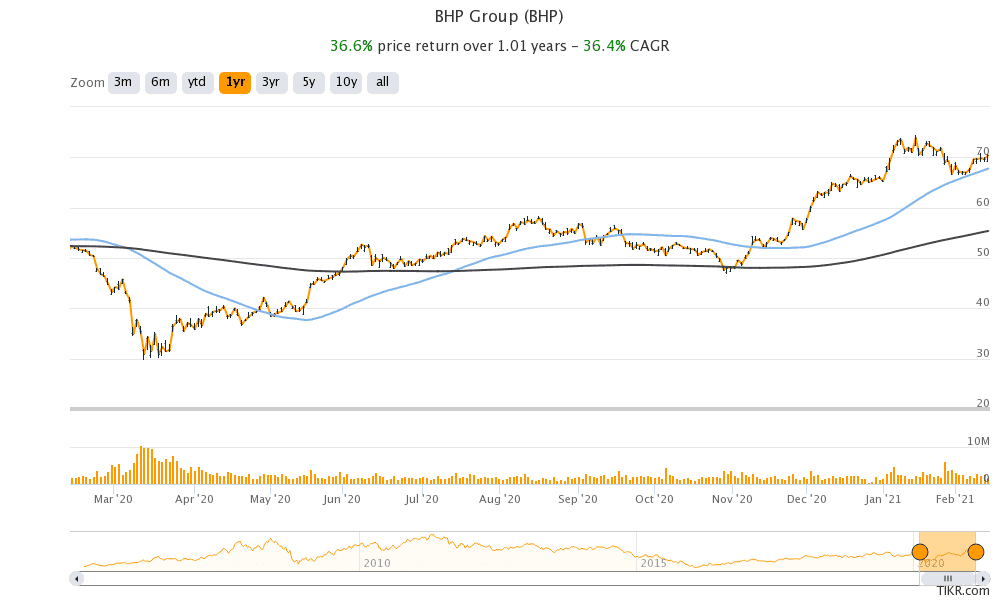 BHP Billiton sounds positive on the outlook
While it called the near-term outlook "uncertain" BHP Billiton said in a statement: "The deployment of vaccines in key economies, albeit with some uncertainty as to timing and efficacy, removes a material amount of downside risk to the short-term demand and price outlook for our portfolio commodities." It also sees the massive stimulus provided by governments globally as an enabler of economic recovery.
The miner pointed to "robust" demand in China and "improving trajectory" in the rest of the world. While the company sees the price recovery in commodity prices as "nascent" it sees "potential for a further uplift."
The commodity price environment looks strong
"The mega-trends that we see playing out around global population growth, the electrification thematic and the energy transition, all of these bode well for commodity demand over the medium-to-long term," said BHP Billiton's CEO Mike Henry. He added, "And of course, in the near term, as the world recovers from Covid, we'll see some pretty strong fundamentals as well."
Analysts are upbeat after the earnings
The outlook for key commodities that BHP Billiton produces such as iron ore, copper, and energy looks strong in the near term that should drive the shares higher. "Buoyant iron ore prices underpin strong upgrade momentum for BHP," said analysts at Macquarie Group Ltd. They especially pointed to the strong iron ore prices that accounted for 70% of BHP Billiton's fiscal first half 2020 earnings.
Andy Forster, portfolio manager at Argo Investments, called BHP Billiton's financial performance a "pretty solid result." He added, "Relative to expectations, it looked pretty good, strong cash flows and dividend, projects operationally performing well." Forster is bullish on the shares and said "Strong iron ore and copper should set it up for a pretty good second half as well."
China-Australia standoff
BHP Billiton has significant operations in Australia and as a consequence the company has been engulfed in the diplomatic and trade scuffle between Australia and China. The company had put its Australia coal operation up for a strategic review. However, the process has been delayed as the current geopolitical environment is not conducive.
BHP Billiton does not see any near-term respite from the standoff. "We're certainly not banking on any near-term resetting of that policy," said the company in its earnings call. Notably, mining companies have been under pressure from investor groups as well as climate activists to go slow on their fossil fuel operations. Looking at the increasing traction towards ESG (environmental social and governance) investing, many mining companies are considering hiving off their coal operations that are among the most polluting sources of energy.
BHP Billiton shares were trading 7.4% higher at $75.58 in US premarket trading today. The shares have a 52-week trading range of $29.78-$74.41 and look set to hit a new 52-week high today.