ASOS shares closed up 13% (4780p) in London trading after the company increased its guidance for both revenues and profits in a trading update released this morning.
The UK-based online retailer now anticipates that revenues will grow around 17% to 19% for the year, while profits before tax should end 2020 at £150 million, due to increased online shopping activity amid the pandemic.
Although the company initially expected a slump in demand once lockdowns were eased in the UK, ASOS is apparently seeing a shift in consumer behaviour, as reflected by lower-than-expected returns and increased momentum in sales across all its product categories.
However, ASOS did warn that it is "unclear" how long this positive trend will last, although the company is benefitting from increasing its customer base by taking advantage of higher website traffic and online registrations, which could help cushion the impact of a reduction in "lockdown" demand once the virus situation subsides.
ASOS shares before the trading update
The behaviour of ASOS shares ahead of this trading update seems to indicate that investors were expecting some good news, but not necessarily as good as this.
The stock had surged 35% already in August – before today's jump – advancing 1,136p from 3,238p to 4,400p it was trading at yesterday.
With today's gains ASOS shares are now trading at 4,742p – their highest level since the pandemic sell-off – with no further resistance levels on sight.
That said, the stock still has a long way to go to get back to its all-time high of 7,700p.
What's next for ASOS shares?
ASOS shares crashed in late 2018 as a result of weaker consumer demand and lower profitability. Since then, the price has failed to move above the 4,000p level, reaching a peak at around 3,500p – 3,700p two times but failing to move higher than that before the pandemic struck.
However, shares of the British online retailer picked up the pace after the February sell-off, as online shopping stocks benefited during the lockdowns from consumers staying at home buying goods and services on the internet.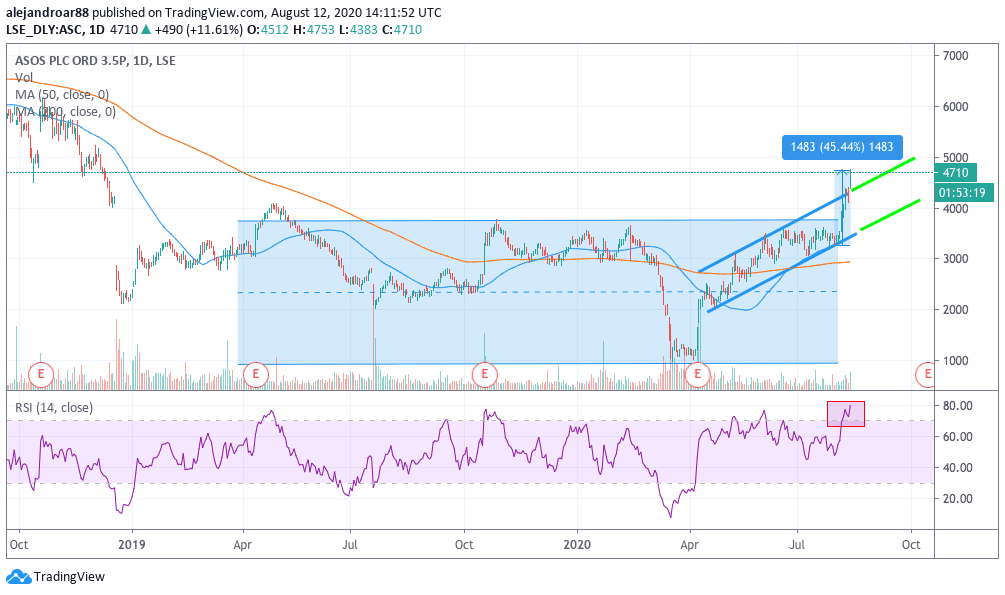 At this point, ASOS shares are riding a strong uptrend and today the price is breaking through its upper trend line, which should lead to higher levels for the stock in the coming days, especially as no major resistance is on the way.
However, the RSI is sending an overbought signal at the moment, while trading volumes are slightly higher than usual, which could lead to a short-term pullback as the stock takes a breather before moving higher.
A move below the upper trend line is a possibility, which will mean opportunities for traders to potentially buy the dip as long as the price remains within that channel.
Moreover, there's also the possibility that the stock finds new support at that upper trend line, using it as a foothold to move to higher levels, possibly towards the 5,000p psychological resistance, which is just 5% away from today's price.