American Airlines, the largest airline company globally, has announced an upsized debt offering to raise $10 billion, which would be the largest debt issuance in the airline industry ever.
The COVID-19 pandemic has been a death knell for the airline industry. Over the last twenty years, the airline industry has faced many challenges. These include the 2001 terrorist bombing of the World Trade Center Towers in the US and the 2008-2009 financial crisis.
However, COVID-19 pandemic is perhaps the worst crisis that the aviation industry has ever faced. Despite getting generous grants from governments, airline companies had to raise a lot of capital to survive the cash burn.
American Airlines upsizes debt offering
American Airlines is issuing $3.5 billion of senior secured notes due in 2026 with a yield of 5.5% and $3.0 billion principal amount of senior secured notes due 2029. The company is also entering into a term loan facility for $3.5 billion. Overall, the company is looking at raising $10 billion at a blended average coupon rate of 5.575%. American Airlines has upsized the offering and previously it was looking at raising $7.5 billion.
The company plans to repay US government debt
The loans are backed by AAdvantage loyalty program. The company plans to use the proceeds to pay back US government loans. Last year, American Airlines raised $13 billion through debt and equity issuances. These include the loans that it got from the US government. To put that in perspective, American Airlines' market capitalisation is a little above $13 billion.
To get a sense of how the pandemic has ravaged the global airline industry, consider the fact that American Airlines posted a net loss of $9.5 billion in 2020. The pain is not limited to airline companies alone. Aircraft manufacturers like Boeing and aircraft parts manufacturers have also been under severe pressure.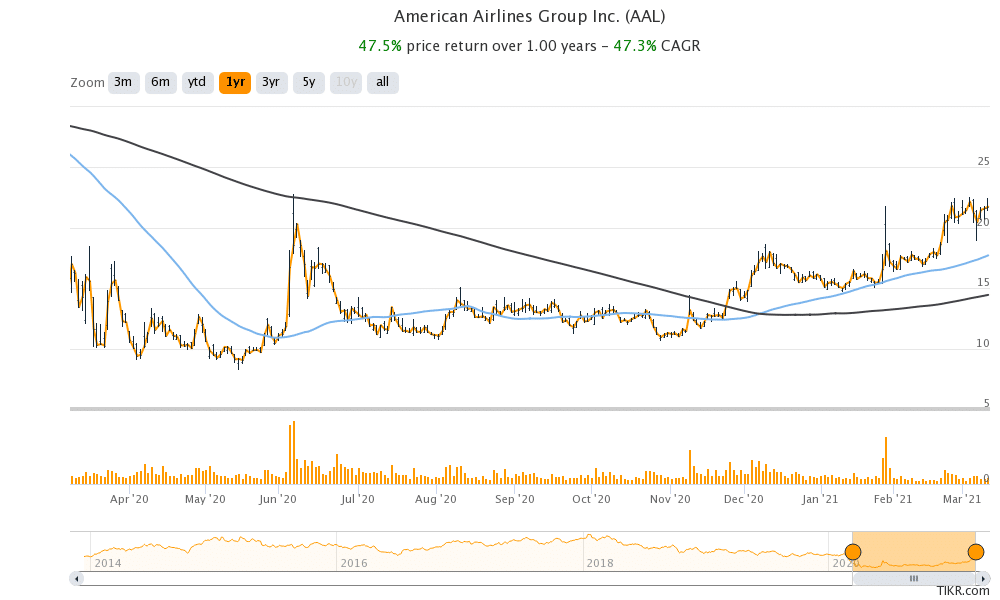 Warren Buffett sold all airline shares in 2020
In April 2020, Warren Buffett sold all the four airline shares that Berkshire Hathaway was holding. The company had American Airlines, Delta Airlines, United Airlines, and Southwest Airlines as part of the portfolio. Notably, Buffett is known to buy shares at lower prices but in this case, he sold off these shares at a massive loss.
"The world has changed for the airlines. And I don't know how it's changed and I hope it corrects itself in a reasonably prompt way," Buffett had said at last year's annual shareholder day which was held virtually due to the COVID-19 pandemic.
Buffett said, "When we bought [airlines], we were getting an attractive amount for our money when investing across the airlines." The Oracle of Omaha added, "It turned out I was wrong about that business because of something that was not in any way the fault of four excellent CEOs. Believe me. No joy of being a CEO of an airline."
Warren Buffett exited American Airlines shares
Berkshire Hathaway was holding almost a 10% stake in all the airline companies including American Airlines in the first quarter of 2020. In the quarter, Buffett even added more Delta Airline shares. However, he sold off all the shares, which he had accumulated over years in one shot.
Meanwhile, airline shares bounced back sharply from the levels at which Buffett exited his position. That said, airline companies face a tough road ahead. It would be a long time before the global airline industry reverts to pre-pandemic profitability.
Another challenge for airline companies is the recent rise in crude oil prices. If prices rise even further, it could become a headache for airline companies as fuel costs are a major cost element for the sector.
What's the outlook for American Airline share?
The outlook for American Airlines or for that matter the entire industry looks cloudy currently. There are hopes that global air travel will roar back this year after the slump in 2020. However, at least international air travel could be under stress for some more time as countries restrict travel to control the spread of the coronavirus.
American Airlines shares are trading at less than half of what they did in January 2020 even as they have more than doubled from the 52-week lows. American Airline trades at an NTM (next-12 months) enterprise value to revenue multiple of 1.85x which does not seem very attractive.
The shares have gained 48% so far in 2021 amid optimism over air travel and a broader sector rotation into cyclical especially beaten-down shares. However, at current prices, the risk-return payoffs don't look reasonable for American Airline shares.