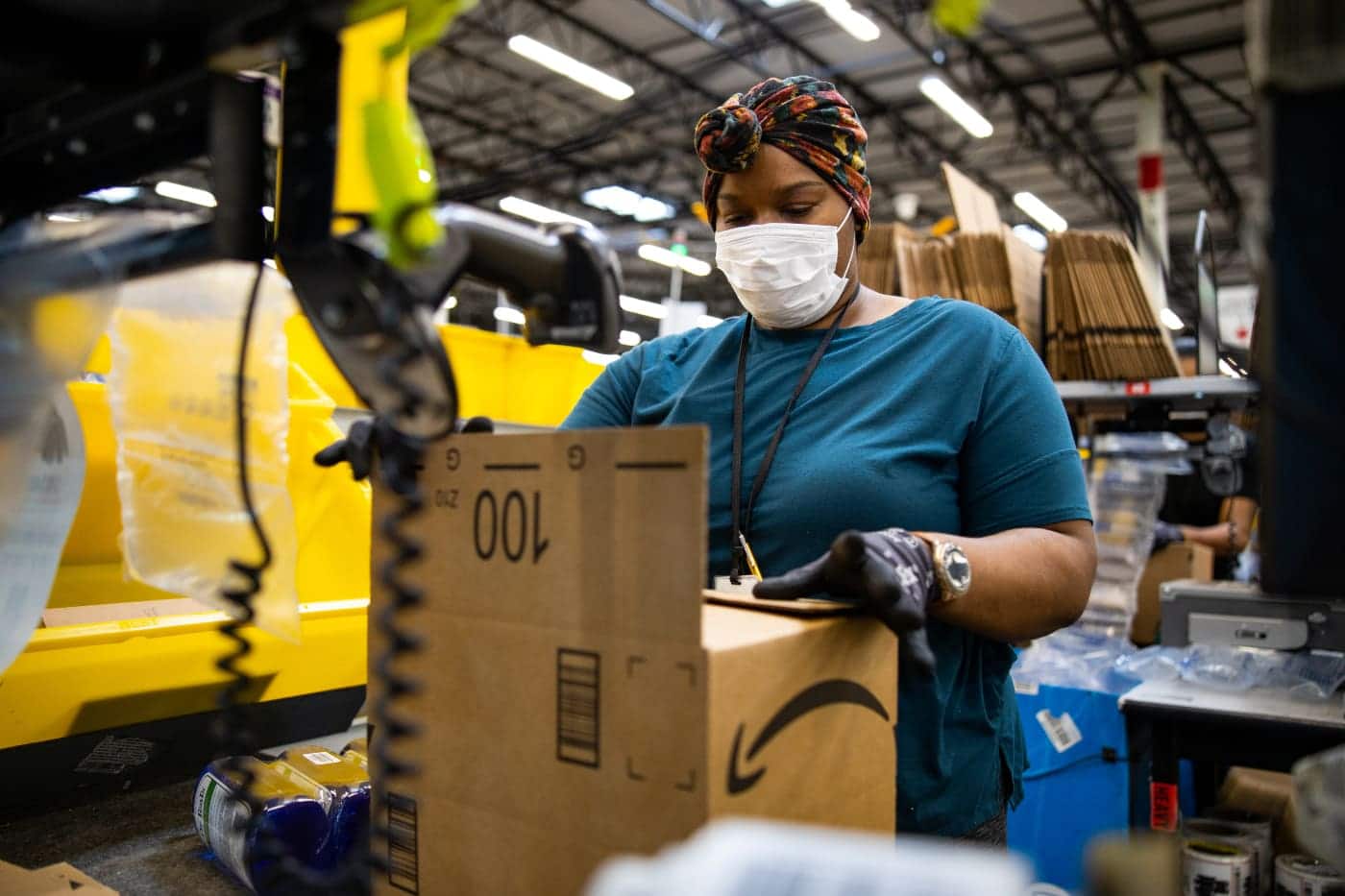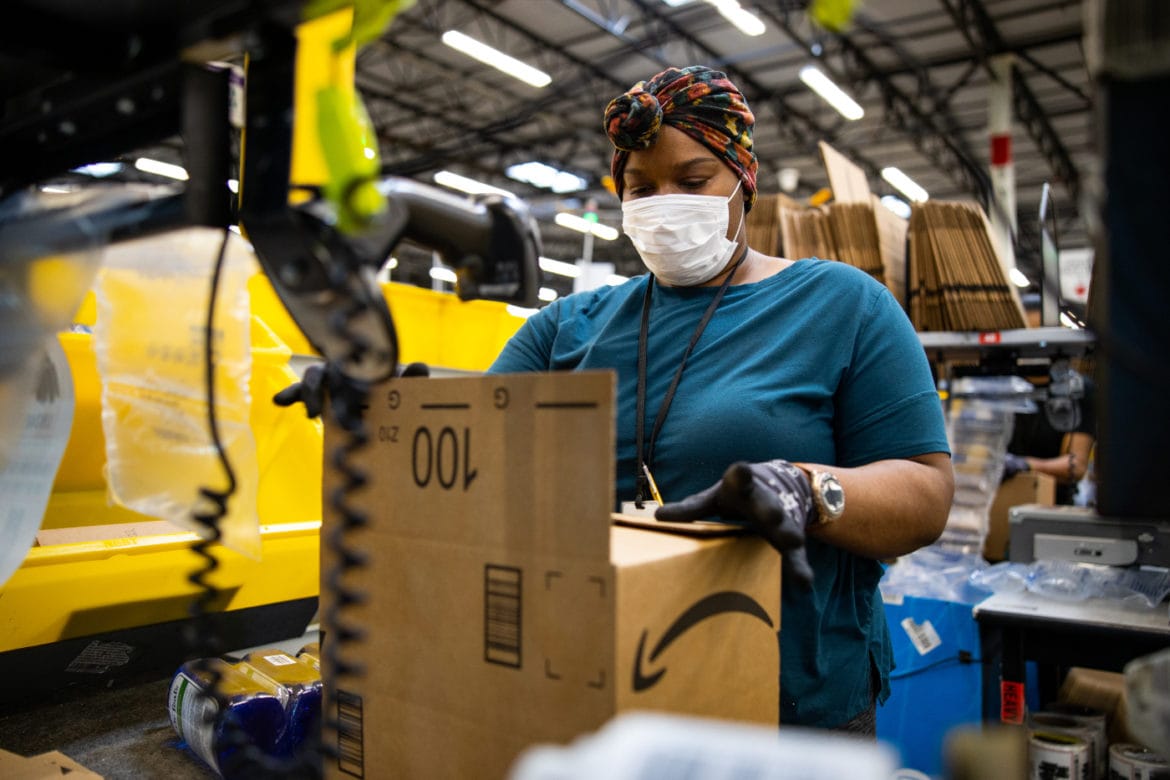 Amazon reported its fourth quarter 2020 earnings on Tuesday after the close of markets. It was a stellar quarter for the company and it beat analysts' estimates for both the topline and the bottomline. It was also revealed that founder Jeff Bezos will be vacating the post of chief executive later this year.
Amazon reported revenues of $125.6 billion in the quarter which were ahead of the $119.7 that analysts polled by Refinitiv were expecting. The e-commerce giant's sales increased 44% year over year in the quarter. Looking at the full year 2020, Amazon's revenues increased 38% year over year to $386.1 billion.
The company's revenues were also slightly ahead of its guidance. During the third quarter earnings call, Amazon had said that it expects to post revenues between $112-$120 billion in the fourth quarter.
Amazon's revenues rise above $100 billion
Amazon posted revenues of over $100 billion in a quarter for the first time in its history. Apple, which had reported its earnings last week, also posted revenues of over $100 billion. In Apple's case, it was the delayed impact of iPhone 12 sales from the September quarter to the December quarter that helped drive the sales.
Amazon has been among the biggest benefactors of the changed consumer behaviour during the COVID-19 pandemic. As more people are shifting to online shopping, it is leading to higher sales for e-commerce companies such as Amazon and Shopify.
Amazon's earnings surpass expectations
While Amazon's revenues were slightly ahead of the estimates, its earnings topped analysts' estimates by a wide margin. Its adjusted EPS of $14.09 was almost twice the $7.23 that analysts were expecting. It had posted an EPS of $6.47 in the fourth quarter of 2019.
The company posted operating income of $6.9 billion in the fourth quarter of 2020 as compared to $3.9 billion in the corresponding quarter in 2019. Its operating income was also ahead of its guidance. During the third quarter earnings call, Amazon had said that it expects its operating profits to be between $1-$4 billion in the quarter. The guidance assumed COVID-19 related costs of $4.5 billion.
Cash flows surge
In the full year 2020, Amazon posted an operating income of $22.9 billion which was 58% higher than the $14.5 billion it had posted in 2019. The company's operating cash flows increased 72% year over year to $66.1 billion in 2020.
Its free cash flows increased to $31 billion in 2020 as compared to $25.8 billion in 2019. While Amazon does not pay dividends, it uses the free cash flows to repurchase its shares. The company's total outstanding shares plus shares options totalled 518 million at the end of 2020 which was 6 million lower than the same time in 2019.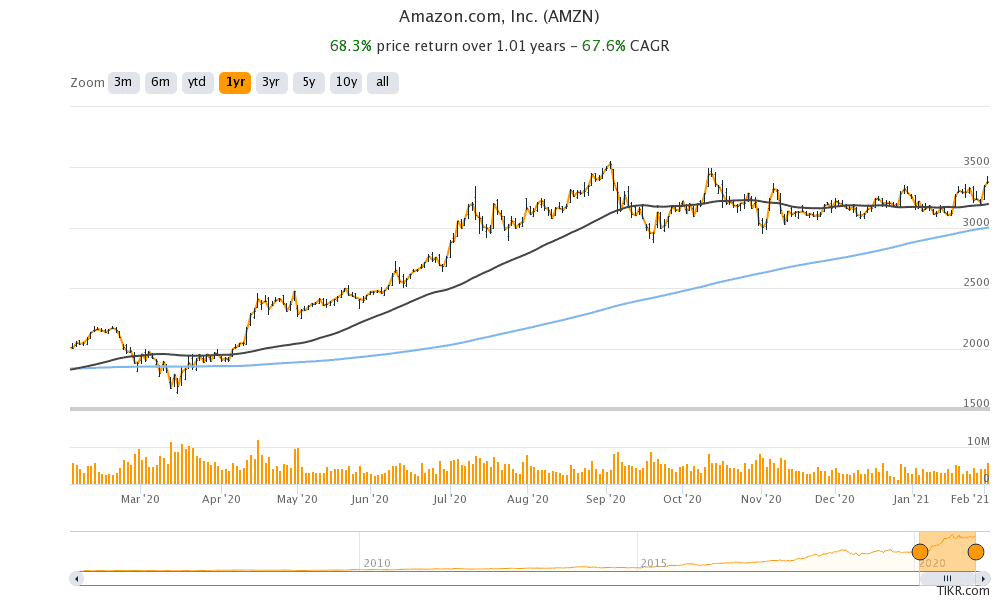 Amazon's guidance
Amazon expects to post revenues between $100-$106 billion in the first quarter of 2021. This would mean an annual growth rate between 33-40%. The guidance was ahead of the $95 billion that analysts were projecting for the quarter. Like in the previous quarter, Amazon gave a wide range for its operating income guidance.
The company expects to post an operating income between $3-$6.5 billion in the quarter. It had posted operating income of $4 billion in the first quarter of 2019. Among other things, the guidance assumes COVID-19 related costs of $2 billion. Over the last year, Amazon has spent billions of dollars on COVID-19 related costs.
Jeff Bezos to step down
Another key highlight of Amazon's fourth quarter earnings was Jeff Bezos decision to step down as the company's CEO. In the third quarter of 2021, Bezos would transition to Amazon's Executive Chairman and Andy Jassy would take over as the new CEO.
"Amazon is what it is because of invention. We do crazy things together and then make them normal. We pioneered customer reviews, 1-Click, personalised recommendations, Prime's insanely-fast shipping, Just Walk Out shopping, the Climate Pledge, Kindle, Alexa, marketplace, infrastructure cloud computing, Career Choice, and much more," said Bezos.
Andy Jassy to be the new CEO
Commenting on the transition, Bezos said, "If you do it right, a few years after a surprising invention, the new thing has become normal. People yawn. That yawn is the greatest compliment an inventor can receive. When you look at our financial results, what you're actually seeing are the long-run cumulative results of invention. Right now I see Amazon at its most inventive ever, making it an optimal time for this transition."
Amazon shares are trading flat
Amazon shares were trading flat in US premarket trading despite posting stellar results and issuing better than expected guidance. Notably, while companies like Apple are refraining from providing forward guidance due to the still uncertain economic environment, Amazon has continued with its guidance.
Looking at the post earnings price action, we've seen something similar with most other tech companies. Apple, Netflix, and Facebook all posted better than expected earnings but the shares fell after the release. This is partly because of the lofty expectations that markets have built around these companies.
Gene Munster on Amazon shares
Gene Munster, who correctly predicted Apple's market capitalisation rising above $2 trillion, called Amazon's fourth quarter earnings a "déjà vu" as the company has been reporting stellar earnings over the last few quarters. Referring to Amazon's guidance, he said that "things are going phenomenally well" for Amazon.
Munster said that while e-commerce sales have grown from 11% to 15% of the total retail sales, he eventually expects the figure to 60%. He also said that Amazon is in "pole position" as the digital transformation of the economy unfolds.