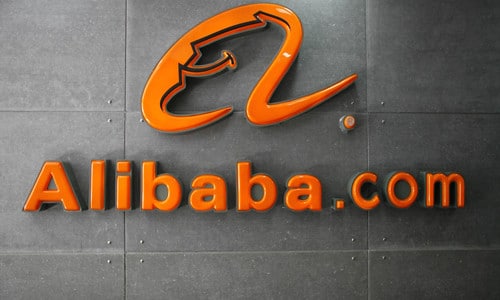 Alibaba stock is dipping in pre-market stock trading action this morning, following the release of the firm's financial results for the fourth quarter of its 2021 fiscal year along with numbers for the full year ended on 31 March.
The Chinese e-commerce giant reported revenues of $28.60 billion for the quarter, exceeding analysts' estimates of $27.92 billion for the period, and resulting in a 64% jump in its top-line compared to a year ago.
The company explained that a portion of that growth was caused by the consolidation of Sun Art – a big-box physical retailer Alibaba recently acquired. Excluding the impact of this item, revenues grew 40% at $24.41 billion.
Alibaba's core commerce segment jumped 72% during the quarter compared to a year ago, with sales landing at $24.63 billion while representing 86% of the business total revenues – up 400 basis points from last year's share.
This high year-on-year growth rate was partially caused by a lower comparative baseline from a year ago, back when the virus disrupted the firm's top-line due to containment measures implemented in China and overseas.
Meanwhile, the cloud computing segment, a promising revenue stream that analysts have been keeping an eye on, grew 37%, moving from $1.89 billion to $2.56 billion. The company mentioned that growth in this particular segment slowed during the quarter as a result of lower revenues from a top customer while they stated that this customer decided to terminate its relationship with the firm due to "non-product related requirements".
On the profitability front, Alibaba's adjusted EBITDA landed at $4.56 billion, representing an 18% increase compared to a year ago. However, excluding the impact of the Sun Art acquisition, the firm's adjusted EBITDA would have grown by 12%.
For the quarter ended on March 31, the e-commerce company reported a net loss of $1.168 billion as a result of a fine imposed by China's regulators as a result of an anti-monopoly investigation. Excluding this item, along with other non-cash adjustments, the firm's non-GAAP net income ended the period at $4 billion.
As a result, the company reported a loss per ADS/share of $0.30 on a weighted average number of outstanding shares of 22.02 billion along with non-GAAP earnings per share (EPS) of $1.58 resulting in a 12% increase compared to a year ago.
Earnings fell short of analysts' estimates for the quarter, with Wall Street's consensus standing at $1.81 per share for a $0.61 miss.
What to expect from Alibaba stock moving forward?
Alibaba revealed its guidance for its full 2022 fiscal year, with the firm expecting to see its revenues land at $144.1 billion for the period or $1.21 billion higher than the consensus estimate of $143.31 billion according to Seeking Alpha.
The market is reacting negatively to the release, with shares of Alibaba (BABA) going down 3% in pre-market action this morning at $213.7 per share. The firm has shed a third of its value since its October 2020 peak as market participants remain concerned by an ongoing regulatory crackdown from Chinese authorities.
Last year, regulators stopped the firm's financial arm – known as the Ant Group – from going public while the firm's founder, Jack Ma, mysteriously disappeared for months after voicing some hostile comments about China's practices and culture in regards to entrepreneurship and innovation.
A closer look at Alibaba's fundamentals shows that the company is being valued at roughly 21 times its next twelve-month earnings. However, the firm's earnings have grown at a rate of 33% from 2017 to 2021, which results in a price-to-earnings-to-growth ratio of 0.6 – a sign that this is an undervalued stock.
Although most of the concerns resulting from the company's exposure to the Chinese government whims are not necessarily unjustified, this could be a once-in-a-lifetime opportunity to buy a great company with a marvelous track record at a heavily discounted price.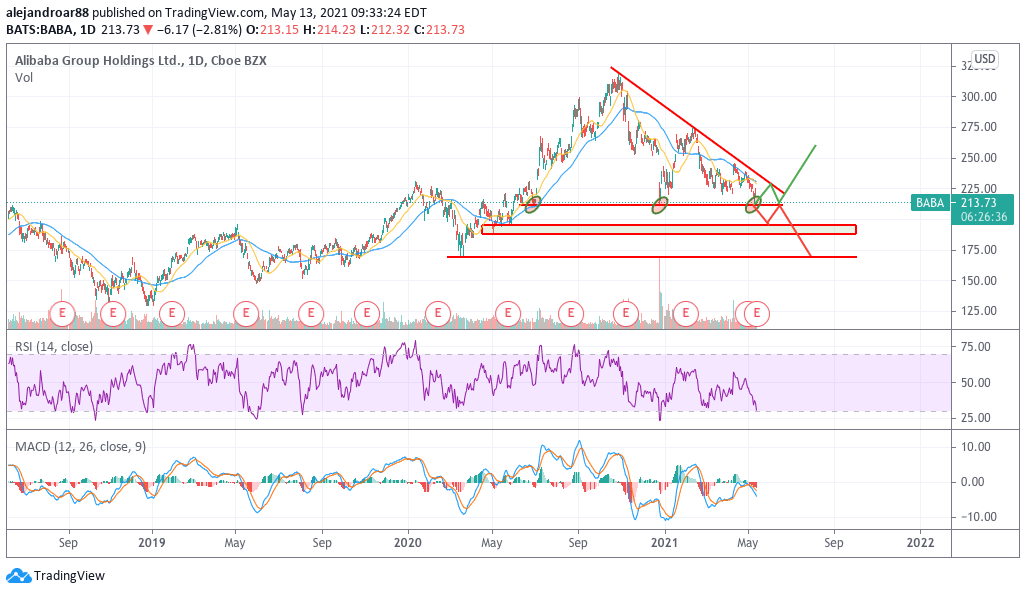 Meanwhile, from a technical standpoint, the price action this morning is once again tagging a long-dated support for Alibaba. Moving forward, the reaction of the price would indicate where shares might be heading since a break below could mean that the stock is still in for more pain, while a bounce could present an opportunity for a short-term trade.