Best Biotech Stocks UK – Invest with 0% Commission
Fact Checked
Everything you read on our site is provided by expert writers who have many years of experience in the financial markets and have written for other top financial publications. Every piece of information here is fact-checked.
Disclosure
Please note that we are not authorised to provide any investment advice. The information on this page should be construed for information purposes only. We may earn commissions from the products mentioned on this site.
Biotech stocks are classed as defensive stocks that have positive performance during an economic downturn. Biotechnology stocks became alluring for investors due to the potential for these stocks to experience a surge in their price during and after the pandemic. More precisely, the value of the best biotech stocks UK is influenced by the development of a coronavirus vaccine and its widespread acceptance aswell as their potential to develop and market drugs and treatments for other diseases.
You can find out more about the best Biotech stocks UK to buy 2021 by reading the following sections.
Best Biotech Stocks UK List
We start the guide by providing a list of the Best Biotech Stocks UK that should be considered when investing with a 0% commission in 2021. A detailed overview of each stock is presented in the next sections.
Novavax (NVAX) – Overall Best Biotech Stock UK – Invest now
Amgen (AMGN) – Best Value Biotech Stock – Invest now
Gilead science (GILD) – Most Innovative Biotech Stock – Invest now
Pfizer (PFE) – Best Biotech Stock for Swing Trading
Vertex (VRTX) – Most Undervalued Biotech Stock to Buy Now
AstraZeneca (AZN) – Best UK Biotech Stock
Biogen (BIIB) – Best Biotech Growth Stock
Johnson & Johnson (JNJ) – Best Biotech Stock to in Invest in for the Long-term
Moderna (MRNA) – Best Momentum Biotech Stock
Vir Biotechnology Inc (VIR) – Best High Risk High Return Biotech Stock
Best Biotech Stocks UK Reviewed
Although the above-mentioned promising biotech stocks have the potential to record a sizable price increase, these stocks carry a certain level of risk. Investors should be aware that biotech companies' success or failure to successfully develop and manufacture treatments and drugs may affect their overall value. Accordingly, the best biotech stocks to buy are related to companies whose products are or will be widely used in different countries, which will lead to positive effects on overall company performance. Of course, the companies' financial performance has a critical impact on the value of the best biotech stocks UK.
1. Novavax Inc. (NVAX) – Overall Best Biotech Stock UK
In the years before the pandemic, the company recorded negative financial results, which is an expected outcome due to high research and development costs. However, the pandemic had a positive impact on this biotech stock because Novavax became one of the companies that took on the challenge to develop the COVID – 19 vaccines. The company also received funding from various sources and received a contract for funding from the US Department of Defense (DoD).
Accordingly, the success of Novavax in the development and distribution of the COVID-19 vaccine and the positive financial forecasts helped the stock to make a sizable comeback in 2020.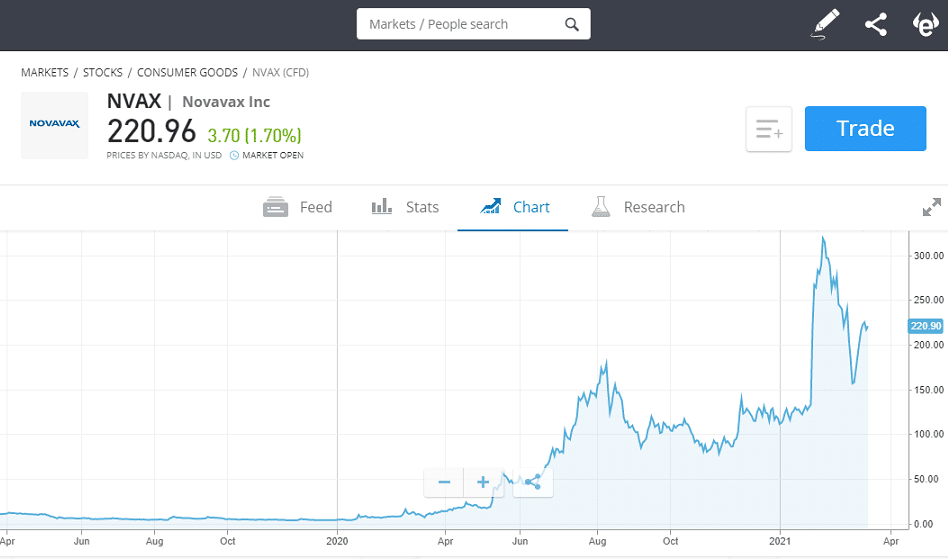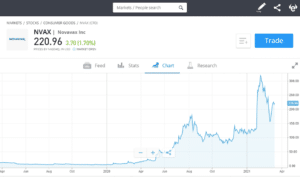 Novavax stock chart shows that the stock was hoovering bellow the price of $5 (£3.6) in 2019 till the start of the pandemic.  During 2020 which is now known as the pandemic year, Novavax stock recorded an increase of more than 2500% when it increased from nearly $5 (£3.6) to a peak of $170 (£122). By the end of 2020, the stock retraced by approximately 50%, down to $80 (£57) per shares.
Nevertheless, positive outcomes related to the development and research of different vaccines pushed the stock price up to $290 or £209 in the first few months of 2021. But, after it gained almost 260%, the stock price pulled back by nearly 40%.
The analysts' expectations that Novavax will generate billions of dollars in revenue in 2021 means that there is a possibility for the stock price to go through another increase and be the best biotech stock to invest in.
Your capital is at risk.
2. Amgen Inc. (AMGN) – Best Value Biotech
Experts opinion regarding Amgen stock is that this company is relatively undervalued when all things considered. The solid financial health of this company, as well as the potential growth opportunities, makes this biotech stock attractive for investors. Of course, the fact that the company also pays dividends regularly means that investors have the potential to generate steady dividend income. Depending on financial performance and company plans, in general, the dividend yield on Amgen stock fluctuates around 3 per cent.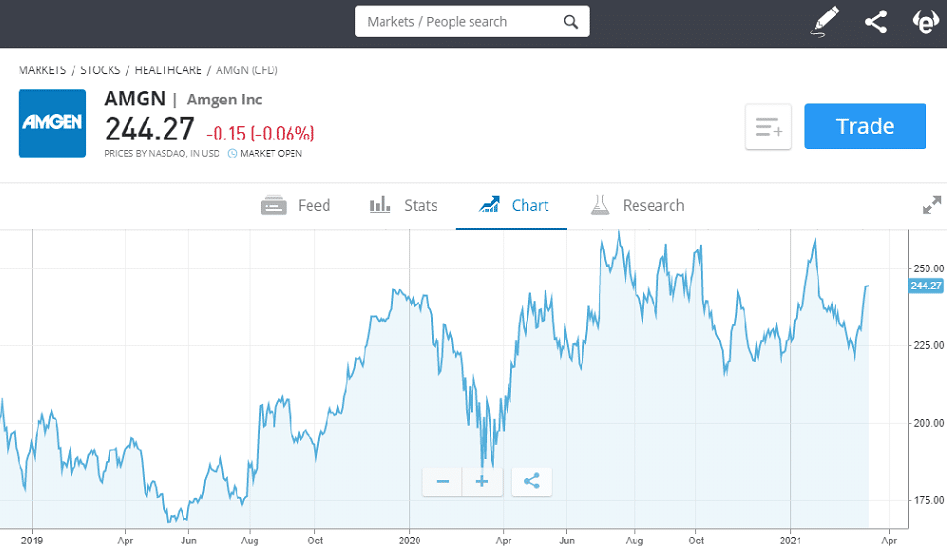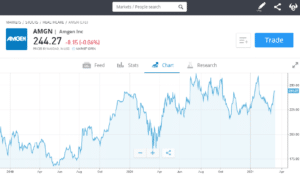 Investors that bought the Amgen stock a decade ago have gained close to 300% due to a continuous upward movement in the value of this stock. It was traded for $56 per share at the beginning of 2010 while gradually climbing close to $240 at the start of 2020. Nevertheless, in the first quarter of 2020, the stock lost nearly 20%, which is far less than the decline experienced by stocks from other sectors, and it managed to bounce back to approximately $260 in just a couple of months. After regaining close to 40 per cent, the biotech stock shows a range-bound movement creating multiple trading opportunities.
Your capital is at risk.
3. Gilead Sciences Inc. (GILD) – Most Innovative Biotech Stock
Gilead Sciences is an interesting biotech company because its stock has fluctuated under the influence of various factors. Beginning with the development of coronavirus treatment, the company hit the news when its treatment was used in the recovery of President Donald Trump after he was tested positive for Covid-19.
In the meantime, questionable results related to the effectiveness of its coronavirus treatment harmed the stock price.
Another interesting aspect related to this biotechnology company is that it has made multiple acquisitions of companies related to the production of cancer drugs and hepatitis treatments. Accordingly, the long-term effects from the takeovers are yet to be seen, but for now, it is anticipated that they should have a positive impact on Gilead Sciences revenue.
In the past, this company has recorded high revenues from the development and sale of drugs. However, increased competition washed-our part of its revenues.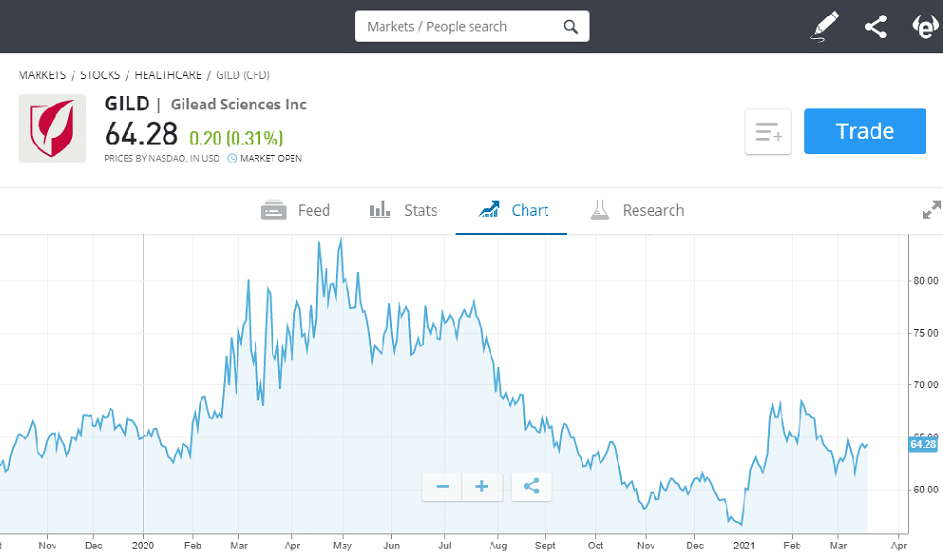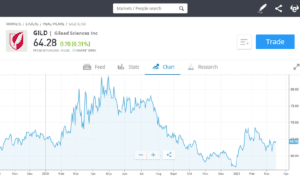 Some of the best biotech stocks UK experienced a continues increase in price during the corona year, but Gilead Sciences stock is an exception to this movement. The outbreak of the coronavirus had a minor negative effect on the stock price. Still, within the first couple of months, Gilead sciences shares climbed up to around $84 or £60 from $62, While, by the end of the same year, the stock hit a record low price of below $60 suffering a decrease of nearly 30%.
It can be said that this biotech stock might be attractive because it has reasonable volatility and the potential for earning significant revenues. Healthy financial performance might be expected from the sale of drugs and treatments obtained with the takeovers.
Your capital is at risk.
4. Pfizer (PFE) – Best Biotech Stock for Swing Trading
Pfizer was considered to be among the most serious vaccine candidates, which made this stock an attractive investment option. However, Pfizer's popularity and the positive effects coming from the development of the vaccine were short-lasting because other factors negatively affected its stock price.
During its battle to develop a vaccine, Pfizer was faced with bad news related to its arthritis drug, which put additional negative pressure on the stock price. Pfizer stock also took a hit from the failure of the company to achieve the forecasted earnings per shares.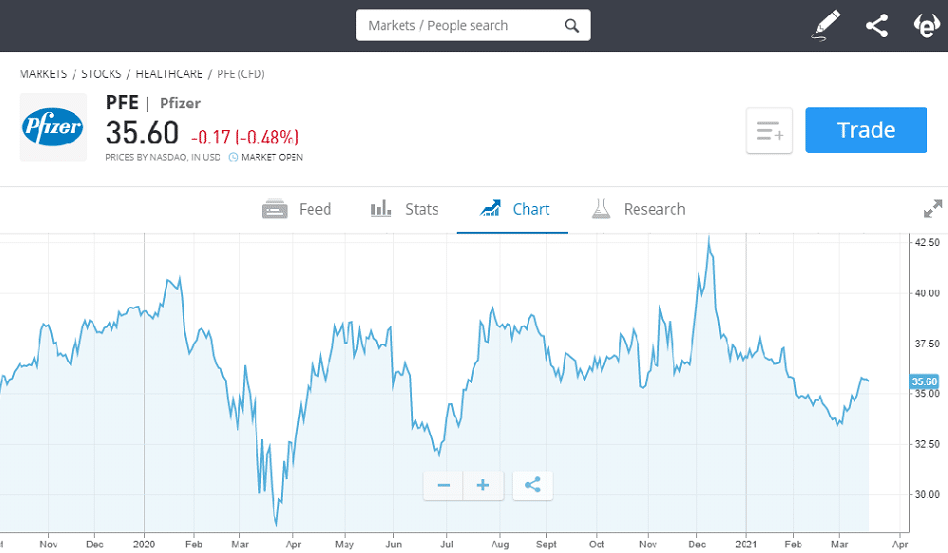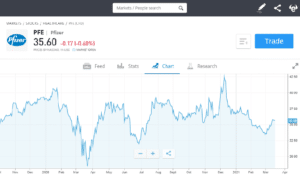 Pfizer stock went on a nearly 30% dive in the first three months of 2020 with the start of the pandemic. Even though Pfizer was among the first biotech companies to get approval for its covid vaccine, its stock moves in a wide range since it recovered from the pandemic price dip. Consequently, aside from its peak at nearly $41 in December 2020, the stock moves in the interval from $31 to $37 with multiple short-lasting retracements giving plenty of short-term investing opportunities.
Your capital is at risk.
5. Vertex Pharmaceuticals Incorporated (VRTX) – Most Undervalued Biotech Stock to Buy Now
Vertex Pharmaceutical is a biotechnology company that had an upward movement for the past ten years, during which the stock price increased by more than 650%. Nevertheless, the upward trend was interrupted with pullbacks of more than 10% on multiple occasions, creating a vast number of investing opportunities. The interesting aspect related to Vertex is that some experts believe that this biotech stock is slightly undervalued, making it a good option for value investing.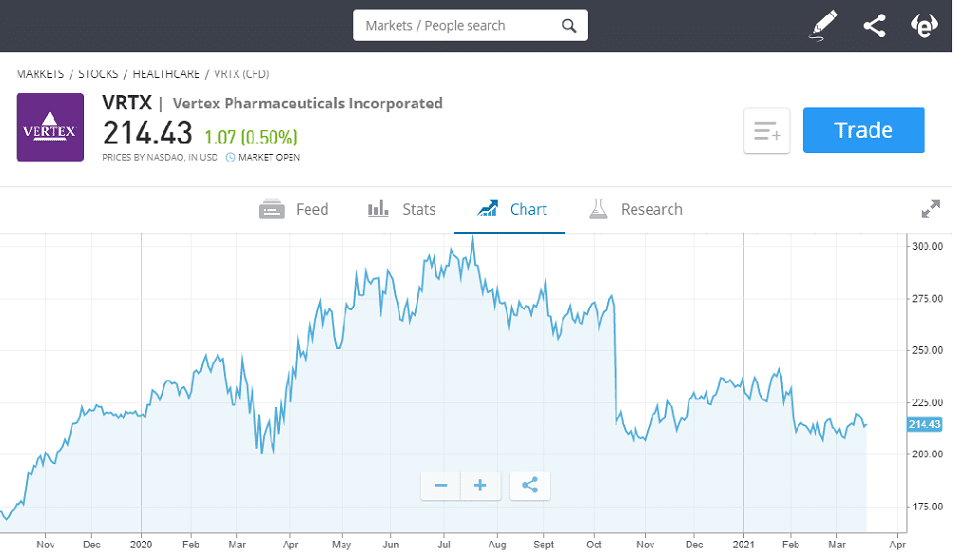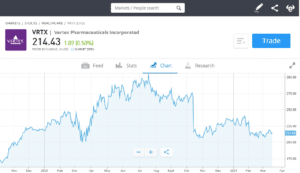 The stock climbed to its all-time high price of close to $294 in mid-2020 when the pandemic was at its prime. However, before reaching a peak, Vertex Pharmaceutical stock price decreased by 15% till mid-March 2020. After the corona induced price retracement, this best biotech stock bounced by more than 40% in a couple of months when it hit the decade-high price.
However, the company's decision to stop the experimental treatment related to hereditary liver diseases had a significant contribution toward the 30% price retracement in 2021.
Then again, Vertex is one of the best biotech stocks to buy in the upcoming period because it has stable revenue coming from its treatments for cystic fibrosis (CF). Also, going through Vertex financials, it can be noted that the debt level is rather low while the company has a high level of cash. The announced stock buyback program scheduled for 2022 should have a positive effect since it will increase the earnings per share.
Your capital is at risk.
6. AstraZeneca (AZN) – Best UK Biotech Stock
AstraZeneca stock is one of the UK biotech stocks that found a place on our list of Best biotech stocks to buy in 2021. The reason is that, unlike some of the other biotech companies, the COVID-19 vaccine is not the primary driver behind the AstraZeneca price increase. The company has a high number of active projects in its pipeline, and it received a number of approvals during the last couple of years.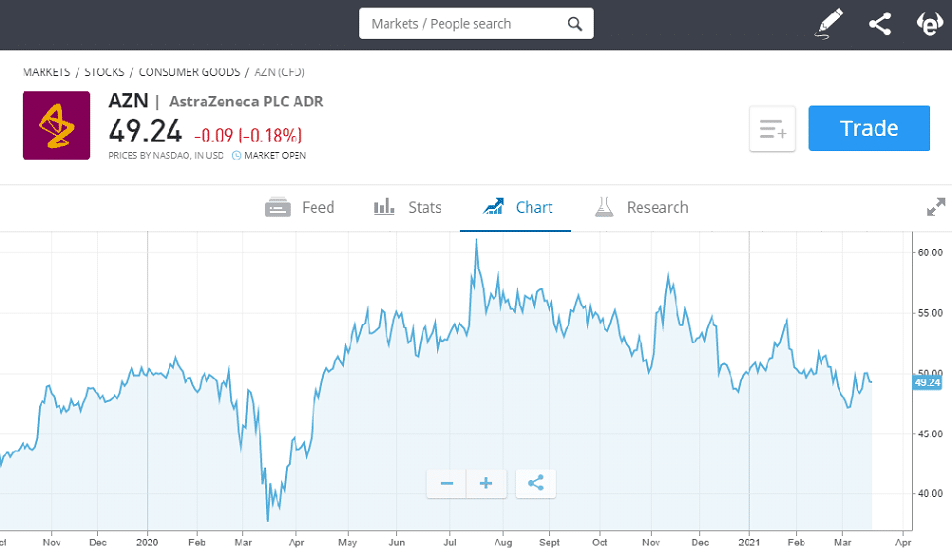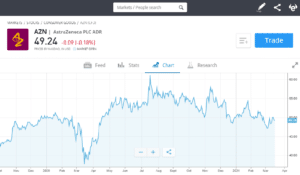 The coronavirus caused a decrease of nearly 30% at the beginning of 2020 when the price fell to $39 or £28. However, its price came back stronger in the following months when it was trading at almost $61, making a 50% comeback, beating the pre-corona price by 20%. After reaching a peak, AZN stock goes through numerous price swings induced primarily by vaccine related news and events.
A well-diversified portfolio of products related to some of the widespread diseases means that we would expect some positive movements as long as AstraZeneca plans go in the desired direction. Hence, as one of the UK biotech stocks, AZN might be placed on the watchlist for a potential long-term investment. Also, by investing in AZN, investors should expect to receive dividends, which is another positive feature of this stock.
Your capital is at risk.
7. Biogen Inc. (BIIB) – Best Biotech Growth Stock
While price movements in some of the US and UK biotech stocks included in the list are related to their ability to develop Covid-vaccine, Biogen stock price has fluctuated primarily due to the negative news related to anticipated FDA approvals for its drug for Alzheimer's treatment. Moreover, the Biogen product pipeline consists of treatments for multiple sclerosis and treatments in different phases of their research. The downside that makes this stock riskier is that some of its most popular drugs are no longer patent protected, which may jeopardise the competitiveness of the drugs.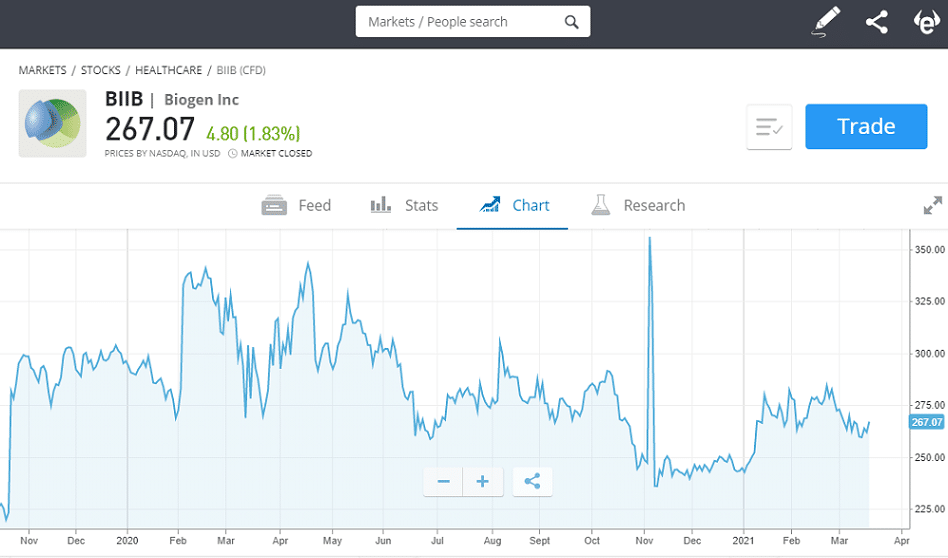 As it was the case with other biotech stocks, Biogen stock price was also under the influence of the general economic conditions caused by the pandemic. During the first quarter of 2020, Biogen stock price decreased by 10% from a price of $300 in mid-December 2019. By early February 2020, the stock experienced an upswing in excess of 25%, reaching a level of nearly $338, which was higher than the pre-pandemic price.
Afterwards, Biogen stock price has been through major upswings and downswing under the pressure of different factors.
Positive outcomes from Biogen collaboration with other biotechnology companies focused on developing coronavirus treatment, treatment for Parkinson's disease, and other major diseases should push this biotech stock price upward. Also, getting FDA approvals for its treatments will have a significant positive effect on company financials and its stock price.
Your capital is at risk.
8. Johnson & Johnson (JNJ) – Best Biotech Stock to in Invest in for the Long-term
The Johnson and Johnson company is one of the biggest biotech companies globally, with a market capitalisation of more than $420 billion or £302 billion at the time of writing. The company has a versatile product portfolio and it executes its operation through different segments such as immunology, oncology and neuroscience. JNJ has seen an increase in sales in its drugs and growth in most of its segments. Accordingly, during the last decade, the company stock moves in a well-defined upward trend without any major pullbacks from the original direction.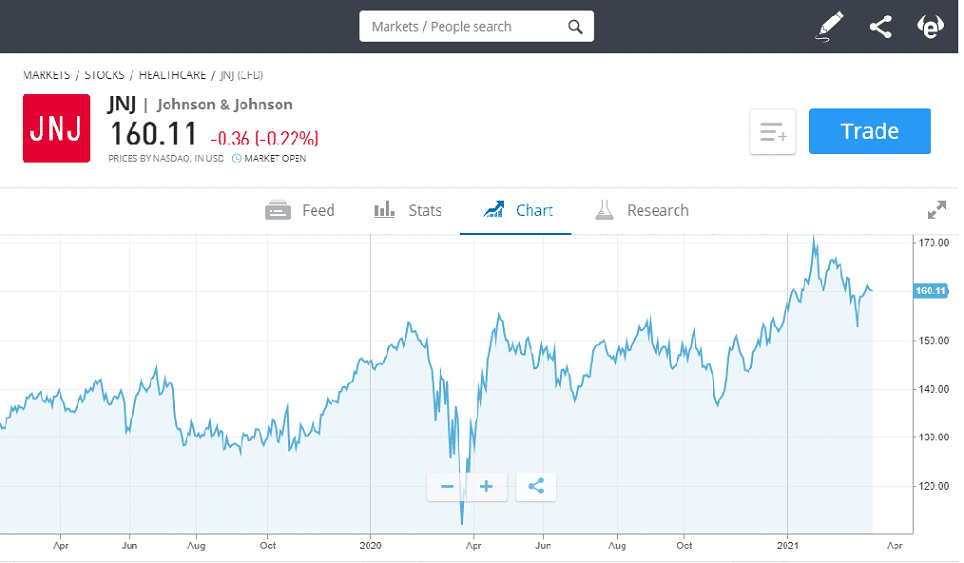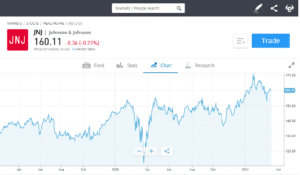 The coronavirus had a negative effect on JNJ stock price, and it also harmed the sales levels of medical devices and consumer health products. JNJ stock price was under pressure from the overall downward market movement that was initiated by the pandemic. As a result, the JNJ stock lost nearly 20% of its value in February and March 2020. The price declined from $151 to around $119. However, the stock had a strong recovery gaining more than 40% till February 2021, when it was trading for almost $167 per share. It should be noted that JNJ hit its all-time high price during the pandemic year, which is one of the factors that puts JNJ on the list of best biotech stocks to buy.
JNJ research and development departments' superiority was confirmed with the development of the COVID-19 vaccine that requires only one dose, unlike the vaccines produced by its competitors that require two doses.
Your capital is at risk.
9. Moderna Inc. (MRNA) – Best Momentum Biotech Stock
Moderna company is another biotechnology stock on this list that hit the news as a vaccine candidate. Its vaccine received FDA approval in December 2020 with authorisation in 30 countries. It can be noted that the COVID-19 vaccine is the first commercial product developed by Moderna and the positive results from Phase 3 of the development pushed the stock price up. However, due to the unsatisfactory financial performance in the past, the profitability level of Moderna is yet to be seen. Of course, forecasts are that the demand for the vaccine will have significant positive implication for its revenue which is positively accepted by investors.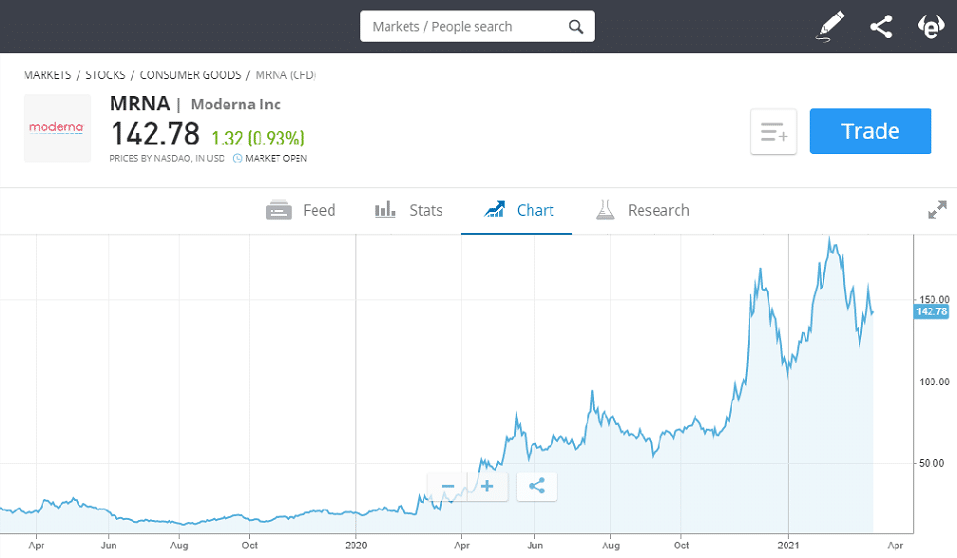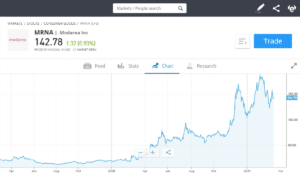 Before the pandemic, this biotech stock was experienced a sideways movement, whereas the start of the pandemic resulted in a price decrease of around 15%. However, since March 2020, the stock price records and overall upward movement reaching its highest value of above $180 in February 2021.
Afterwards, the price consolidated for a few months prior to the FDA approval and the conditional authorisation granted from the European Commission. Also, there are multiple price dips coming from news and announcements related to the vaccine and the pandemic.
Moderna's revenue in 2020 is a few times higher than a year before, and also, there is an even higher forecast for revenues in 2021 and onwards. Nevertheless, this biotech company has failed to show a profitable quarter.  However, the ability of Moderna to reach the high revenue expectations are based on the demand for its vaccine as well as the successful development of other products such as the vaccine for the Zika virus.
Hence, because the company is recording improvements and a positive future outlook, we list it among the best biotech stocks to buy in 2021.
Your capital is at risk.
10. Vir Biotechnology Inc. (VIR) – Best High Risk High Return Biotech Stock
This biotech stock has been included in the list of best biotech stocks to buy because this company has entered in some form of partnership or collaboration with numerous biotech companies, some of which are also in this list. Even though the company is engaged in the development of covid-19 treatment other treatment in its pipeline, it should be noted that Vir Biotechnology doesn't have any marketable product.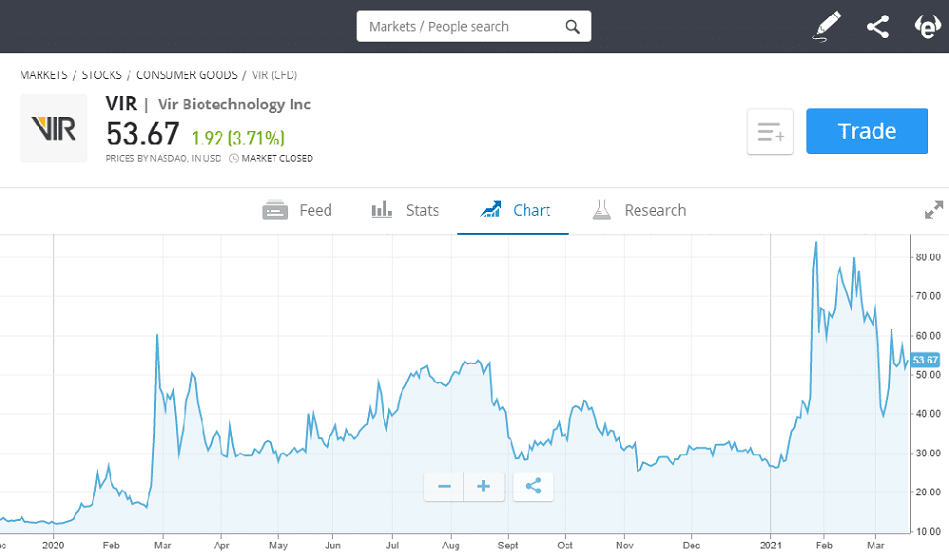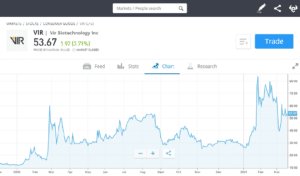 With the start of the coronavirus, Vir stock lost close to 40% at the beginning of 2020 when it dived from close to $26 to nearly $16 in less than a month. Soon after the stock made a substantial recovery when it climbed up to $46, which is an upswing of nearly 185%. Afterwards the biotech stock recorded range-bound fluctuations until the beginning of 2021, when it started its climb to the new peak and new high of $76, which means that in a year time since its corona dip to $16, this best biotech stock has gained in excess of 350%.
As long as revenue estimates come true, the Vir Biotechnology stock should record a substantial increase and suppress its peaks.
Your capital is at risk.
Are the Best Biotech Stocks a Good Investment? 
The outbreak of the coronavirus put the biotech companies on investors' watchlist as must have stocks because these stocks have the potential to offer high returns. Moreover, promising biotech stocks have a higher degree of resistance during economic recessions, making them a valuable instrument to worsen economic conditions.
Biotech stocks may experience a sudden increase in value when clinical trials yield positive results. Also, news and announcements of regulatory approvals such as FDA approval have a positive influence on the stock value since the approval for distribution and sale of specific drugs should have a positive affect the financial performance.
Accordingly, companies that recorded positive data from clinical testing and got approval for their vaccine or other corona related drugs are some of the best biotech stocks to buy during the pandemic.  Of course, biotech companies that perform research in the field of oncology or genomics and have the potential to develop new drugs should also be placed on the investment radar.
Best Stock Brokers to Buy the Best Biotech Stocks UK
To start buying stocks and shares, investors need to go through stock brokers and select the one that will offer the highest benefits. Our top pick best brokers to buy shares  are eToro and Libertex.
1. eToro – Overall Best Way to Buy Biotech Stocks UK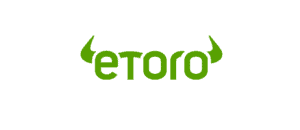 Based on our research, we place eToro at the top of our list of the best overall stock brokers because it scored higher on all metrics used in the analysis. Let's begin with the fact that investors can invest in the top biotech stocks with 0% commission which is one of the top factors because commission charged by other brokers are increasing the investing cost. This is especially important because other stocks brokers may charge per trade commission of up to £5 and sometimes even more.
eToro trading platform is especially attractive for newbie traders and traders who don't have the time or the knowledge to perform in-depth analysis since it offers social trading or copy trading opportunities. As this is not beneficial enough, the eToro platform provides research information to active traders. Trading apps are also an important feature that needs to be included in the process of selecting the best broker to invest in biotech stocks. Accordingly, the eToro platform gives its clients an option to buy stocks using its free trading app. The low minimum of $200 or around £160 is another attractive feature behind our decision to list eToro as our top stock broker to buy the best biotech stocks UK.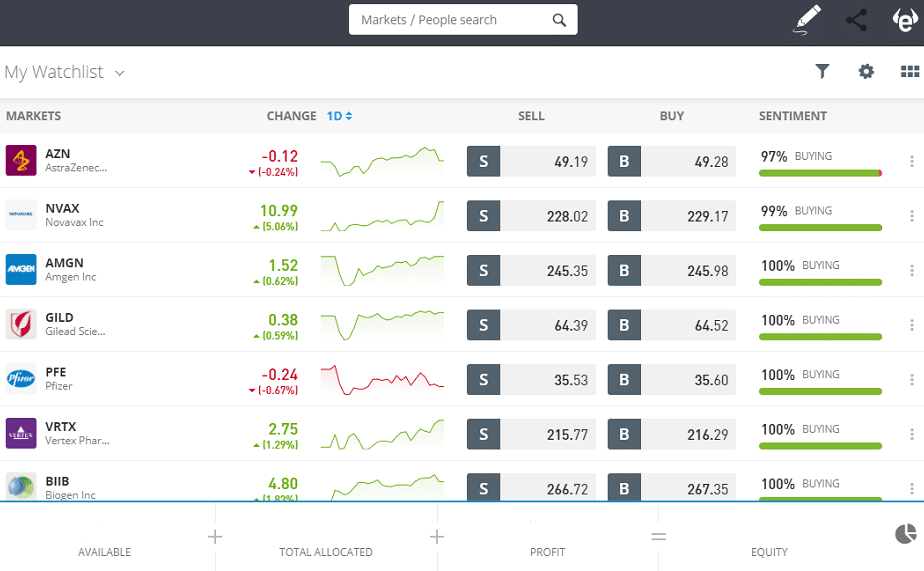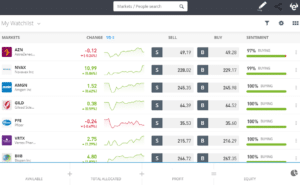 Aside from the ability to directly invest in stocks, eToro also gives traders the option to profit from movements in the value of  Biotech stocks UK indirectly because it also offers the best ETFs. By investing in an ETF for biotech stocks, investors have the opportunity to put their money in a well-diversified portfolio composed of promising biotech stocks eliminating the need to individually purchase each stock.  eToro is also regulated by authorities in three different jurisdictions, which are the Financial Conduct Authority (FCA) in the UK, Australian Securities and Investment Commission (ASIC) and CySEC or the Cyprus Securities and Exchange Commission
Pros:
0% Commission
Aside from Biotech stock, eToro offers hundreds of other stocks in different markets
ETFs, CFDs, cryptocurrencies, forex
Ability to deposit money with different methods
PayPal is accepted for buying biotech stocks
Provides research information for certain stocks and instruments
Easy to understand copy trading system
A reputable social trading community
Low minimum deposit
eToro operations are licensed by three jurisdictions – FCA, ASIC and CySEC.
Cons:
Although small, eToro charges a withdrawal fee of $5 (£3.6)
67% of retail investor accounts lose money when trading CFDs with this provider.
2. Libertex – Trade The Best Biotech Stocks CFDs with Zero Spread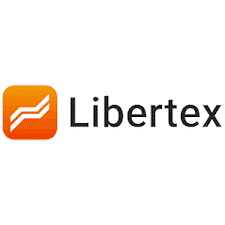 It goes without saying that eToro is our first choice when it comes to the best stock broker. Nevertheless, we took a step further and expanded our research to see what would be our second-best broker for trading biotech stocks. Surprisingly enough, our research led us to the Libertex trading platform, which offers trading opportunities. CFD brokers such as Libertex give investors a chance to trade some of the best biotech stocks UK through the CFDs instrument, eliminating the need for direct purchase of the stocks.
CFDs instruments are useful for traders who want to speculate on future price movements without owning any of the biotech stocks. Moreover, Libertex is our favour CFDs broker because you can trade biotech stocks CFDs without a spread between the bid and ask price.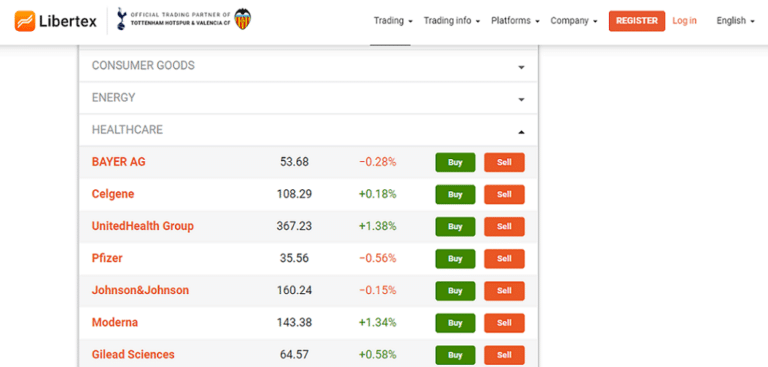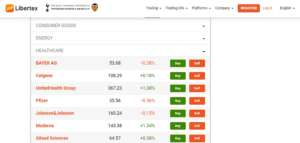 Moreover, Libertex offers leverage of 5:1, which transforms into a 20% per cent margin when trading stocks related CFDs. Also, CFDs can be used for taking a short position in which the stock is first sold and then purchased, gaining from the difference between the higher sale price and the lower purchase price.
Pros:
No need to own biotech stocks to benefit from price fluctuations
Zero spread between the bid and ask price
Low commission for trading other markets
Opportunity to trade CFDs associated with Indices, cryptocurrencies, forex, metals, etc.
Trading through MetaTrader 4 platform or Libertex platform
20% margin on stocks and higher leverage for other instruments
Useful educational resources
Low minimum deposit
Multiple payment methods (Credit/debit card, Neteller, Bank transfer, SEPA, e-wallets)
Regulated by the CySEC
Cons:
Only CFDs are available for trading
 83% of retail investors lose money trading CFDs at this site.
How to Buy the Best Biotech Stocks UK – eToro Tutorial
The process to invest in biotech stocks UK and other international biotech stocks is simple when trading through our top recommended stock broker eToro. You can buy stocks on eToro when you follow these simple steps.
Step 1: Open an account
To open an account on the eToro trading platform, you will need to select a username, provide your e-mail address and enter your desired password.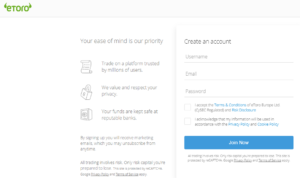 When you fill the form, you simply click "Join now", and you will be able to login to the eToro platform.
Step 2: Verify your identity
eToro focus to offer a high level of safety and the fulfilment of the regulatory requirements, means that you will need to confirm your identity. You can do this by uploading the following documents:
Valid passport or driver's license
Utility bill or bank account statement (issued within the last 3 months)
Step 3: Deposit funds
eToro offers plenty of payments methods for its client to deposit funds on their trading account. By selecting the button "deposit funds" in the lower-left corner, a window will pop up with the different payment methods available.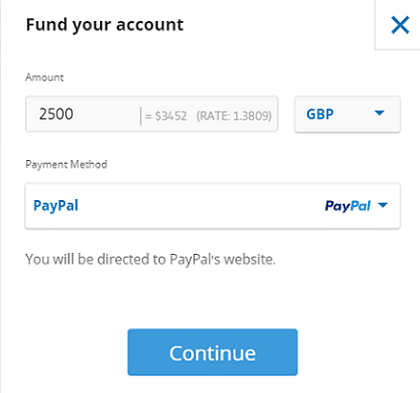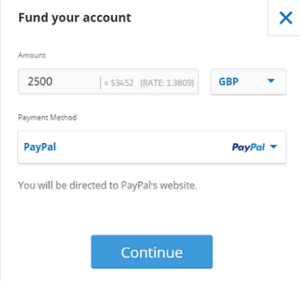 As you can see, aside from credit/debit card, bank transfers and e-wallet, you can also use PayPal to buy some of the best biotech stocks UK.
Step 4: Search for the Best Biotech Stocks UK
To buy the desired biotech stocks, you need to find them through the research option or scroll down through the market section. After selecting the relevant stock, you can open your position by clicking the "trade" button.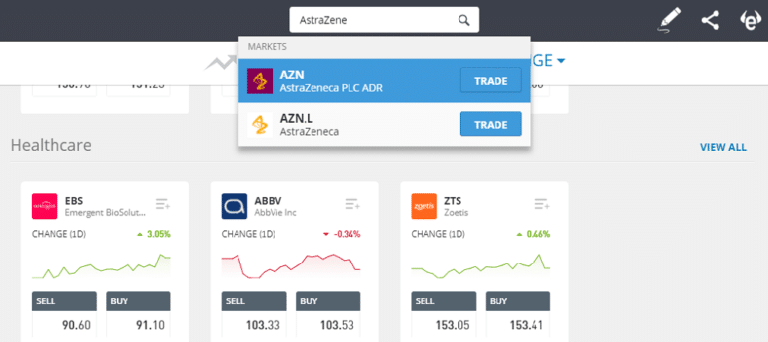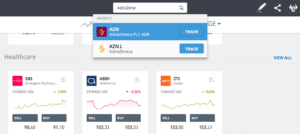 Step 5: Set your order
After completion of the previous step, the following window will appear.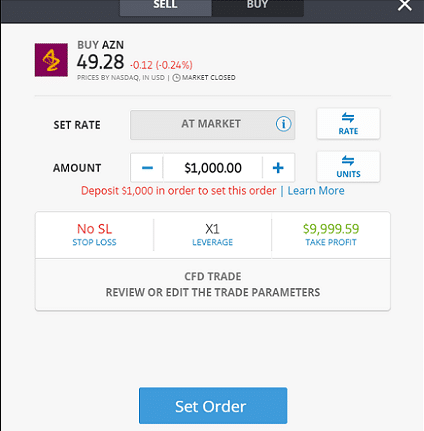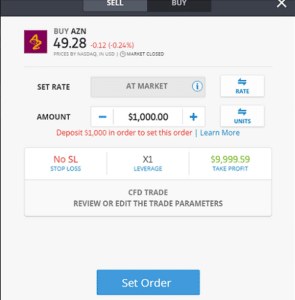 All you have to do is to set the desired rate, the desired amount or the desired number of units or stocks and click the "open trade" or "set order" button (depending on the stock market), and eToro will execute your order.
Best Broker to Buy Biotech Stocks UK – 0% Commission
Investors should get familiar with the best biotech stocks to buy because stocks coming from the biotechnology industry can offer various benefits. For instance, biotech stocks are resilient to economic downturns, putting them in the best defensive stocks category. Also, biotech stocks UK or biotech stocks coming from other regions may provide an adequate level of volatility, which means that there could be numerous trading opportunities. Moreover, considering the level of fluctuations, it could be concluded that the best biotech stocks might bring above-average returns, and they could outperform the market movements.
Aside from the vaccine-related companies, biotech stocks that develop and manufacture drugs and remedies for other infections and diseases should also find a place in the investing activities.
When you select your desired biotech stocks keep in mind that eToro enables investors to buy stocks with 0% Commission.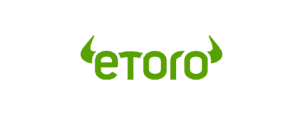 67% of retail investor accounts lose money when trading CFDs with this provider.
FAQs
What are the best small-cap biotech stocks?
Even though small-cap stocks might carry higher risk, they are an appealing investment because they have the potential to offer much higher returns with the development of new drugs. Some of the best small-cap biotech stocks are Dynavax Technologies and BioCryst Pharmaceuticals. Dynamix is engaged in the business of developing vaccines, while BioCryst company makes treatment for inflammatory diseases.
Is there an ETF for biotech stocks?
Yes, there are different ETFs composed of Biotech and pharma stocks. Some of the well-known ETFs are iShares NASDAQ Biotechnology, and the SPDR Biotech S&P. iShares is composed of biotechnology and pharmaceutical competes quoted on the NASDAQ exchange. SPDR Biotech offers investors an opportunity to gain exposure to biotech stocks, and it includes more than 100 stocks with different market capitalisation.
What are the best biotech growth stocks?
Stocks that can generate above-average returns with the possibility to grow at a faster pace than the economy are generally labelled as growth stocks. Accordingly, the small-cap biotech stocks and the stocks of relatively young biotech companies can fall in the category of biotech growth stocks.
What biotech stock is Warren Buffett buying?
Allegedly, Warren Buffet, one of the most successful investors, has bought stocks from Biogen, Johnson and Johnson, and Pfizer. The media also states that Warrant Buffet has bought stocks from several pharmaceutical companies in the past years.
What is the best biotech company?
There is no simple answer to this question because it depends on numerous criteria, especially the investor's personal preferences. Different investors place a higher weight on different factors when analysing which stock to buy. Moreover, biotech companies differ in their size, research areas, products pipelines, portfolio of products, etc. However, some of the mutual characteristics of the best companies would be strong financial health, stable revenues, dividends, a positive long-term outlook, and a low level of debt.