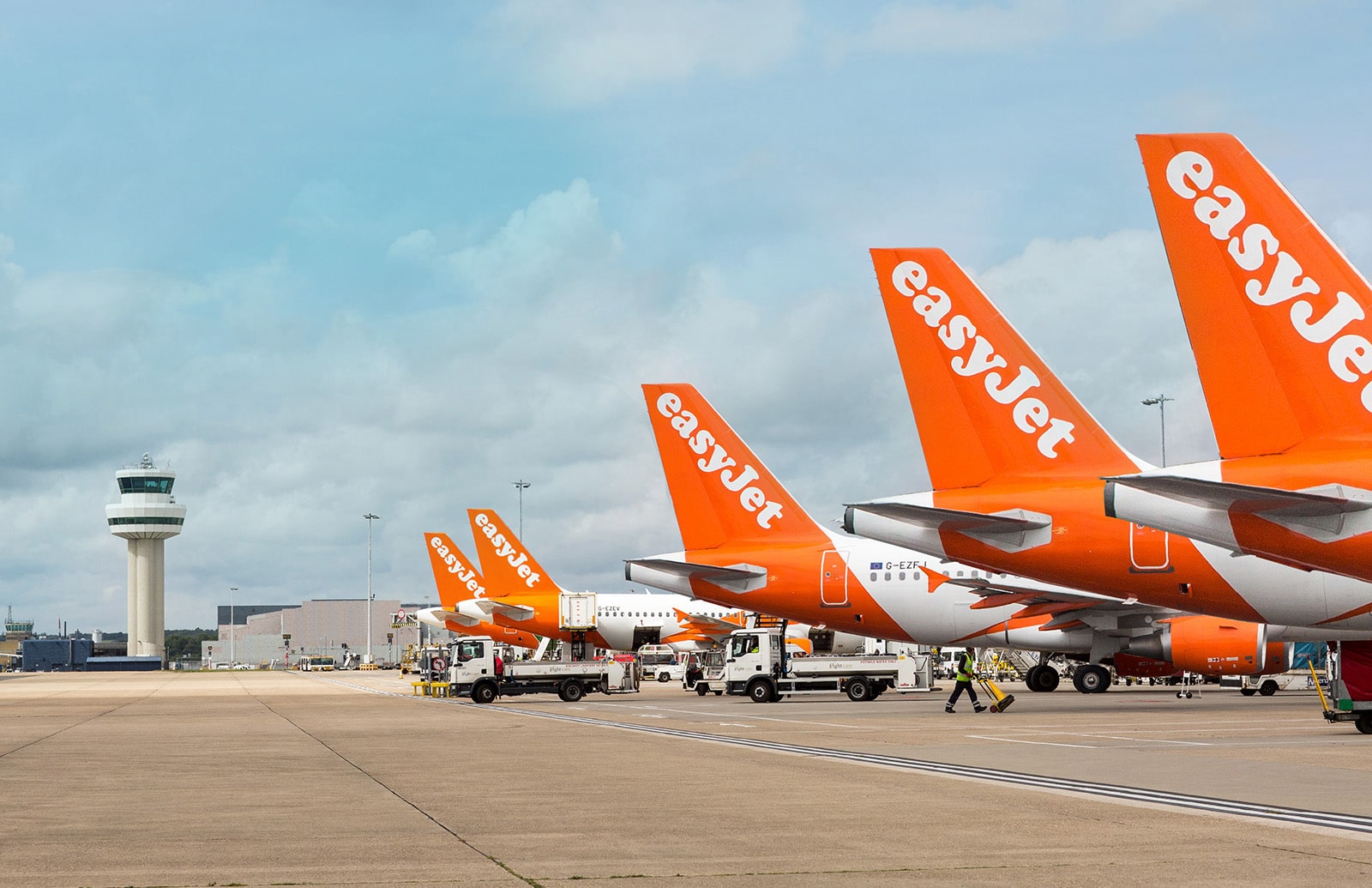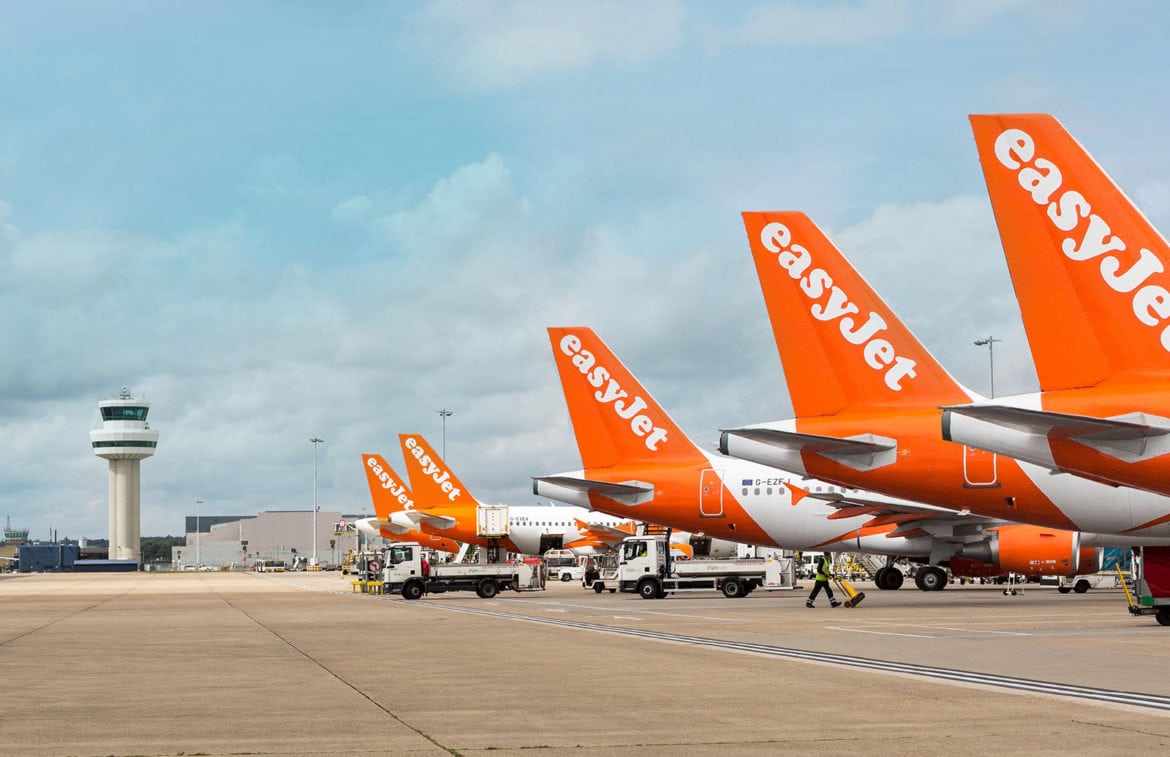 EasyJet shares are sliding during this morning's stock trading action after the company announced that it is raising £1.2 billion ($1.7 billion) in capital through a fully underwritten rights issue as part of a long-term plan that seeks to take advantage of multiple "long-term strategic and growth opportunities".
In a press release published this morning, the UK-based low-cost airline informed investors that the Board of Directors concluded that a capital raise capital is needed to further strengthen the balance sheet in the midst of one of the worst crises that the sector has experienced in its history amid the pandemic.
BNP Paribas, Credit Suisse, Goldman Sachs, Santander, and Société Générale have fully underwritten the rights issue, meaning that the company has already secured all the buyers its needs for this capital raise.
Alongside this £1.2 billion rights issue, EasyJet (EZJ) has also negotiated a £400 million revolving credit facility that expires in four years but that could be extended for two more years with the lender's consent.
"This capital increase will allow us to build on our fundamental operational strengths and network strategy for our customers as well as accelerate long‐term value creation for our shareholders", said EasyJet's Chief Executive Johan Lundgren.
According to the statement, the company recently received an unsolicited takeover proposal that the Board unanimously rejected on the grounds that it was "highly conditional" while it also materially undervalued the business.
Sources familiar with the matter told Reuters that the bidder was Wizz Air, one of EasyJet's most prominent rivals in Europe.
Why are EasyJet shares dropping this morning?
The rights issue will consist of 0.67 new shares issued for every existing common stock at a price of 410p per share resulting in a 35.8% discount compared to the theoretical ex-rights price of 638p per share using the 8 September closing price as reference.
According to the timetable provided by the firm, its shares will go ex-rights on 13 September while the new shares registered upon completing the sale of these rights will hit the trading floor on 28 September.
EasyJet shares have recovered slightly from an early 14% plunge they experienced today but are still retreating 10% at 709p per share amid the dilutive effect that this right issue has on existing shareholders.
How have EasyJet shares performed so far this year?
Including this morning's pronounced downtick, shares of EasyJet have gone down 14.5% so far this year following an even more pronounced 39.5% loss the European airline stock experienced last year amid the pandemic.
According to a trading update that accompanied this latest announcement, the company's load factors for flights within the European Union stood at around 85% in August while this figure was approximately 82% for UK domestic flights during the same month.
Moreover, the company is forecasting that it will progressively ramp up its operating capacity to 60% of its pre-COVID levels by the first quarter of 2022 as travel restrictions in Europe should be progressively lifted.
What's next for EasyJet stock?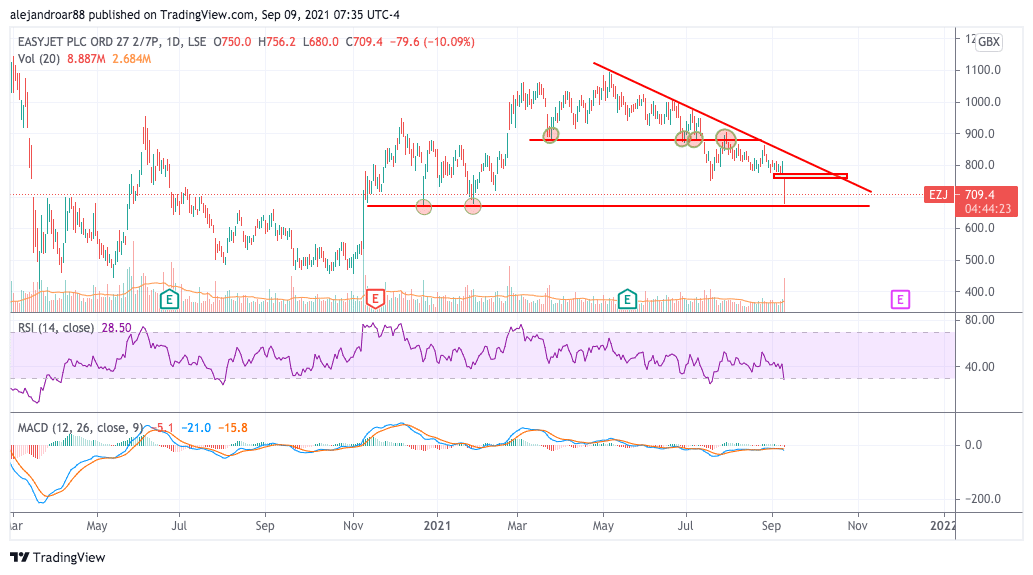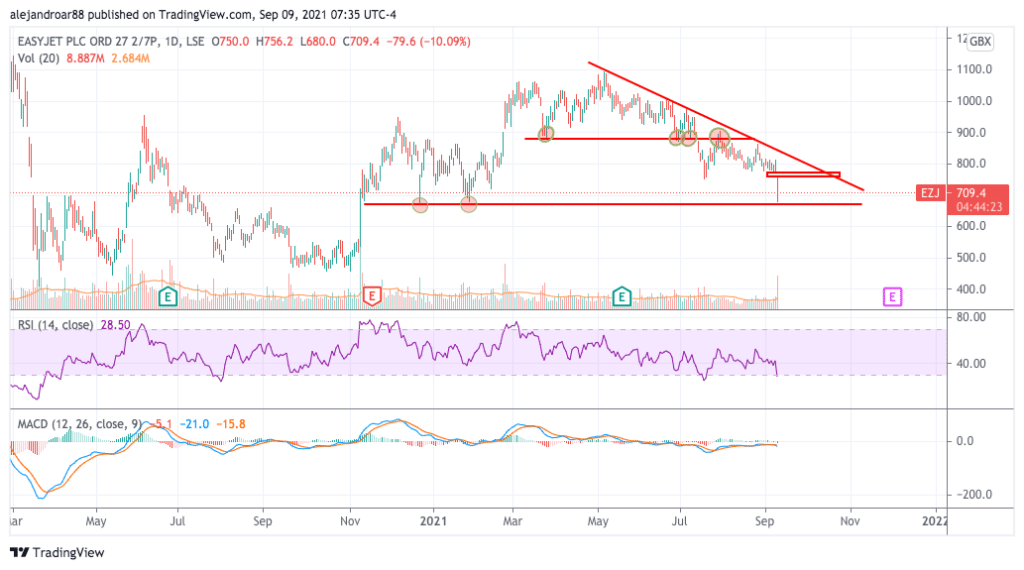 The latest price action in the stock has led to a break below a descending triangle formation that is pointing to a first bearish target of 650p per share for a total downside risk of 8.2% based on this morning's trading price of 708p per share.
Most of this downside risk has been fully realized while shares are bouncing off a key support found at the 710p level that has stood firm on two occasions in the past already.
Momentum indicators are severely depressed as indicated by a 28 reading in the Relative Strength Index (RSI), with the oscillator plunging to its lowest level since 19 July.
Moreover, the MACD has just crossed below the signal line – typically a sell signal – on its third consecutive negative histogram reading. This break is pointing to the potential continuation of the current downtrend.
Moving forward, the price action remains confined within a pronounced downtrend. However, it could be bottoming already despite the dilutive effect of this latest rights issue. Whether the price holds above the 650p threshold or not will likely determine the faith of EasyJet stock as a break below this level may result in a more pronounced correction.