If you are based in the UK and looking to buy shares of Banco Santander SA, more commonly known as just Santander, there are lots of regulated online stockbrokers that allow you to do this with ease. That is largely because this massive bank has several listings on top stock exchanges worldwide and ranks as the 17th largest bank in the world in terms of total assets.
In this guide, we'll show how to buy Santander shares in the UK. We also discuss the best share dealing platforms to do that and analyze the Santander share price performance and fundamentals of the company.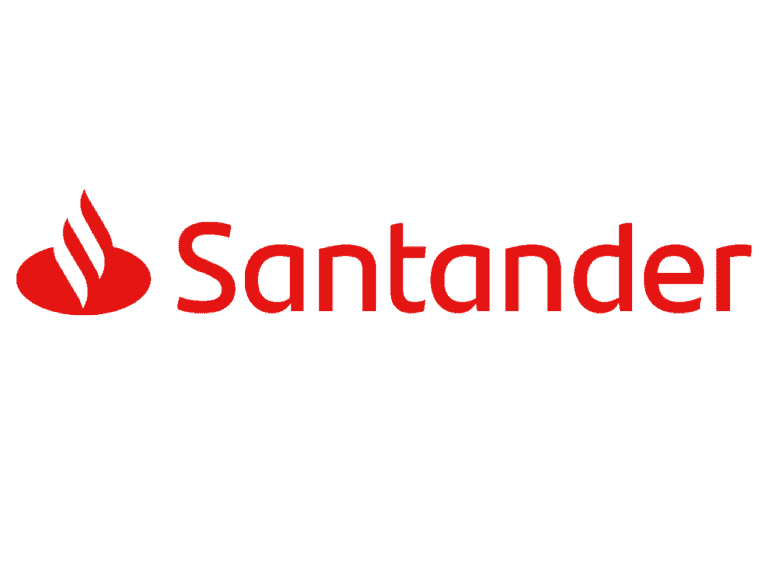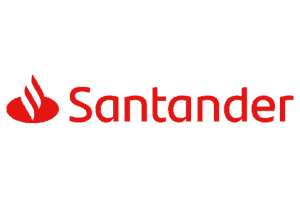 Santander is a Spanish banking services company engaged as a retail and commercial bank. As one of the largest banking firms in the world, it is listed on several stock exchanges that include the Madrid Stock Exchange, New York Stock Exchange, and the London Stock Exchange. As such, you will find plenty of UK stockbrokers to choose from.
However, you need to ensure that your broker is regulated by the FCA and that you will get the lowest trading commissions and the best trading tools. To help you get started, below we recommend the best FCA brokers that allow to buy Santander shares in the UK.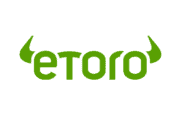 eToro is an online broker that offers a huge range of financial instruments across several markets. Founded in 2006, this trading platform has since attracted more than 12 million users to its community, not only because it is the largest social trading platform in the world but also because it allows investors to buy over 800 shares, including many of the best shares, without paying any dealing charges. On top of Santander, you can trade UK and international firms from top stock exchanges.
One of the most notable aspects of this broker is that it allows you to buy shares outright or trade contracts for differences (CFDs) with up to 5:1 leverage. This means you can buy Santander shares directly from the exchange and become a legit shareholder of the company or, you can buy a CFD contract to speculate on the price of the share without owning the underlying asset. When using CFDs, you can get leverage your capital, short sell the share, and significantly reduce the trading costs.
The main strength of this platform is that all of its members can interact with each other and even use the CopyTrade feature that allows investors to automatically mimic the positions of another trader. The platform is much like a social network and therefore, it is one of the most user-friendly platforms in the market.
eToro is fully regulated and subject to the authority of the UK's Financial Conduct Authority. If you do decide to buy Santander shares from eToro, you will be required to deposit a minimum of $200 – which is about £160. To deposit funds, eToro supports many UK payment methods, including a debit/credit card, bank account, and e-wallets.
Pros:
Social and copy trading tools
User-friendly trading platform
800+ shares listed on UK and international markets
Buy and sell shares without paying any commission
Accepts PayPal
Great mobile trading app
FCA regulated
Cons:
Not suitable for advanced traders that like to perform technical analysis
67% of retail investor accounts lose money when trading CFDs with this provider.
2. Plus – Trade Santander CFDs with Tight Spreads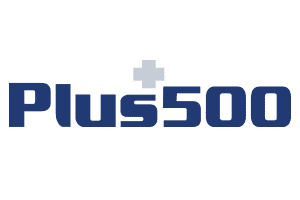 If you are more interested in trading shares of Santander rather than investing in a long term position, Plus500 might be the better choice of broker for you. This CFD broker enables you to trade shares with leverage of up to 5:1 and the spreads are very competitive. On top of Banco Santander share CFDs, Plus500 gives you access to more than 2000 financial instruments via CFD contracts.
Much like eToro, Plus500 does not charge any trading fees. Instead, it takes its payment through the spread of the buy and sell price. On top of that, deposits and withdrawals are free too, however, you may have to pay an inactivity fee of $10 per quarter after 3 months of inactivity.
Plus500 offers its own proprietary user-friendly trading platform that can be accessed via a web browser or the Plus500 stock trading app. You can also get notifications on your phone or to your inbox on a particular asset if the price drops or rise.
In terms of safety and regulation, Plus500 is not only regulated in the United Kingdom by the Financial Conduct Authority (FCA) but it is also a publicly listed company on the London Stock Exchange. To start, you can deposit a minimum of £100 with a UK debit/credit card, bank account, or e-wallet.
Pros:
Commission-free CFD platform – only pay the spread
Price alert feature
Retail clients can trade share CFDs with leverage of up to 5:1
A range of risk management tools
Regulated by the FCA
Plus500 allows you to short-sell a stock CFD
Cons:
CFDs only
More suitable for experienced traders
72% of retail investor accounts lose money when trading CFDs with this provider.
Whether you're investing in Santander or other banks like Lloyds, HSBC or Metro Bank, it's always important to analyse the company's current situation and future outlook.
In this section, we analyze the Santander share price history and the reasons why you should or shouldn't invest in stocks of Santander. Bear in mind that we will focus on Santander shares on the New York Stock Exchange as it is the benchmark and most liquid share listing of this bank.
Banco Santander was established 163 years ago in 1857 as Banco de Santander. The combined bank, BSCH, was formed in 1999 following a merger of Banco Santander SA (founded 1857) and Banco Central Hispano. It has a strong presence in Europe and Latin America and in the early 21st century, the group has extended operations across North America and Asia.
Nowadays, Santander is one of the Eurozone's leading banks and is among the top 20 financial institutions worldwide in terms of market capitalization and revenues. With more than $1.4 trillion worth of assets under management, Santander is also one of the largest firms globally.
In terms of its share price history, Santander reached its all-time high of $21.77 back in May 2008. Shares dropped as the 2008 global financial crisis hit markets across the world and since then, the share trades in a downward trending channel. Since the beginning of 2020, the Santander share price declined by -48.64%, largely due to the COVID-19 pandemic.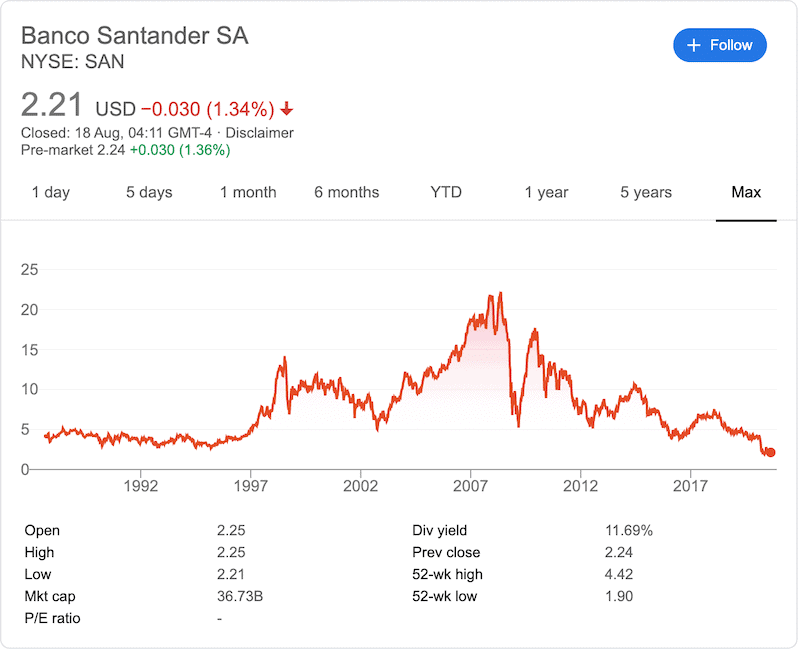 With that said, the Santander share is trading at historically low levels and valuation metrics show that its share may be undervalued. The banks' earnings over the next few years are expected to grow by 47%, indicating the strength of the company and the positive future prospects. Further, Santander has a Price/Earnings (PE) ratio of 4.16, which compares favorably to the S&P500 average of 15.81 as well as the banking sector of around 9.49. This indicates that the share may be underpriced, particularly in the short term.
Santander has been an attractive dividend share for investors as they are entitled to an annual dividend. The bank offers a high dividend yield and a long history of paying dividends so investors are typically drawn to this company. The current dividend yield for Banco Santander S.A is 3.69% which is above the banking industry average yield of 2.66%.
There was, however, an announcement by the bank to cancel the interim dividend charged against 2020 and suspend 2020 dividends until the impact of the COVID-19 crisis becomes more clear. The bank's management announced that it will review whether to resume dividend payments in October.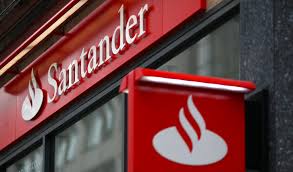 Santander hasn't been in the best of shape in the past decade. Not only it has low capital levels among large European lenders, but it will also have to face challenges of the banking sector due to the COVID-19 crisis. This doesn't mean that you shouldn't buy Santander shares. After all, buying a share at the bottom often means that it has significant upside potential.
Nevertheless, it is crucial to do your research before making an investment. As such, below we list some of the reasons why you might want to consider adding Santander to your portfolio.
At the time of writing, Santander shares in the US are worth $2.21. This represents a year to date decrease of 48.64% and the lowest territory since the 80s of the previous century. With that in mind, the bank is in a relatively strong financial position. The financial stability and growth prospects of Santander demonstrate its potential to recover from its historically low levels of the share price.
The fundamentals show that Santander is currently a solid choice for value investors. Its Price per Earnings (P/E) ratio is extremely low at just 4.59 and the company's current price to book ratio, which is a metric to compare a firm's market capitalization to its book value, is 0.37 as of August 17, 2020. Generally, a low P/B ratio could mean the share is undervalued.
Huge Upside Potential
Unlike other companies that have been hit by various factors, Santander has not encountered any severe problems and is still one of Europe's largest banks and . Sure, it was a massive shock when the bank announced a second-quarter loss of 12.25 billion, its first quarterly loss since 2005, however, as shares are down more than 85% over the last ten years, it seems like there's huge upside potential at current pricing levels.
At CNN Business, 24 analysts offering 1-Year price forecasts for Santander have a median target of $2.84, with a high price target of $3.80 and a low price target of $2.00.
Step 3: Open an Account and Deposit Funds
By now, you should have enough information to decide if you wish to invest in shares of Banco Santander. If following your research, you want to proceed with a share purchase, you then need to open an online trading account. As such, we'll walk you through the process using our top-rated broker eToro.
To get started, you need to visit the eToro website and sign up for an online stock trading account.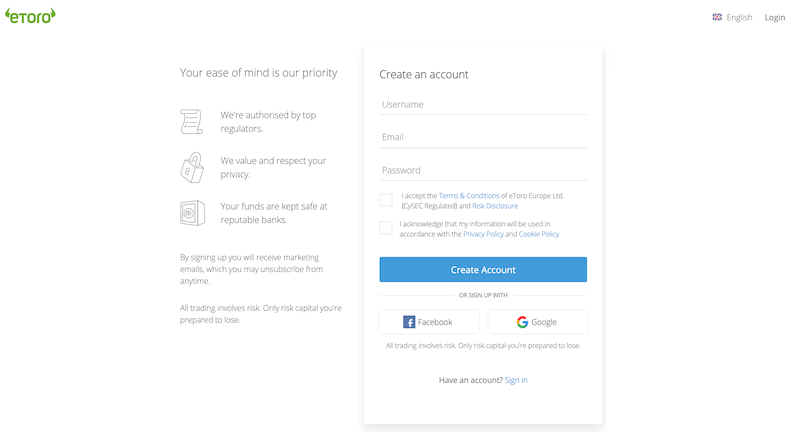 Then, you'll need to enter some personal information that includes your full name, email address, date of birth, nationality, national insurance number, username, and password.
As eToro must comply with FCA requirements, you will also need to upload a copy of your passport or driver's license and a recent utility bill or bank account statement
Now, you can fund your account. You will need to meet a minimum deposit requirement of $200 (about £160) to get started at eToro. You can make a deposit using a variety of payment methods, including:
Debit Card
Credit Card
Paypal
Skrill
Neteller
UK Bank Transfer
Now that you have funded your account, you are ready to buy Santander shares. To complete the buying process with eToro, enter Santander in the search box and click on the first result that pops up.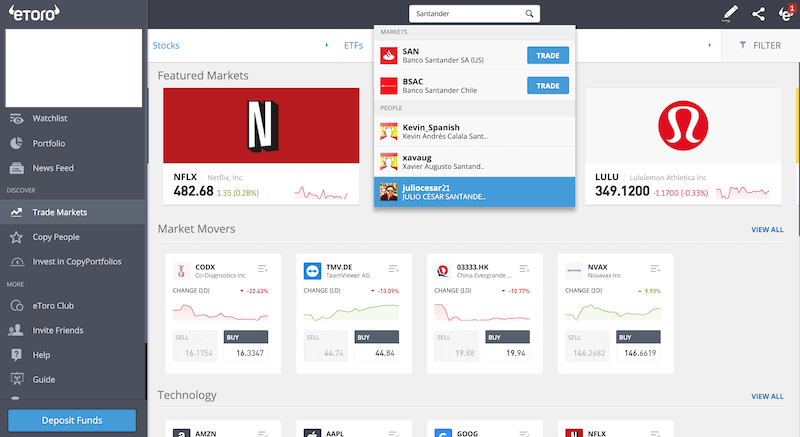 Then, you will be landed on the Santander page. Navigate to the 'Trade' button and click on it to open an order form.

You will then be presented with an order box. All you need to do here is to insert the amount you wish to invest in Banco Santander shares and click on the 'Open Trade' button. Just remember, you need to enter the figure in USD as eToro denominates accounts in US dollars.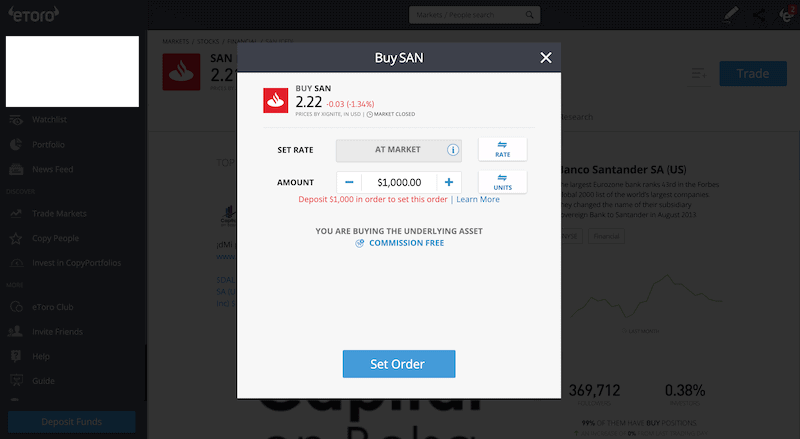 Note: If you are buying Banco Santander SA shares outside of standard market hours (9.30 am to 5 pm, Eastern Standard Time), you will need to click on 'Set Order'. Your Santander shares purchase will then be completed when the markets open.
Though Banco Santander might be a good investment for those who are looking for solid income in the form of dividends payment investors, there are plenty of other factors to consider before investing in this company. One of the main factors to consider is how the banking sector will be influenced by the global economic downturn caused by the COVID-19 crisis. Investors should also expect a confusing earning report from Santander in Q3, but one that may be critical for Santander's share price.
In the current condition, it's hard to see the share price falling strongly as Santander is quite a defensive stock and may have reached its bottom. A free fall of almost 85% in the last ten years sent the price down to an all-time low that values shares at substantially low cost. While the majority of investors will prefer to steer clear, those with a high tolerance for risk might find a great investment opportunity.
Ultimately, Santander shares are worth just a fraction of what they were before the coronavirus pandemic emerged. As such, you can still purchase the shares at a favorable price and take advantage of the company's positive future outlook.
If you do want to sell Santander shares, the process is easy when you use a top share dealing account such as eToro. Simply log in to your account, select the shares you want to sell and hit confirm.
The Verdict
In summary, there's one question to answer – whether Santander is trading at its actual value, or is it currently undervalued? The fundamentals may indicate that it is likely to be trading at a discount even when considering the current turmoil in the markets. While large scale banks must adapt quickly to function during and after the Covid-19, we have learned in the 2008 economic crisis that measures will be taken to protect banks and large financial institutions.
These Banks like Santander are critical to global recovery from the COVID-19 financial crisis. On top of that, it's hard to imagine a scenario that Spain or the EU would allow it to actually fail. If you think this is the case, you can easily buy shares of Santander via eToro.
Simply click the link below to get started!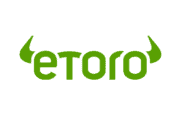 67% of retail investor accounts lose money when trading CFDs with this provider.
FAQs
What stock exchange is Santander listed on?
Santander is listed on on the stock exchanges of Spain, New York, London, Lisbon, Mexico, Sao Paulo, Buenos Aires, and Milan.
Does Santander pay dividends?
Yes, Santander normally pays an annual dividend for its shareholders. However, the Spanish bank has recently announced that it is scrapping its final dividend for 2019 due to uncertainty caused by the Covid-19 pandemic.
Can I collect Santander dividends when trading CFDs?
Yes, you can. If you own a Santander CFD contract you will receive a dividend if you own it the day before the ex-dividend date.
Is Santander a component of stock indices?
Yes, Santander is a component of the Euro Stoxx 50 stock market index, the Ibex 35 Index, Euro Stoxx Banks index, Bloomberg Europe 500 Banks, and Bloomberg World Banks