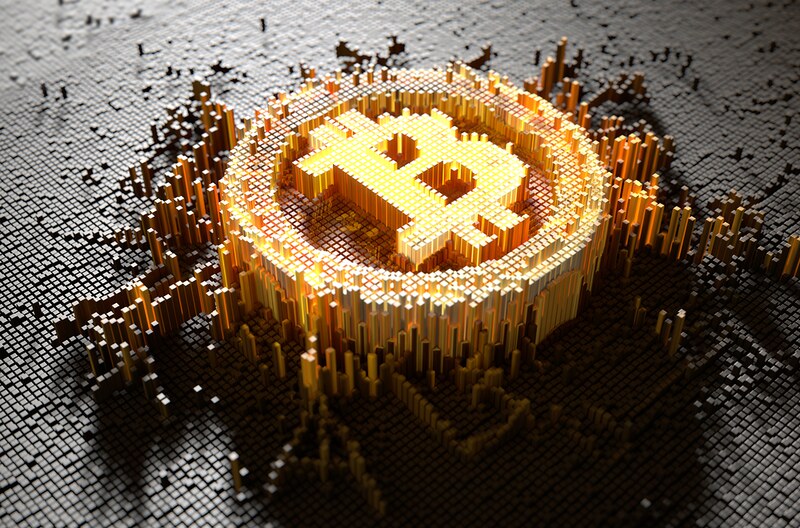 The price of Bitcoin is sliding more than 8% so far today in early cryptocurrency trading action as the Chinese government continues to crack down on its domestic crypto mining industry.
A report from the Global Times this morning indicated that Chinese authorities are aiming to shut down as much as 90% of the country's Bitcoin mining capacity as pressure against the sector continues to intensify.
The latest step taken by the government to disrupt the industry involved an order extended to electricity companies located in the mining-rich Sichuan province to "screen, clean up, and terminate" all mining operations. The order was accompanied by a list of 26 entities that were flagged as potential crypto mining enterprises.
China clampdown steps up a gear
Chinese cryptocurrency miners are said to account for at least 65% of the market's entire mining activity, which is why this latest blow to the industry from local authorities is weakening the price of most tokens including Bitcoin (BTC).
Environmental and energy-consumption concerns are possibly some of the leading causes behind the hostile position the Chinese government has adopted against the crypto mining industry. However, others have also pointed that this could be a concerted effort to derail Bitcoin's long-standing reputation to push for the widespread adoption of China's digital yuan.
Including today's downtick, this would be the sixth losing day for BTC in the past seven sessions, with the token losing as much as 50% of its value since it hit its 2021 peak of $64,895 per coin back in mid-April as it is currently trading at $32,400 per coin.
Meanwhile, other large-cap tokens including Ethereum (ETH) and XRP (XRP) are also experiencing sharp downturns they are dropping 15% and 13% respectively.
Crypto stocks losing value too
Moreover, the price of multiple stocks whose operations and balance sheet are intricately correlated with the cryptocurrency market are also tumbling, with shares of MicroStrategy (MSTR), the asset management company led by crypto advocate Michael J. Saylor, dropping 7.2% in pre-market stock trading action while Coinbase (COIN) shares are down 3% so far this morning.
Only a few hours ago, the firm headed by Saylor issued a press release stating that it bought 13,005 Bitcoin tokens during today's sell-off for an approximate amount of $489 million at around $37,617 per coin – a transaction that has already netted a $70 million loss to the firm in a matter of hours.
This would push the total number of Bitcoins held by the firm to 105,085 coins or 0.56% of the coin's total circulating supply. The coins were purchased at an average value of $26,080, which results in a thin unrealized gain of 24.5% to the company based on today's price.
On 14 June, MicroStrategy raised a total of $500 million in senior secured notes due in 2028 with an interest rate of 6.125% per year to continue buying BTC as the founder of the firm has deemed the current downtick a buying opportunity.
What's next for Bitcoin (BTC)?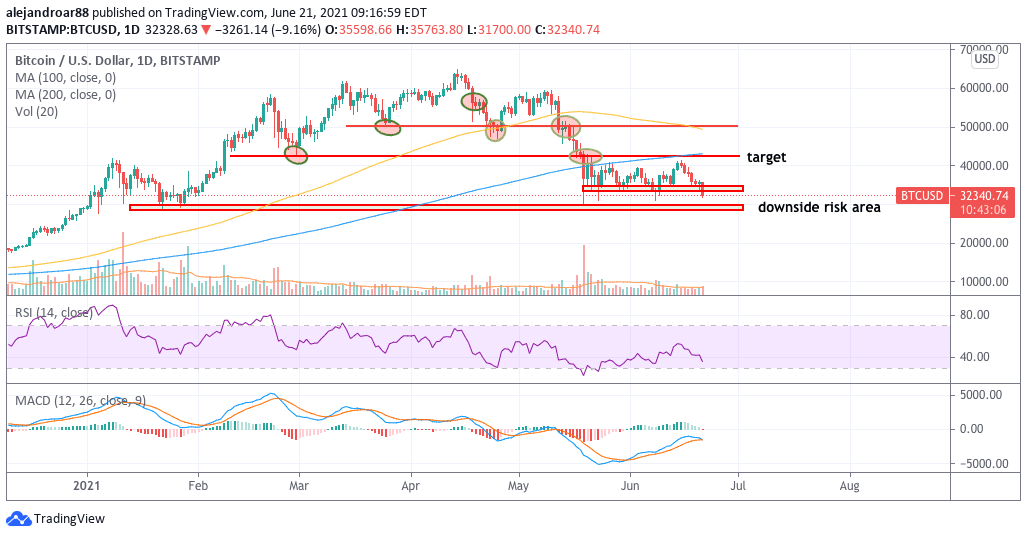 Today's price action in Bitcoin (BTC) is breaking a key support area that had held steady in the past 30 days or so after the token's sharp meltdown seen in May. This break is signaling a bearish short-term outlook for the coin and could push Bitcoin's price to the downside risk area highlighted in the chart shortly at around $28,340 for a 13% potential loss.
Momentum indicators are reinforcing this bearish thesis as the RSI continues to show weakness after failing to climb above the 50 level a few days ago while the MACD just sent a sell signal.
Meanwhile, Bitcoin (BTC) has failed to hold above its short-term moving averages and has been trading below its 200-day moving average for almost 30 days now, which shows the extent of the sell-off.
Since Bitcoin's value cannot be determined by using traditional fundamental analysis tools, the extent of this decline can only be determined based on an analysis of market sentiment and supply and demand dynamics.
The willingness of institutions and individuals to keep buying and holding BTC will end up determining how low the coin goes and technical analysis might be the most practical tool at the moment to identify a potential floor for Bitcoin in the short term. For now, the temporary $33,600 floor has been broken and that could lead to further losses for the token shortly.