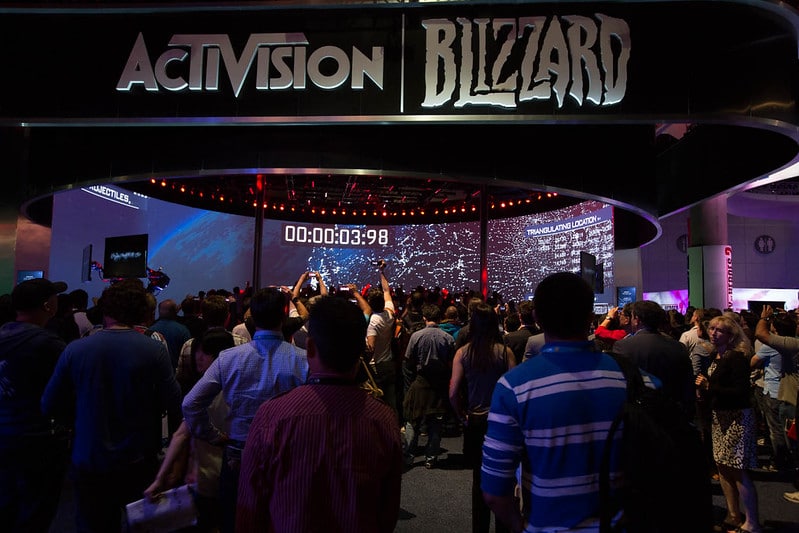 Activision Blizzard stock drop precipitously yesterday after complaints about an unhealthy workplace environment led to a lawsuit brought forward by the Department of Fair Employment & Housing (DFEH) in California while a group of workers is reportedly arranging a walkout protest in front of the company's offices today.
Shares of the developer of the popular video game World of Warcraft slid as much as 9.5% at some point during yesterday's stock trading session but settled a bit higher at $84 per share for a 6.8% single-day loss.
Trading volumes were particularly elevated, with more than 23 million shares exchanging hands – a figure that is almost 4 times the 10-day average for Activision Blizzard (ATVI) stock.
The lawsuit pushed forward by the state agency alleges "violations of California's Equal Pay Act as well as the Fair Employment and Housing Act". The press release from the department further indicated that the company "fostered a sexist culture and paid women less than men despite women doing substantially similar work".
In addition, the agency stated that women working for the company were victims of "constant sexual harassment, including groping, comments, and advances". It also appears that human resources and compliance officers failed to take adequate steps to address this behavior.
Meanwhile, a tweet from the Senior System Designer of the World of Warcraft game, Jeff Hamilton, implied that the company was making no advances in developing the upcoming updates of its flagship World of Warcraft game – a disappointing finding that may have rattled the market's sentiment toward the stock even more than the above-mentioned allegations.
Last night, the Chief Executive of Activision, Bobby Kotick, published a formal statement that revealed some steps the company will be taking to "ensure a safe environment" for its workers including appointing the law firm WilmerHale to review the company's policies and procedures.
Moreover, the former Chief Executive of the company, Mike Morhaime, tweeted that he felt "ashamed" because of the situation while he apologized to the victims for what they suffered.
However, multiple tweets circulated from both former and current Activision employees who support the lawsuit and a walkout has been organized to take place this morning in front of the firm's main campus in Irvine, California after signing a letter that discredited the company's response to the claims.
Activision Blizzard disappoints in 2021
After a blockbuster year during which the demand for video games and the time that users spent glued to their screens skyrocketed amid pandemic lockdowns, the performance of ATVI stock in 2021 has been quite disappointing as the stock is retreating as much as 9% so far this year.
In contrast, the performance of video game stocks has been quite positive in 2021, as reflected by the 14% gain that the ETF Managers Trust Video Game Tech exchange-traded fund (ETF) has delivered since the year started.
This latest development involving Activision's management practices comes only a month after a controversial $155 million pay package was approved for CEO Kotick, with only 54% of the company's shareholders voting in favor of the proposed compensation scheme.
Shareholder protection organizations like the Institutional Shareholder Services (ISS) were among the parties recommending a cut in the top executive's proposed paycheck after deeming it as "outsized".
Meanwhile, Activision is scheduled to report its quarterly earnings covering the second quarter of the 2021 fiscal year on 3 August, with analysts expecting to see revenues landing at $1.89 billion or 9% lower than a year ago while adjusted earnings per share are expected to land at $0.75 for a 22.5% drop compared to the same period in 2020 as per data from Seeking Alpha.
This latest development about the company's workplace culture may dominate the narrative for ATVI's stock in the short term as discontent employees could boycott the advance of key projects including upcoming updates and releases of Activision's top games.
What's next for Activision Blizzard stock?
A closer look at the latest price action seen by Activision stock shows that shares have been on a downtrend since Kotick's compensation package was approved, losing 15% of their value since then – possibly as many shareholders dumped their stakes shortly after the Board's decision.
Meanwhile, even though there was some significant selling yesterday, it seems that buyers showed up to pick up the pieces as the price closed well above its intraday lows. For now, the short-term outlook for the stock remains bearish based on overly negative momentum readings.
However, a technical rebound could take place, possibly aiming to retest the $88 level – a support area that could now become resistance during future advances.
The upcoming earnings report could possibly clarify the outlook for ATVI stock depending on where results land while comments made by the senior management about this workplace matters will be an important talking point as well – particularly those concerning the company's video game pipeline.
Disclaimer
All trading carries risk. Views expressed are those of the writers only. Past performance is no guarantee of future results. The opinions expressed in this Site do not constitute investment advice and independent financial advice should be sought where appropriate. This website is free for you to use but we may receive commission from the companies we feature on this site.
Read next