How to Buy Teladoc Shares UK – With 0% Commission
Fact Checked
Everything you read on our site is provided by expert writers who have many years of experience in the financial markets and have written for other top financial publications. Every piece of information here is fact-checked.
Disclosure
Please note that we are not authorised to provide any investment advice. The information on this page should be construed for information purposes only. We may earn commissions from the products mentioned on this site.
Telemedicine has exploded in popularity during the COVID-19 pandemic as doctor's offices shut down and hospitals filled with patients. That popularity has created a boom for companies like Teladoc, which provides online consultations with doctors 24/7.
This US stock has grown more than 600% since its IPO in 2015, and it's more than doubled in value in 2020 alone. While there are some warning signs that Teladoc could be overheated, most analysts believe that the future looks bright for this telemedicine company.
In this guide, we'll explain everything you need to know to buy Teladoc shares in the UK. We'll highlight top UK brokers you can use, show you how to get started, and take a closer look at why Teladoc is a good investment right now.
Step 1: Find a UK Stock Broker That Offers Teladoc Shares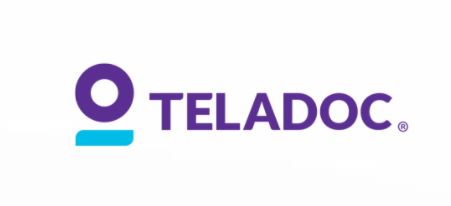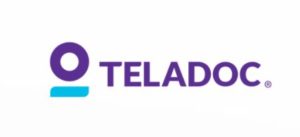 In order to buy Teladoc shares in the UK, you need a UK stock broker that offers trading on US stocks. Finding a broker that offers Teladoc shares is easy, but finding a broker that offers a low fee structure and the tools you need to trade successfully can be more difficult.
Ideally, you should look for a broker that offers 0% commission or very cheap commissions. Commissions are charged every time you buy and sell a stock, so they can add up quickly. You should also watch out for account fees, which can eat into your profits from investing.
You'll also want to look for advanced trading and analysis tools. Some brokers give you access to research from in-house analysts, while others give you comprehensive charting software to help you make trading decisions. Look closely at what tools a broker is offering before you commit to their platform.
With those factors in mind, let's explore two of our favourite brokers in the UK that offer trading on Teladoc shares.
1. eToro – Buy Teladoc Shares with 0% Commission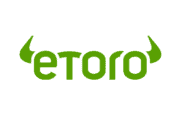 eToro is our top recommended broker for buying Teladoc shares in the UK. With this broker, you can buy shares outright or trade CFDs. That means that eToro gives you the option to use leverage up to 5:1 or to short sell Teladoc shares if you think the company will take a dive.
We also like eToro because this platform offers a huge variety of assets. You can access more than 800 shares from exchanges in the UK, US, Europe, Asia, and Africa. Plus, eToro has a selection of more than 450 ETFs and it offers forex trading and commodity trading through CFDs.
Perhaps the best thing about eToro is that all trades are 100% commission-free. That's true no matter whether you buy shares or CFDs, or whether your want to trade forex, commodities, or another asset. eToro charges no spreads when you buy shares and it offers below-average spreads for CFD trading. There are no deposit fees, although the broker does charge a small £4 fee per withdrawal.
To help you trade successfully, eToro offers a number of different tools. You can take advantage of a comprehensive charting interface, which offers over 100 technical studies and drawing tools. You can also use the real-time social trading network, where you'll find thousands of traders from around the world. This is particularly nice because you can see how other traders feel about Teladoc shares. eToro's trading platform is available for web as well as through a mobile trading app.
eToro is regulated by the UK's Financial Conduct Authority and is considered very trustworthy. In addition, all UK trading accounts at eToro are covered by the Financial Services Compensation Scheme for up to £85,000 if the brokerage runs into financial trouble.
Pros
Buy shares outright or trade CFDs
0% commission on all trades
Offers stocks, ETFs, indices, forex, commodities, and more
Charting software with 100+ technical indicators
Regulated by the FCA
Cons
Small withdrawal fee
No analyst research included
67% of retail investor accounts lose money when trading CFDs with this provider.
2. Fineco Bank – Low-cost Share Dealing with Access to Banking Features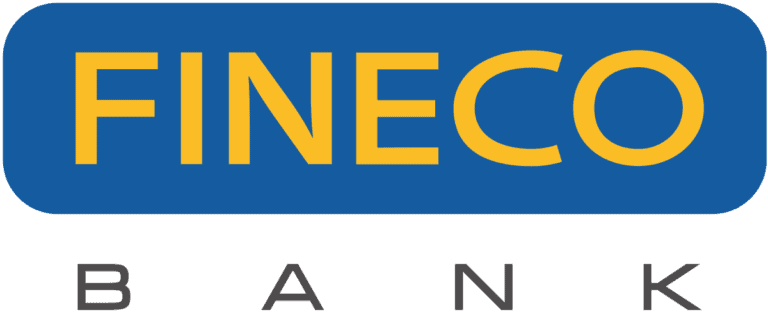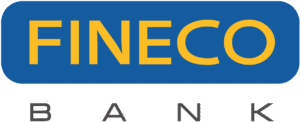 Fineco Bank is an Italian bank with an investing arm. While it might not be well-known in the UK, Fineco Bank offers a very attractive share dealing account for UK investors. With this broker, you get access to 26 different markets around the globe, including the London Stock Exchange, the NYSE, and the NASDAQ. The broker also offers a wide variety of CFDs for forex trading and commodity trading.
What really sets Fineco Bank apart is that it combines investing and banking. When you sign up for a Fineco Bank investing account, you can get a debit card that's good at thousands of ATMs throughout the UK and Europe. That makes it easy to deposit money into your investing account or withdraw cash from your account at any time, completely fee-free.
Another plus to Fineco Bank is its trading platform, PowerDesk. This advanced charting and research platform includes over 90 technical studies and enables you to stay on top of the market throughout the day. You have the option to set up a custom workspace, plus the ability to place trades without ever leaving your charting window.
Share dealing with Fineco Bank isn't commission-free like at eToro. You'll pay £2.95 per deal to trade UK shares and $3.95 per deal to trade US shares like Teladoc. Still, that's a lot less expensive than what other UK share dealing brokers are charging. There's no annual account fee with Fineco Bank and no inactivity fee to worry about.
Fineco Bank is highly trustworthy, as it's one of the largest banks in Italy. On top of that, it's regulated by the Financial Conduct Authority in the UK and comes under the auspices of the Financial Services Compensation Scheme. Plus, Fineco Bank is a publicly traded company, so it releases a lot more financial information than some other UK brokers.
Pros
Access 26 global stock exchanges
Make deposits or withdrawals from partner ATMs
PowerDesk trading platform comes with 90+ indicators
Relatively low commissions for share dealing
Regulated by FCA and releases financial information
Cons
Not commission-free for share trades
No social trading network
Your money is at risk.
Step 2: Research Teladoc Shares
Wall Street analysts are fairly excited about Teladoc shares and the company's potential beyond the coronavirus pandemic. But before you buy Teladoc shares, it's important to know what you're putting your money into. So, let's take a closer look at this telemedicine company's history and what lies ahead for Teladoc.
Teladoc Share Price History & Market Capitalisation
Teladoc Health, Inc. was founded in 2002 in Dallas, Texas by Byron Brooks and Michael Gorton. The company started out as a service for businesses, offering employees video consultations with licensed doctors in exchange for a flat fee. The company launched nationally across the United States in 2005 and had more than one million members (mostly the employees of large corporations) by 2007.
After the US's Affordable Care Act, the healthcare reform law, came into effect, nearly every major US health insurance company began to offer Teladoc's services. The company also benefited from acquisitions of its two main US competitors, Consult A Doctor and AmeriDoc.
Teladoc held an IPO on the NYSE in 2015 with a price of $19 per share. At the time of the IPO, the company had a $758 million market cap. Shares rose 50% on the first day of trading, although Teladoc fell below its IPO price a few months later after health insurer Highmark decided not to renew its contract with Teladoc.
Teladoc shares rose slowly through most of 2018, reaching a short-lived peak of around $86 per share. The stock fell sharply towards the end of 2018 after a scandal in which the company's CFO and COO reported that he had engaged in insider trading.
Teladoc shares had just recovered to around $85 per share when the COVID-19 pandemic hit the US in March 2020. As the stock market crashed, Teladoc shares exploded in value. By the end of April, the company was trading at over $193 per share. In July, Teladoc shares hit an all-time high of $253. Shares have since pulled back to $179, in part in response to announcements of highly successful vaccine trial results from Pfizer and Moderna.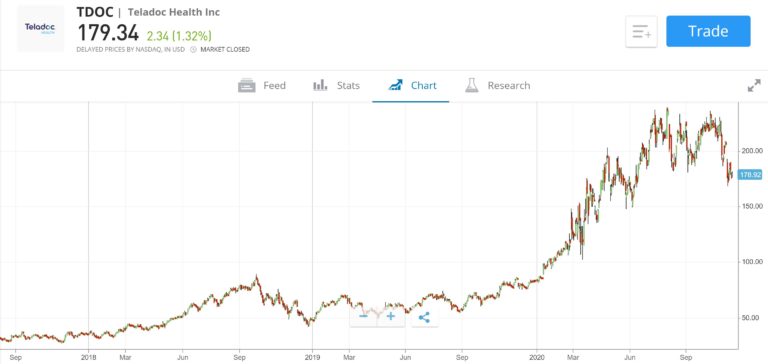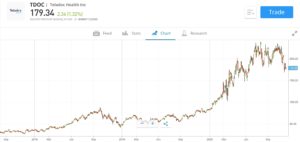 Still, at the current share price, Teladoc has a valuation of just over $26 billion. That's very impressive for a company that has never turned a profit. For the quarter ending in September, Teladoc reported an earnings per share (EPS) of -$0.43. EPS growth is negative, as the company reported a loss of -$0.28 per share for the same quarter in 2019.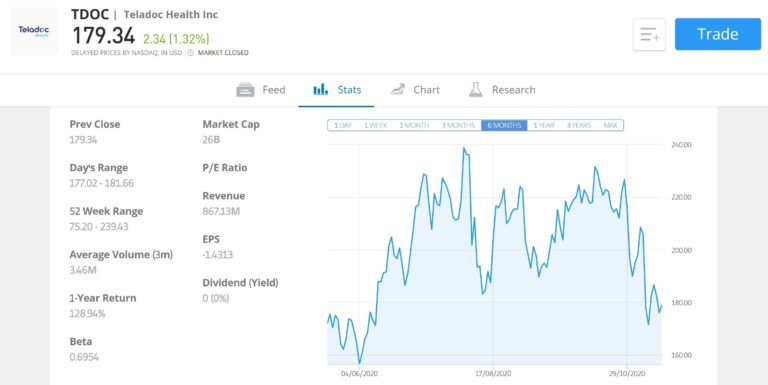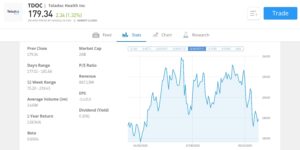 Teladoc Shares Dividend Information
Teladoc is not a dividend stock. The company is not yet profitable and so does not issue a dividend. It may be several years before Teladoc reaches profitability.
Should I Buy Teladoc?
Teladoc is an interesting stock to have on your watchlist. The company isn't profitable, but it's seen its valuation nearly double over the course of the COVID-19 pandemic. Is it worth buying shares of this company after the price has been pushed up?
We think so. The main reason why is that telemedicine is the future, and Teladoc is poised to corner the market in the US.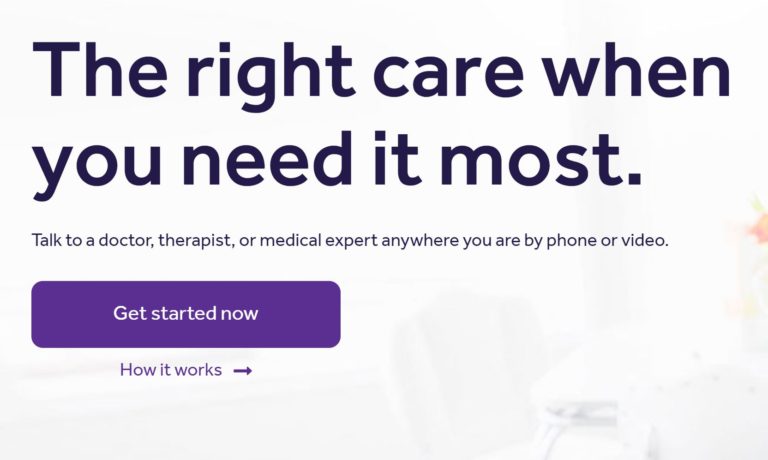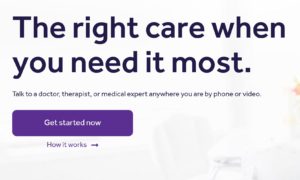 One of the main arguments against Teledoc shares is that Americans will go back to physical doctors' offices once the pandemic subsides. But surveys indicate that that simply isn't the case. A majority of Americans have said they plan to keep using telemedicine in years to come, and nearly 90% have described telemedicine as 'indispensable' to health care in 2020.
On top of that, it's getting easier to choose telemedicine over traditional in-person healthcare in the US. Medicare, the US health insurance program for senior citizens, relaxed restrictions around telemedicine in response to the pandemic. While it's possible those restrictions could be put back into place, that seems unlikely to happen. Where Medicare goes, insurers across the US follow – so expect more insurers to encourage telemedicine and to offer Teladoc's services as a benefit for more customers.
The size of the healthcare market in the US is also hard to ignore when thinking about Teladoc's potential. Teladoc estimates it's addressable market at close to $74 billion. In addition, the company stands to add another $47 billion to its market potential through its acquisition of Livongo Health, which offers virtual management for people with chronic diabetes and hypertension.
The Risks of Teladoc Shares
That said, Teladoc does face a few headwinds that you should be aware of. First, while Teladoc is by far the largest telemedicine company in the US, it's not the only major player. AmWell recently held an IPO and is looking to expand its footprint aggressively, and GoodRx is another popular company with a telehealth branch.
Teladoc could also run into trouble if the company has a cybersecurity breach. While this hasn't happened yet, it's hard to imagine that it's not a target of hackers. Even a hack on one of Teladoc's competitors could cast a chill over the movement towards telemedicine in the US.
Step 3: Open an Account and Deposit Funds
Want to buy Teladoc shares in the UK? We'll show you how to get started with eToro, which offers 100% commission-free trading and a robust trading platform to help you invest successfully.
To sign up for an eToro account, head to the broker's website and click 'Join Now.' Create a username and password for your new account, then enter personal details like your name, email, and phone number.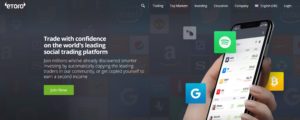 In order to comply with UK government regulations, eToro requires that you verify your name and address. You can complete this step online in just a minute by uploading a copy of your driver's license or passport and a copy of a recent utility bill or bank statement.
Once your account is set up, it's time to fund it. You can deposit funds into your eToro account using a debit or credit card, a UK bank transfer, or an e-wallet like Neteller or Skrill. Just note that the broker requires a minimum deposit of £140 for new accounts.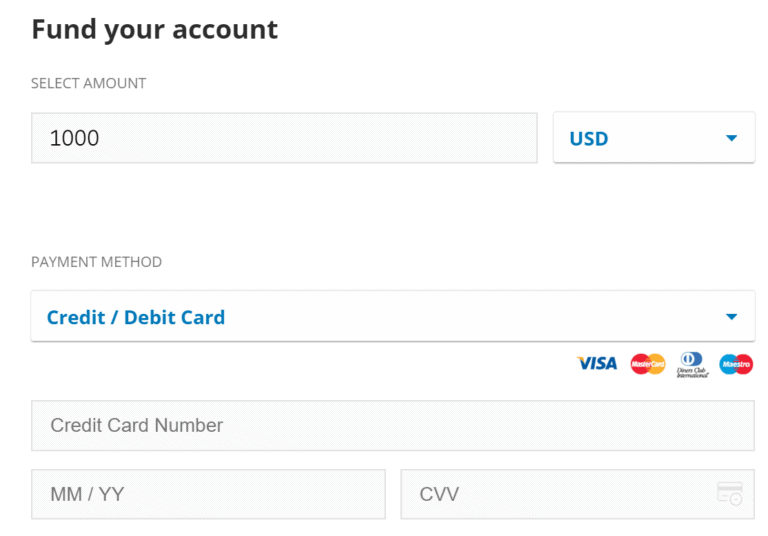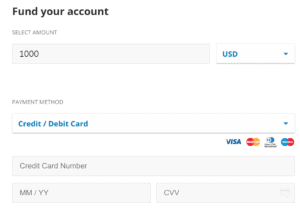 Step 4: Buy Teladoc Shares
Now you're ready to buy Teladoc shares through eToro. From your account dashboard, enter 'Teladoc' or 'TDOC' in the search bar. When Teladoc appears in the drop-down menu, click 'Trade.'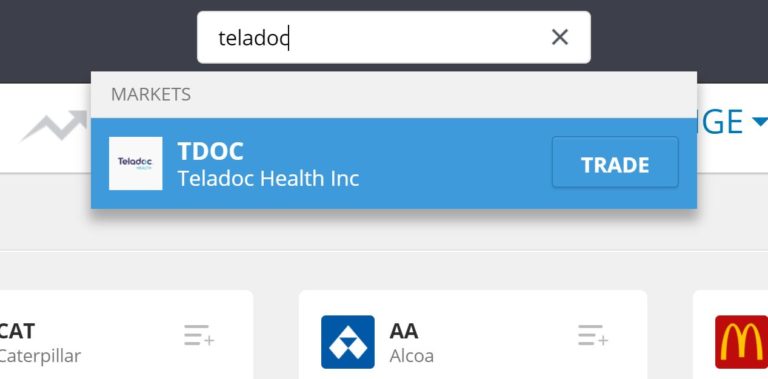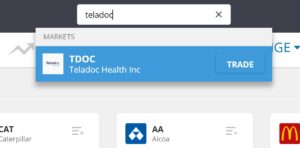 That will open a new order form, where you can enter how much money you want to invest in Teladoc shares. eToro enables you to buy fractional shares, so you can invest any amount over £40 ($50). Next, choose whether you want to add leverage to your trade (if you're trading CFDs) or whether you want a stop loss or take profit order on your trade.
When your trade is all ready, click 'Open Position' to buy Teladoc shares.
Teladoc Shares: Buy or Sell?
Teladoc shares have exploded in value over the course of the coronavirus pandemic. But while investors may have missed a chance to get in on this telemedicine company before it entered the spotlight, it's not too late. Teladoc still has an enormous market to expand into in the US, and it has a major head start over competing telehealth companies.
What makes Teladoc even more attractive right now is that the shares have pulled back significantly from their July highs. In fact, Teladoc is down by nearly 30%. There's no guarantee that the shares won't drop further, especially as COVID-19 vaccinations begin to roll out in the spring. However, the current pullback offers a good chance to get in on this company at a price that's fairly reasonable.
The Verdict
Teladoc has slowly taken over a huge chunk of the telehealth market in the US since it was founded in 2002. In 2020 alone, the stock has more than doubled in value.
Yet investors shouldn't be scared off by the fact that Teladoc shares have already risen so much. This company is well-positioned to lead a healthcare sector that will be increasingly important in the future. Although the urgency behind telemedicine might fade over the coming year, more and more companies and insurance providers will likely sign on for Teladoc's service.
Ready to buy Teladoc shares? Sign up for an eToro account to start investing today!
eToro – Buy Teladoc Shares with No Commission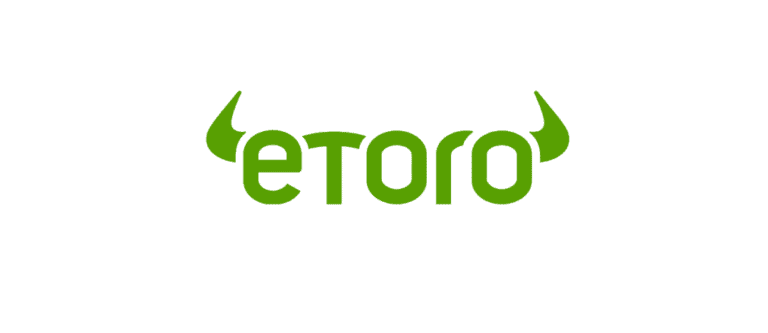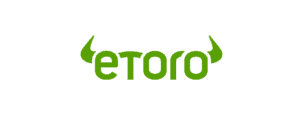 67% of retail investor accounts lose money when trading CFDs with this provider.
FAQs
What is Teladoc's stock ticker symbol?
Teladoc trades on the NYSE under the ticker symbol 'TDOC.'
Who is Teladoc's chief executive officer?
Teledoc's current CEO is Jason Gorevic, who took the company's helm in 2009 and led it through its IPO.
Can I invest in Teladoc through an ISA or SIPP?
Yes, you can invest in Teladoc shares through a UK ISA or SIPP. Keep in mind that your ISA or SIPP provider must offer shares from the NYSE and not just from the London Stock Exchange.
How much revenue does Teladoc generate?
Teladoc had $288 million in revenue in the quarter ending in September, up from $137 million for the same quarter in 2019. In 2019, the company brought in full-year revenue of $553 million.
Can anyone sign up for Teladoc?
Teladoc brings in most of its revenue by signing up entire companies or health insurers for its platform. However, anyone in the US can create a Teladoc account and get a virtual consultation with a doctor.