Taylor Wimpey plc is a UK-based company that specializes in housebuilding. The firm was hit hard in the midst of the 2008 financial crisis and is now worth just a fraction of its former glory.
With that said, Taylor Wimpey is still a multi-billion pound company and a constituent of the FTSE 100 index, so interest in its share price amongst analysts remains strong.
If you want to buy Taylor Wimpey shares online today, this guide will show you what you need to do. We'll take a look at the company's past performance, round-up whether it's a good buy or not, and show you the top brokers to buy Taylor Wimpe shares.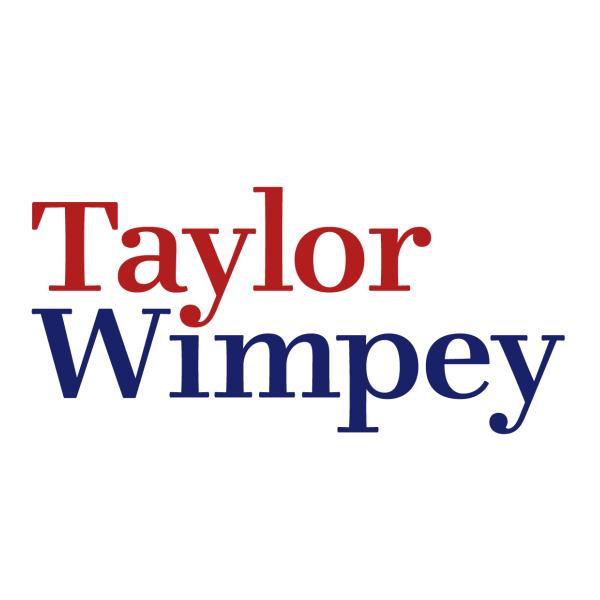 As a UK investor, you have hundreds of share dealing sites to choose from – most of which give you access to Taylor Wimpey stocks. After all, the firm is a FTSE 100 constituent and so its shares are offered by most brokers.
However, you do need to spend some time researching the credentials of the platform in question before opening an account. For example, look to see how much the broker charges to buy Taylor Wimpey shares and what payment methods it supports.
To save you hours of mundane research, we have hand-picked two of the best UK stock brokers to buy Taylor Wimpey shares.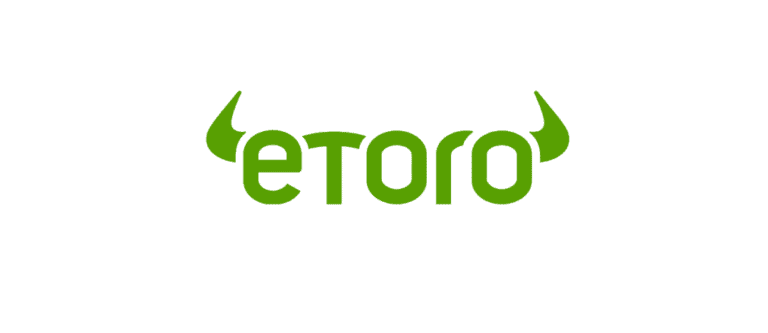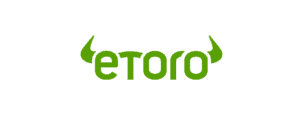 eToro is a popular online stock broker with more than 13 million account holders using the site to invest. The broker supports 17 stock market exchanges which translates into 1,700+ different shares. In the United Kingdom this includes the likes of Taylor Wimpey, HSBC, GlaxoSmithKline, AstraZeneca, and Royal Mail. You can also invest in companies listed in the US, France, Hong Kong, the Netherlands, Spain, and more.
Crucially, each and every stock hosted at eToro can be invested in commission-free. Other than a $5 withdrawal fee and 0.5% FX charge on your deposits – there no other costs to account for. As such, this makes eToro the most cost-effective brokerage site in the UK. When it comes to buying Taylor Wimpey shares – the minimum investment stands at just $50 (about £40). As you will be required to deposit at least $200 (about £160), this allows you to diversify across multiple companies.
eToro is a user-friendly platform that is suitable for all skill sets. This is especially the case if you are newbie investor – as you don't need any prior experience to complete a share purchase. With that said, eToro does offer a range of educational resources that you can feed on if you encounter any issues. On top of handy guides and explainers, the platform also offers trading videos and live webinars. Its Copy Trading feature is also useful as it allows you to choose an expert investor and copy their portfolio.
This allows you to invest without needing to research stocks yourself – meaning that the process if 100% passive. If you want to get started with eToro and buy Taylor Wimpey shares right now – you can deposit funds with a UK debit/credit card or e-wallet. You can do this online or via the eToro investment app – which is available on Android and iOS devices. The broker is heavily regulated and your funds are protected by the FSCS scheme. In addition to this, eToro holds a license with the FCA, ASIC, and CySEC.
User-friendly online stock broker
Buy shares without paying any commission or share dealing charges
1,700 + shares listed on UK and international markets
Buy shares or trade CFDs
Social and copy trading tools
Accepts PayPal
Mobile trading app
Holds an FCA licence
Cons:
Not suitable for advanced traders that like to perform technical analysis
67% of retail investor accounts lose money when trading CFDs with this provider.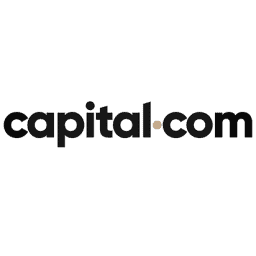 Although eToro is by far the best UK stock broker to buy Taylor Wimpey shares from, Capital.com is a good option if you want to engage in short-term trading. This is because the platform offers Taylor Wimpey shares in the form of CFDs. As such, not only can you go long on the stocks – but a short-sell order allows you to profit in the event Taylor Wimpey shares go down in value. Trading stock CFDs at Capital.com also allows you to apply leverage.
This means that you will be able to trade Taylor Wimpey shares with more money than you have in your account. As per ESMA limits, this stands at a maximum of 1:5 – meaning that a £250 account balance would permit a trade of £1,250. On other asset classes – such as forex, you can get even higher limits – up to a maximum of 1:30.
As is often the case with the best CFD brokers in the UK, Capital.com does not charge any trading commissions. This means that the only trading fee is that of the spread – which is the difference between the buy and sell price of Taylor Wimpey share CFDs. There are no account inactivity, deposit, or withdrawal fees either. What we also like about the Capital.com platform is that you only need to meet a minimum deposit of £20 to get started.
In fact, you can also trade via a demo account which requires no deposit at all. Supported payment methods at Capital.com include debit/credit cards or e-wallets like Skrill. However, if you opt to transfer funds from your UK bank account – not only will this take a few days to process, but the minimum deposit increases to £250. Nevertheless, this trading platform is heavily regulated with a fully-fledged FCA license. As such, safety should be of no concern.
Pros:
Trading on hundreds of US and UK shares
Educational app for new traders
AI assistant identifies your weak points
Trade ideas generated daily
Excellent charting and analysis interface
100% commission free trading
Cons:
Cannot build custom trading strategies
75.26% of retail investor accounts lose money when trading CFDs with this provider.
Step 2: Research Taylor Wimpey Shares
As always, you need to perform some research before you make a financial commitment, whether you're investing in Taylor Wimpey or similar companies like Barratt Developments or Kier. This is especially the case at the time of writing, where COVID-19-related economic uncertainties still remain in place and many investment markets are seeing high volatility. As such, we are now going to discuss what the future holds for Taylor Wimpey plc.
Before we do, let's take a brief look at what Taylor Wimpey does and what its share price history looks like.
What is Taylor Wimpey plc?
Taylor Wimpey plc (ticker TW, ISIN: GB0008782301) is British homebuilder that was first launched in 2007. This was a result of a merger between two prominent UK housebuilders – George Wimpey and Taylor Woodrow. Since then, the company has gone on to become a multi-billion pound organization with a listing on the London Stock Exchange (LSE). In fact, even though the shares have plummeted in recent years, it is still a FTSE 100 constituent.
Nevertheless, Taylor Wimpey claims to build more than 15,000 homes annually – subsequently making it one of the largest developers in the UK. As we will uncover in more detail shortly, Taylor Wimpey was hit particularly hard by the pandemic. Revenues dropped by over 50% in the first 6 months of the year and home completions fell by a similar figure. This resulted in the firm reporting losses of almost £40 million in its year-half earnings report.
Taylor Wimpey Share Price History & Market Capitalisation
Since the firm completed its merger in 2007 – it has had a presence on the London Stock Exchange. With that said, it's best to focus on its share price history in more recent times – so let's explore where the firm was position five years ago. Back then, you would have paid just over 195p per share.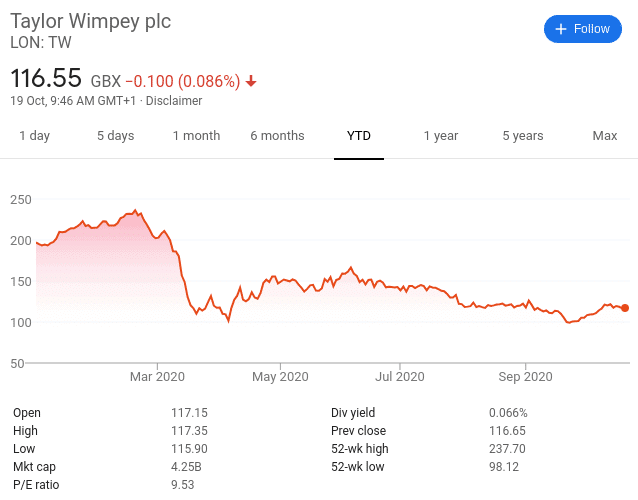 Since then, Taylor Wimpey has hit heights of 231p – reaching this feat in February 2020. This represents modest growth of 18% in less than five years of trading.
However, the shares have since taken a major hit on the London Stock Exchange – with an October 2020 price of 116p. This means that in just eight months, Taylor Wimpey shares have dropped by over 50%. This translates into a current market cap of £4 billion.
Taylor Wimpey EPS and P/E Ration
At the time of writing, the earnings per share of Taylor Wimpey is 20.60, with an EPS growth of -5%. Taylor Wimpey's p/e ratio is 9.5.
Taylor Wimpey Shares Dividend Information
Taylor Wimpey has been paying dividends since 2012. Last year, for its 2019 final dividend yield of 3.8p per share, this was planned to be paid in May 2020. In addition to this, there was also a planned special dividend of 10.99p per share – which was planned for July.
This would have resulted in a total outlay of approximately £485 million. However, both the aforementioned dividend payments were subsequently cancelled by Taylor Wimpey management in March 2020.
This was on the basis of the disruption the firm experienced as per the coronavirus lockdown. Crucially, this dividend suspension will remain the case until further notice. As such, the only way that you will be able to make money from your Taylor Wimpey share purchase is via capital gains.
Should I Buy Taylor Wimpey Shares?
As noted above, Taylor Wimpey shares have plummeted in 2020 as the firm was hit hard by the pandemic. Does mean that its stocks are a sell? Not necessarily. After all, if the company is eventually able to get back to pre-virus levels, the upside potential is huge. On the flip, this might not be the case at all – so enhanced research is key.
Wimpey what you need to know before you buy Taylor Wimpey shares online.
Tough Year-Half Results
Let's start with the financials by looking at Taylor Wimpey's first-half results of 2020. As was to be expected, the numbers speak for themselves. Firstly, revenues took a major hit with a decline of 56% in comparison to the previous year. This subsequently translated into losses of almost £40 million.
This is a huge reduction from its previous profit of just under £300 million. Despite these losses, net cash levels are actually up from £392 million to just under £500 million. This is welcome news for stockholders as it will give Taylor Wimpey the best chance possible of weathering further disruptions in the near future.
Share Decline is a Result of the Lockdown
Although it's never good to see revenue declines in excess of 50% – it is important to remember why this is the case. In the UK, lockdown measures were in place for months on end. During this time, not only were there disruptions for Taylor Wimpey in terms of its housebuilding operations – but real estate sales were virtually non-existent.
In turn, it makes sense that the wider property space took a hit. However, if and when Taylor Wimpey is able to get back to pre-virus levels – we could see a resurgence of its stock price. If this is the case, you can now buy the shares at a generous discount.
Good Balance Sheet and Order Book
As is the case with any company facing disruptions form the pandemic, the most important thing is having a strong balance sheet. Fortunately for Taylor Wimpey stockholders, the firm is sitting on almost half a billion pound in cash. Although debt has increased slightly from the year prior, this still only stands at about 20% of its cash reserves.
In addition to this, Taylor Wimpey has a strong order book moving forward. This is being further spearheaded by the Bank of England's decision to keep interest rates at record lows.
Step 3: Open an Account and Deposit Funds
Taylor Wimpey shares can be purchased from most online stock brokers serving UK customers. Before you can complete the purchase, you will first need to open an account. The process remains the same across most platforms, albeit, we are going to show you the way with top-rated broker eToro.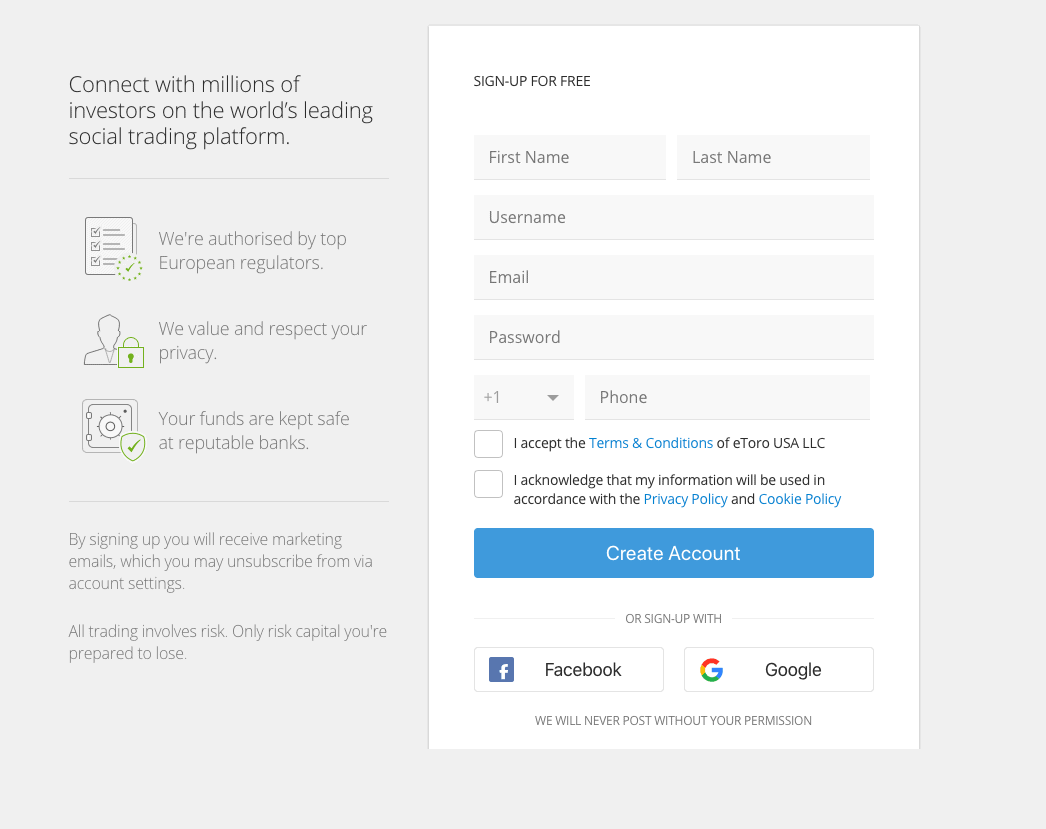 To get the ball rolling visit the eToro website. Once you click on 'Join Now', you will be asked to enter some personal information.
This includes:
Full name
Nationality
Date of birth
Home address
National insurance number
Contact details
Username and password
As an FCA-licensed trading site, eToro also needs to confirm your identity. By getting the process out of the way now, you will avoid deposit and withdrawal limitations.
The documents that eToro needs are listed below:
Valid passport or driver's license
Bank account statement or utility bill (issued in the last 3 months)
With that said, you can deposit up to $2,250 (£1,800-ish) right now without needing to upload any ID.
When it comes to making a deposit, you'll need to add at least $200 to your account. You will also incur a small FX fee of 0.5% as you are making a deposit in British pounds. But, this is countered by the fact that eToro does not charge any stamp duty when you buy Taylor Wimpey shares.
Supported deposit methods at eToro include:
Debit/credit cards
Bank transfer (2-3 working days)
Paypal
Skrill
Neteller
As you can see from the above, bank transfers can take 2-3 working days. This is why it's best to use a debit/credit card or e-wallet if you want to buy Taylor Wimpey shares right now.
Step 4: Trade or Buy Taylor Wimpey Shares
As soon as you deposit funds you can proceed to buy Taylor Wimpey shares. To go straight to the required page, enter 'Taylor Wimpey' into the search box. When the result pops up like the below, click it.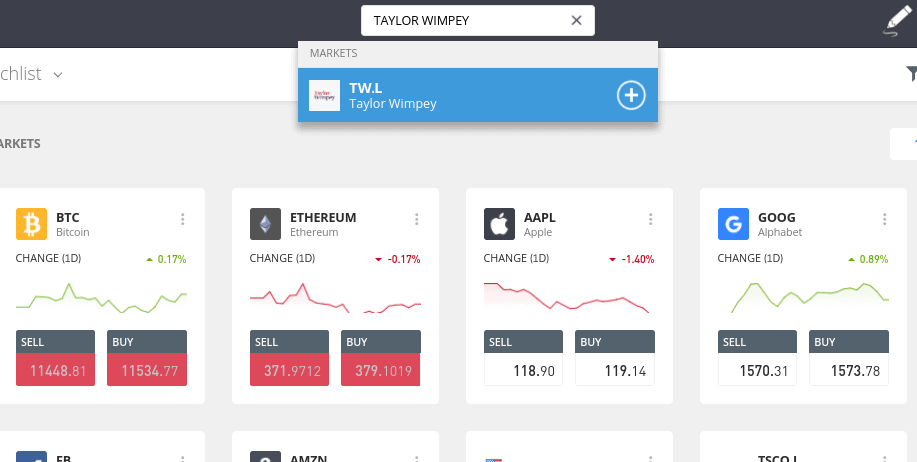 Then, click on 'Trade'.

You then need to enter the amount that you wish to invest, into the 'amount' box. This needs to be stated in US dollars and at a minimum of $50.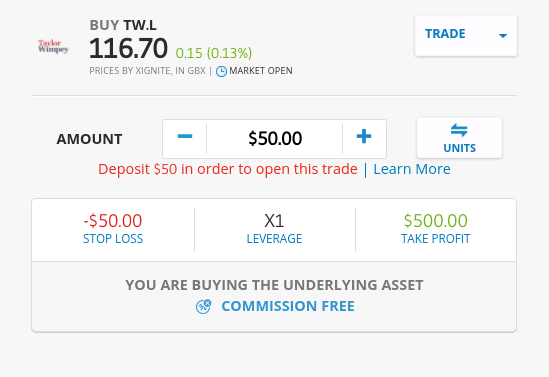 Finally, click on the 'Open Trade' button to complete your Taylor Wimpey share purchase – commission-free!
Taylor Wimpey Shares Buy or Sell?
Although the investment decision is yours to make – it's difficult to get away from Taylor Wimpey shares based on current prices. Sure, the shares have plummeted in 2020 and group revenues took a major hit. But, this was at no fault of Taylor Wimpey. On the contrary, the pandemic left the firm unable to resume its homebuilding endeavours for several months.
Plus, demand from potential house buyers was virtually zero during the lockdown – which in turn had a further impact on Taylor Wimpey shares. Crucially, this FTSE 100 stock has a balance sheet that consists of almost £500 million in cash reverses. This should be more than enough to see the firm through troubling times – even if further lockdowns come to fruition.
The Verdict?
If you're keen to buy Taylor Wimpey shares right now, the process will take you no more than 10 minutes when using eToro. The online broker – which is licensed by the FCA and partnered with the FSCS, allows you to instantly deposit funds with a debit/credit card or e-wallet. Not only this, but the broker charges nothing in the way of share dealing fees or monthly subscriptions – so you can buy Taylor Wimpey in a super cost-effective and convenient manner.
Simply click the link below to get started!
eToro – Buy Taylor Wimpey Shares With Zero Commission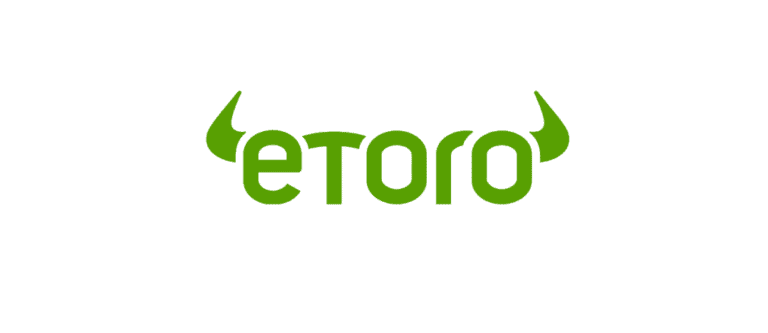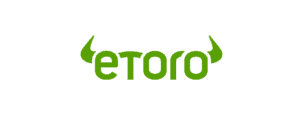 67% of retail investor accounts lose money when trading CFDs with this provider.
FAQs
[sc_fs_multi_faq headline-0="h3″ question-0="Are Taylor Wimpey shares a good buy?" answer-0="Market sentiment has not been good on Taylor Wimpey shares in 2020 – with a stock price reduction of over 50% to date. However, the homebuilder does have a strong balance sheet which should be sufficient to see it through these turbulent times.        " image-0="" headline-1="h3″ question-1="What stock exchange are Taylor Wimpey shares listed on?" answer-1="Taylor Wimpey is listed on the London Stock Exchange. As such, hundreds of UK brokers allow you to buy the shares online.   " image-1="" headline-2="h3″ question-2="What is the Taylor Wimpey price target?" answer-2="A reasonable medium-term price target for the homebuilder is a resumption to pre-pandemic levels of 237p. Based on October 2020 prices, this would require a share price increase of over 100%.  " image-2="" headline-3="h3″ question-3="Does Taylor Wimpey dividends?" answer-3="As of April 2020 – Taylor Wimpey was forced to suspend both its final and special dividend payment. This means as a stockholder, you won't receive any dividends until further notice. " image-3="" headline-4="h3″ question-4="How many homes does Taylor Wimpey build?" answer-4="Taylor Wimpey claims to build in excess of 15,000 homes annually – subsequently making it one of the biggest housebuilders in the UK.    " image-4="" headline-5="h3″ question-5="Who is the Chief Executive of Taylor Wimpey?" answer-5="Taylor Wimpey's Chief Executive is Pete Redfern." image-5="" headline-6="h3″ question-6="Can I invest in Taylor Wimpey via an ISA or SIPP?" answer-6="Yes, most UK providers of these will allow you to buy Taylor Wimpey shares." image-6="" count="7″ html="true" css_class=""]