AJ Bell Review – Features, Fees, Pros and Cons Revealed
Fact Checked
Everything you read on our site is provided by expert writers who have many years of experience in the financial markets and have written for other top financial publications. Every piece of information here is fact-checked.
Disclosure
Please note that we are not authorised to provide any investment advice. The information on this page should be construed for information purposes only. We may earn commissions from the products mentioned on this site.
If you're a UK-based investor looking for a share dealing platform you can trust, you may already be familiar with AJ Bell Youinvest, but how does it stack up against the competition? Our AJ Bell review reveals all.
Among the most popular brokerage services on the market, this investment platform is both long-established and well-regulated. Youinvest has all the hallmarks of a trustworthy broker that should match the needs of most investors.
This AJ Bell review will take a close look at every aspect of this broker, including the types of shares you can buy, fees and commissions, trading tools, payment methods, ease-of-use, regulation, and more.
What is AJ Bell?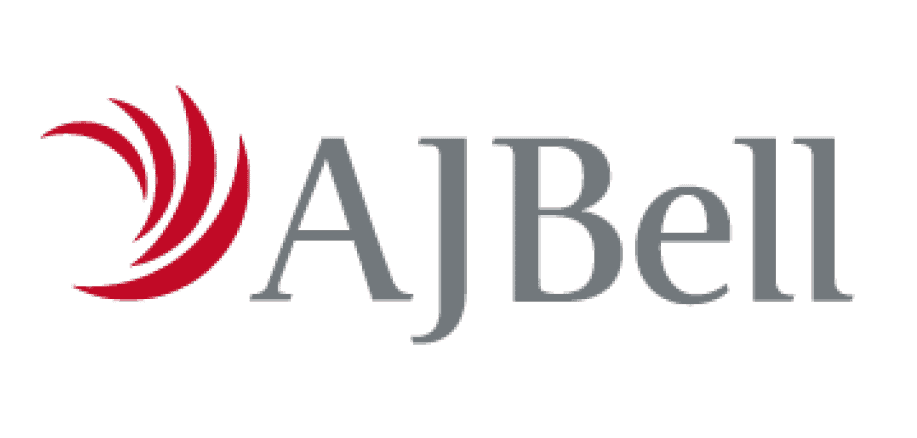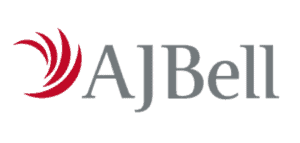 Founded in 1995, AJ Bell Youinvest bills itself as a 'low-cost, award winning platform for the DIY investor'. In addition to share dealing, the platform offers fund, SIPP and ISA investing, but we'll be focusing on the share dealing service in this review.
AJ Bell is one of the UK's largest online investment platforms, with £48.3 billion in assets under administration for 262,000 customers and offers a well-established, ostensibly trustworthy service – it's regulated by the Financial Conduct Authority (FCA) and listed on the London Stock Exchange (LSE).
AJ Bell Accounts
Like many UK stock brokers, AJ Bell offers a range of different account options. These include:
Share dealing account
Stocks and shares ISA
Lifetime ISA
SIPP account
There are also junior dealing, ISA and SIPP accounts available. This review is based on the AJ Bell share dealing account.
What Shares Can You Buy on AJ Bell?
AJ Bell's product portfolio offers a wide range of shares and exchange traded funds (ETFs). The offering is pretty comprehensive, offering share dealing across most UK markets as well as markets in 24 other countries. In addition to UK markets, AJ Bell Youinvest grants access to many of the best shares to buy from the major European and US markets, including:
NASDAQ
NYSE
Toronto Stock Exchange
Xetra
Euronext Paris
SIX
AMEX
Stockholm Stock Exchange
Euronext Amsterdam
Bolsa de Madrid
Borsa Italiana
In addition to shares and ETFs, there is a range of AJ Bell funds available to invest in. If you want help building your portfolio, you can use AJ Bell's Favourite Funds to identify low cost funds with a proven track record of positive performance. Our AJ Bell Youinvest review also revealed that the platform has a number of investment trusts.
AJ Bell Fees, Charges and Commissions
Like most UK-based share dealing brokers, AJ Bell fees are tiered according to the number of trades you've made in the previous month. The structure is as follows:
For 0-9 trades in the previous month, the cost is £9.95 per deal.
For 10 or more trades placed in the previous month this fee drops to £4.95.
On top of stock trading fees, share dealing accounts incur a custody fee of 0.25% per annum on holdings of shares. This is capped at £7.50 per quarter.
AJ Bell doesn't offer leveraged trading, so financing rates don't apply to share dealing on the platform.
Here's a breakdown of AJ Bell fees and commissions at the time of writing (June 5, 2020):
| | |
| --- | --- |
| Share Trading: 0-9 Deals/ Month | £9.95 |
| Share Trading: 10+ Deals/ Month | £4.95 |
| Annual Custody Fee: £0 – £250,000 | 0.25% (Max £7.50 per quarter) |
| Annual Custody Fee: £250K-£500K | 0.25% (Max £7.50 per quarter) |
| Annual Custody Fee: £500,000 – £1m | 0.25% (Max £7.50 per quarter) |
| Annual Custody Fee: £1m and over | 0.25% (Max £7.50 per quarter) |
| ETFs Fee | £9.95 |
All things considered, we rate AJ Bell's fees as competitive. While it can't beat no-fee trading platforms such as eToro, AJ Bell charges lower fees than competitors like Hargreaves Lansdown. It's an even cheaper option for high volume traders who make more than 9 trades a month and can therefore take advantage of the tiered pricing structure.
AJ Bell Share Dealing Platform
It's easy to underestimate the importance of good, clean design and intuitive UX when choosing a trading platform but trust us, a well-designed platform will make the whole process far more approachable. Happily, AJ Bell Youinvest comes up trumps in this department.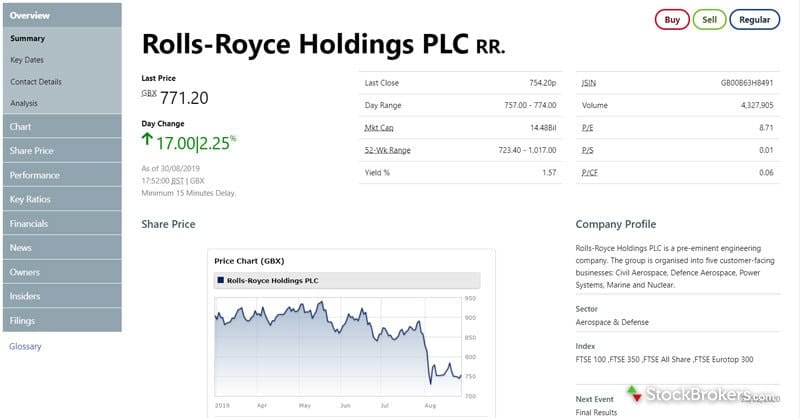 Clean, modern design is complemented by intuitive, user-friendly navigation that ensures the process of placing an order is pleasingly straightforward. The platform's lack of customisation options is perhaps the only glaring downside.
Research and Analysis at AJ Bell
Our AJ Bell review found that research isn't a standout feature for this platform. Like many UK share dealing services, AJ Bell Youinvest relies on third party data from Morningstar. While the platform is hardly bereft of research tools and data, you may find it wanting if you're expecting sophisticated charting and analytics.
Looking beyond its basic charting tools, which fall short of numerous competitors in terms of technical indicators, AJ Bell Youinvest redeems itself by offering plenty of insights and expert advice to help investors make well-informed decisions. Alongside an array of inhouse content, clients gain access to Shares, a digital magazine packed with astute stock market insights.
Other research and analysis tools available at AJ Bell Youinvest include X-Ray and alerts, investment ideas, ready-made portfolios, model portfolios, portfolio comparison, investment articles and videos, and podcasts.
AJ Bell Investment App
Accessibility is a big part of AJ Bell's appeal and, for the modern investor, a slick, well-designed mobile app is a must-have. A good investment app should be cleanly designed and easy to navigate, enabling users to access information and place orders with minimal fuss. We're happy to report that the AJ Bell app, which is available for both iOS and Android, ticks all those boxes.
The AJ Bell app does a great job of transposing AJ Bell's web trading experience and usability to mobile, without a noticeable loss of functionality. Which is no mean feat, even if the mobile experience doesn't correct the platform's aforementioned technical analysis shortcomings.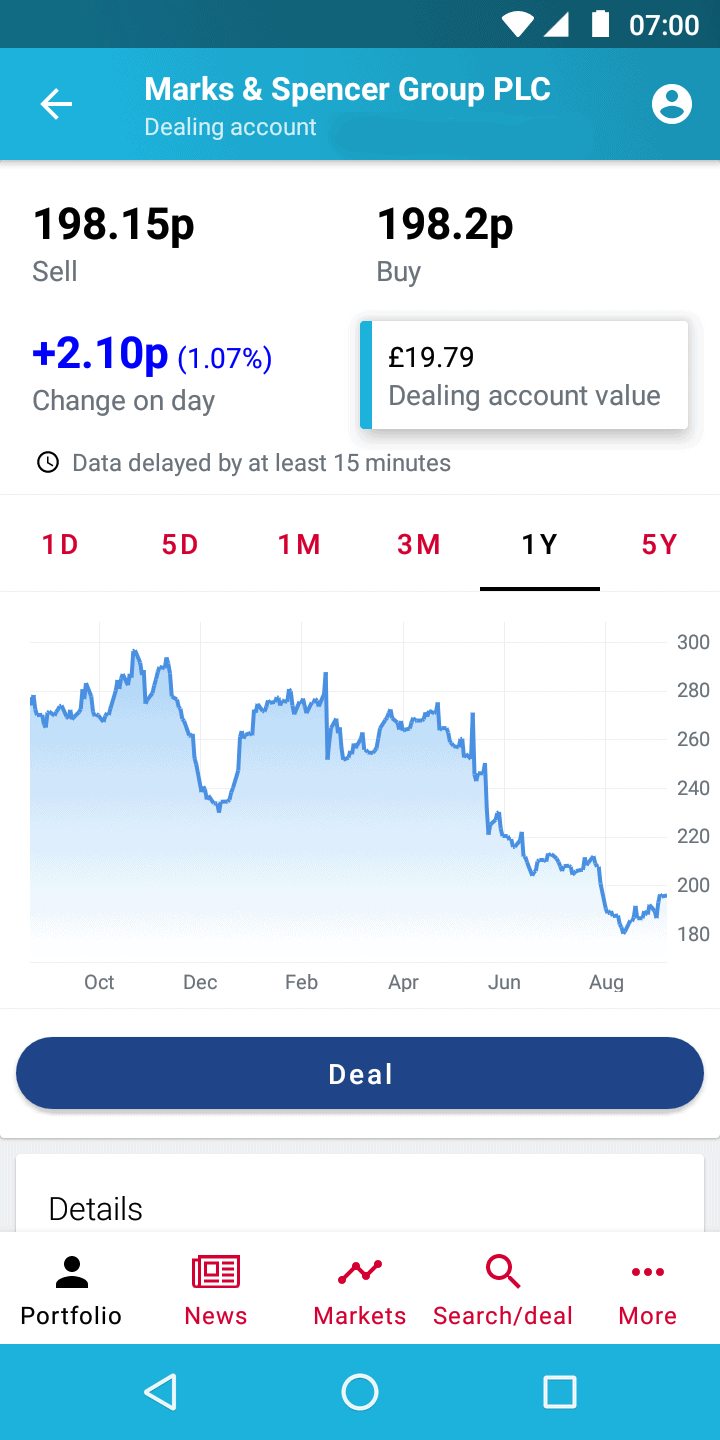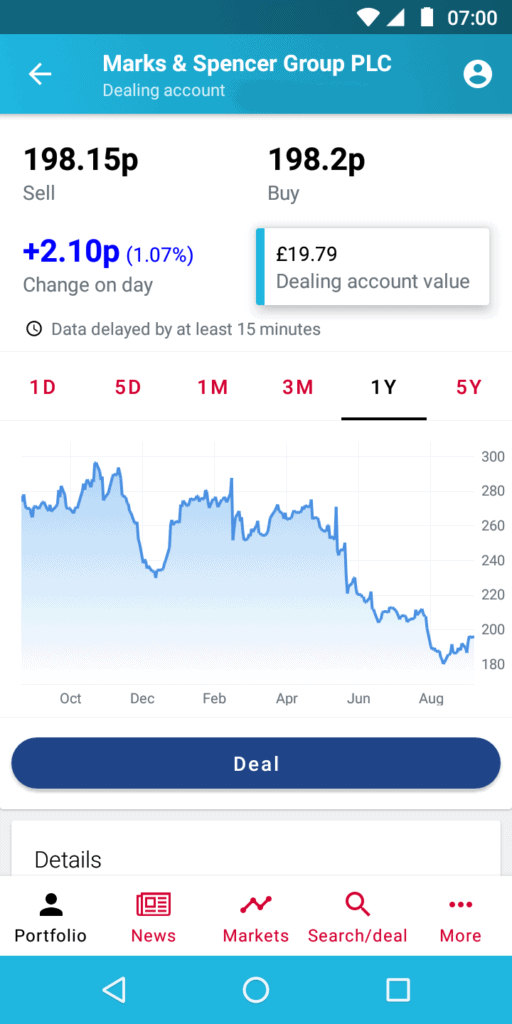 Payments at AJ Bell
It's worth noting that the only base currency available at AJ Bell Youinvest is GBP, so expect to pay conversion fees if you aren't funding your account with a GPB (or multi-currency) bank account. Here's a look at the methods you can use to fund and withdraw from your account.
Deposits
our AJ Bell Youinvest review found that deposits can be made using a credit or debit card and you won't be charged a deposit fee. Once you've made a deposit the funds should be available to invest immediately.
Withdrawals
Standard withdrawals are free but are only available via a bank transfer. If you want to speed up the process, you'll have to pay £25 for a CHAPS transfer. Standard withdrawals – which can only be made to a bank account in your name – typically take about two business days.
Keep in mind that, while you can invest money as soon as you've deposited it, funds can't be withdrawn for 5 business days after deposit.
Overall the deposit and withdrawal process is pleasingly straightforward and we're pleased to report that both transactions are entirely free.
AJ Bell Login
If you are already a AJ Bell customer and hold a share dealing account, you can click here to login. You will find all your share dealing account details once you login. If you are unable to login, below are AJ Bell's contact and customer support details.
AJ Bell Contact and Customer Service
Our AJ Bell review found that the broker is strong in terms of customer service. You can get in touch via phone, email or live chat, and our AJ Bell review found that the representatives are friendly and helpful. Phone lines are open from 8am to 7pm, Monday to Friday. There's also a range of FAQs on the site that you can use for basic queries.
AJ Bell contact number: 0345 54 32 600
Is AJ Bell Safe?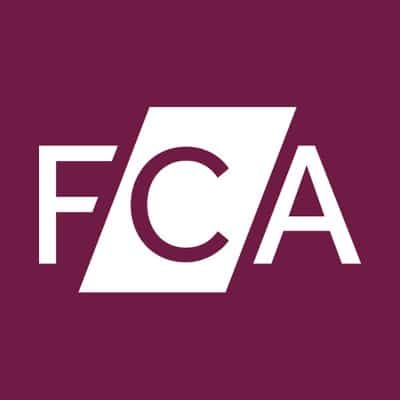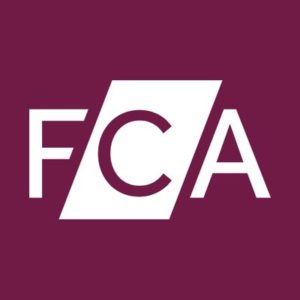 Founded in 1995, AJ Bell Youinvest has all the hallmarks of a well-established, properly regulated broker. As such, AJ Bell clients can be pretty confident that their investments are in safe hands.
AJ Bell is regulated by the UK Financial Conduct Authority (FCA), a top-tier regulator and a strong indication that you can depend on a high level of investor protection. Indeed, as an AJ Bell Youinvest client, you will be covered by AJ Bell PLC and granted FSCS investor protection, which protects against the loss of cash and securities up to the value of £85,000.
The fact that AJ Bell PLC is listed on the London Stock Exchange, and must therefor disclose its financials, should serve to further alleviate any concerns.
How to Get Started with AJ Bell
Step 1: Open an Account
First, you'll need to visit AJ Bell Youinvest and open an account. As with any FCA-regulated share dealing platform, this requires some personal details. This will include your name, home address, date of birth, and contact details. You will also need to supply your national insurance number.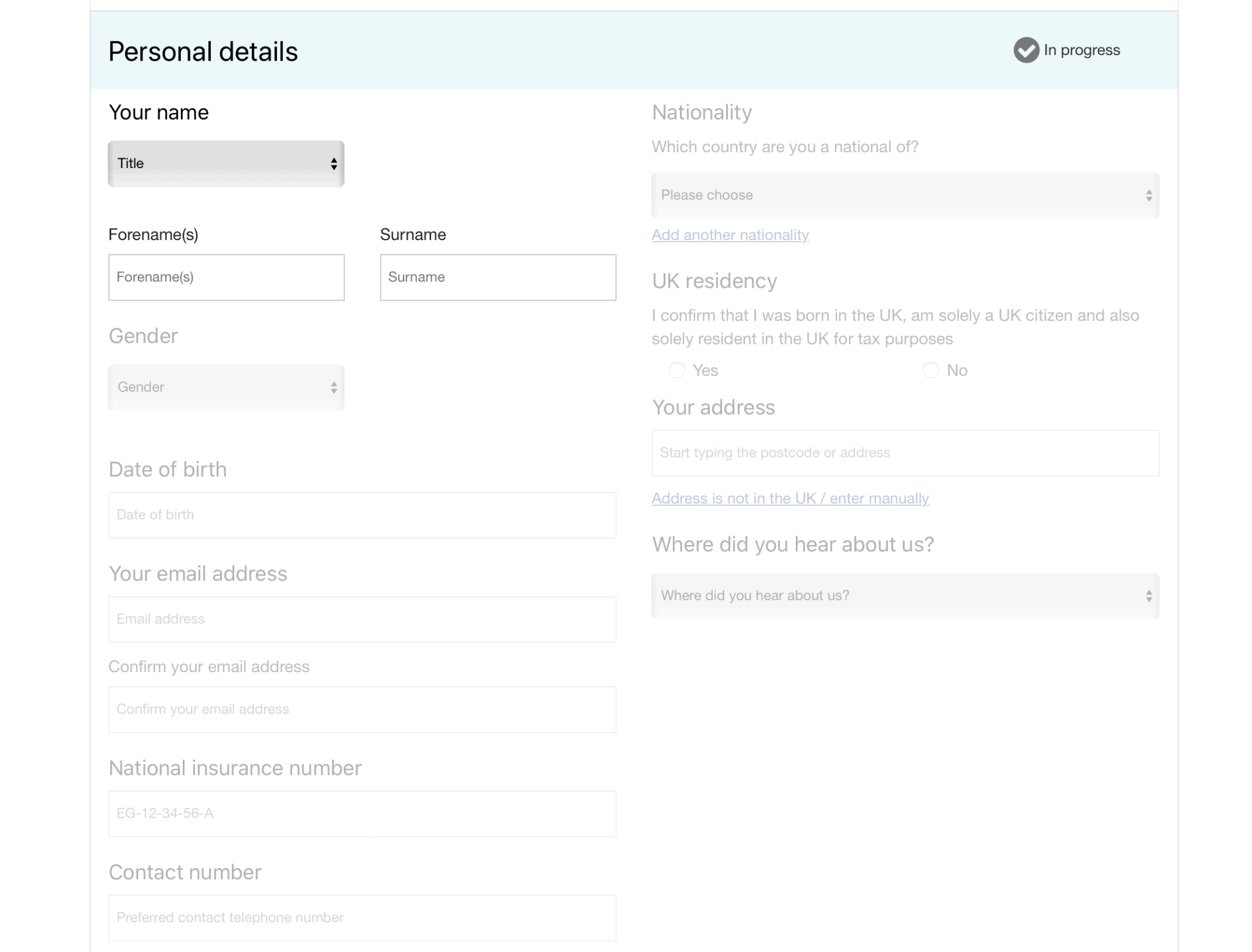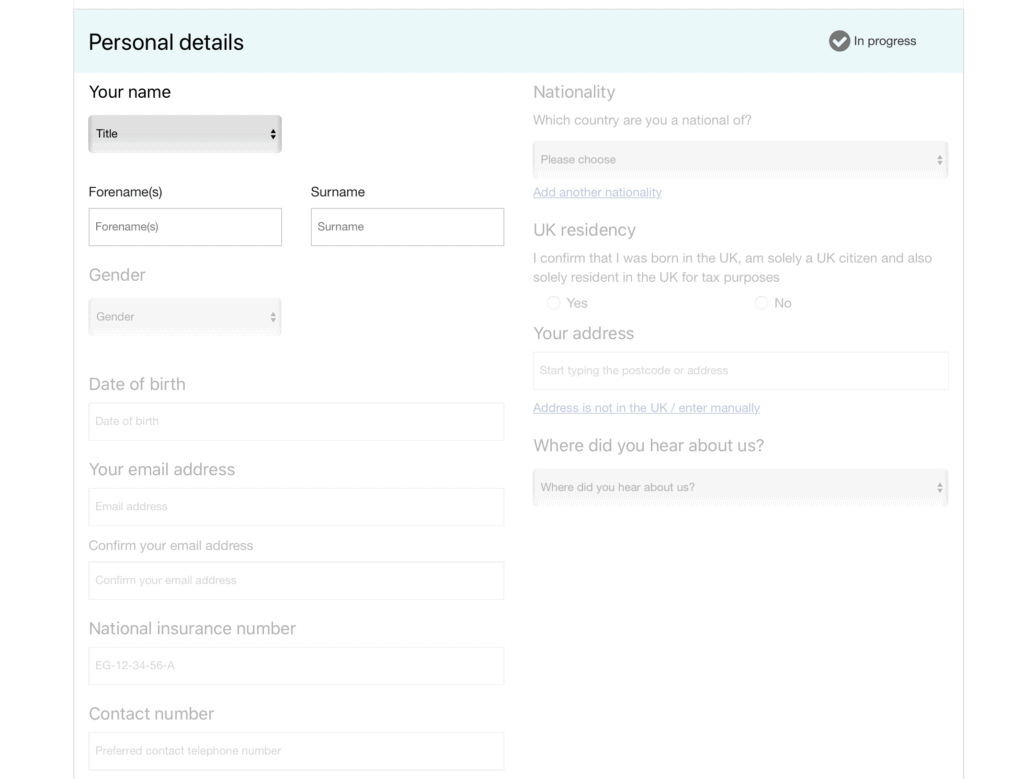 Step 2: Verify Your Identity
AJ Bell will need to ensure that you are the true owner of your account. It is therefore necessary to scan and upload a couple of documents to verify you identity.This might include your passport or ID card and a recent bank statement or utility bill.
Step 3: Deposit Funds
Depositing funds at AJ Bell is simple. You just need to select which payment method you wish to use (typically a debit or cred card) before deciding how much you wish to deposit. The minimum deposit is just £1.
Step 4: Buy Shares
Now that your AJ Bell account has been funded, you can buy shares. If you know which company you want to invest in, enter its name or ticker into the search box on the Buy and Sell page (found on the My Account menu). Once you've found the company you want to invest in you can either take a closer look by clicking on Research or, if you're ready to buy, select Deal.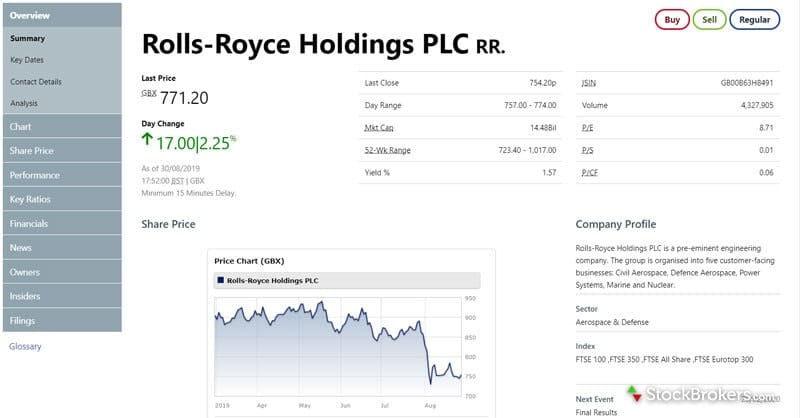 Choose which account you want to pay with then select Buy from the drop down Buy/Sell menu.
Select you Order Type. Your options will be At Best, Limit or Stop Loss.
Choose to either invest a quantity of money or specify a number of shares. If you're investing a sum of money you'll need to specify whether that sum includes the dealer charge or not.
Click Get Quote.
You'll receive a quote for the deal. This will be valid for 15 seconds, during which time you can choose to either Accept Quote or Cancel. Be sue to check the details of your deal before accepting.
AJ Bell Youinvest vs eToro
AJ Bell Youinvest may have plenty to offer, but how does it compare to the top stock brokers on the market? To find out, let's see how it matches up to eToro, a leading global stock broker with over 12 million users.
To start with, eToro is considerably cheaper than AJ Bell. While AJ Bell charges a commission on each trade, eToro doesn't charge any commission whatsoever. It also doesn't have any account fees bar inactivity fees. The only fee you pay on eToro are spreads, which are very competitive, and a flat £4 withdrawal fee.
Charge per Trade
Annual Fee
Inactivity Fee
Deposit/Withdrawal Fees
Hargreaves Lansdown
£4.95 – £9.95 per share
0.25% of the fund value

 

No annual charge

£0
£0
eToro
£0
£0
£8 per month (after one year)
£4 per withdrawal
In terms of the trading platform and tools, AJ Bell's offering is decent but far from groundbreaking. eToro, on the other hand, is known as the pioneer of social trading and copy trading. The platform allows you to engage with other users like you would on social media, and the CopyTrader tool even lets you copy the portfolios of top-performing investors!
Another notable aspect of eToro is that, while it offers traditional share ownership like AJ Bell, it also offers stock CFDs. This means you can trade without actually owning the asset, allowing you to go short and speculate on prices going down. You can also trade with up to 1:5 leverage, meaning you can trade with more funds than you have in your account. eToro offers over 800 global shares from 17 different exchanges, in addition to a wide variety of other assets.
Our AJ Bell Youinvest review also found that eToro trumps AJ Bell in terms of usability. The platform is perfectly designed for beginners, and it has an excellent mobile stock trading app. There's also a great range of payment methods, including e-wallets such as PayPal, Neteller and Skrill.
Overall, while AJ Bell Youinvest is far from a bad platform, it doesn't come close to eToro in our opinion.
AJ Bell Youinvest Pros and Cons
Pros
• Competitively priced
• Good option for small to medium portfolios
• Opening an account should be quick and easy
• Responsive, helpful customer service
• Free withdrawals
• No deposit fee
• No minimum deposit
• Smooth, useable mobile app
Cons
• Might end up being pricier than fixed free brokers if you a large portfolio investor
• Technical research offering is quite limited
• Tools are largely third-party
• Doesn't offer 24/7 support
• No demo account
The Verdict
It's not hard to see why AJ Bell Youinvest is a popular investment platform. Even if it doesn't necessarily excel in any of the areas we've analysed in this review, it's pretty solid across the board.
Clearly AJ Bell's standing as a well-established player in the UK share dealing market brings with it a degree of trust that goes a long way when deciding how to invest your money. AJ Bell Youinvest rewards that faith with a safe, accessibly designed platform that's reasonably well priced, even if it can't compete with zero fee platforms like eToro.
As noted above, AJ Bell starts to make more financial sense if you're making 10 or more deals a month and therefore benefiting from its tiered commission structure, which seems to contradict our impression that the platform is designed to attract entry-level investors. Design, accessibility and a very useable mobile app all add up to make AJ Bell Youinvest an appealing platform that should suit both newcomers looking to invest in stocks for the first time and more experienced stock investors.
That being said, if you're looking for a more affordable yet more advanced platform, we recommend eToro. With 0% commission, the ability to trade share CFDs, and innovative social and copy trading tools, we believe eToro is a superior platform to AJ Bell. Simply click the link below to try eToro out for yourself.
eToro – Buy Shares With No Commission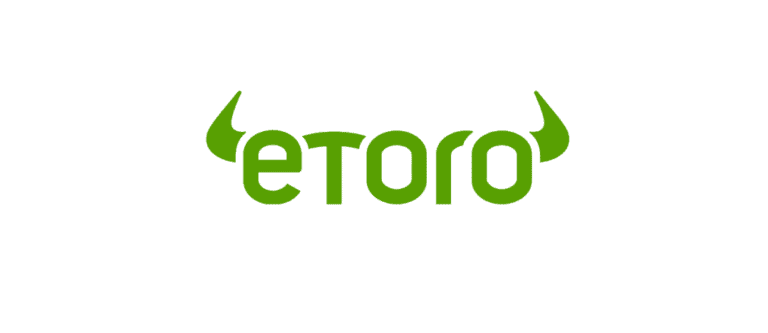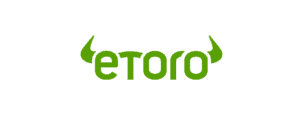 67% of retail investor accounts lose money when trading CFDs with this provider.
FAQs
When was AJ Bell Youinvest launched?
AJ Bell was formed in 1995 by Andy Bell and Nicholas Littlefair.
Is AJ Bell Youinvest regulated?
Yes, AJ Bell is regulated by the FCA (Financial Conduct Authority), the UK's foremost regulator.
Does AJ Bell Youinvest pay dividends on your investments?
If shares purchased through AJ Bell entitle you to a dividend payment, any such payment will be reflected in your account as and when it is paid.
Does AJ Bell Youinvest offer a mobile app?
Yes, AJ Bell offers a free mobile trading app on iOS and Android devices.
What is the minimum deposit at AJ Bell Youinvest?
AJ Bell's minimum deposit is just £1.
What is the AJ Bell Investcentre?
AJ Bell Investcentre is a trading and investment platform that is specifically designed for financial advisors who invest on behalf of clients.