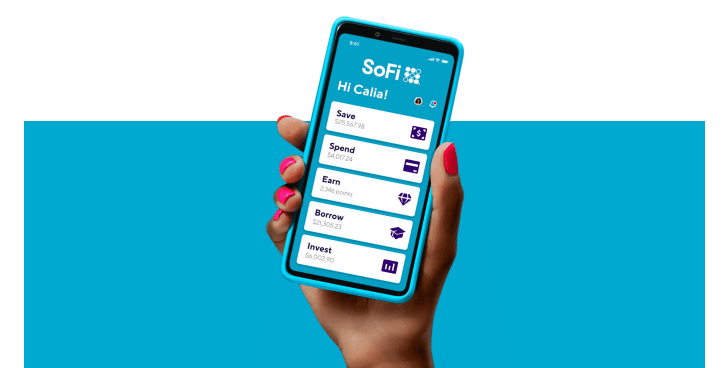 The price of SoFi stock is tanking in pre-market stock trading action this morning following the release of the company's financial results covering the second quarter of 2021 as the financial services firm reported an elevated net loss compared to the same quarter a year ago.
During the three months ended on 30 June 2021, the company reported total revenues of $231.27 million for a 101% leap compared to the same period a year ago as the firm managed to attract 279,000 new members to its ecosystem during the three months compared to the previous quarter while its user base more than doubled compared to a year ago.
The company cited a positive performance across its three reporting segments during the period and highlighted that its Galileo app, a recently acquired company, performed quite well during the quarter as its user base climbed to 79 million as a result of cross-selling.
Lending revenues for SoFi landed at $166.29 million, accounting for around 72% of the total for the quarter, down from an 83% contribution during the previous year, while the figure resulted in a 73% leap compared to the revenues reported by this segment a year ago.
Total originations of personal loans were primarily responsible for this uptick in Lending revenues as loan volumes during these three months nearly tripled from $448.98 million last year to $1.29 billion by the end of June 2021.
Meanwhile, the Financial Services segment expanded by 602%, with revenues jumping from $2.43 million last year to $17 million by the end of this quarter on the back of significant increases in the number of products demanded by customers during the period.
Finally, the company reported a net loss of $165.31 million for the quarter resulting in a significant deterioration of the firm's top-line profitability compared to a year ago when it reported a $7.8 million profit. As a result, losses per share accelerated to $0.48 compared to a narrower $0.03 negative EPS reported during Q2 2020.
Higher general and administrative expenses were primarily responsible for this jump in the firm's losses as they more than tripled compared to the previous period while the company's share count expanded by more than 5 times compared to a year ago as a result of its initial public offering (IPO).
However, upon adjusting certain non-cash items including fair value changes in warrant liabilities, the company reported its fourth consecutive quarter of positive adjusted EBITDA, with the figure climbing from negative $23.75 million during the same quarter in 2020 to $11.24 million by the end of June 2021.
For the entire year, SoFi expects to see its revenues surging to $980 million resulting in a 73% leap compared to the previous year. This estimate was around $6 million higher than analysts' forecasts for the period. Moreover, adjusted EBITDA for the year is expected to land at $27 million.
How has SoFi stock performed since the company went public?
SoFi went public through a merger with Chamath Palihapitiya's special purpose acquisition company (SPAC), Social Capital Hedosophia Corp V, back on 1 June 2021.
Back then, its share price rose nearly 12.5% to $22.65 but peaked the day after upon hitting an intraday high of $25 per share to then progressively decline to around $15 per year a month and a half after.
Meanwhile, investors seem to be discontent with yesterday's quarterly report as shares are diving more than 11% in the pre-market session at $15.5, effectively pushing the stock near those post-IPO lows.
Interestingly, trading volumes for SoFi yesterday were quite high with a total of 36 million shares exchanging hands during the session and effectively exceeding the 10-day average by three times.
What's next for SoFi stock?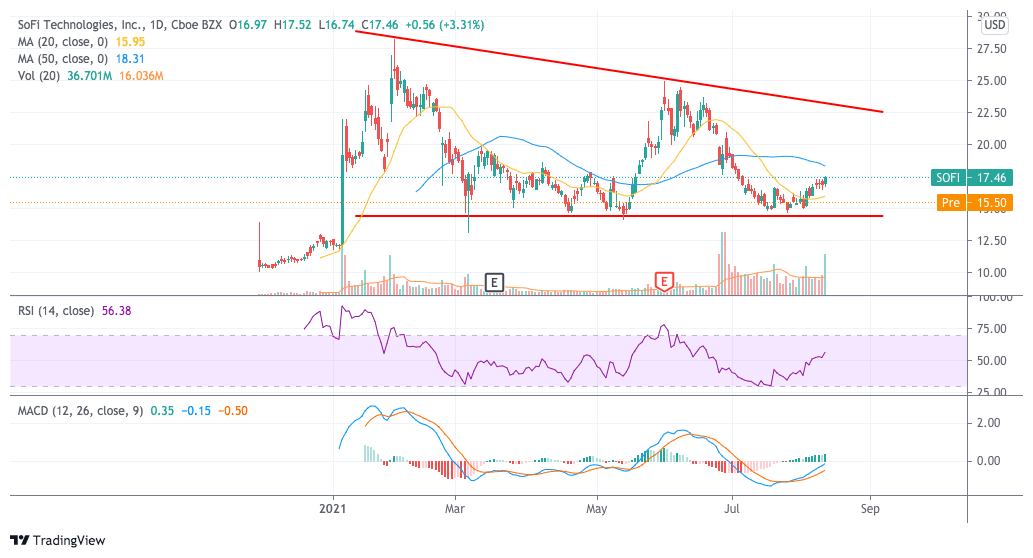 Momentum readings were fairly positive prior to the release of this quarterly report and today's plunge is not necessarily that worrying unless the price action breaks below the $14.5 support area highlighted in the chart.
If the pre-market decline extends to the live session, the market capitalization of SoFi would dive to around $12 billion resulting in a forward price-to-sales ratio of around 12 for the firm based on its forecasted revenues for 2021.
Data compiled by Seeking Alpha shows that SoFi's revenues have been growing in the past two years and will continue to by the end of 2021 from $269 million back in 2018 to this expected top-line result of $980 million, resulting in a compounded annual growth rate (CAGR) of 54%.
Meanwhile, the firm has multiplied its number of members by almost four times in a bit more than two years and revenues per member seem to be accelerating as SoFi continues to introduce more products to its ecosystem.
Even though SoFi's growth is remarkable, the current valuation seems stretched based on its forecasted revenue growth while profitability continues to be elusive and rather small even on an adjusted basis for a company that is already reaching $1 billion in sales.
As a result, volatility in the stock price might continue to be pronounced in the future as market participants may have diverging views about whether the current valuation is attractive or not.