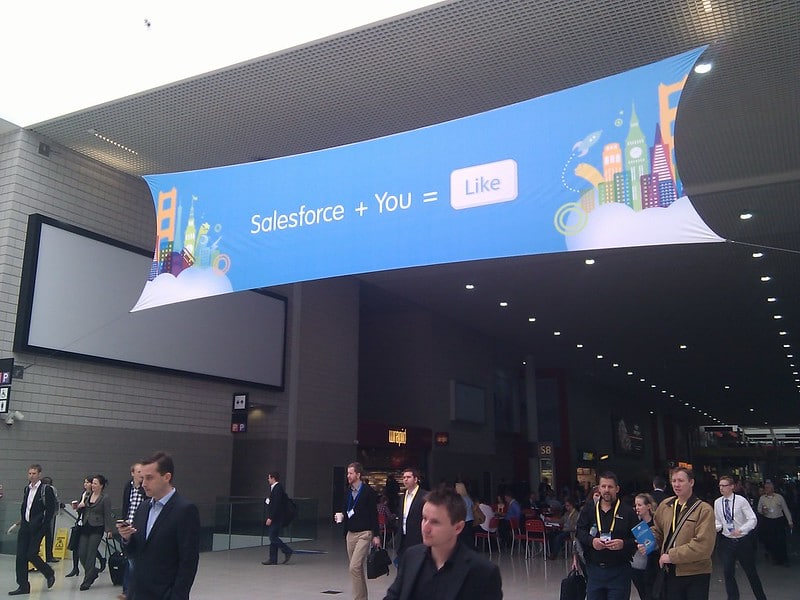 Salesforce shares are moving more than 4% higher during this morning's stock trading action following the release of the company's financial results covering the second quarter of the year as the developer of the popular cloud-based CRM surpassed Wall Street's estimates for both revenues and earnings while it also hiked its guidance for its full 2022 fiscal year.
The company headed by Marc Benioff reported record quarterly sales of $6.34 billion for the period resulting in a 23% jump compared to the same quarter a year ago on the back of increased business volumes in Europe and Asia Pacific. This top-line figure slightly exceeded analysts' consensus estimate for the period.
Moreover, gross margins for the firm experienced a slight 60 basis points improvement compared to a year ago as they landed at 79.9% while non-GAAP operating margins for the firm ended the quarter at 20.4% compared to 20.2% reported back in the second quarter of 2020. For the first semester of 2021, Salesforce's non-GAAP operating margins have risen 360 basis points compared to the first semester of 2020 at 20.3%.
Meanwhile, the company's non-GAAP net income, which excludes the impact of non-cash items including the amortization of intangibles and stock-based compensation, rose from $1.33 billion in Q2 2020 to $1.4 billion during this quarter resulting in non-GAAP diluted earnings per share of $1.48 for the company.
This bottom-line adjusted result exceeded analysts' consensus estimate for the quarter by nearly 51% while it also came in 2 cents higher than the figure reported during the same period a year ago.
"We exceeded our financial expectations in the quarter, achieving record levels of new business, and saw strong demand across our portfolio. And we are excited to build on Slack's momentum with the power of our two companies now together", said Amy Weaver, the company's Chief Financial Officer.
For the third quarter of 2022, Salesforce is now predicting revenues of around $6.79 billion, which would result in another record quarter, while non-GAAP earnings per share are expected to land at $0.92. Both estimates exceeded the consensus as Wall Street was expecting $0.82 in adjusted EPS on revenues of $6.6 billion for the period.
Moreover, the company also ramped up its full-year guidance for its 2022 fiscal year to $26.3 billion while predicting non-GAAP earnings per share of $4.38. For the entire fiscal year, analysts had forecasted sales of $26 billion for the CRM developer and non-GAAP earnings per share of $3.85.
How has Salesforce stock performed so far this year?
The performance of Salesforce shares in 2021 has been decent as the company has managed to deliver gains of 17% for investors excluding this morning's pre-market uptick. However, CRM's performance has lagged that of broad-market indexes like the S&P 500 and the Nasdaq 100 by nearly 2% although today's jump could erase that gap. Meanwhile, last year, this tech stock rose by nearly 37% as the pandemic greatly benefitted cloud-based software providers.
At the moment this is written, the consensus price target for Salesforce stands at $282 per share resulting in an 8% upside potential compared to last year's closing price of $261 per share. Meanwhile, the most optimistic estimate for the stock currently stands at $340 per share while the lowest forecast is sitting at $200 per share.
From a total of 48 analysts currently covering the stock, 38 of them have rated it a buy while no one is currently rating the stock a sell.
What's next for Salesforce shares?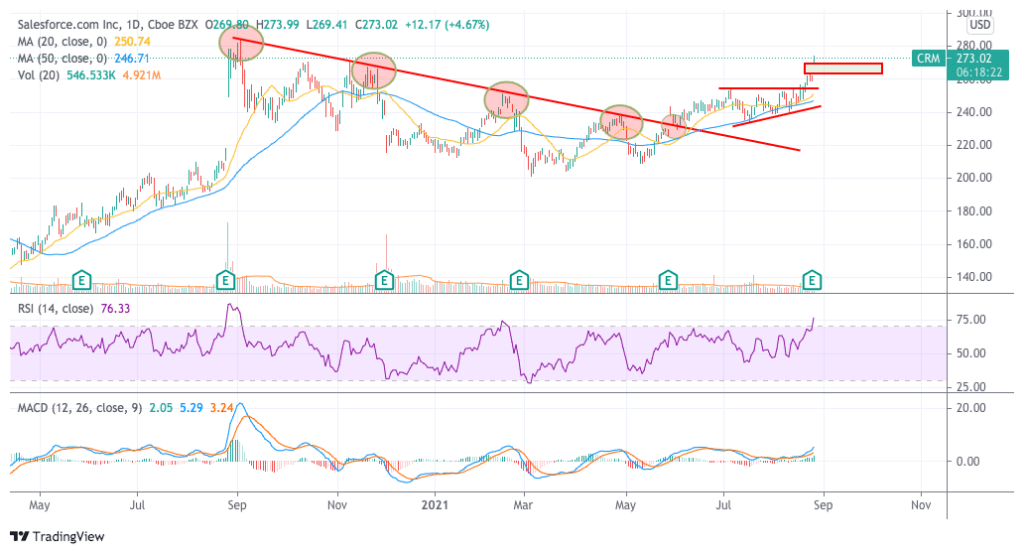 Salesforce shares had been on a downtrend from September 2020 to June 2021 while the price action appears to have reversed the course after the company's financial results for the first quarter of 2021 were published as investors grew more confident about Salesforce's ability to keep growing its top and bottom-line results despite a fading pandemic tailwind.
Today's report possibly reaffirmed this notion as revenue growth rates for this year continue to be in line with the firm's historical averages.
At its current price of $261 per share, Salesforce stock is trading at 59.5 times its forecasted adjusted earnings per share for this 2022 fiscal year. For the company, this would be one of its best years in terms of its bottom-line profitability.
Meanwhile, Salesforce has reported consistent growth in its EBITDA, which has moved from $850 million back in 2016 to $3.12 billion by the end of 2020 at a 38.4% CAGR. With EBITDA margins averaging between 14% and 15% for the firm, this year's EBITDA figure should land at around $3.95 billion resulting in a forward EV/EBITDA multiple of 62.
Based on Salesforce's past and forecasted growth and its current valuation multiples, the company seems to be a bit overvalued unless its growth accelerates in the following years.
Meanwhile, from a technical standpoint, today's jump is further accelerating the trend reversal the stock has experienced since June this year. Moving forward, the next target for Salesforce would be the 2 September intraday all-time high of $284.5 per share for a 4% potential upside based on today's $273.2 opening price.