BP shares are up over 26% so far in 2021 amid the broader uptrend in energy shares. The outlook for the company looks positive amid the strengthening crude oil prices.
2021 has been nothing short of a turnaround year for energy prices. In 2020, the WTI has briefly turned negative as there were literally no buyers for oil amid global lockdowns. Also, energy producers can't adjust their productions so quickly and as a result, we were left with a glut of oil.
However, 2021 has been a different ballgame and Brent crude oil prices are hovering above $75 per barrel. The steep rise in energy prices this year has led to a rise in share prices of energy companies also.
BP shares in 2021
BP shares have looked strong in 2021 but its returns trail that of some of the other energy producers. For instance, ExxonMobil shares are up almost 55% in the year. The underperformance is not limited to 2021 alone, and BP shares have underperformed the broader energy industry over the last five years. After the underperformance against the broader energy sector, BP shares might make a turnaround in the second half of the year.
Crude oil prices at $100?
Bank of America is forecasting that crude oil prices might hit $100 sometime in 2022. Glencore and Goldman Sachs are also bullish on energy prices and don't rule out oil prices hitting $100 per barrel in the future. A few months back, predicting oil prices at $100 might have been ridiculed but it looks a real possibility now.
The demand for crude oil is looking quite strong and is expected to increase further in the second half of the year. Supply growth has been reasonable and unlike the previous instances, OPEC has been cautious enough to not flood the market.  OPEC's supply discipline has helped support the rally in crude oil prices which in turn has led to a spike in energy shares like BP.
Inflation concerns
While there are concerns that higher commodity prices will lead to sky-high inflation, Federal Reserve chair Jerome Powell has tried to downplay the fears. "You have a central bank that's committed to price stability and has defined what price stability is and is strongly prepared to use its tools to keep us around 2% inflation," said Powell. He added, "All of these things suggest to me that an episode like what we saw in the 1970s … I don't expect anything like that to happen."
BP share price forecast
Analysts have a reasonably bullish view of BP shares. Of the 13 analysts covering the shares, seven have a buy rating while five have a hold rating. One analyst has rated BP shares as a sell. Its average target price of 380.4p is a premium of over 17% over the next 12 months.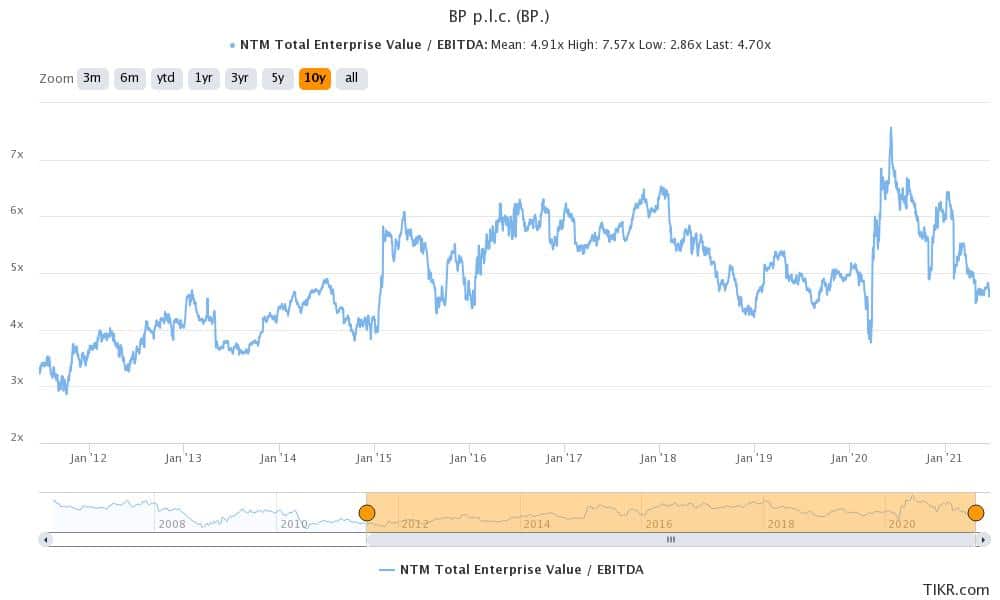 Barclays named BP as a top pick
Several brokerages have taken a bullish view of BP shares and last month Barclays named it as a top pick. "We think BP is the most misunderstood investment case of the large cap oils. … Our analysis shows the cashflow generation of the business as having the ability to support a 10% cash return to shareholders in the form of dividends and buybacks in a $60/bl environment – the highest in the sector," said Barclays's analyst Lydia Rainforth in her note.
Incidentally, earlier this year, BP reinstated its share buyback program. However, it did not increase the dividend which it had halved in 2020 amid the crash in energy prices. Despite having lowered the dividend, BP offers an attractive dividend yield of 4.7% which is over thrice that of the S&P 500's dividend yield.
Green energy
Like all other legacy energy companies, BP is also trying to lower its carbon footprint and is investing in green energy. The company has set itself a target to become net-zero emissions by 2050.
While these projects will add value over the long term, in the short to medium term, the rising energy prices will help catapult BP shares higher. Rainforth also has similar views and said in her note that "Ultimately, we think the switch to low carbon will be rewarded by investors, but for now it is the performance of the underlying businesses we expect to drive the share price."
BP shares look undervalued
BP shares trade at an NTM (next-12 months) enterprise value-to- EBITDA (earnings before interest, tax, depreciation, and amortization) multiple of 4.7x which is below the three-year average of 5.2x. The multiple is even lower than the 4.9x that it has averaged over the last 10 years.
There is a scope for a valuation multiple expansions for BP shares. Also, we could see analysts upwardly revise their earnings estimates. Current estimates call for an adjusted EBITDA of $31.5 billion in 2021 and $32.6 billion in 2022. If energy prices continue to strengthen, energy shares like BP could be in for a serious rerating by the markets.
BP shares were trading 1.1% higher in early London price action today.