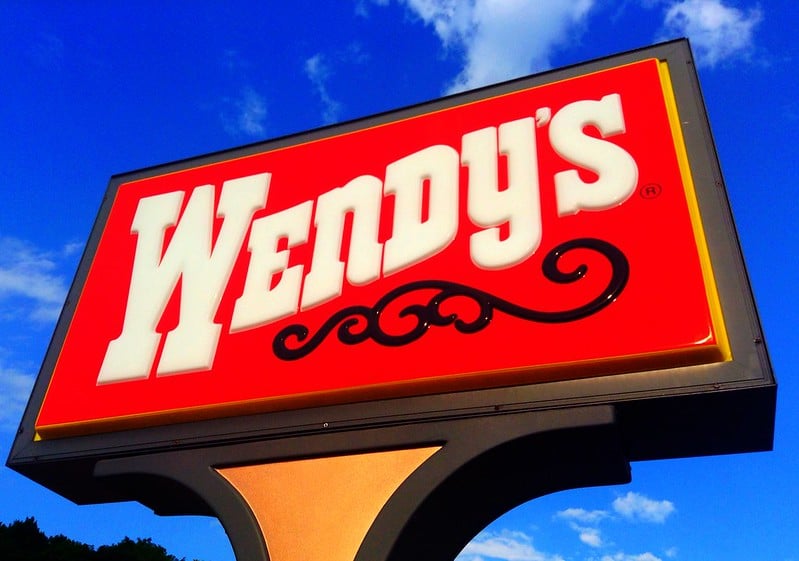 Wendys shares surged almost 26% yesterday after bullish comments about the stock started to circulate within the popular Reddit message board known as WallStreetBets, with traders apparently betting on a forthcoming gamma squeeze if they managed to buy enough options to push stock brokers to buy the stock.
Multiple threads within the popular forum started to pop with the phrase "Wendy's for tendies", with the world tendies possibly having a double meaning referring to both profits and the fast-food chain's tasty chicken dish.
The price of Wendys shares reached a new record high at $28.87 during yesterday's stock trading session while daily trading volumes were the second highest in the stock's history.
Other threads seen in the popular message board highlighted that Wendy's institutional and insider ownership is quite high and this has maintained daily trading volumes fairly low at around 1 to 3 million shares exchanged per day – which is barely 2% of the firm's current float.
In a gamma squeeze, a brokerage firm is forced to buy the underlying asset as more options start to be 'in the money'. This prompts a reinforcing loop as above-average buying volumes push the price higher, which results in more options being ITM – a situation that prompts brokers to buy more stock to hedge their books.
According to Reddit traders, Wendys would be a perfect candidate for this kind of operation as the stock's implied volatility rank was significantly low before today's uptick – near zero in fact – which means that out-of-the-money options were very cheap before yesterday's uptick.
Those who bought OTM options before yesterday are probably now sitting in a pile of cash as implied volatility – and the price of the underlying stock – has moved higher, which results in higher pricing for the options based on the Black-Scholes options pricing formula.
Are Wendy's shares going to move higher?
Wendy's shares are opening today's session 7.4% lower at $26.8 as some option holders have probably cash in on their gains following yesterday's price action. It is impossible to tell if this stock is going to move higher in the near future as that would depend on how many traders jump on the wagon to buy even more OTM options that force brokers to hedge.
For now, the implied volatility rank of Wendy's has gone up to 100, which means that this is the highest IV the stock has seen in the past year at least. As a result, Wendy's options writers are now pricing a 25% jump in the share price during the next 10 days.
This limits the upside potential for late buyers as options have now priced this jump in volatility while risks are higher for option buyers as premiums have increased and so has the risk of a sharp pullback prompted by those who would like to cash in their chips.
What's next for Wendy's shares?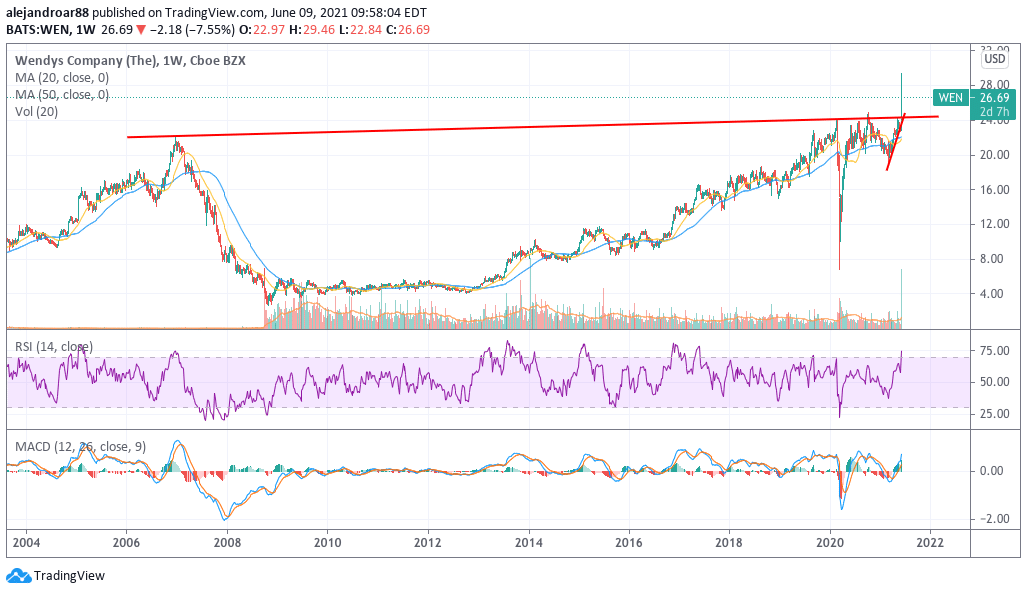 This latest uptick in Wendy's shares has pushed the price above a long-dated trend line resistance shown in the chart above. However, considering that this buying activity does not respond to a material change in the business fundamentals and outlook, chances are that it could be short-lived.
For now, the outlook for Wendy's shares is neutral unless you would like to gamble on the issue as the next meme stock to buy. On the other hand, if you have been holding some shares in the fast-food chain for a while, this may not be a bad time to take some profits off the table as the company's valuation is a bit stretched based on its fundamentals.
At today's price of $27 per share, Wendys is being valued at 36 times its forecasted 2021 non-GAAP earnings per share (EPS) – a number that is fairly high for a firm that is forecasted to grow its bottom-line profitability at a rate of 17% per year.