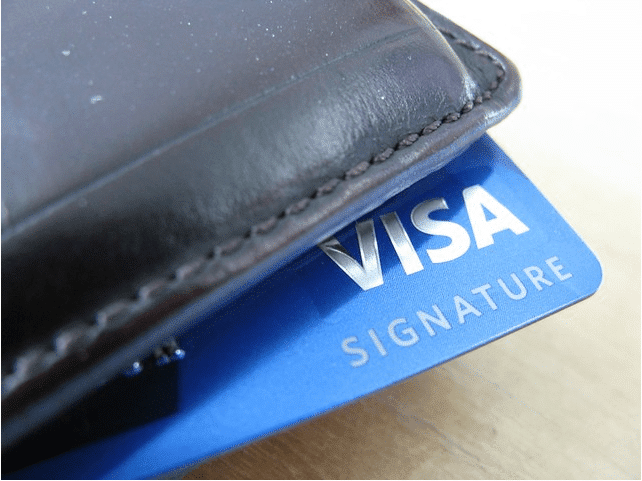 Visa shares slid 2.6% yesterday on Wall Street, closing the session at $195.37 per share as a resurgence of the virus in Europe is reducing investor's expectations of a swift global economic recovery.
Just yesterday the release of the IHS Purchasing Manager's index for the region indicated a deceleration in the Services sector in September, which accounts for roughly 70% of the continent's economy, although the figure was slightly better in the United States.
Meanwhile, a persisting stall in talks related to the approval of another fiscal stimulus package by the US government is also threatening to push the world's largest economy into a recession – although experts believe it is unlikely that Congress will fail entirely at delivering some sort of assistance for both businesses and individuals within the country.
That said, the approval of another stimulus is just as important as the size of it, because an economy as big as the US – with a gross domestic product of around $20 trillion – needs huge inflows if the government's goal is to manage the fallout caused by the pandemic.
In this regard, Visa's revenues are highly dependent on how the US economy fares, as the company derives half of its revenues from the North American country, while the other half comes from its international operations.
However, in terms of volume, the percentages are flipped, as Visa's international operations generate at least 60% of the nominal payments processed by the company, which means that a significant deceleration in Europe could have a sizable impact on Visa's top line.
How have Visa shares performed this year?
Visa shares managed to surge to all-time highs this year on the back of massive amounts of liquidity injected into the financial markets and as a result of the efforts of governments worldwide to contain the economic fallout caused by the outbreak.
However, Visa shares appear to have peaked at $218 per share in line with what has been seen in broad-market indexes, as investors' sentiment has shifted from euphoria to risk aversion in just a few weeks.
At this moment, with the stock trading at $195 per share while heading lower in the pre-market, Visa's year-to-date performance is about to turn negative, while the stock is also approaching key support levels that traders should keep an eye on to analyse what's next for the payment processing giant.
Visa shares: Buy or Sell?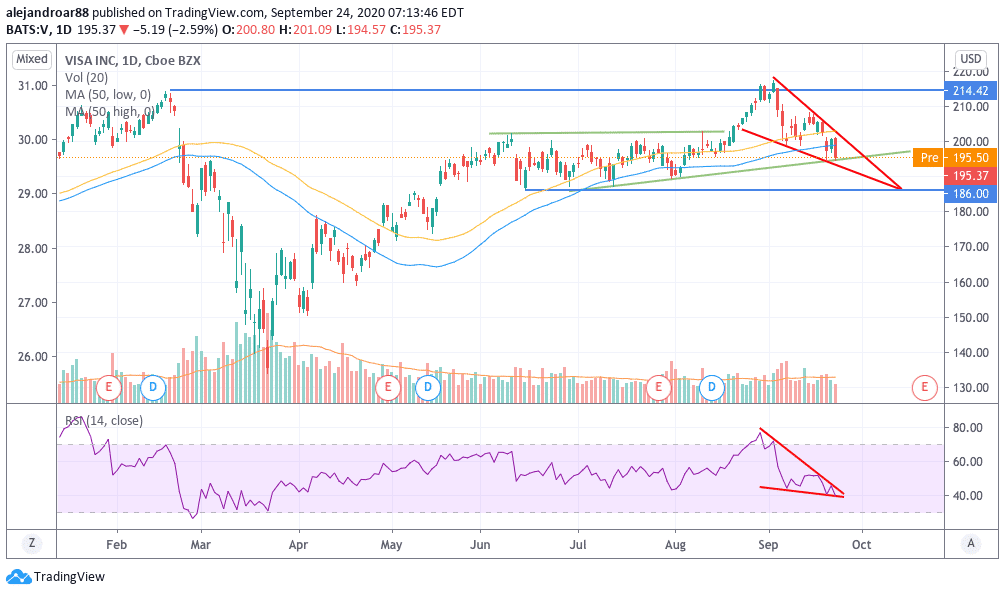 Visa shares managed to break above an ascending triangle in mid-August, which led to a big jump towards the $218 level.
However, market participants rejected a move above those all-time highs and the stock quickly reversed this uptrend, losing nearly 11% of its value in the process.
Right now, Visa's share price is finding support at the lower trend line of the triangle mentioned above and this would be the third time the stock lands at that particular line, which confirms its importance for market players.
Moreover, Visa's latest price action appears to be forming a falling wedge that is pointing to what could be another crucial support level for its shares at $186.
This falling wedge is typically a bullish formation that could lead to a trend reversal if market participants feel sellers have gone too far on their pessimism.
All things considered, a move below this lower trend line today could send the stock down further in this falling wedge formation. If that happens, traders should keep an eye on how the price action behaves around the $186 level as a successful rebound off that level could end up triggering a bull run that would confirm that a reversal is in play.