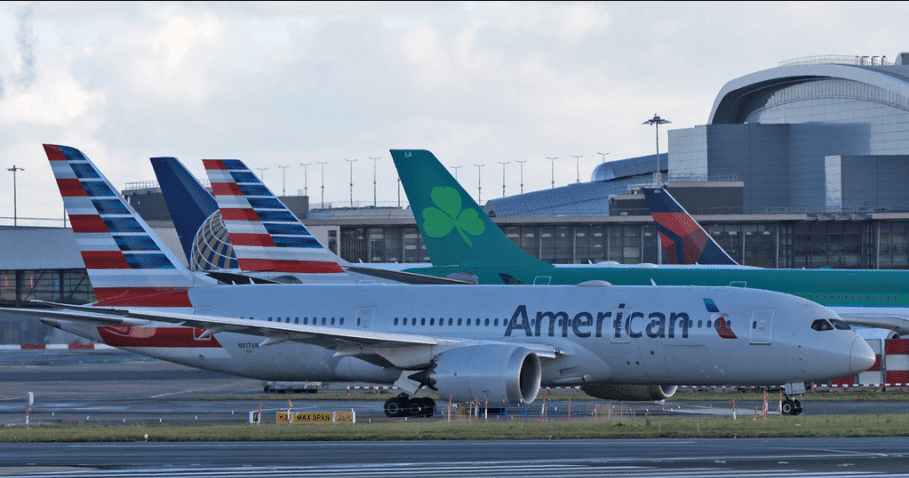 US airline stocks, tracked by the US Global JETS ETF (JETS), are taking a breather this morning following yesterday's big push after President Trump's announced that the Food and Drugs Administration (FDA) approved plasma as an emergency-use treatment for coronavirus.
This industry-wide ETF is down 0.57% during this morning stock trading session in New York at $17.46 a share after going up 5.2% just yesterday, its best-performing session since August started.
However, there's still a long way ahead for airlines to climb back to their pre-pandemic levels as the industry continues to face headwinds associated with a slower-than-expected recovery in leisure travel demand and a weak outlook on corporate demand now that vacations are over.
What's driving US airline stocks at the moment?
Two key elements are currently influencing US airline stocks, although both variables are intimately related to the virus situation.
First, US President Donald Trump announced on Sunday that the FDA granted emergency-use approval to convalescent plasma as a treatment for coronavirus-infected patients, which has prompted a positive response from market participants, with broad-indexes around the world advancing on Monday following the news.
Meanwhile, a recent report from Bank of America highlighted that, now that vacations are nearly over in the US, airlines are likely to face higher cash burns due to significantly lower revenues, as corporate demand has evaporated – a revenue stream that airlines tend to fall back on during off-seasons.
The positive market sentiment tied by treatment news seems to be outrunning the downbeat tone of this report, although it is hard to say if this will be enough to push US airline stocks any higher in weeks to come, as a reality check may be next once the treatment hype passes.
Are US airline stocks presenting an opportunity at these levels?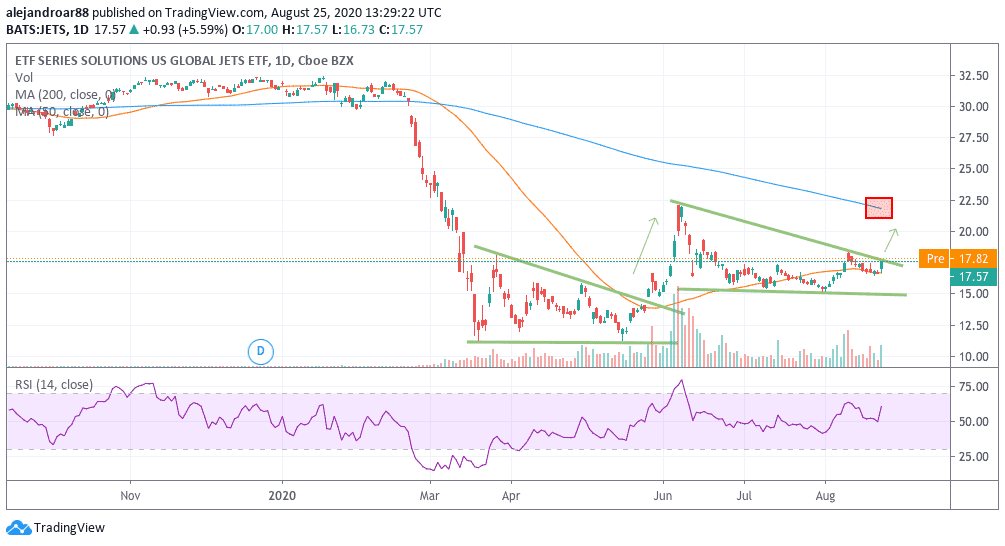 US airline stocks – tracked by the JETS exchange-traded fund – are down 44.6% so far this year, as the industry continues to be one of the most battered by the virus crisis.
May and a small portion of June have been the best two months for airlines so far, as the ETF reached a post-pandemic peak at $22.5 per share during that period to then slide back to $15 as the outbreak made a comeback in certain US states including Texas, Florida, and Arizona, although other states – like New York – have managed to keep their infection rates down for now.
However, recent advances in the vaccine front and this recent treatment approval could provide the boost that the ETF needs to break above that falling wedge once again – similar to what happened in May-June, possibly leaping towards the $20 level.
That said, the road ahead for US airline stocks is likely to be bumpy and the next few weeks will be crucial as corporate demand takes the front seat.
TSA screenings will be again on sight as a potential indicator of how demand is behaving and any disappointing data on that front could lead to another plunge within that price channel.
Investors may want to ride the momentum while it lasts to make a quick profit, but stop-losses should remain tight as a reversal is highly likely based on the weak fundamentals and outlook of the airline industry in the North American country.