Shares of Swiss multinational financial services giant UBS were trading sharply higher in early trading today after it posted better-than-expected earnings. It was the best third-quarter performance from UBS in a decade.
UBS posts earnings beat
UBS posted an operating income of $8.9 billion in the third quarter — up 26% over the corresponding quarter last year. It reported a before-tax profit of $2.6 billion in the quarter, which was 92% higher than the third quarter of 2019.
This is the best third quarter before tax profit that the company has posted in a decade. Its adjusted before tax profit also rose 41% year over year to $2.1 billion.
How management views the results
"Our third quarter results continue to demonstrate that our strategy is differentiating us as we continuously adapt and accelerate the pace of change. I am proud of the contributions all of our employees have made day in and day out over the years, particularly in the current challenging environment," said UBS' chief executive Sergio P. Ermotti.
Ermotti is set to leave UBS later this month after a nine-year stint and Ralph Hamers would be the new chief executive from 1 November. "Our ability to focus on clients and achieve such strong financial performance over the first nine months of this year speaks to this. UBS has all the options open to write another successful chapter of its history under Ralph's leadership," added Ermotti.
Key highlights of UBS' third quarter earnings
UBS had a Common Equity Tier 1 (CET1) capital ratio of 13.5% which is comfortably above the regulatory requirements. The company's Global Wealth Management segment reported profit before tax of $1.057 billion, a year over year increase of 18%. Its Asset Management business generated profit before tax of $739 million which was 495% higher than the corresponding period in 2019.
Performance of different segments of UBS
Commenting on the stellar rise in the Asset Management segment's profits, UBS said that the Asset management business "was significantly affected by the sale of a majority stake in Fondcenter, as well as the expenses related to the modification of certain outstanding deferred compensation awards." After adjusting for these items, the Asset Management segment reported a before-tax profit of $191 million which was up 42% over the third quarter of 2019. UBS Investment Bank reported before tax profits of $632 million in the third quarter, a year over year rise of 268%.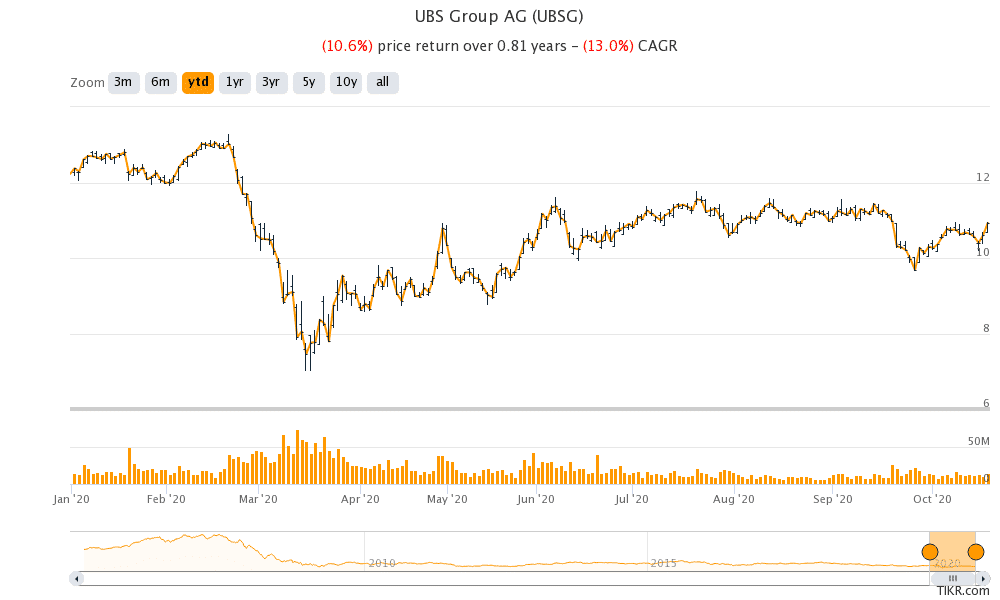 Higher credit losses
However, the Personal & Corporate Banking segment reported a 13% fall in its before-tax profits. UBS blamed higher credit loss expenses for the segment's lower profitability. Other banks have also been making higher provision for credit losses amid the pandemic. However, the loan loss provisioning has come down sharply from the second quarter.
Sounding jubilant on the third quarter earnings, Ermotti said that "it is very difficult not to be happy with this set of numbers because they are coming from a great contribution from all business unit."
UBS sounds cautious on the outlook
Despite a stellar third quarter performance, UBS was circumspect about the outlook. "Recent increases in COVID-19 cases create renewed uncertainty, which could affect the path of recovery.
The growth outlook and investor sentiment may also be affected by increasing geopolitical tensions and political uncertainties," said the company in its earnings release. It added, "The range of possible outcomes remains wide, making reliable predictions difficult."
Ermotti also sounded cautious on the outlook. "We speak a lot about stimulus and Covid-related matters, but the geopolitical uncertainties in Europe, and also in the Sino-U.S. relationship, (are) still there and they're there to stay so we shouldn't underestimate that," said Ermotti.
UBS allocates funds for share repurchases
In its release, UBS said that "it remains committed to returning excess capital to its shareholders and delivering total capital returns consistent with its previous levels." It set aside $1.5 billion for share repurchases in the third quarter.
That said, banks in Europe have been barred from repurchasing shares this year in a bid to strengthen their balance sheets. UBS expects that next year, it would be allowed to resume repurchases. This year, UBS has accrued $1.0 billion towards cash dividends that it intends to propose to shareholders in April 2021.
UBS shares in 2020
UBS shares are down almost 10% so far in 2020 and have fared better than its Wall Street peers such as Bank of America, Wells Fargo, and Goldman Sachs. However, the company's shares have underperformed US banks by a wide margin in Ermotti's nine-year tenure.