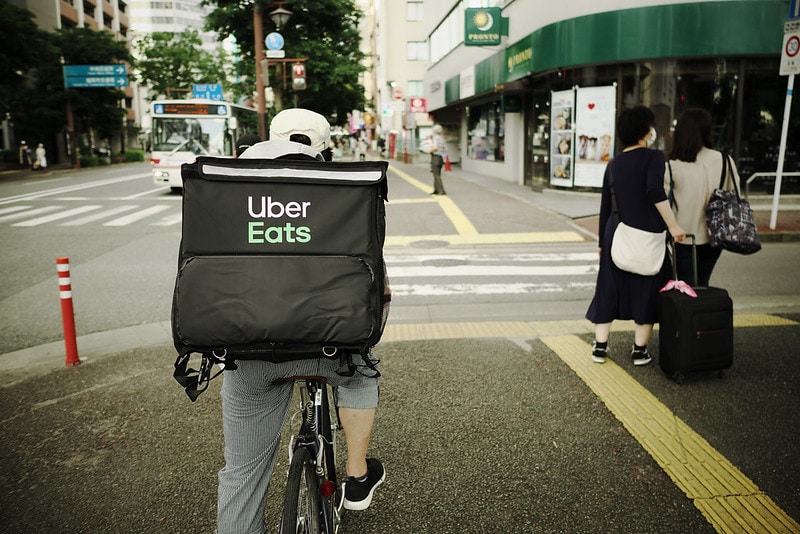 Uber (UBER) shares are taking a pause this morning on Wall Street after four consecutive days of losses, although the charts suggest that more pain could come for the ride-hailing firm. The shares are little changed since their morning Wall Street open at $30.8.
Shares of the San Francisco-based technology company have been seeing some negative momentum as a result of disappointing quarterly results and a ruling from a California court in regard to the independent contractor status Uber gives its drivers, which the court found unlawful.
Uber's business has been significantly battered by the coronavirus crisis, although its Uber Eats delivery service has cushioned the impact of the pandemic on the company's top-line.
Meanwhile, the company headed by Dara Khosrowshahi recently acquired former competitor Postmates, in an effort to consolidate its stand as a major player in the growing delivery services industry in the United States.
California rules against Uber on employee status lawsuit
Last Monday a California judge mandated that Uber must classify its drivers as employees instead of independent contractors, as the company is allegedly violating Assembly Bill 5 (AB5), which prevents businesses from classifying recurring workers as such.
This preliminary injunction would force Uber to hire its California drivers, which would have a major impact on Uber's operating expenses. The company has been given a 10-day period to comply with the ruling.
Under this new scheme, Uber would have to pay its drivers employment benefits – including health insurance and overtime – which would inevitably reduce the profitability of its ride-hailing business.
The company reacted by stating yesterday that it will be forced to shut down its operations in the Golden State if it loses its appeal of the decision, which Uber has already filed.
Moreover, Uber would have to wait until California voters decide on the implementation of "Proposition 22", a mandate that would prevent drivers from seeking employment status in the state.
"If the court doesn't reconsider, then in California, it's hard to believe we'll be able to switch our model to full-time employment quickly" said chief executive Khosrowshahi in a statement released to address the matter.
How are Uber shares behaving lately?
Uber shares dropped from their early June post-pandemic peak at $38 per share and have failed to go above the $35 level three times since then.
The last time they attempted to break through this resistance was a day before the company's second-quarter earnings report but they fell right after the company revealed deeper losses than analysts were expecting.
In summary, Uber's mobility revenues fell 67% during the second quarter of 2020, while gross bookings totalled $10.2 billion, $300 million less than analysts' target.
On the other hand, the company reported $837 million in negative EBITDA, while losing a total of $1.78 billion during the quarter.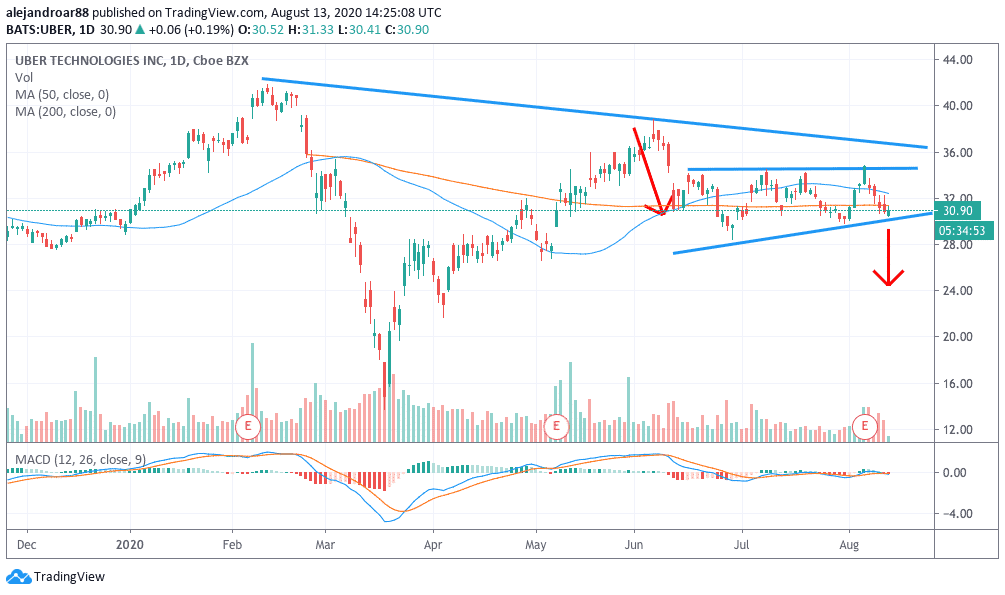 From a technical perspective, the chart above shows how Uber shares have been trading on a relatively compressed price channel that is currently forming a rising wedge – a bearish price action pattern – although more consolidation may be needed before a break below the lower trend line.
That said, the degree of negative momentum prompted by the company's massive losses, poor performance, and this recent ruling in California, could accelerate this break and investors should keep an eye on how the price behaves within this channel. A move below that lower trend line could trigger a strong sell-off, possibly towards the $28 level and then to $24 if the negative momentum is strong enough.
Meanwhile, the MACD indicator is sending a sell signal at the moment, although slight, which would give traders going short a significant opportunity to profit from further downward movements if they take a position at this early stage of the downturn.