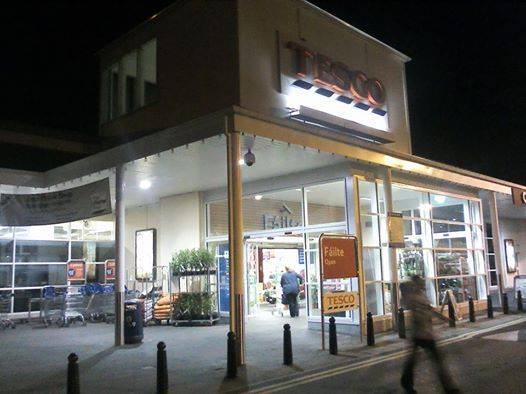 The shares of British retailer Tesco were lower in early London trading today after its preliminary 2020 earnings showed a dip in profits on COVID-19 related costs and the company projected a growth slowdown.
Tesco's total revenues, which also includes fuel sales, fell 0.4% to £57.9 billion in 2020. However, the total group sales excluding fuel sales rose 7% in constant currency terms to £53.4 billion.
Comparable sales rise
For retail companies, we should also look at comparable sales, in other words the like-for-like sales growth. In the fiscal year 2020, Tesco's like-for-like sales increased 6.3% at the group level, led by a 7.7% rise in UK like-for-like sales.
The UK market, which is the core market for Tesco, reported strong trading in 2020. Its total sales in the UK and Ireland rose 8.6% in constant currency terms in 2020 even as its sales in Central Europe fell 0.6% over the period. Tesco Bank also reported a 31.2% fall in its 2020 revenues.
Tesco's online sales soar
Tesco's online sales in the UK jumped 77% in 2020 to £6.3 billion. The company has doubled its capacity to 1.5 million slots every week. "We have doubled the size of our online business and through Clubcard, we're building a digital customer platform," said the company in its release.
Like most other brick and mortar retailers, Tesco is also investing heavily in ecommerce operations to take on Amazon. However, Primark is an exception as the company continues to focus on its offline operations despite the COVID-19 pandemic highlighting the need for a digital franchise also.
Ken Murphy sounds optimistic about the performance
Tesco's CEO Ken Murphy expressed optimism over the performance and said "Tesco has shown incredible strength and agility throughout the pandemic." He added, "While the pandemic is not yet over, we're well-placed to build on the momentum in our business. We have strengthened our brand, increased customer satisfaction and improved value perception."
Tesco's profits nosedive
Meanwhile, while Tesco's revenues increased in high single digits in what the company called "exceptionally strong" performance, its profits nosedived in the year. The company's pre-tax earnings fell 19.7% to £825 million in the fiscal year 2020. The company incurred £892 million as COVID-19 related costs in the UK, and also let forgo £535 million business rates relief.
Tesco had to forgo the relief as it was criticised for maintaining its shareholder payout despite seeking relief from the government. The company maintained its full-year dividend at 9.15p in 2020 which is in line with what it paid in 2019. During the year it also completed the sale of its Asia business for £8.2 billion. It returned £5 billion as a payout to shareholders and used the remaining cash for a one-time pension contribution.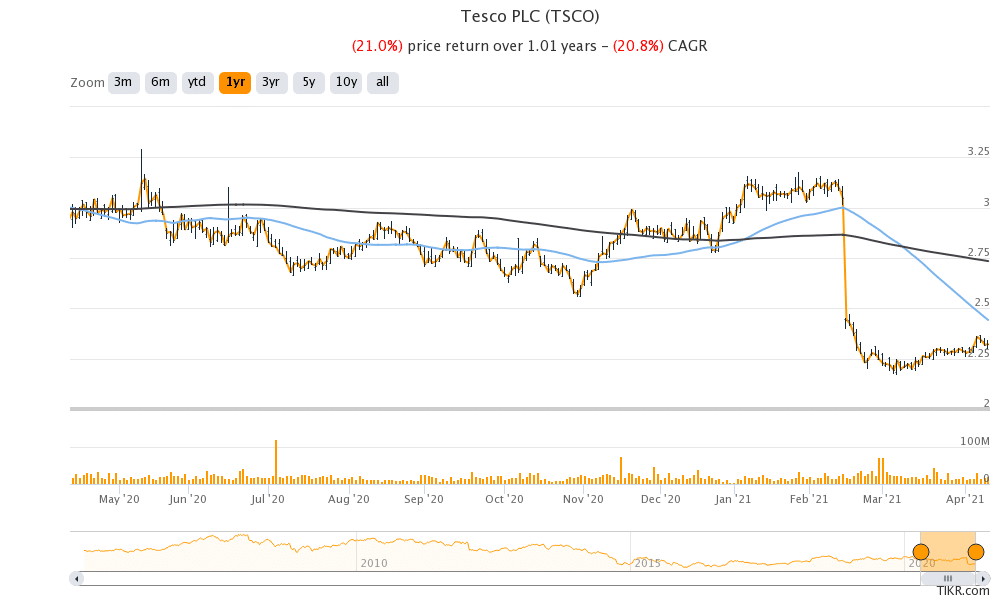 Retail companies are incurring higher costs
Retail companies have been incurring higher COVID-19 related costs related to higher employee cost as well as costs of maintaining COVID-19 appropriate hygiene.  Meanwhile, Tesco managed to lower its net debt by £300 million to £12 billion in the year.
Richard Hyman, a partner at the retail consultancy TPC, weighed in on Tesco incurring higher costs due to the COVID-19 pandemic. "In order to [trade through the pandemic] they've had to spend a lot of money looking after the health of both their customers and their staff and that's been very very costly," said Hyman.
Tesco Bank reported a loss
Meanwhile, Tesco Bank reported a loss of £175 million in 2020 as compared to a profit of £193 million in 2019. It attributed the loss to "lower levels of new business activity in loans and credit cards, lower credit card balances, and a reduction in ATM and travel money transactions." It also said that "Higher levels of unemployment and lower GDP forecasts resulted in an increase in the provision for potential bad debts," even as it said that the losses were in line with the guidance.
Tesco guidance
Meanwhile, Tesco expects its topline growth to slow down in 2021. "Whilst we expect some of the additional sales volumes we have gained this year in our core UK market to fall away as COVID-19 restrictions ease, we expect a strong recovery in profitability and retail free cash flow as the majority of the additional costs incurred as a result of the pandemic in the 2020/21 financial year will not be repeated," said the company in its release.
It expects Tesco Bank to return to profitability this fiscal year. Commenting on the retail business, the company said "the greater than usual level of uncertainty around sales volumes, mix and channel shift makes it difficult to be precise". However, it expects the profitability in this fiscal year to recover to the fiscal year 2019 level.
Tesco shares in 2021
Tesco shares were trading 2.6% lower at 226.08p at 11:50 AM London time today. The shares have a 52-week trading range of 202p-260p. Tesco shares are down over 22% so far in 2021 and are underperforming the FTSE 100.