Asset management giant Standard Life Aberdeen (SLA) suffered steep losses during the first half of 2020, shedding £498 million as a result of lower asset management fees revenue, contrasting with the £629 million the company earned during the same period last year.
The bank also took a hit from a £915 million impairment charge and first-half profits before tax sank 30% to £195 million. Analysts had expected pre-tax profits of £280 million.
The primary reason behind this fallout includes the withdrawal of £24.9 billion in funds, including a sizeable sum by Lloyds Banking Group (LLOY) after the UK bank decided to go with Aberdeen's rival Schroders (SDR), although net inflows were stable during the quarter excluding this one-time item.
Total fee revenues dropped 13% from £815 million last year to £706 million during the first six months of 2020, with all divisions of the company taking a hit except for the Wealth unit, which grew from £51 million to £58 million this year.
The company cited the Covid-19 pandemic as one of the elements influencing this plunge in profitability, as clients rejigged their asset mix preferences.
However, Aberdeen managed to maintain a £1.8 billion surplus above its regulatory capital requirement, which points to strong solvency that should help the firm navigate the turmoil caused by the pandemic.
Silver lining: Steady dividend and lower expenditures
Aberdeen's chief executive officer Keith Skeoch – who will be leaving the company this year – highlighted that the company was able to maintain its 7.3 pence dividend for this six-month period regardless of the challenging environment it is going through. That was seen as good news by market participants. The shares ended the day 1.77% higher at 265.5p.
Additionally, operating expenses were reduced by 11% to £601 million, underlining how Aberdeen is proactively working to streamline its financial structure.
The head of the asset management firm, commenting on the results, said: "There is no question that the impact of Covid-19 has played a role on our results today, and across our industry, particularly in relation to lower revenue".
He added: "Our foundations are firm, we have a strong balance sheet which enables us to both invest in our business and maintain our interim dividend of 7.3p".
How are Aberdeen shares reacting to the report?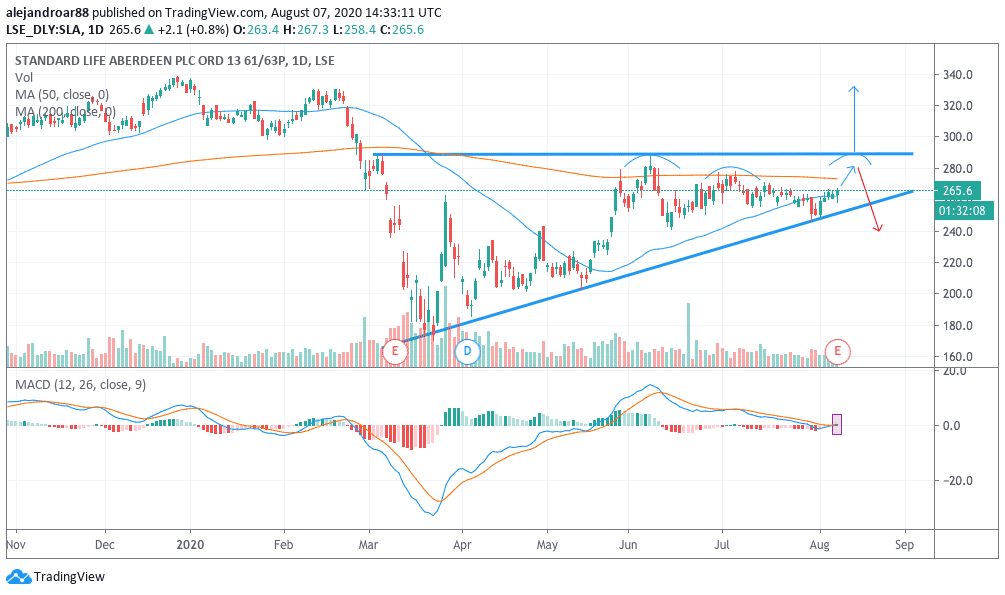 Aberdeen shares seem to be reacting positively to the news as the stock is gaining 0.6% during this morning stock trading activity, making it its fifth consecutive day of positive performance.
With the price of Aberdeen shares closing in on the 200-day moving average of 273p traders should watch out for what could a double top if the company fails to jump above this important resistance line.
Moreover, another major resistance would be awaiting at 290p. At that point, if the price fails to move higher, a classic head and shoulders pattern would appear to be taking shape, which could end up triggering a sell-off for Aberdeen shares.
Finally, the MACD is sending a buy signal today after slightly crossing the signal line while going positive for the day. All things considered, a move towards the 290p level within the next few days could be expected.